Disclosure: We may receive a small commission when you shop by clicking on the links on our site. This is at absolutely no added cost to you. Learn more.
Air hockey is a fun game for families and people of all ages. Two players stand facing each other on either end of a low friction table that features a low-pressure cushion of air that freely flows through small holes on the surface of the table. Each player holds a circular striker and uses it to defend their goal as the other player attempts to score by shooting a thin, plastic puck into the slot.
It's a high-speed game that friends and family can play together in game rooms, finished basements, and bedrooms all across the United States. If players get good enough, they might even qualify for sanctioned play by the United States Air Hockey Association on the best air hockey tables that meet Air Hockey Players Association standards.
These professional players are a tightly knit group of people who have a deep love of the game and can be found in different countries. There are serious players in the US, but formidable opponents can also be found in Russia, Spain, and the Czech Republic. [1]
Our Top Pick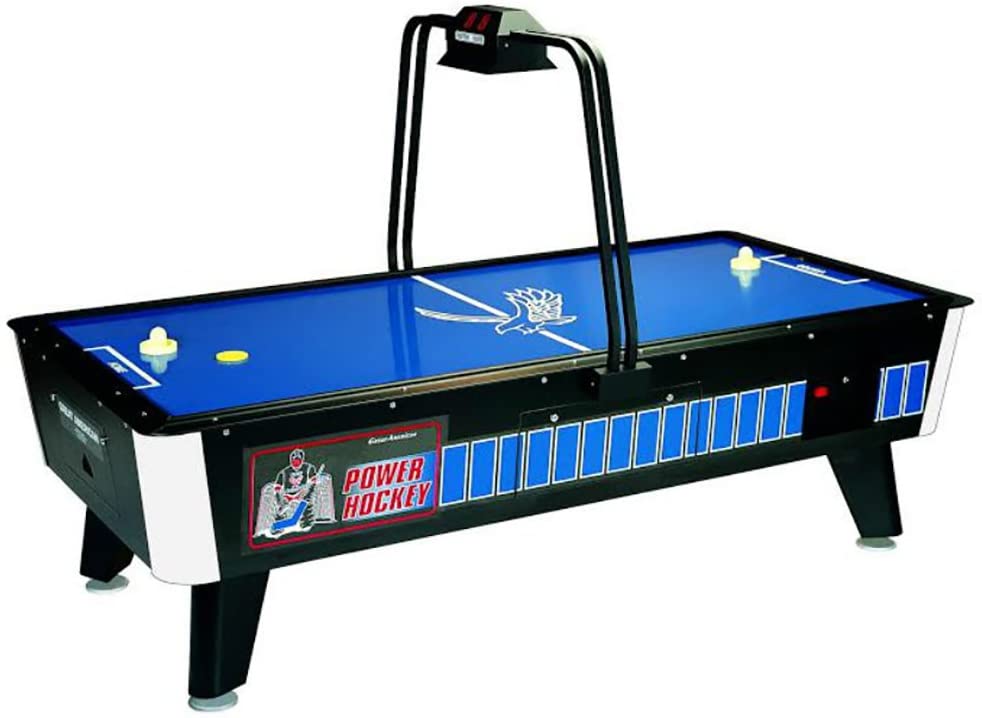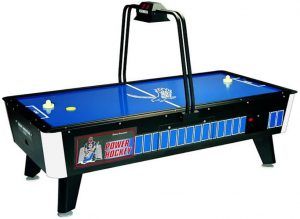 Legs adjust to ensure your table is level
Keep score with bright, easy to see scoreboard
Blower keeps air cushion stable for playing surface
---
Our Favorite Picks for the Best Air Hockey Tables
---
Best Air Hockey Tables Summary

Image

Product

Purchase

Best overall air hockey table

Great American 8′ Power Air Hockey Table

Different options for scoring
More durable than other tables on the market
Bright colors are reminiscent of real arcade experiences

Triumph Fire 'n Ice LED Light-Up 54" Air Hockey Table

LED lights are exciting and fun
Music plays and lights flash when scoring goals
Side shields prevent stoppage in gameplay

Sport Squad HX40 40 inch Table Top Air Hockey Table

Lightweight and sturdy
Very portable and can be easily used anytime
Parts can be easily ordered and replaced
---
Top 12 Best Air Hockey Tables Reviews
---
Best Overall Air Hockey Table: Great American 8′ Power Air Hockey Table
Specifications
99½" x 55½" x 80¼"
Weighs 465 lbs.
3 sizes to choose from: Plus, Elite, Premium
Coin-operated for realistic fun
---
Fun Factor
Durability
---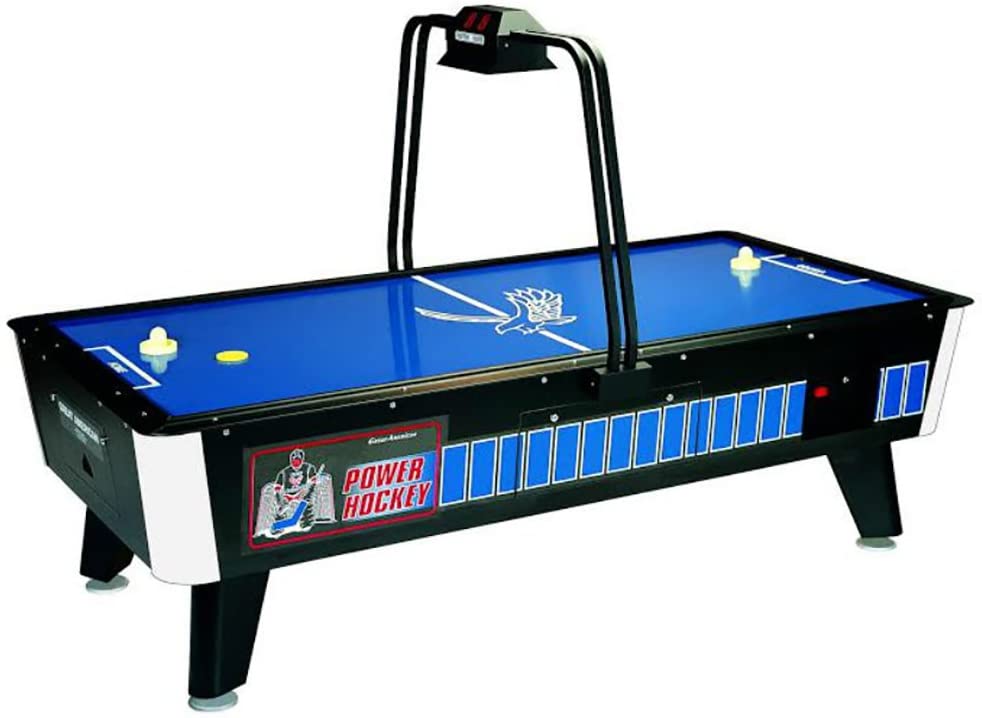 Description
The Great American' 8' Power Air Hockey Table is the perfect, full-sized air hockey table for older kids and teenagers. The metal and Formica materials used during manufacturing are durable and able to take the beating that rambunctious kids dish out during their highly competitive gameplay. Don't worry about the surface scratching or rails bending due to over-excitement. The reinforced legs of this table support leaning and jumping without bending or breaking.
If the table needs to be stored, you can simply remove the legs and place them inside the hinged door on the bottom part of the table for safekeeping until you can put it back together again. Turn the table on, and the powerful blower creates a thick cushion of air for your plastic puck to float along, creating high-speed gameplay and excitement day after day. Your older kids and teenagers will love having their friends over to play in your finished basement, and you'll love keeping your family close to home.
Pros:
Durable enough for hours and hours of fun
Legs are reinforced for stability, strong enough to lean on
Puck retrieval is easy thanks to arcade-style system
Air hockey table turns your finished basement into an arcade
Cons:
Price point isn't for all budgets
Large table doesn't fit in all homes
---
Best Air Hockey Table to Play in the Dark: Triumph Fire 'n Ice LED Light-Up 54" Air Hockey Table
Specifications
Weighs 39.6 lbs.
Dimensions 54" x 27" x 31"
Electronic and abacus scoring
Leg levelers adjust scoring surface to keep it even
Red Fire team plays against Blue Ice team
LED strikers and puck light up when hit
---
Fun Factor
Durability
---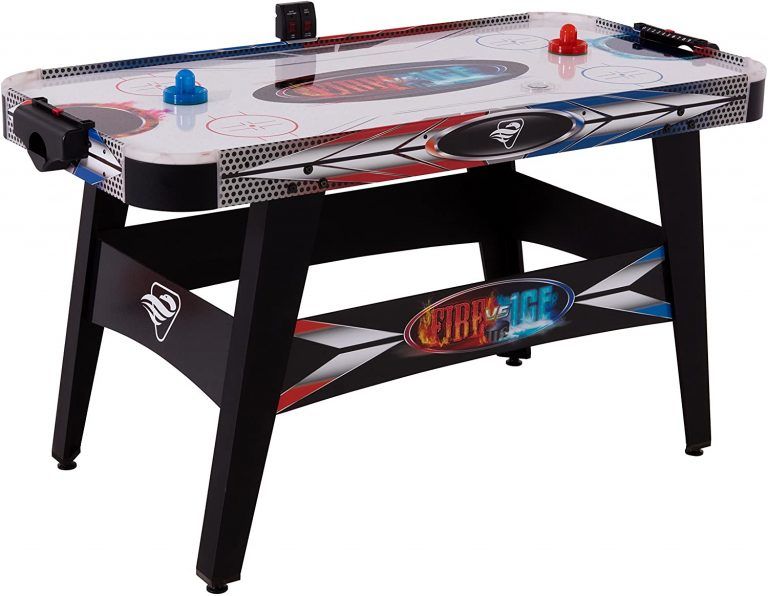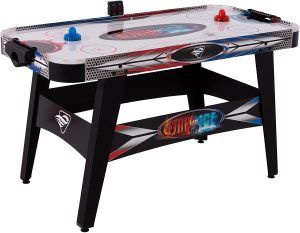 Description
Turn out the lights on fun and competitive air hockey while the game keeps going with the Triumph Fire 'n Ice LED Light Up 54" Air Hockey Table. This air hockey table lights up every time a goal is scored, enhancing the intensity surrounding a friendly game of air hockey.
This lightweight gaming table is easy to store, carry, and assemble. When not in use, you can remove the legs with a power screwdriver until the next time you want to play. Otherwise, you can leave the legs off altogether and just lay the gaming table on top of a dining table and enjoy the fun after plugging the unit into any standard outlet.
It's suitable for adults to play as well. Invite friends over for holiday get-togethers or a fun gaming night and enjoy this table all night long without ever having to turn on your living room lights.
According to a user feedback, the light up paddles and puck along with digital auto score give them the cliche "Hours of fun" for real. It's also pretty sturdy and not flimsy at all enough for adults to play comfortably. One of the biggest feature is the glow in the dark puck and hand controls which are really neat.
Pros:
Bright lights and colors are visually stunning
Fun to play game is excellent for kids and teenagers
Great for playing under black lights or in the dark
Intense, competitive game will keep kids entertained
Cons:
Takes up a lot of space in living rooms and bedrooms
May negatively impact those with photo sensitivities
Credits to: Incentive Concepts
---
Best Arcade Air Hockey Table: Dynamo Fire Storm Air Hockey Table
Specifications
Dimensions: 99" x 51", height depends on scoring unit
Weighs 475-500 lbs., depending on scoring unit
Formica playing surface is smooth, durable, cleans easily
Leg levelers provide even playing surface
Oversized rails keep puck on table during play
Choose from 2 scoring types: Automated or manual
---
Fun Factor
Durability
---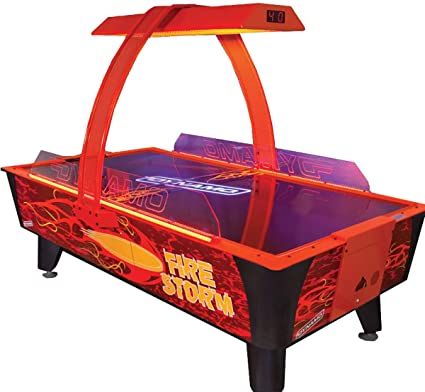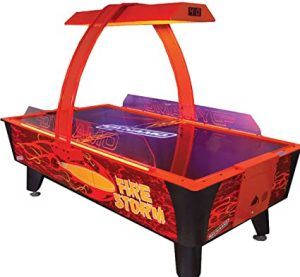 Description
The Dynamo Fire Storm Air Hockey Table is one of the most popular air hockey tables found in arcades and bars across the United States. This large table is fun to play with and conveniently designed with adjustable sound volume. The game's speakers are located directly behind each goal, which means players are now on top of the action.
Jamming hazards and breakdown time is significantly reduced thanks to the infrared jam-proof scoring. Improved goals keep the game functional while you host guests and customers into the later hours of the night. The industrial level Dyna-Blast blower creates gameplay that is unequaled by any other table currently on the market. Fans of air hockey love this table because it's loud, exciting, and fun to play.
Players' attention is grabbed by the eye-catching orange and black colors and graphics. The LED lights flash whenever a goal is scored and are long-lasting and easy to replace. Encourage your friends to practice as long as they want.
Based on our research, this table gets a ton of play so that's pretty impressive. The sounds are incredible as the stereo speakers really blast out real hockey sounds as well as pings, bangs and other sounds.
Pros:
Great for bringing family and friends together
Builds friendly, competitive spirit
Sanctioned for official USAA and AHPA competition
Durable equipment keeps up with high-speed competition
Cons:
Price point is very steep for most families
Large footprint won't fit in many homes
Credits: ValleyDynamoTV
---
Best Durability: Valley Dynamo Hot Flash 2 8 Foot Air Hockey Table
Specifications
Weighs 475 lbs.
Dimensions: 99.5" x 51.5" x 31"
Playing Surface Dimensions: 93" x 45"
Leg levelers ensure even playing surface
Dyna-Blast Blower System creates high-speed, fast-paced action
Visual excitement stems from black light and graphics
---
Fun Factor
Durability
---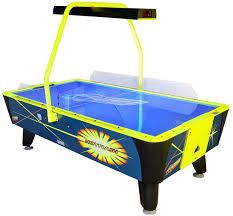 Description
The Valley-Dynamo Hot Flash 2 8 Foot Air Hockey Table sets the standard for air hockey tables. The first table to ever feature a black light has been updated in a new design to include dazzling graphics and LED underlighting that will keep friends, family, customers, and guests lining up to play for hours on end.
Put this flashy air hockey table in your man cave and enjoy game after game with your kids or neighbors. The black light glow is fun and exciting to watch as new memories are made in your home. The professionally designed performance package is sure to delight kids and adults of all ages. It quickly becomes everyone's favorite game to play.
With so many people wanting to play, this table needs to be durable. The plastic, metal, and laminate manufacturing materials are strong enough to allow for years of daily use.
Based on user feedback, this is an awesome table that's great for family gatherings.
Pros:
Impact-resistant laminate surface is durable and easy to replace
Rounded corners on table exterior prevent accidents and injury
Heavy-duty legs and robust design for years of use
Cons:
Price point is expensive, may not be for all families
Table is big and won't fit in all game rooms
---
Best Air Hockey Table for Home Arcade: Dynamo Blue Streak Coin Operated Air Hockey Table with Overhead Scoring Light
Specifications
Dimensions: 86″ x 46″ x 50.5″
Weighs 352 lbs.
Uses 3¼" air hockey pucks
Rails manufactured from aluminum for fast-paced gaming
---
Fun Factor
Durability
---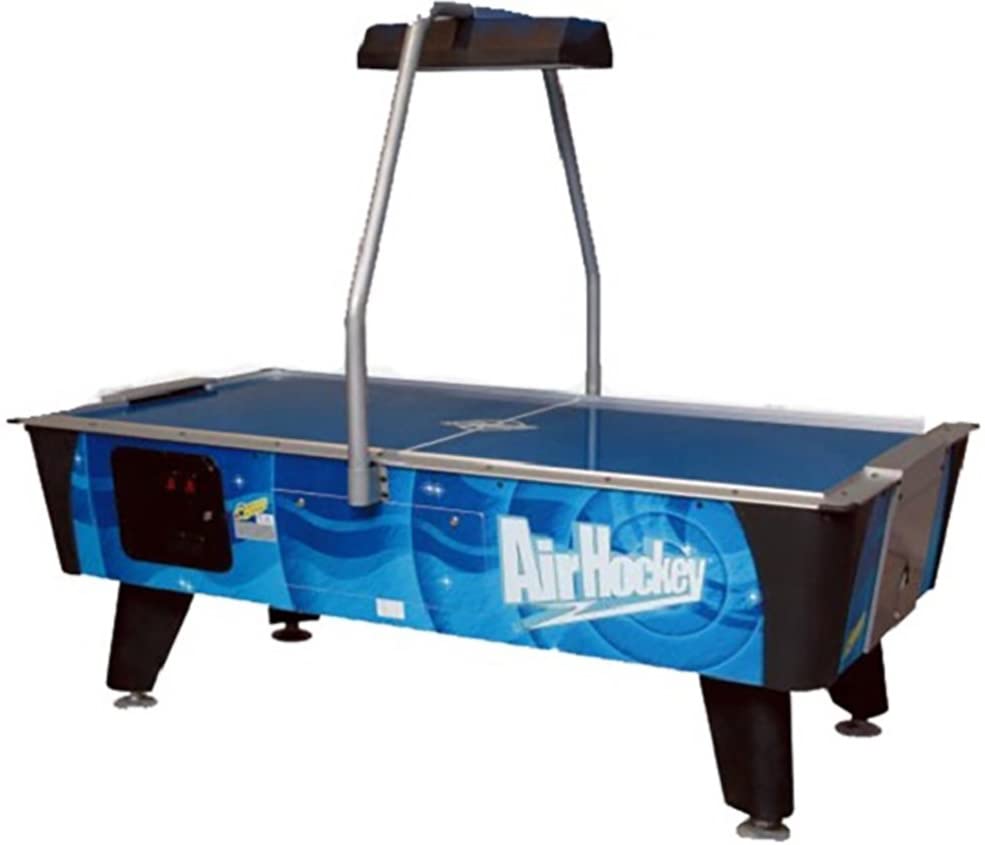 Description
Bring home the 7' long Dynamo Blue Streak Coin Operated Air Hockey Table with Overhead Scoring Light for your home arcade. When the 8' tables are just a little too big, the mid-sized Blue Streak is the perfect option to keep the games going day after day in a fun environment right inside your house.
Dynamo's durability feels doubled in this coin-operated air hockey table. It's perfect for competitive or friendly play and great for tournaments. The Dyna Blast blower system keeps your puck floating freely and unobstructed across the laminate surface. It glides furiously down the line and into your opponent's goal once struck with one of the 2 included plastic mallets.
The goal is scored and shown on the overhead scoreboard while commercial-quality graphics dance to celebrate. This is the best air hockey table for kids and adults and they will surely love it.
Pros:
Arcade-quality air hockey table draws lots of attention
Attractive graphics and coloring are appealing and eye-catching
Heavy-duty goal ends are hinged for easy cleaning
Shares components and materials with other Dynamo tables
Cons:
Price point is more expensive than limited budgets can afford
---
Best Air Hockey Table for Teenagers: Gold Standard Gold Flare Coin-Op Air Hockey Table
Specifications
Dimensions: 99″ x 51″ x 71″
Weighs 485 lbs.
Features 2 brightly colored strikers
Uses 3¼" size pucks
Available as coin-operated, card reader, or ticket dispenser
Laminate playing surface is durable and easy to replace
---
Fun Factor
Durability
---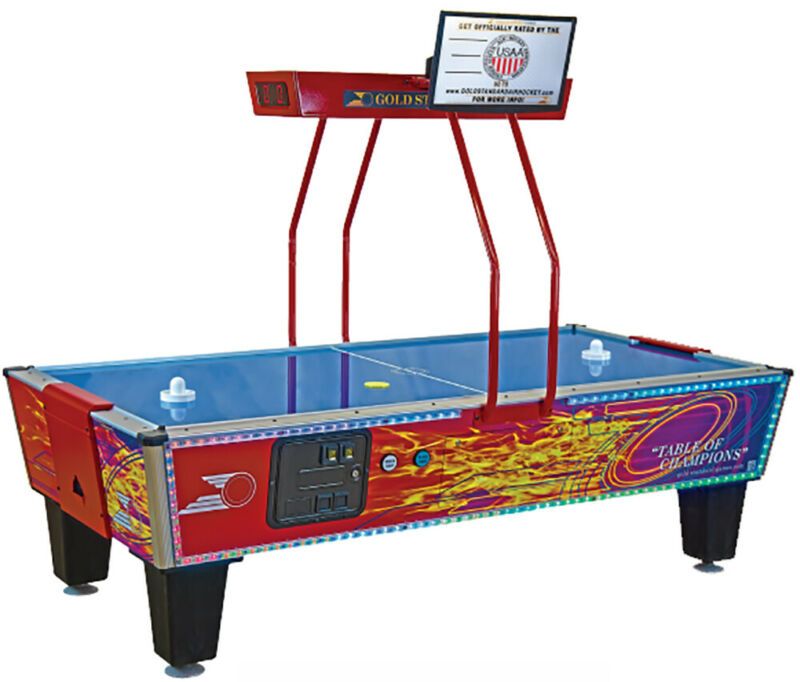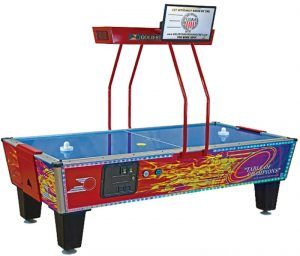 Description
Enjoy a real arcade experience right in the privacy of your own home with the Gold Standard Gold Flare Coin Operated Air Hockey Table. This brightly colored table is as dynamic as it is durable. The table features a player's choice of white light or black light that no other table on the market can boast with one of the most durable laminate finishes of any air hockey table available.
This table was designed under the careful eye of 2-time world champion, air hockey table designer, and star of the documentary Way of the Puck, Mark Robbins.[2] The realistic video monitor displays graphics and scores while music plays every time a goal is scored.
Use attract mode to include information on players, tournament placements, and updates. Everything is completely customizable by the user or operator, including features made explicitly for tournament play like a faceoff circle and centerline. This is the best air hockey table and an excellent choice for your game room.
Pros:
Blacklight option makes the puck glow during gameplay
Arcade-style LED chase lighting is fun and interactive
Sanctioned for tournament play at any USAA or AHPA event
Durable laminate surface outlasts other tables on the market
Cons:
Hefty price point can be intimidating to some buyers
Large table won't fit in all game rooms, finished basements
---
Best Air Hockey Table for Rustic Decor: Tradewind RP Air Hockey Table
Specifications
Weighs 380 lbs.
Commercial-grade 210 cfm blower motor
Leg levelers keeps playing surface even and fair
Quiet package reduces game noise by 90%
Price includes shipping and delivery
Cross brace supports playing surface, keeps it flat
---
Fun Factor
Durability
---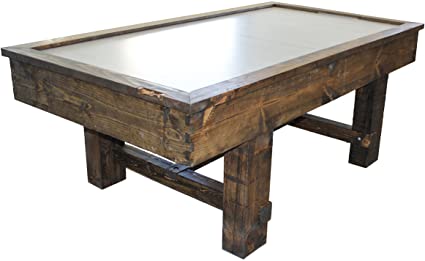 Description
The Tradewind RP – Air Hockey Table is the perfect communal point for large, open floor plan homes that have been decorated with rustic or farmhouse themes. It's the best air hockey table for home since it doesn't disrupt your decor scheme with loud colors or graphics while enjoying all the fun air hockey has to offer.
Guests and friends will be surprised by how well this table blends into your décor while remaining a functional, enjoyable air hockey table.
The table's aprons, legs, and rails are manufactured using solid pine wood, making this table sturdy and durable. Feel free to lean against it or put your weight on it without worrying about the table bending and breaking. Hidden puck drops serve to conceal the true nature of this gaming table.
The blower motor is significantly quieter than other model tables, making it ideal for large, communal areas. Family members can enjoy a book or music without being disturbed while others play close by.
Pros:
Great gaming table for mature adults
Don't disrupt your existing décor with loud graphics
Wood finish is beautiful and durable
Enjoy air hockey in your open floorplan living room
Cons:
Quiet table doesn't offer loud goal celebrations or lights
No options available for customization
---
Best Air Hockey Table for Limited Space: Sport Squad HX40 40 inch Table Top Air Hockey Table
Specifications
Manufactured using plastic and rubber
Dimensions: 40" x 20" x 5"
Manual sliding abacus scorers
Weighs only 14 lbs.
Provides real surface airflow
Non-marking rubber pads to protect all your table surfaces
---
Fun Factor
Durability
---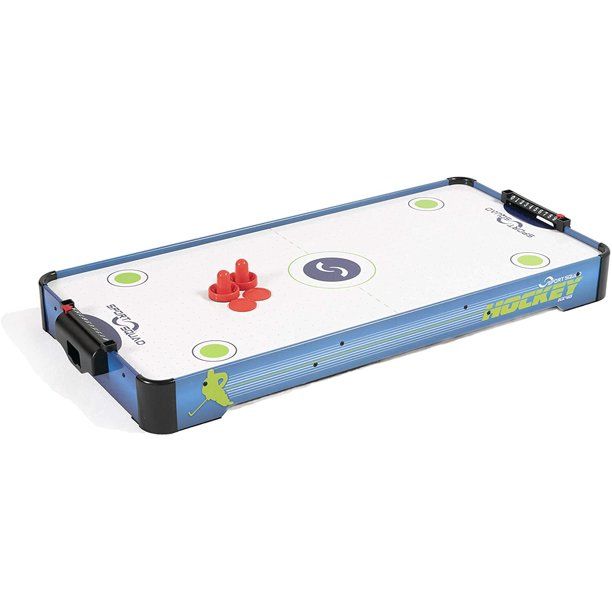 Description
Little kids join in on the fun with this portable Sport Squad HX40 40" Table Top Air Hockey Table. It's easy to store in a closet or basement until you're ready to play. Just place it on your dining room table, a coffee table, or folding table and plug it in. In seconds, you'll hear the 12V motor purr and start circulating air to create a fun, fast-paced gaming experience for your young family.
Thanks to the easy mobility and lightweight design, it's great for condos and apartment living. Keep game nights fun and active by putting down your cell phone and challenging your friends to a lively game of air hockey instead.
The bottom part of the table features rubber footing to protect the surfaces of the tables you place it on, so don't worry about scratching or sliding. This table will stay precisely where you'd like to keep it thanks to this stability-providing design.
Based on our research, this table is very portable the fact that it doesnt have legs where you can slide it under the bed or under the table when not in use. It's also not heavy but is sturdy that could last for years.
Pros:
Lower price point is excellent for families
Motor is powerful yet quiet, won't disturb others
Excellent customer service team is available
American-based company supports American workers
Cons:
Teenagers and adults may not find table so appealing
Thin plastic materials break easily
---
Best Multifunctional Air Hockey Table: Atomic Northport 3-in-1 Dining Table with Air-Powered Hockey and Table Tennis
Specifications
Includes equipment needed for ping pong and air hockey
DEFOverall Dimension: 87.4" x 50.5" x 9.25"
Weighs 462 lbs.
Playing Surface Dimensions: 84" x 47.25"
Some assembly required arrives in 2 boxes
Scoreboard is included
---
Fun Factor
Durability
---
Description
The Atomic Northport 3-in-1 Dining Table with Air-Powers Hockey and Table Tennis is a great central location for fun and action in any dining area or game room. You'll love the ability to play air hockey and table tennis any time you'd like in your own home. It's versatility makes it the best tabletop air hockey. When not in use for air hockey, place the hardwood top on the table, and you've got a table suitable to dine at, play cards or board games. This table can keep your family entertained for hours.
Its heavy-duty construction is excellent for large, busy families who might be rough on furniture. Store accessories for your tabletop games in the large upholstered benches that accompany this table. They are comfortable to sit on and handy for extra storage. You never need to worry about losing a puck or striker as long as you've got a place to keep them.
Pros:
Multifunctional table has grey wood finish looks great anywhere
Hardwood tabletop is great for board and card games
Hardwood top flips over to reveal ping pong table
Air hockey table hidden under hardwood lid
Cons:
Higher price point may turn off some buyers
Cannot be kept or used outdoors
---
Best Air Hockey Table Under $500: Air Hockey Table for Kids
Specifications
Solidly constructed from MDF wood
Air-powered 100V dual-electric blowers
Electric LED Scoreboard tracks the action
Includes 4 strikers and 2 pucks
Vibrant colors and graphics are eye-catching
100% Satisfaction Guaranteed with replacements and refunds available
---
Fun Factor
Durability
---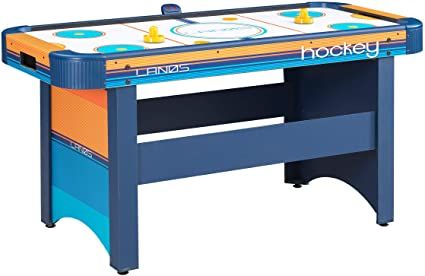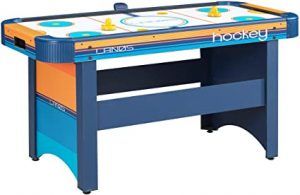 Description
Kids of all ages love this Air Hockey Table for Kids. It's the perfect size for bigger kids and even teenagers. It's highly durable thanks to its MDF construction with foam reinforced legs that won't scratch your floors if it's moved or nudged. [3]
The brightly colored graphics are family-friendly and reminiscent of larger, arcade-style air hockey tables. You'll love the smaller price point while the kids enjoy having fun in a competitive setting in their own home. The powerful air blower keeps the game fast-paced and exciting, using a cushion of air to reduce friction and keep your puck gliding fast across the surface of the table.
This table's size is perfect for placing in children's bedrooms or the corner of your living room without it taking up too much space. It's easy to assemble so your family can start keeping score and tallying goals in no time.
Pros:
Keeps kids of all ages entertained hour after hour
Legs have scratch-resistant bottoms to protect floors
High-powered air blowers remove dead zones from table
Smaller model can fit in bedrooms and living rooms
Cons:
Smaller unit may not be appropriate for adult play
Surface has been described as bouncy
---
Best Air Hockey Table Under $1000: haxTON 1 Set of Popular Game Tables 5 in 1 Multi-Use Game Table
Specifications
Dimensions: 43" x 24" x 32"
Frame material manufactured from wood
Stackable design means games fit on top of each other
Weighs 40 lbs.
Durable MDF and plastic provide lasting gaming
Brand is dedicated to sustainable technology
---
Fun Factor
Durability
---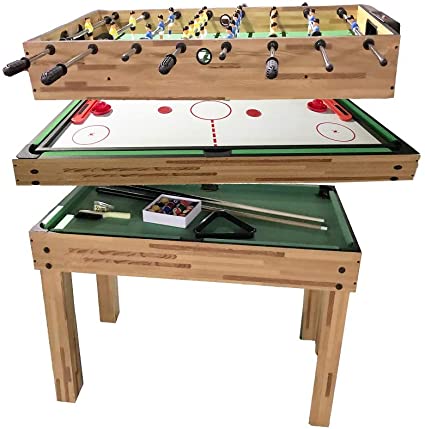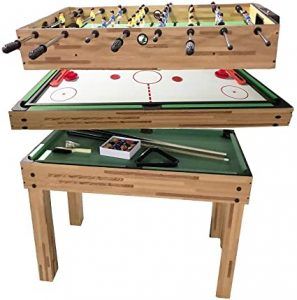 Description
The haxTON 1 Set of Popular Game Tables 5 in 1 Multi-Use Game Table is the answer to all of your entertainment needs in a limited space. It's great to keep the party going hour after hour without losing anyone's interest. Enjoy game nights with the kids or invite friends over for small get-togethers where your gaming table will be the star.
This is best rated air hockey tables because it's compact footprint makes it a diverse piece of furniture that you can place anywhere in your home. It's great for game rooms and garages, but the wood finish is beautiful enough to put in your living room or open floor plan communal areas. Your family will never be without something to do while this table is around.
Have a great time playing air hockey, foosball, mini pool, or using this table as a spot for cards and board games. The possibilities for entertainment are endless.
According to a user feedback, the overall quality of this is pretty good.
Pros:
Small footprint fits in game rooms, garages, playrooms
Includes all accessories needed for hours of gaming
Features built-in storage to keep all accessories safe
Manual scoring systems for games keep games fair
Cons:
Air hockey table does not provide actual airflow
No leg levelers for adjusting to uneven floors
---
Best Air Hockey Table Under $200: Best Choice Products 58in Mid-Size Arcade Style Air Hockey Table
Specifications
Dimensions: 56.5" x 27" x 31.5"
Weighs 43.3 lbs.
Manufactured using MDF and PVC
Uses powerful 12V motor
Convenient carry bag included with table
Includes 2 pucks and 2 strikers for gameplay
---
Fun Factor
Durability
---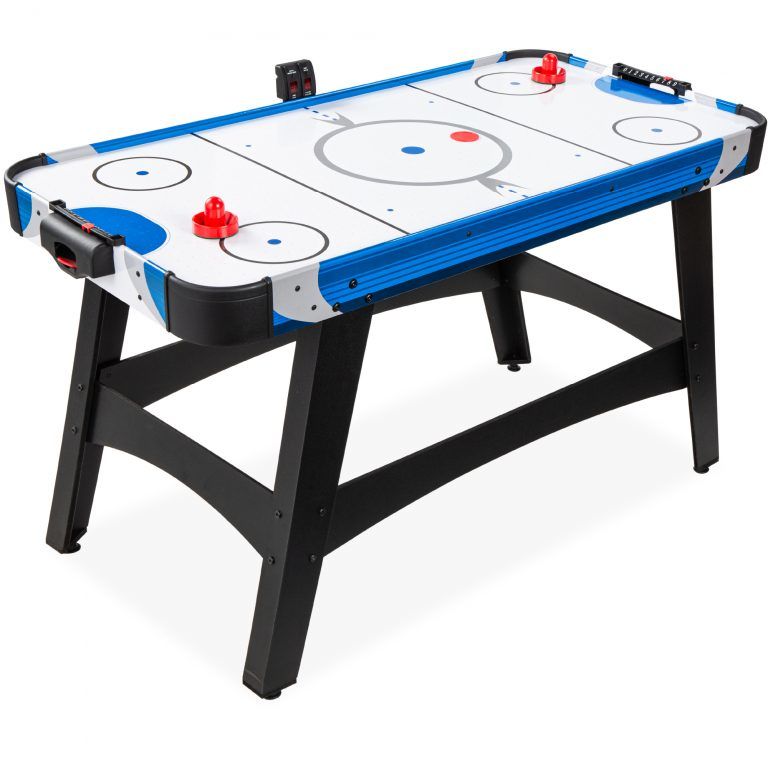 Description
Liven up your holiday giving or birthday fun with the Best Choice Products 58" Mid-Sized Arcade Style Air Hockey Table. Adult kids, little kids, and all of those kids in between will be dazzled when opening this fun, easy to assemble air hockey table on their special day.
All the accessories are included. There are 2 bright red strikers to use to defend your goal and 2 red pucks to match. Use the strikers to glide the pucks across the playing surface and enjoy the electronic scoreboard as it keeps track of the winning player. Manual, abacus scoring is available as well.
The construction of this table is sturdy, made from PVC plastics and composite wood. Anyone with uneven floors will be grateful for the adjustable leg levelers that keep the playing surface flat and even. The table features crossbar leg support, so it doesn't wobble. The corners are rounded and covered in durable plastic to prevent any accidents or injuries during gameplay or little kids running around.
Based on user feedback, the air flow was great the pucks and its easy to assemble.
Pros:
Low price point fits into most family budgets
Strong airflow keeps puck moving across playing surface
Leg levelers keep game surface even and fair
ASTM and CPSIA certification means air hockey table set is safe
Cons:
Scoreboard is finicky, counts more than 1 goal at once
Fan sometimes shuts down during gameplay
---
Conclusion
The Dynamo Fire Storm Air Hockey Table is the best air hockey table for families. It shows up packed with fun, stimulating features like music, lights, and goal-scoring celebrations to keep you entertained for hours.
It comes with 2 paddles and 2 plastic pucks for unlimited enjoyment. This table's new design features a speaker behind the goal slot, right next to the player, for added excitement and fun. Side shields are included with this design to keep the puck on the table even during intense gameplay.
It's sturdy enough to lean or climb on, so you'll never have to worry about wear-and-tear from rambunctious kids.
Our Overall Pick
Great American 8′ Power Air Hockey Table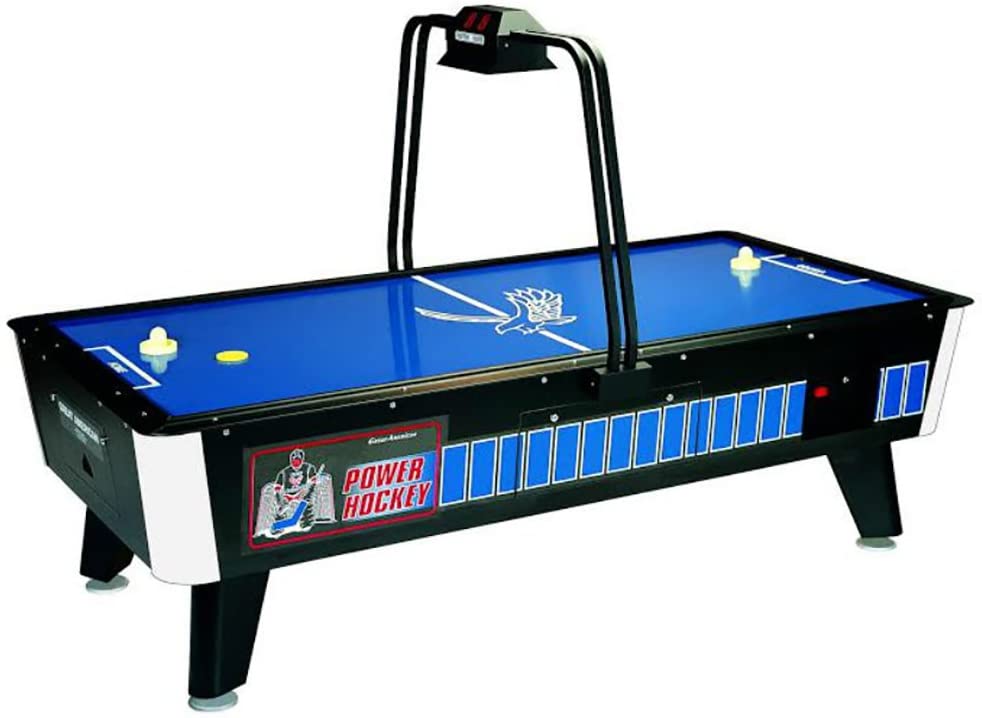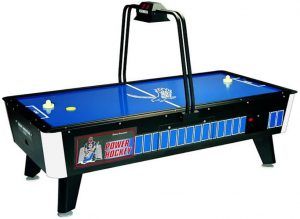 Overview
Air hockey is a fun game that people have been enjoying in arcades and bars for years. It's a popular, high-speed game that can be played professionally or as just a friendly competition between siblings at home. The game is best known for its soft cushion of air that supports a plastic puck as it's knocked between 2 players that stand opposed across a tabletop.
Before purchasing your air hockey table, you should know what you're looking for and what type of air hockey table best suits your home or business needs. Some air hockey tables feature busy graphics and bright colors, making them perfect for an arcade. Others blend seamlessly with your living room or game room décor, which gives your home a boost of fun without taking away from your color or design scheme with eyesores.
What is an Air Hockey Table?
An air hockey table is a table that features industrial air blowers to create an air cushion for the brightly colored pucks used in air hockey to glide across. The tabletop is often plastic, but it can be any smooth surface. It's not unusual to find tabletops crafted from wood, resin, Formica, or even metal.
These tables generally feature 1 or more ways to keep score. Many modern air hockey tables still have manual abacus scoring, but it's common to find larger, electronic tables with automatic goal-scoring above the playing surface. Many will feature loud music, crowd noise, and goal celebrations to imitate the feeling of being at a real ice hockey game.
A tournament table must be 8' long, but if you're not planning on tournament play in your home or business, you don't have to adhere to that standard. All of the 8' tables manufactured by Gold Standard and some Dynamo tables are sanctioned for professional tournament play. There are smaller, mini air hockey tables used for fun in a smaller space to learn the game, but these tables are not used in tournament play.
Some tables are considered air hockey even though they don't have the air blower that is a hockey table's signature feature. These tables are usually smaller and have a playing surface that's relatively smooth and slick to help the puck glide.
Features to Consider
Air hockey tables are much like any other piece of furniture. Before you purchase, you should consider the amount of space you have so you don't buy one that's too large for your living room, game room, child's room, or finished basement. With so many different options, grabbing your tape measure and getting precise measurements is essential.
In addition to size, consider how disruptive an air hockey table might be in communal living spaces. While many tables look great anywhere, they can make a lot of noise, especially when goals are scored. If you don't want to deal with a ton of loud music or simulated fan cheering, consider purchasing a table that doesn't have those features. You could easily find attractive models that fit into your décor scheme and quiet living space if you so choose.
Tips and Advice
The best tip or piece of advice for using your air hockey table is to have fun with it. There are a few tricks to getting the most out of your gameplay but, just as in everything, practice makes perfect.
Use your striker to hit the puck from behind to sink it directly into your opponent's goal. New players often try to bank shots to confuse their opponent, but those are often easily countered.
Watch your rebounds, so you don't accidentally score into your own goal. Keep your eye on the puck so you can quickly react to any rebounds your opponent may force. Take your shot and then get back into a defensive position immediately incase the puck comes ricocheting back at you.
Keeping those 2 gameplay tips in mind is a sure way to create winning opportunities, but you'll also want to keep your table clean. It's easy to find specialized air hockey table cleaners and wax to keep the surface smooth, but you'll want to inspect for clogged holes, so no dead spaces are created on your playing field.
If you're looking for more than just one game in one table, check out our article for the best multi purpose game table. It gives more enjoyment than you could ask for. The more games, the better.
You can also consider checking out our high-quality pool tables and top foosball tables for more game options. For other kinds of tables, check out our best dome hockey table reviews and best shuffleboard table for the money. You can check out our homepage for more leisure option