Disclosure: We may receive a small commission when you shop by clicking on the links on our site. This is at absolutely no added cost to you. Learn more.
If you're fascinated by the idea of finding lost pieces of history or golden doubloons at the beach or in the ocean, you need the right device. Detecting on the beach is challenging because of the seawater's high mineral content, which can skew results.
The best metal detector for the beach is always the top waterproof metal detector, but you also want a device that is either multi-frequency or pulse induction. For an underwater metal detector, there are handheld versions and more budget-friendly options.
There's nothing like the thrill of hearing a signal, notifying you of a secret that's waiting to be unearthed.
Our Top Pick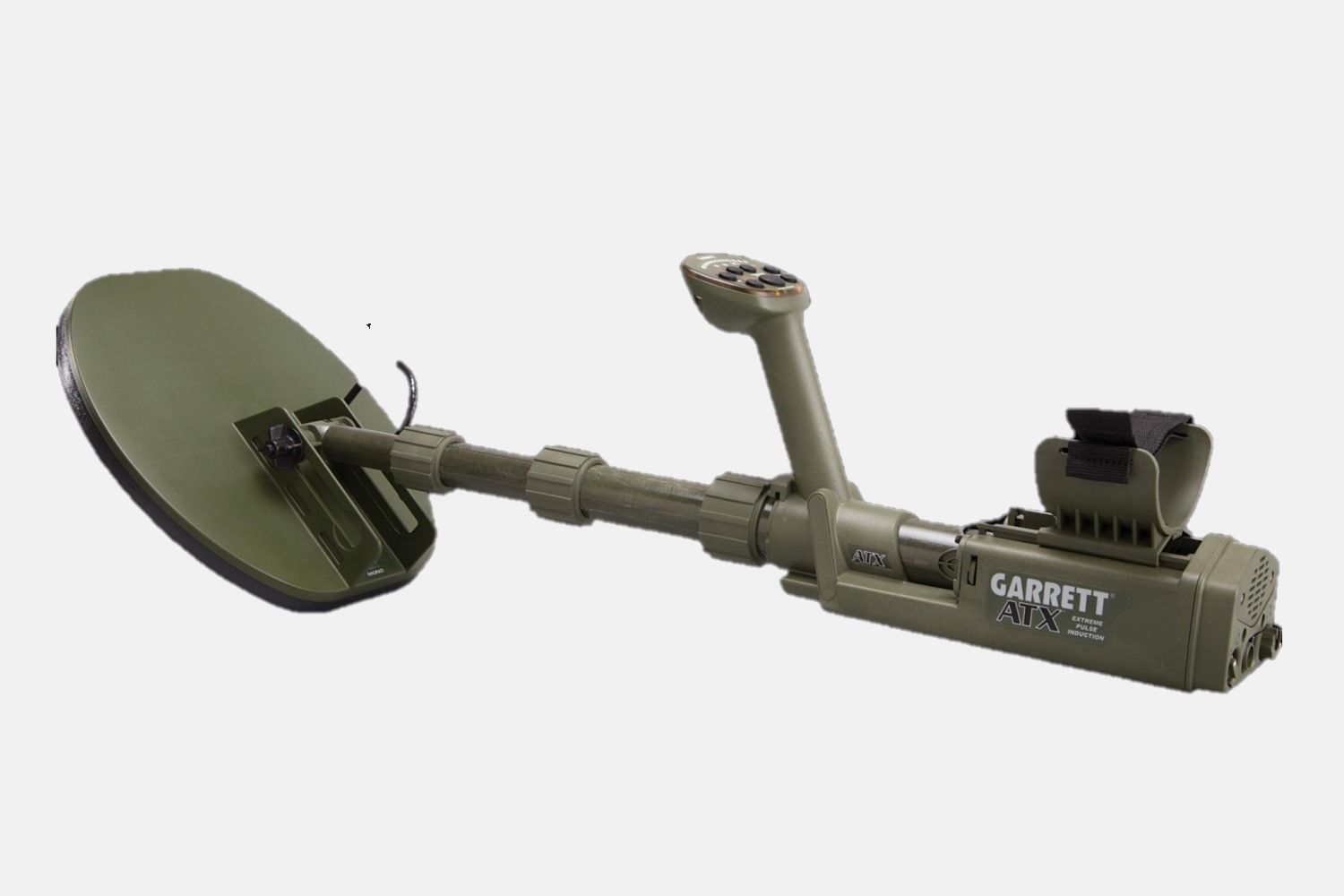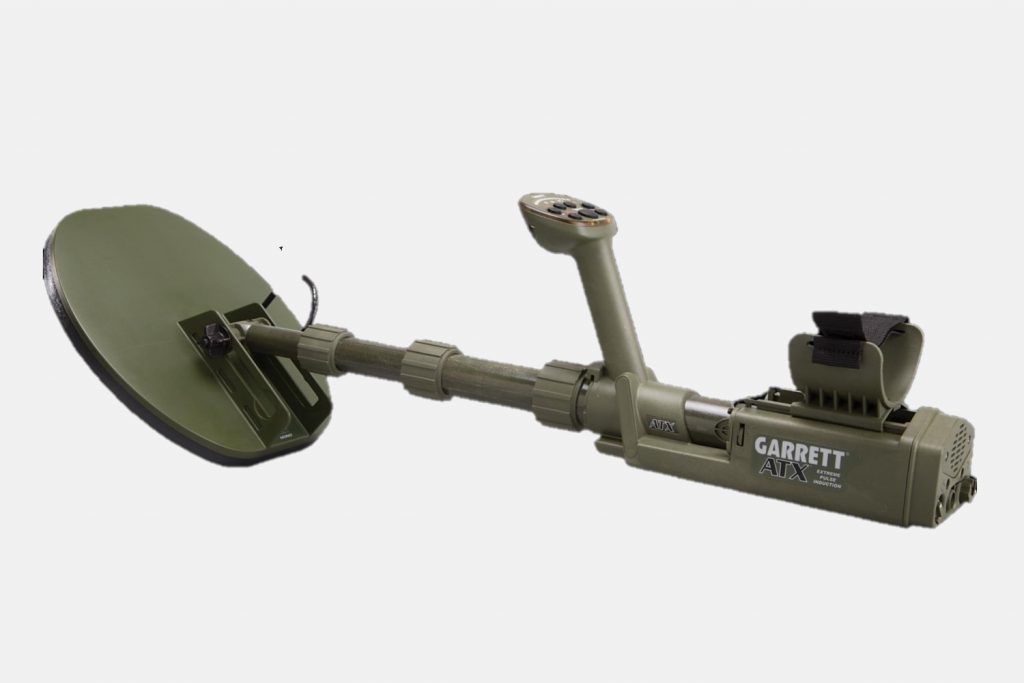 Compact and built for rugged use
All connections are waterproof
Headphones screwed into the device
Features include tracking, iron check, discrimination, and automatic frequency shifting
---
Our Favorite Picks for Underwater Metal Detectors
---
Best Metal Detectors For The Beach To Find Amazing Treasures

Image

Product

Purchase

Top Choice that Money Can Buy

Garrett ATX Deepseeker Package

Compact and built for rugged use
All connections are waterproof
Headphones screwed into the device

Minelab CTX 3030 Standard Pack with GPS Rechargeable

Wireless audio allows detection of very deep treasure with crisp clear signals
With a PC, use the mapping function to check where you've been
Multi-frequencies allow for a greater search area
Smartfind 2D Discrimination makes target discrimination easy
Both auto and manual sensitivity modes

Nokta Makro ANFIBIO Multi

Excellent in dry sand, wet sand, or underwater
Telescopic shaft and armrest for maximum comfort
Great for multiple locales, as well as the beach
Backlit keypad
Extra Underground Depth or E.U.D. function adds more depth and sensitivity
Blend of 3 frequencies for ultimate find detection

Best for underwater finds

Minelab Excalibur II 1000 Bundle

Minelab's BBS (Broad Band Spectrum) tech is patented
Smart discrimination features sort trash from treasure
Side mount for surf hunting
Fluorescent markings make it hard to lose in murky waters
Operates best in fresh and saltwater
If you have a penchant for finding buried treasure on a beach, you need a specific set of functions.
On both wet and dry sand, the top beach metal detector should be pulse inductive (PI) rather than Very Low Frequency (VLF). Different coil sizes and whether it's weatherproof, waterproof, and submersible also influence which option is the best metal detector for the beach.
If you SCUBA dive or snorkel looking for buried pirate treasure, an underwater detector is right for you. The best underwater metal detector should be waterproof and submersible for many feet and have a high capacity for dealing with mineralization.
---
Find Out Why We Think These Are The Best Beach Metal Detectors
---
Our Favorite: Garrett ATX Deepseeker Package
Specifications
5.5 lbs. Extends 20″ to 68″
Mono coil, headphones, sling, charger, 2 rechargeable AA batteries, coil cover, soft and hard cases for travel
Advanced Pulse Induction with multiple frequencies
Submersible up to 10 ft.
In ideal conditions, can detect up to 18"
Uses 8 AA battery in 2 drop-in packs
Use for shore hunting, high mineralization, wet sand, seawater, all locales
---
User-Friendly
Feature Set
Durability & Reliability
---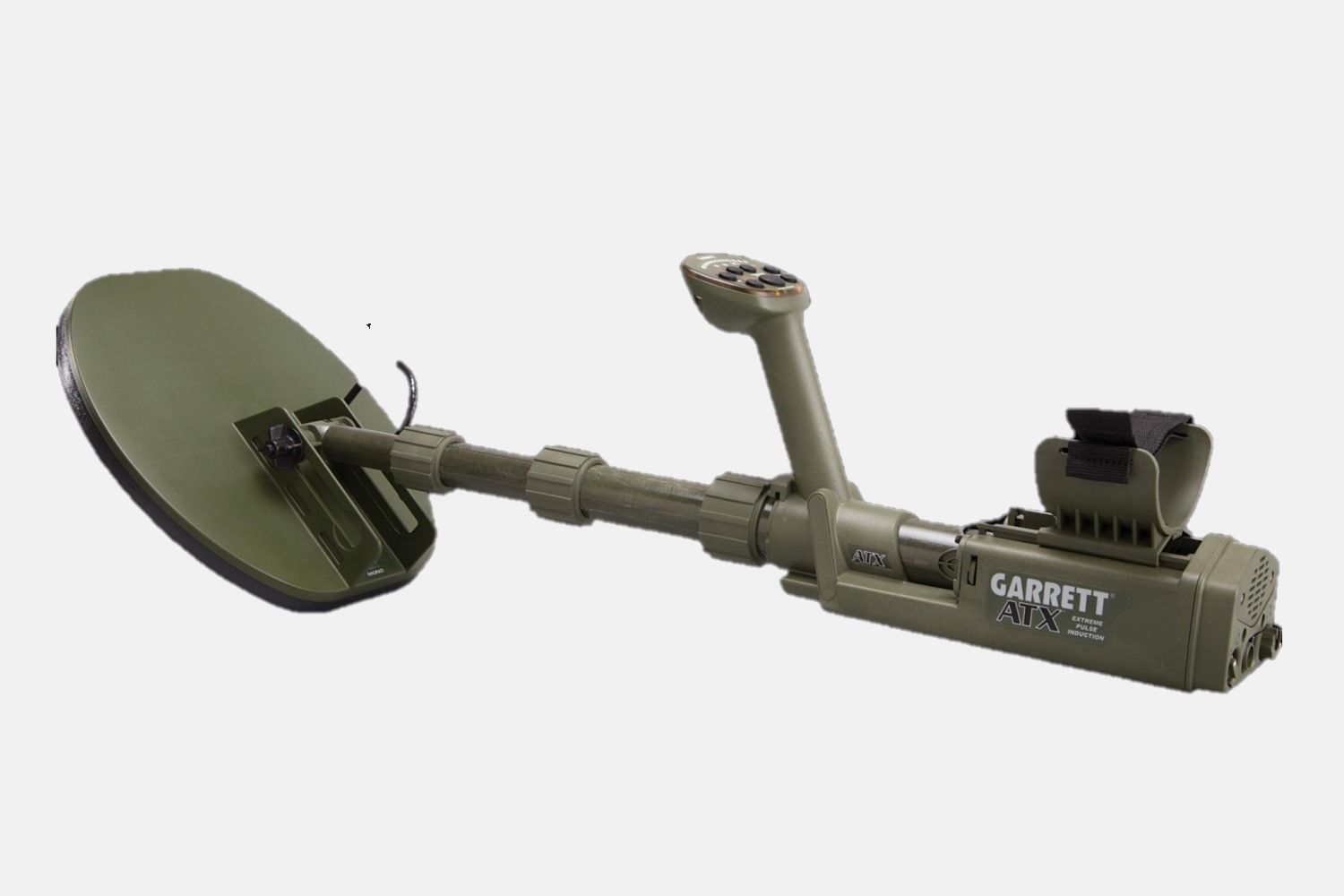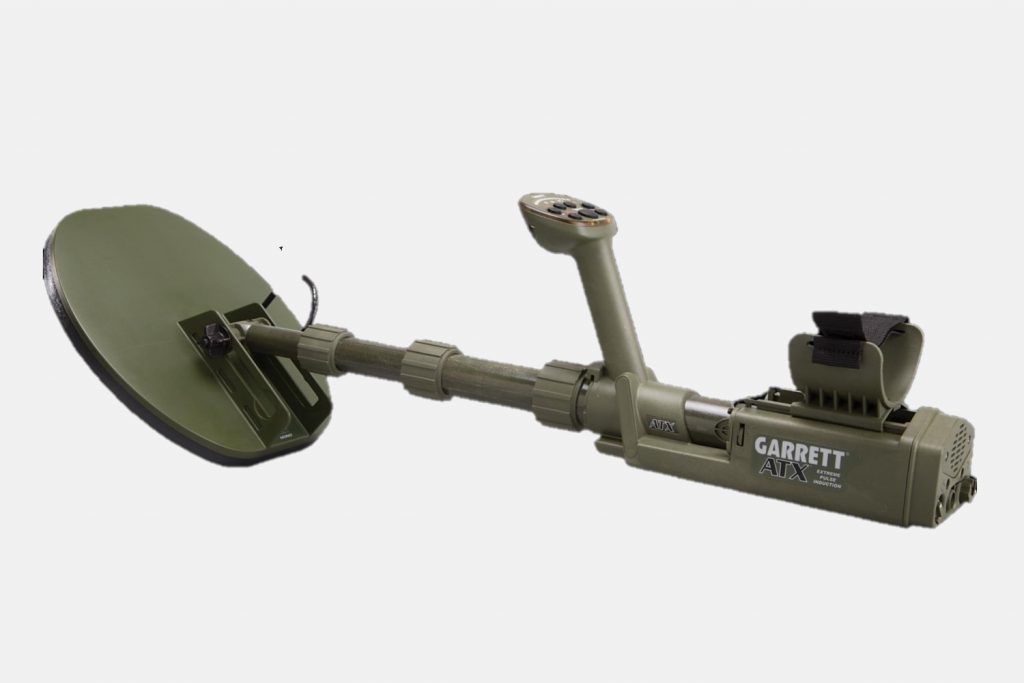 Description
If you're serious about finding some buried treasure, this is the best waterproof metal detector. The Garrett ATX Deepseeker Package can fulfill all of your expectations as to depth detection, sensitivity, and discrimination between objects buried deep in the earth.
With this device, you have optimal detection at all times, so you don't have to switch back and forth between modes to make sure you haven't missed anything. Using Pulse Induction technology at multiple frequencies allows for more sensitivity and depth.
It also doesn't hurt that the Deepseeker has a 20" coil that allows for an even broader search range. This advanced DD coil design makes this device more sensitive to smaller objects.
The features of this incredible metal detector provide precision and depth clarity in your treasure hunting. It's durable, so take it with you into even the toughest terrain. With extra features like tracking and iron check, the Deepseeker is the best beach metal detector money can buy.
Pros
Design is military-grade
20" search coil
Electronic pinpointing
Cons
Poor-quality battery holder
---
Runner-Up: Minelab CTX 3030 Standard Pack with GPS Rechargeable
Specifications
Weighs 5.2 lbs.
USB cable, Lithium battery, 8 "AA" batteries, car adapter, 11" waterproof DD coil, UR-30 headphones, starter's guide
Pulse Induction and 1.5 kHz – 100 kHz
Waterproof up to 10 ft.
Depth indicator included
One rechargeable lithium-ion battery and 8 replaceable "AA" batteries
Use for gold, beach, underwater, shore
---
User-Friendly
Feature Set
Durability & Reliability
---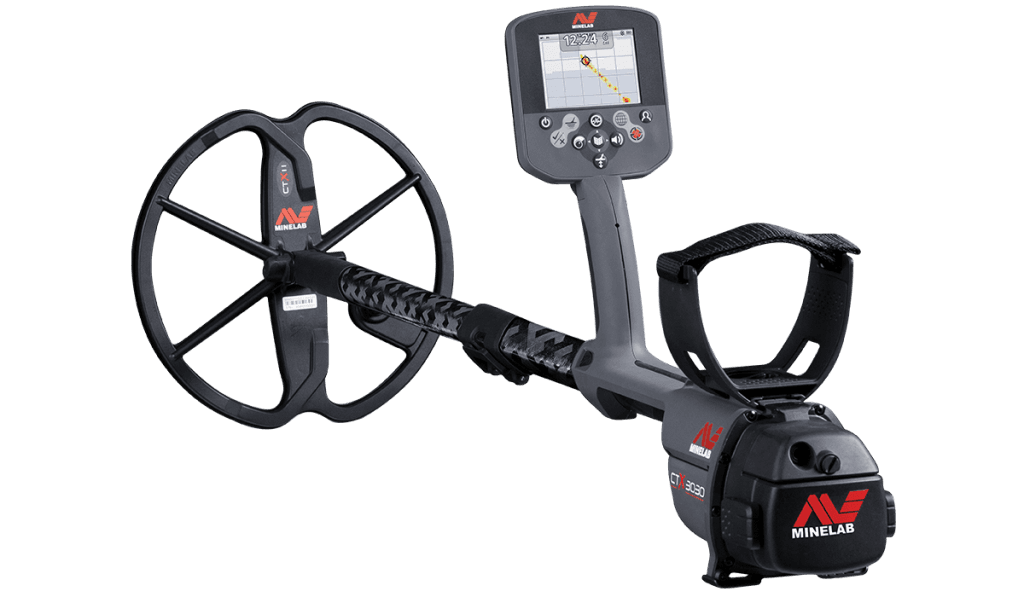 Description
This metal detector is chock-full of features. If you're a fan of shore hunting [1] and want to know the best detector for the beach and price is not a challenge, then the Minelab CTX 3030 Standard Pack Metal Detector may be just the device for which you've been searching.
With Full Band Spectrum (FBS) technology, [2] the CTX allows for rectangular frequency waves, which improves communication between the coil and the control box. The wide range of frequencies FBS uses – 1.5 kHz to 100 kHz – vastly improves this device's sensitivity, accuracy, and depth.
If you are a PC-user (not Mac), you can take advantage of the CTX's GPS mapping function. Target separation and a full-color display make find identifications a cinch.
Usually, PI detectors cannot discriminate between targets well, but the Smartfind 2D Discrimination feature of the CTX levels the playing field by adding to the device's accuracy and sensitivity.
According to metal detector experts, CTX is a solid machine that would last for years. It's shoulder strap really helps a lot since it's heavy.
Pros
Sand seal protects battery
Updated armrest lock
Full-color display
Cons
You can't use it underwater
Price
---
Most Value Find: Nokta Makro ANFIBIO Multi
Specifications
Weighs 3.7 lbs.
11" DD coil, wireless headphones, USB cable, coil cover
Selectable frequency at 5 kHz, 14 kHz, and 20 kHz
Fully submersible up to 16.4 ft.
Has depth indicator
19 hours of battery life
Use for the shoreline, multiple locales, intermediate, jewelry, coins, relics
---
User-Friendly
Feature Set
Durability & Reliability
---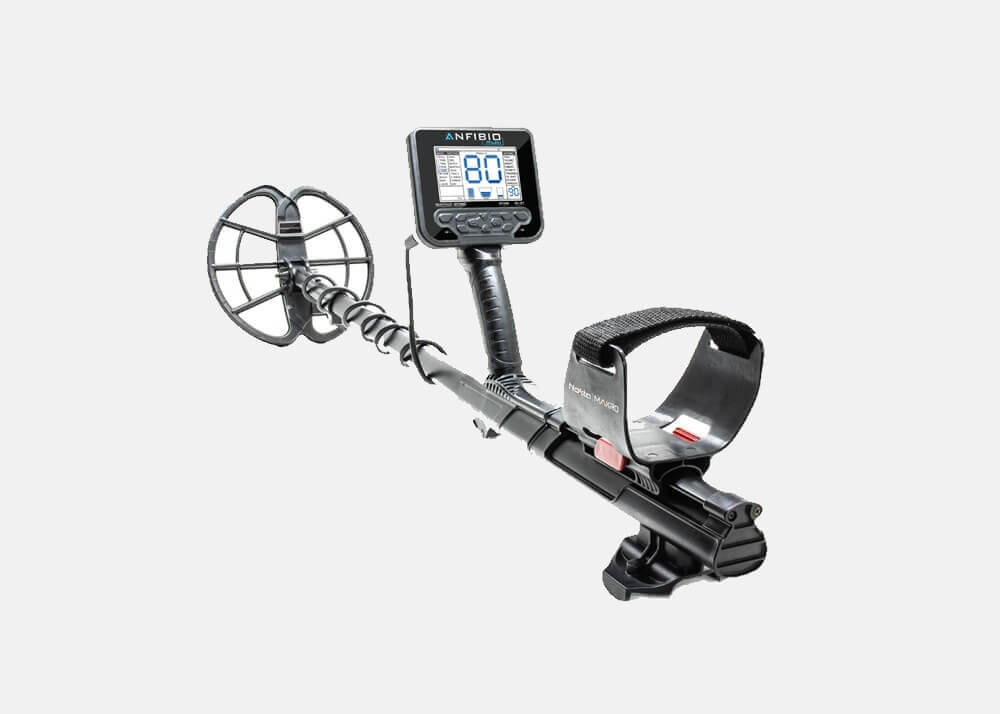 Description
This metal detector is one of the sturdiest, simplest, and most sensitive products on the market in the same price range. Waterproof up to 16.4 feet, this detector has a rugged body and a coil cover to keep dust and water out, a must when looking for a cheap underwater metal detector.
ANFIBIO Multi uses 3 different frequencies to detect with – 5 kHz, 14 kHz, and 20 kHz. The lowest is great for ground penetration and detecting objects like coins; the highest is amazing for small objects with low conductivity; the midrange is a good blend of both.
The ANFIBIO aims for simplicity along with super-functional features. With only 1 menu to display, it's easy to adjust your settings so that no treasure is left behind.
To specialize your search, there are several search modes: Beach, cache, deep mode, general mode, 3-tone, and 2-tone. With a simple interface and a wide range of specializations, this ANFIBIO is a great all-around device for an excellent price, even if it's not a handheld underwater metal detector.
ANFIBIO is known to have multi frequency which means you can effectively detect everything from gold nuggets to coins and relics.
Pros
1 menu display for simplicity
9 search modes
Can be used underwater
Cons
Wireless headphones cannot be used underwater
Frequencies used one at a time
---
Value Runner-Up: Garrett AT Max
Specifications
Weighs 3.4 lbs.
DD coil, pro-pointer, batteries
VLF at 13.6 kHz
Submersible up to 10 ft.
Depth indicator included
4 included AA batteries
Use for rugged terrain, intermediate to expert use, coin, jewelry, or artifacts
---
User-Friendly
Feature Set
Durability & Reliability
---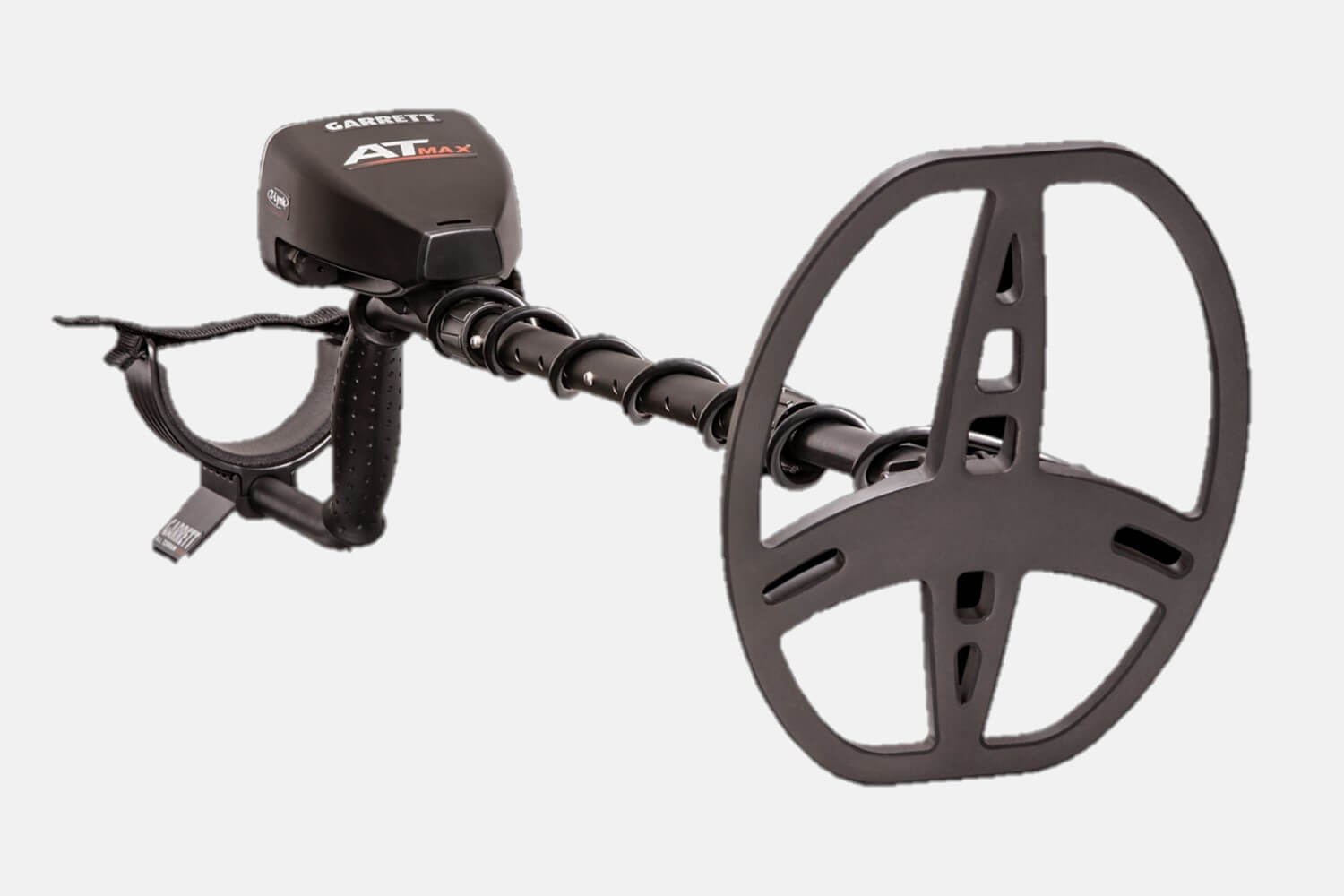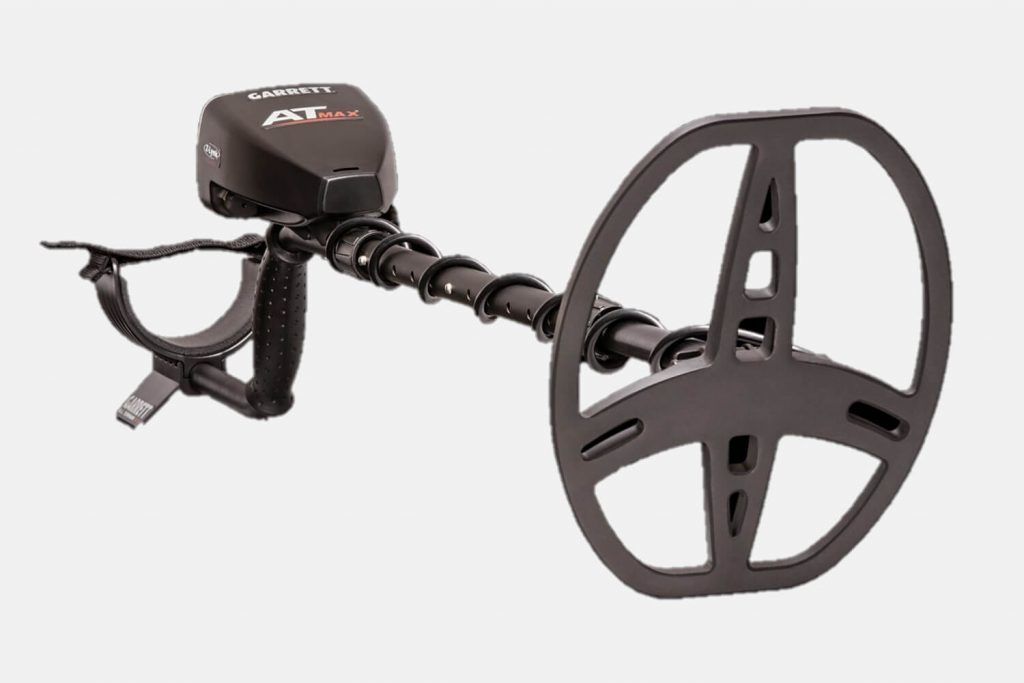 Description
The Garrett AT Max Metal Detector has many notable features that recommend it as one of the top metal detector for the beach. One of the strongest attributes of this detector is its use of 13.6 kHz frequency, which is effective for a wide range of conductivity levels and sizes of finds.
The Z-lynk audio technology is 6 times faster than Bluetooth, so you won't be moving over your target and past it before you get a signal. This package comes with a free pro-pointer from Garrett, so you can exactly pinpoint where your treasure lies.
The 175 points for high-resolution ground balance lets this detector work effectively in high-mineral areas like the sea-soaked sands. Both manual and automatic ground balance are perfect for a day of detecting at the beach.
The Garrett is also ideal for the seaside because of the evolved Target ID tech, which makes separation and identification of valuable finds easy and quick.
If ever a part of the machine gets broken, you wont have any problem getting a replacement since it has more aftermarket accessories and upgrades available. Not to mention that Garrett has a better warranty and repair service.
Pros
Included pro-pointer
Backlighting for improved low-light visibility
Adjustable threshold
Cons
Steep learning curve
Needs different coil for smallest objects
---
Beginner's Top Find: Bounty Hunter BHJS Junior
Specifications
Weighs 1.3 lbs. Dimensions: 10" x 9" x 57"
User's manual, detector, headphones
Operating at a single frequency of 6.6 kHz
It is not waterproof
Finds small objects up to 5" depth; larger finds up to 3 ft. depth
2 9V batteries required
Use for amateur, low-stakes searching, children
---
User-Friendly
Feature Set
Durability & Reliability
---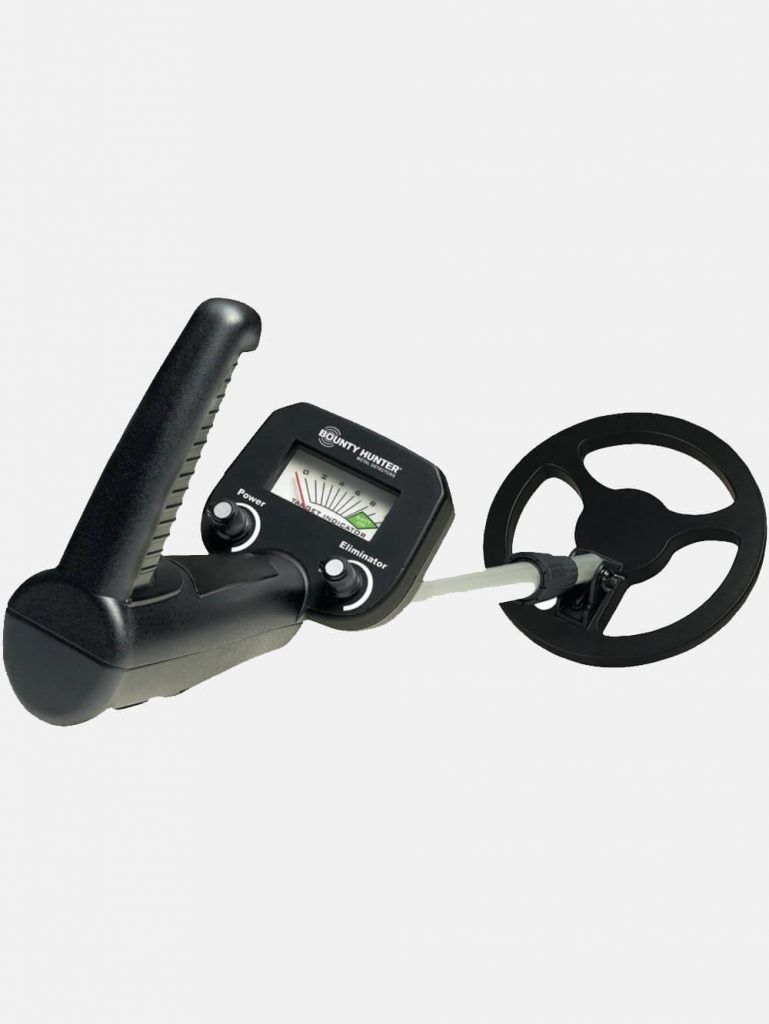 Description
This super-lightweight and affordable metal detector is perfect for a young person in your life that is intrigued by the idea of hunting for treasure. It requires 2 9-volt batteries, but it is simple to set up and get running.
We love the easy user interface, which allows users ages 6 and up to aptly and handily find buried metal objects. With only 2 knobs, the detectorist won't get confused and can concentrate on the thrill of the hunt instead.
The tone varies due to the target indication meter, showing the user how close they are to the metal object. Discrimination control cancels out the detection of iron or other unwanted metals.
The 6.5" coil is not completely waterproof, so it's best not to submerge this product. If you're looking for a way to get someone, young or old, interested in being a detectorist, this is a wonderful gateway gadget to get them started.
Pros
Battery tester included
Unit can expand and retract for easy storage
Lightweight and ergonomic
Cons
Sometimes does not work accurately
Coil is not waterproof
---
Amazing Overall Pick: XP Deus RC WS5
Specifications
Weighs 5.35 lbs and dimensions are 23.7" x 10" x 4.5"
AA batteries, lithium battery, and charger, ABS transport case, belt clip, operator's manual
35 frequencies of 3.7 to 27.7 kHz
Waterproof coil is submersible to only a few inches
Has depth indicator
27 hours of battery life
Use for expert, gold, small items, coins, shore
---
User-Friendly
Feature Set
Durability & Reliability
---

Description
If you're looking for a device that can do it all, the XP Metal Detectors Deus RC WS5 is what you've been searching for. With an easy user interface and preset programs for beginners, the Deus offers various options to satisfy expert detectorists.
What makes this device a standout is that the detecting technology is built right into the coil, so the results are almost instantaneous. The Deus is made up of 3 elements – coil, headphones, and remote, and you can charge them all simultaneously.
Five multi tones and different pitches make signals fully customizable. It comes with 8 user programs and 10 factory programs that can be used in various conditions. Although the XP Deus has a steep learning curve due to its advanced technology and a multitude of features, it has fairly simple menu options. It is also quick to change the coil and deploy the stem in a matter of seconds.
Pros
8 user programs and 10 factory programs
Hip mount provided for remote
Beach On mode in the GROUND Menu is perfect for seashore hunting
Cons
Larger headphones may get too hot
Steep learning curve
---
Beginner's Runner-Up: NATIONAL GEOGRAPHIC PRO Series
Specifications
51" collapses to 22" and 2.3 lbs.
Detector, user's manual
VLF
Only the coil is waterproof
Detects metal at a depth of 10 inches
4 AA batteries, not included
Use for novice, family, beach, small items
---
User-Friendly
Feature Set
Durability & Reliability
---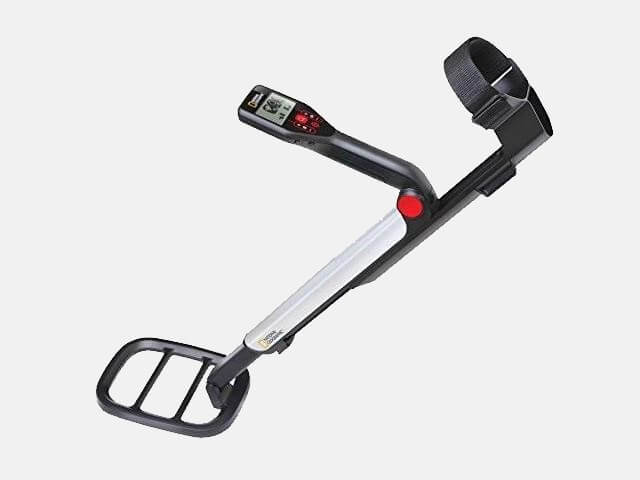 Description
The National Geographic PRO is an excellent choice if you have a young person in your life that is interested in the hobby or you want a new family hobby. Fully extended, this detector is 51" long but collapses to 22", making it easy to store in a backpack for the beach.
The easy-to-read user interface has 3 different detection modes that make it straightforward to hone in on what you want to find. A pinpoint feature focuses your search even more, and the 3 sensitivity levels help novices understand the different functions of a metal detector.
The LCD flashes with icons according to what the detector has found; it can detect iron like horseshoes or nails, lesser value coins and aluminum, rings and pull tabs, and high-value coins. The tones correspond to the find's value, and the highest tones connote something of great value, like the gold and precious metals found in pirate's treasure.
Pros
No assembly required
Ultra-lightweight to take anywhere
Easy to use with multiple functions
Cons
Batteries not included
Coils are not changeable
---
Top Pick That Money Can Buy: Minelab Excalibur II 1000 Bundle
Specifications
35.2" x 12.4" x 10.25" and 7.5 lbs.
Headphones, rechargeable battery pack, finds bag, chargers, user's manual, 1-year warranty
Multiple frequencies with an operating range of 1.5kHz – 25.5kHz
Fully submersible to 196 ft.
No depth indication
4 C batteries and NiMH battery pack lasts up to 12 hours
Use for beach hunting, scuba diving, relic, coin, jewelry, intermediate, expert
---
User-Friendly
Feature Set
Durability & Reliability
---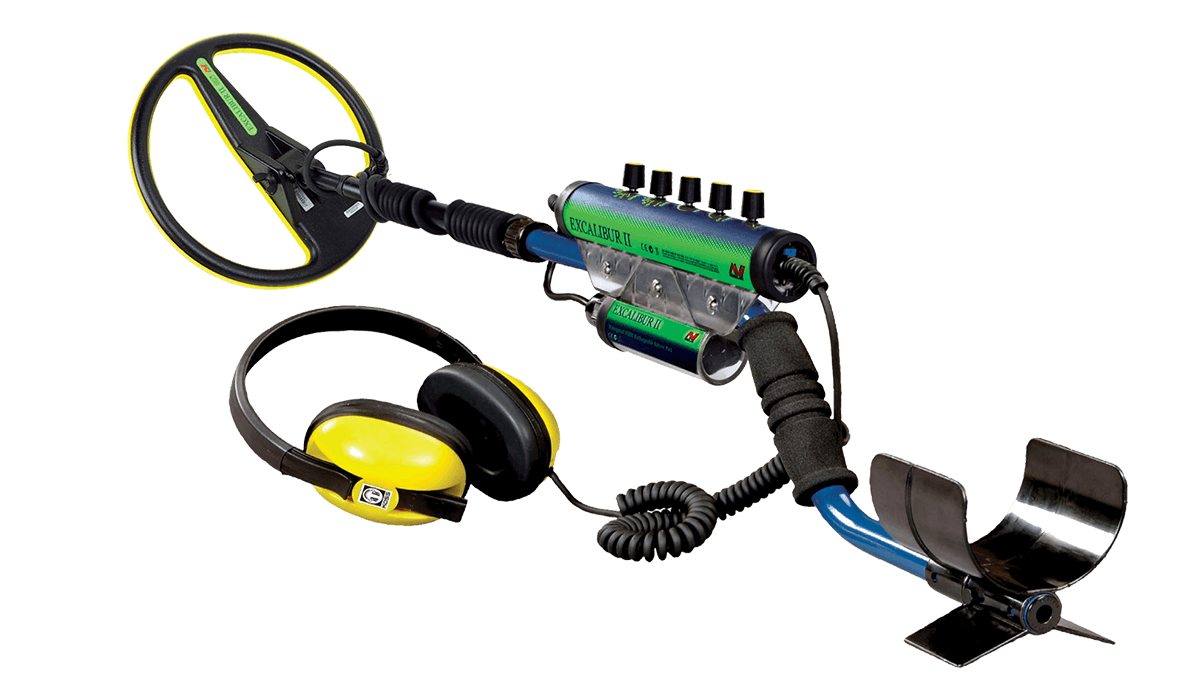 Description
The Minelab Excalibur II with patented BBS technology is an excellent diving metal detector for anyone who wants to find buried treasure. Fully submersible up to 196 feet, and with fluorescent markings on the housing, this device is easy to see in the murkiest waters.
The Minelab Excalibur uses BBS technology to gather and assess data from multiple sources and frequency, resulting in high sensitivity, excellent accuracy, and impressive depth detection.
The Minelab Excalibur's assets are also in its ability to reduce ambient noise and boost the signal from more distant objects. Interchangeable coils of 8" to 10" allow you to swap your coil for added customization.
The smart ground balancing helps the device weed out any signals caused by high mineralization, making this ideal for sea expeditions. You don't have to manually adjust the ground balance as this machine automatically discards less-attractive metals to focus on the true hidden treasure. an distinguish between ferrous objects, non-ferrous low conductor metals, and non-ferrous high conductor metals. It also has fixed discrimination modes to allow kids to ignore debris if they desire. This provides a valuable teaching opportunity for kids to learn about how much metal trash is in the ground and different kinds of metal.
The backlit LCD is child-friendly, and the instruction manual contains excellent diagrams and how-to explanations for young explorers. The discrimination modes are easy to understand and use. Parents love the sturdy construction, 1-year warranty, and adjustable length.
Overall, it's the best metal detector for kids and comparable to adult-sized metal detectors in the same price range. It makes a great birthday or Christmas gift, especially for young ones with a parent who already owns a metal detector. It's worth trying with your child at its price point, especially if you need new outdoor bonding activities or want to get your kid interested in science.
One thing we like about Excalibur II is that it is designed for underwater use and is pretty much optimised for diving. It's considered one of the best available.
Pros
RCB detects deep, faint objects
Hi-Visibility skid plate
Car charger and extra rechargeable battery pack
Cons
Batteries are awkward to swap out
Included battery pack is not waterproof
---
Beginner's Top Pick: Wedigout
Specifications
Metal detector, wrist strap, belt ring, user's manual
Pulse induction
Completely waterproof up to 100 ft.
3.9" to 5" depth detection
9V batteries, not included
Use for SCUBA, snorkeling, saltwater
---
User-Friendly
Feature Set
Durability & Reliability
---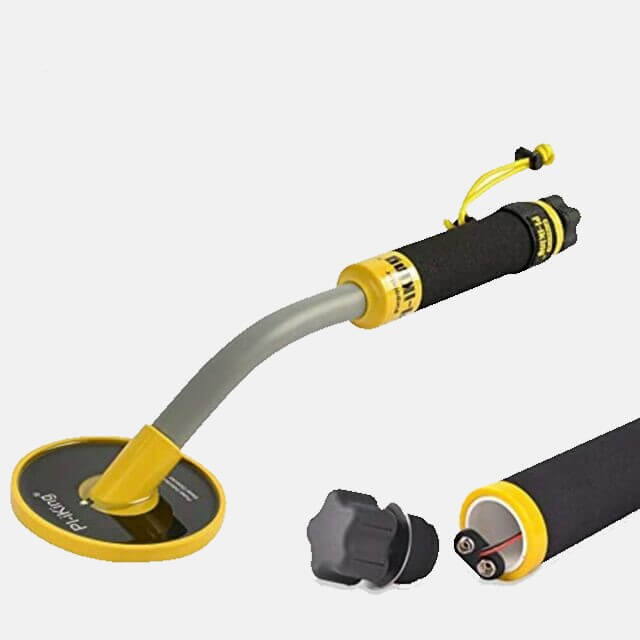 Description
The Wedigout is the perfect choice for treasure hunting underwater. The user-interface consists of an on-off button, reducing any control box confusion. This device automatically adjusts settings to enhance depth detection and sensitivity levels.
In terms of construction, the epoxy resin exterior is waterproof to protect the detection coil, and the whole device is sturdily built from stainless steel and sealed against leaks. There's even a low-battery indicator, so you are never taken unaware by a dead battery.
A wrist strap secures the detector to your arm, so you don't have to worry about losing it in deep waters. Even though it works incredibly well in the salt of the ocean, it is also great on the beach or hunting for treasure in regular soil.
One of the most amazing features is that it signals you to a potential find with both light and vibration, so you're sure not to miss anything.
Pros
Picks up all metal objects in range
Great features at an affordable price
Device floats if you let go while in water
Cons
Smaller than counterparts on market
Seal to battery may not be watertight
---
Most Value Find: Fisher 1280-X Aquanaut
Specifications
Weighs 9.8 lbs. and is 49" long
Brass brush, gloves, Fisher 1280-X detector, waterproof headphones, user manual
VLF single frequency at 2.4 kHz
Completely submersible up to 250 ft.
No depth indicators
8 AA batteries for 75 hours of battery life
Use for land and water use, saltwater, freshwater, gold, jewelry, artifacts, coins
---
User-Friendly
Feature Set
Durability & Reliability
---
Description
The strongest asset of the Fisher 1280-X is its simplicity and ease of use. With 3 knobs – discrimination, sensitivity, and power/volume – you won't get bogged down with overly complicated controls as you sweep. The sensitivity knob also functions as a battery test so you won't get caught with a dead battery.
This device is great for underwater use as it's submersible and leak-proof up to 250 feet. The quartz crystal circuitry prolongs battery life up to 75 hours, far outstripping competitors.
There are different directions for setting up the Fisher 1280-X for land use, shallow water, or deep diving since it's an excellent SCUBA diving metal detector. It's important to protect the knobs from harm because if they become damaged, they could cause leaks.
This underwater metal detector is ideal in saltwater because the discrimnation control helps with chatter from high mineralization or waves. Sensitivity should be set at 8 or 9 to pinpoint treasures.
Pros
Turn on and go operation
Simple uncomplicated design
Well known and trusted manufacturer
Cons
May be hard to pinpoint objects
No depth meter
---
Conclusion
If you're tempted by treasure hunting for pirate's booty on the shore and underwater, these 2 detectors can help you unearth the treasure.
For shore hunting, Garrett ATX Deepseeker Package is the ideal choice. With patented dual-field search coil and acute sensitivity, you won't miss a signal.
If you're under the waves, the Minelab Excalibur II should be your top choice due to its broadband spectrum technology and smart discrimination features.
Top Choice
Garrett ATX Deepseeker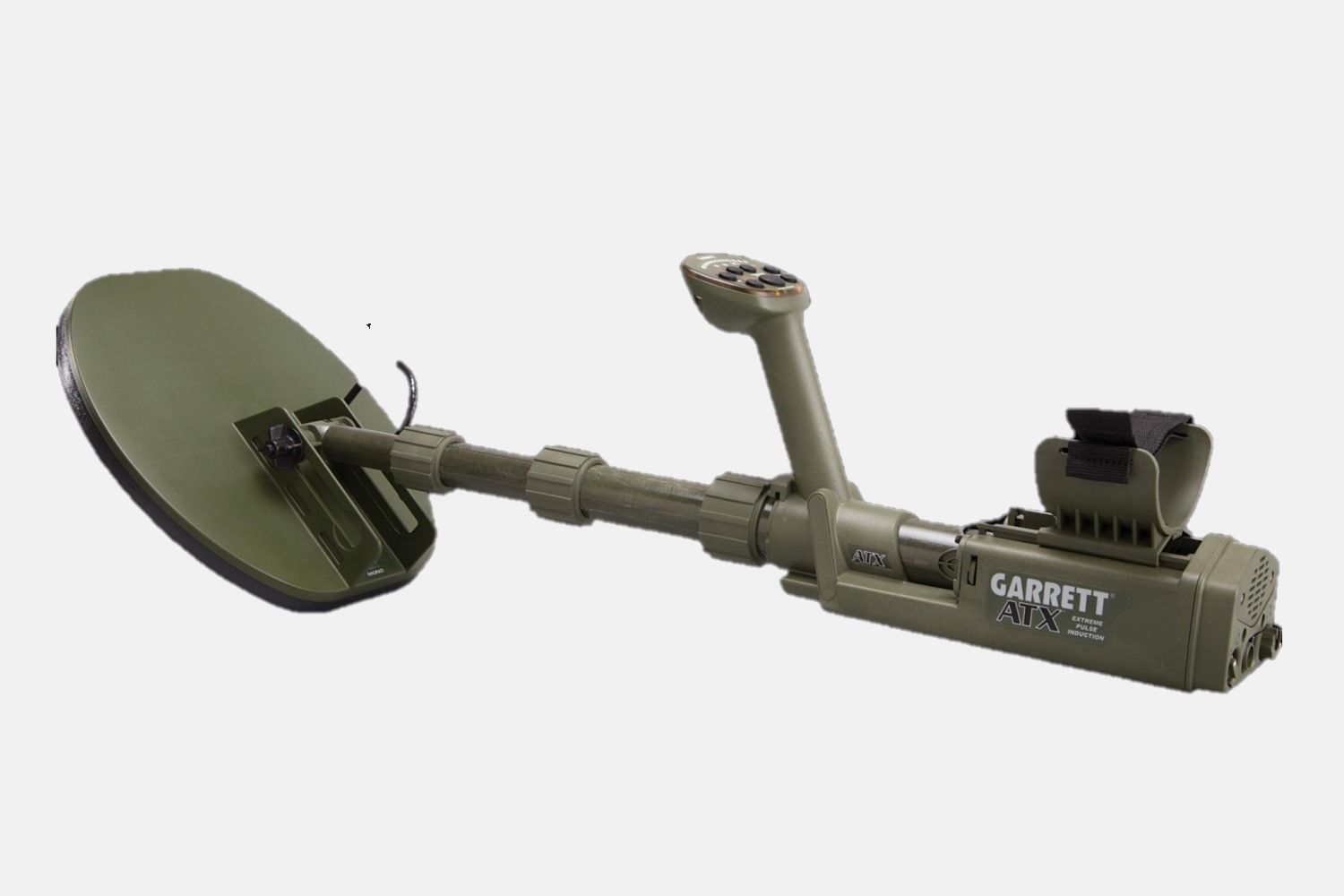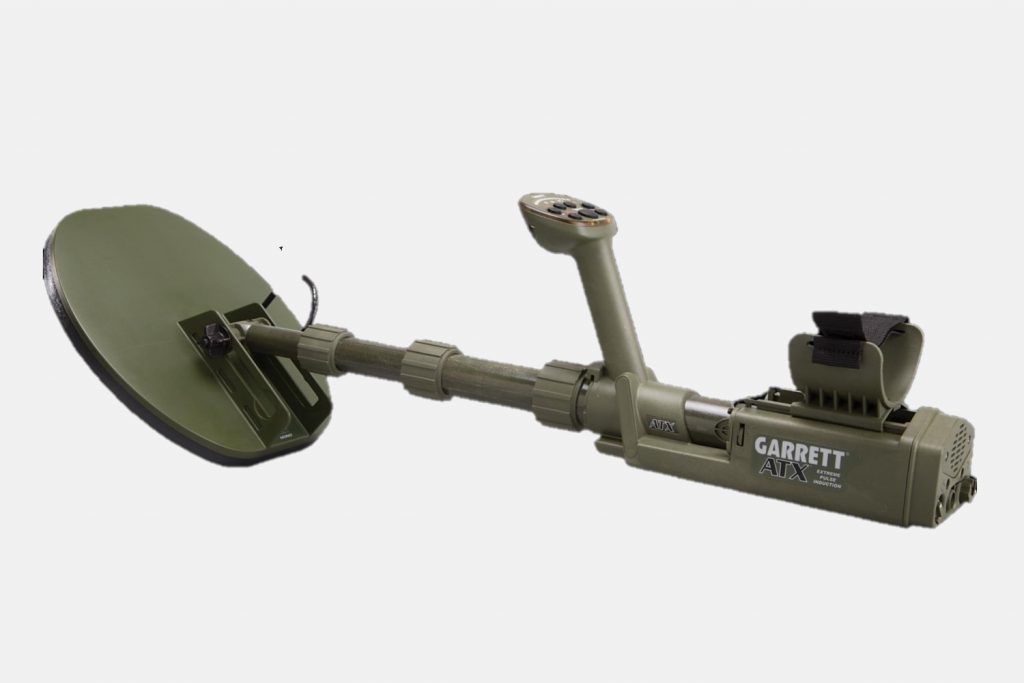 Minelab Excalibur II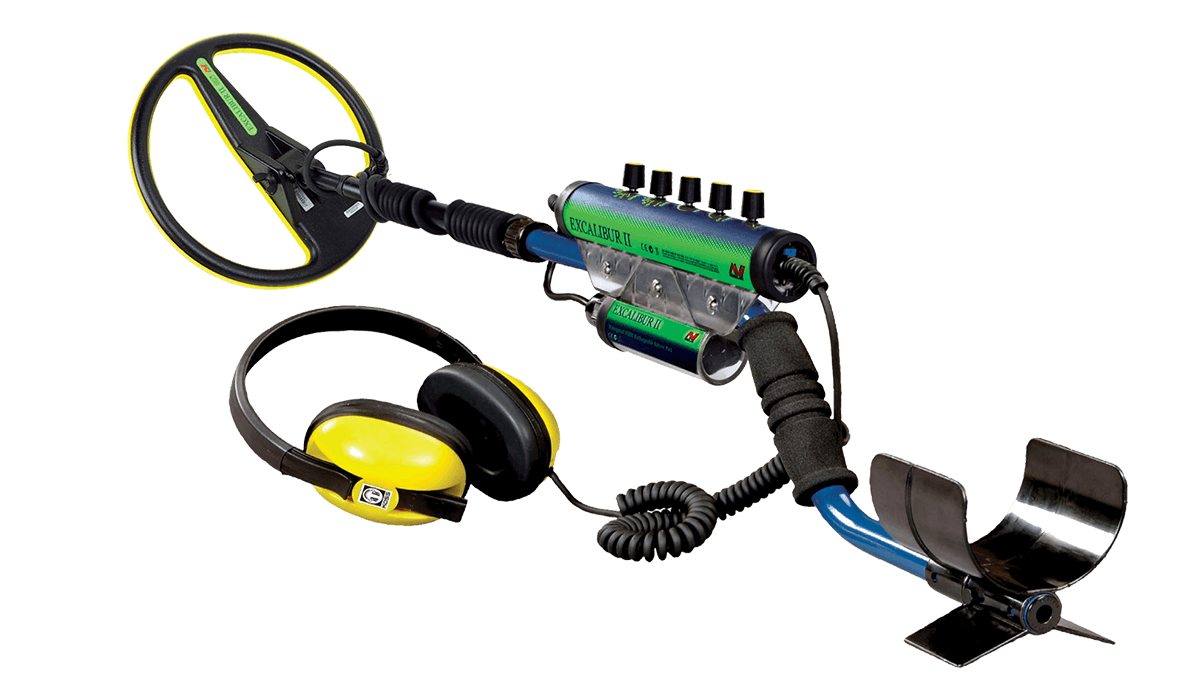 Have you ever wondered how metal detector actually work? How it is that they can work on land and what are the tips on how to do underwater metal detecting? Or what some of the terminology used by this community means? Worry not, we have all these questions answered for you and much more in our comprehensive guide. Also, if you are curious about other kinds of metal detecting, we have an amazing article for you detailing all our top choices.