Disclosure: We may receive a small commission when you shop by clicking on the links on our site. This is at absolutely no added cost to you. Learn more.
Metal detectors are a great way to enjoy the outdoors and search for small treasures unique to your area. Depending on where you live, your soil may contain historical bullets, coins, relics, and artifacts, or even gold. [1]
A beginner metal detector gives you a new way to explore your environment. Kids' metal detectors can spur their interest in the outdoors and geology, creating a foundation for a healthy and active lifestyle.
Our Top Pick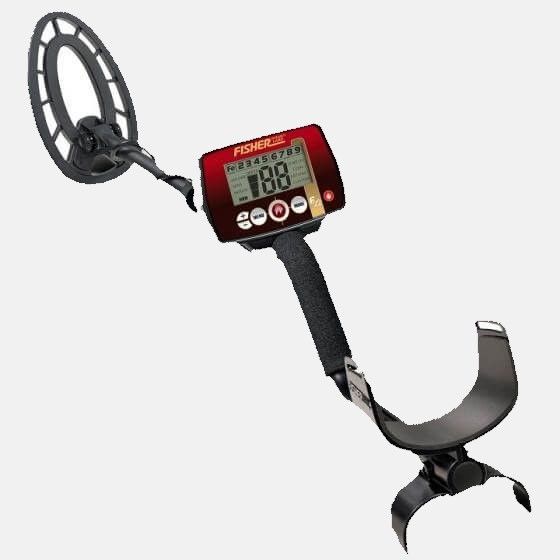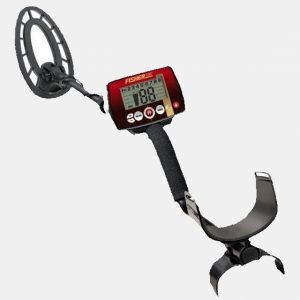 20 sensitivity settings make it an impressive value
Simple display accurately communicates location and depth
Goes above and beyond other budget models
Deep enough range to dig up historic treasures
---
Our Favorite Picks for Beginner's Metal Detectors
---
Best Metal Detectors for Beginners Summary

Image

Product

Purchase

Fisher F22 Weatherproof

Pinpoint mode reduces digging around
Deep range to dig up historic treasures
Lightweight and comfortable to hold

Teknetics T2 Classic

Finds coin-sized objects deeper than most detectors
Good settings, including ground cancellation option
Excellent battery life makes it great for camping

Fisher Gold Bug with 5″ DD Search Coil.

Automatic ground-canceling program for better accuracy
3 search modes & adjustable discrimination help find gold
5-year limited warranty for peace of mind

Bounty Hunter Junior T.I.D

Lightweight and easy-to-hold design for growing kids
Clear display that teaches kids the basics of treasure hunting
Gets the kids outside and curious about nature
The best metal detectors for beginners prioritize ease of use and basic skills development, while still being powerful enough to uncover valuable finds. They can be as cheap as $100 or less, but many mid-range beginner models are above $400.
Although the best metal detectors for kids are under $100, they tend to have fewer features. They also may be less sturdy than other metal detectors for beginners, partly because they are designed to be lighter and easier for small hands to hold.
---
Best Metal Detectors for Beginners
---
Best Beginner Overall: Fisher F22 Weatherproof
Specifications
2.3 lbs., 51" maximum length
Includes gloves and brush
VLF Single Frequency of 7.69 kHz
Coil is waterproof, but the whole detector is only weatherproof
Finds objects up to 9" deep
Battery typically lasts 15-20 hours
Good for finding coins and relics in non-sandy soil
---
User-Friendly
Feature Set
Durability & Reliability
---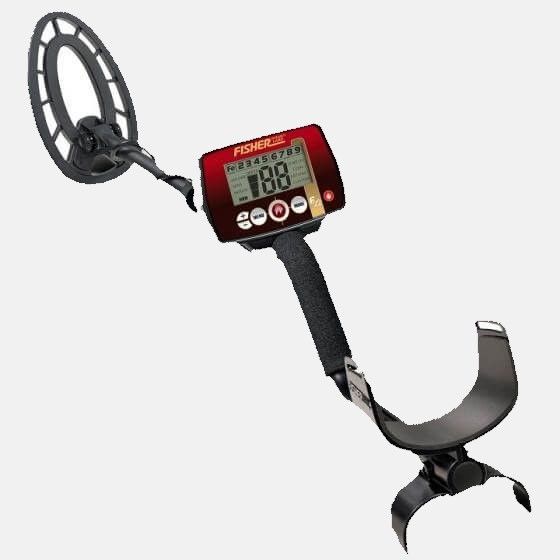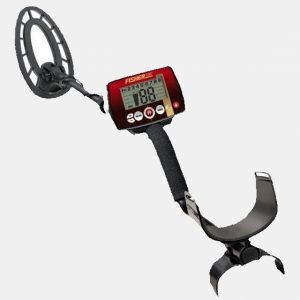 Description
This budget-friendly beginner metal detector has a surprisingly good depth range, and users report being able to find coin-sized objects below the stated 9" maximum depth. Although its customizable settings are minimal, it has good volume settings that can be adjusted to allow the user to ignore iron more easily.
The unit is weatherproof and can be used safely in snow and rain, but cannot be submerged. Its sensors do not work as well in sandy soil, but they resist the occasional splashes from waves, so it's still safe for shallow water beach use.
The target ID features are great for an entry-level detector and make it easy to target specific items based on the type of metal they contain. Users can select from 20 levels of sensitivity control in addition to using the target ID feature. Overall, this is a fantastic option for novice treasure hunters with a wide variety of metal objects in their area.
Pros
Good volume and sensitivity customization
Sturdy and strong with a 5-year warranty
Easy controls and clear screen
Cons
---
Best Beginner for Depth: Teknetics T2 Classic
Specifications
3.6 lbs., 54" maximum length
Includes gloves and brush
VLF single frequency, 13 kHz
Not waterproof
Can find coin-sized items up to 15" deep
4 AA batteries, battery life 35-45 hours
Best for coins and gold buried deep in the ground
---
User-Friendly
Feature Set
Durability & Reliability
---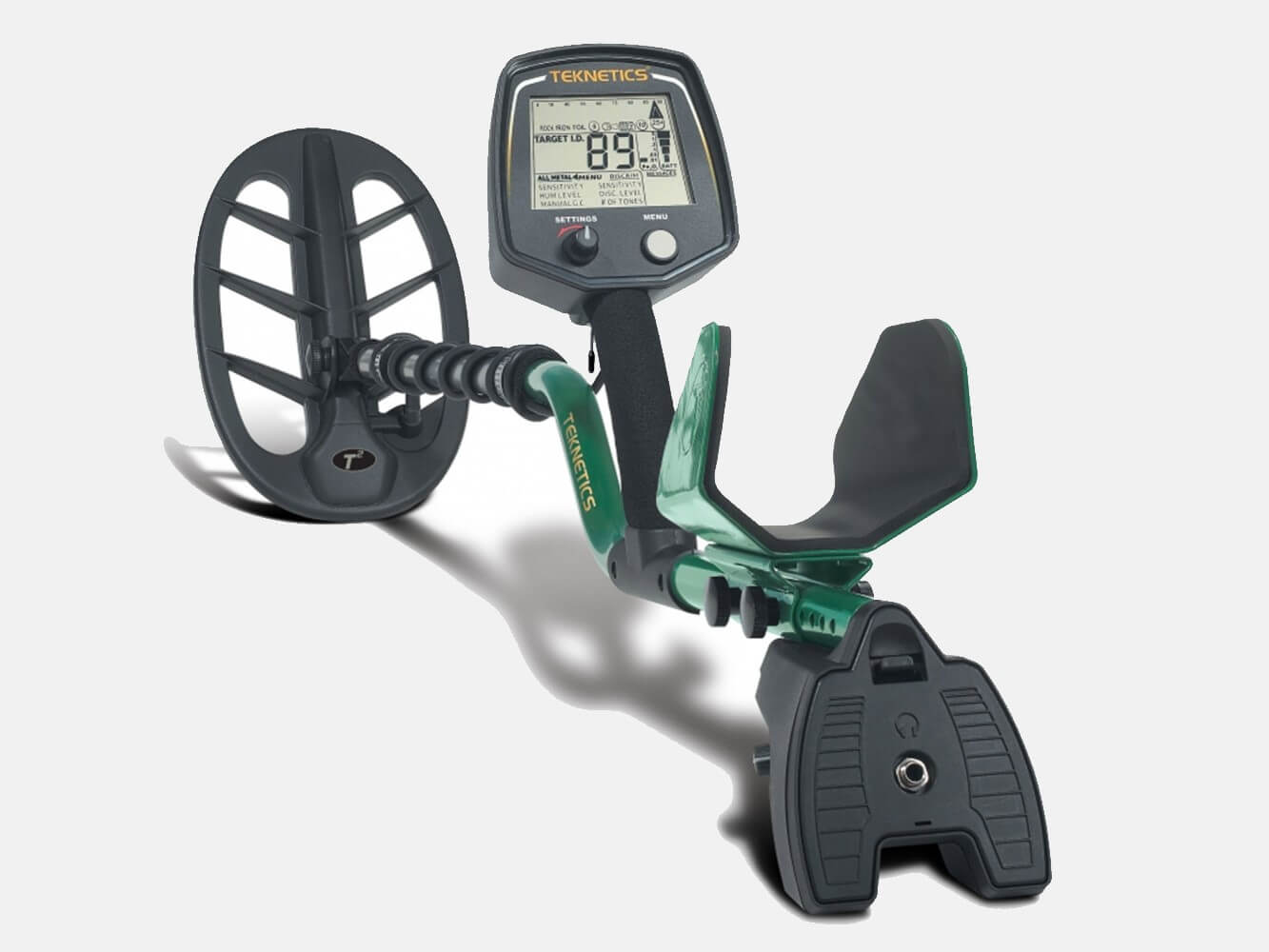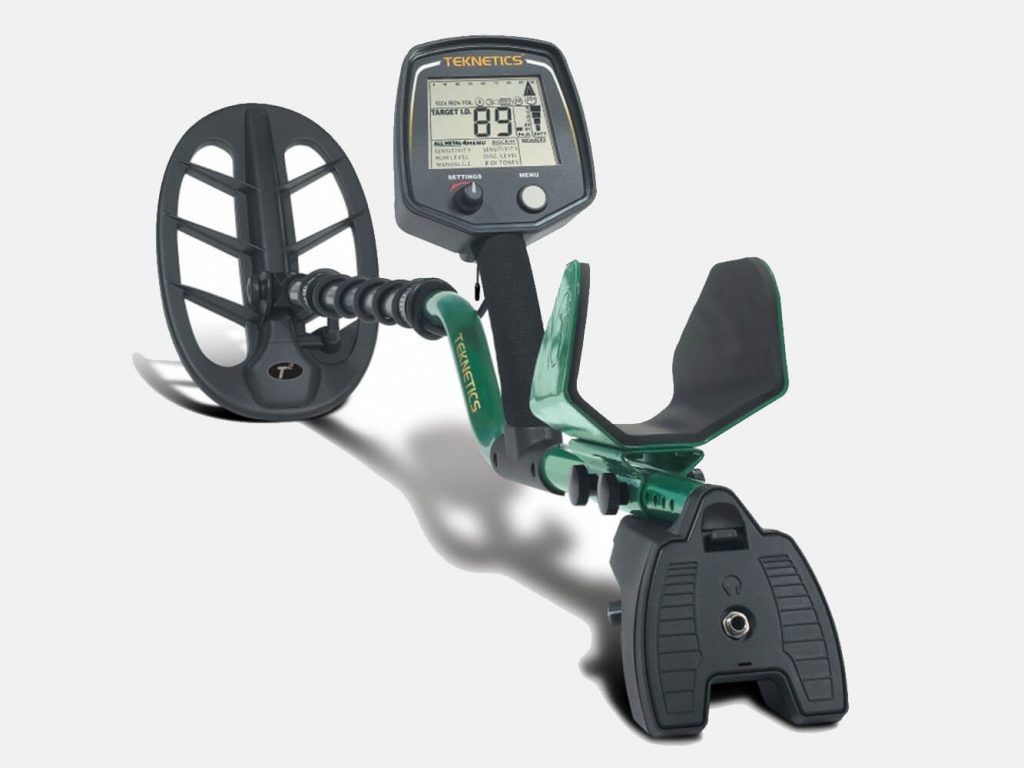 Description
Most beginner models only find coin-sized objects up to about 9" deep. This powerhouse can find them up to 15" deep in good soil conditions and can find larger objects even deeper. This opens up a whole new realm of possibilities, even in areas you've already searched before.
The ground cancellation settings allow you to calibrate the metal detector to learn what local soil conditions are like, giving you more accurate search results. The double filter discrimination mode does a stellar job sorting out the trash and focusing on the real treasures. The included instruction manual is thorough and clearly walks the user through every setting and display feature.
This model is slightly more expensive than the average beginner model, but it's worth getting if you're sure you're into metal detecting. If you live in an area known for old treasure far below the surface, you may even make the discovery of a lifetime with this detector.
Pros
Great mode selections and discrimination settings
Backlit display for use at any time
Iron ID and see-through is excellent
Cons
Lack of waterproofing limits the range of use
---
Best Under $200: Garrett ACE 200
Specifications
2.7 lbs., 51" maximum length
Includes brush, gloves, and hardware set
VLF Single Frequency of 6.5 kHz
Not waterproof
Finds coin-sized objects up to 6-8" deep
4 AA batteries, 15-20 hours of battery life
Best for casual users on a tight budget
---
User-Friendly
Feature Set
Durability & Reliability
---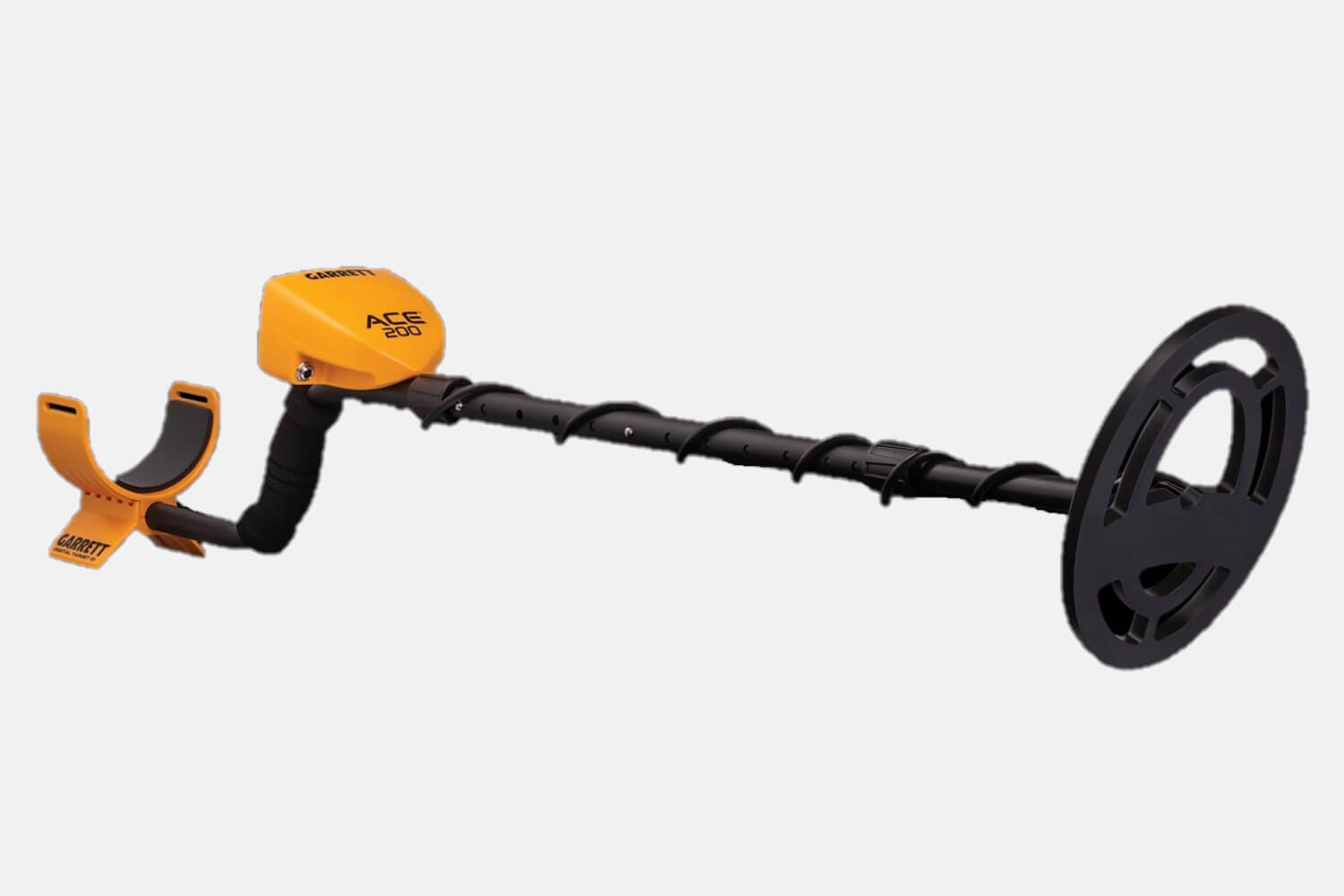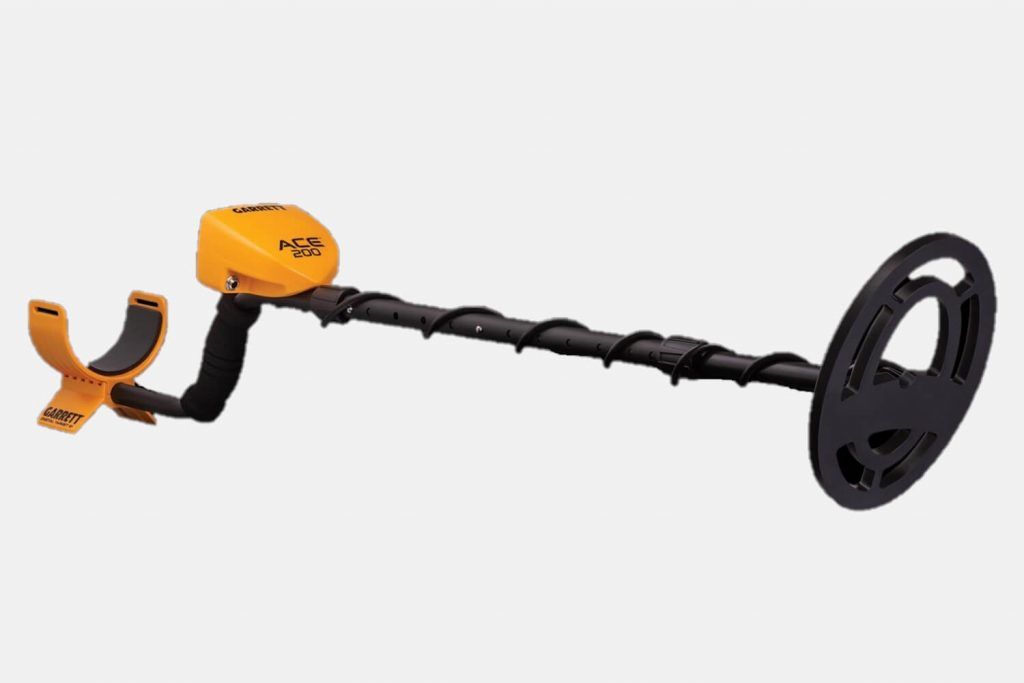 Description
Garrett is known and trusted by treasure hunters worldwide, and the best cheap metal detector from this brand lives up to its standards. The quality construction can hold up to the bumps and scrapes that inevitably happen during outings. Users generally have no complaints about Garrett products, even after years of use.
This model has all the standard target ID features and fixed discrimination modes that allow treasure hunters to filter out trash and iron. Although it doesn't have a specialized pinpoint mode, it's easy to use basic pinpoint sweeping techniques to get a better reading. It's accurate and shows clear location information on its large and easy-to-read screen, making it the obvious choice for the best metal detector under $200.
The 0-99 target ID scale is easy to understand with a quick read through the instruction manual. Even though it doesn't have as many features or customizable settings as higher-end models, many treasure hunters find this to be more than sufficient in areas with relatively low trash and debris.
Pros
Detailed target ID scale for more accurate hunting
Good balance of value and features
Convenient external built-in speaker
Cons
---
Best Under $100: Bounty Hunter Gold Digger
Specifications
2.6 lbs., maximum length 46.6"
Includes headphones (⅛-inch jack)
Automated motion VLF single frequency of 6.7 kHz
Not waterproof
Detects coin-sized objects up to 6" deep, larger objects up to 24" deep
Uses 2 9V batteries with 20-25 hour battery life
Good for casual searching or searching in areas with shallow objects
---
User-Friendly
Feature Set
Durability & Reliability
---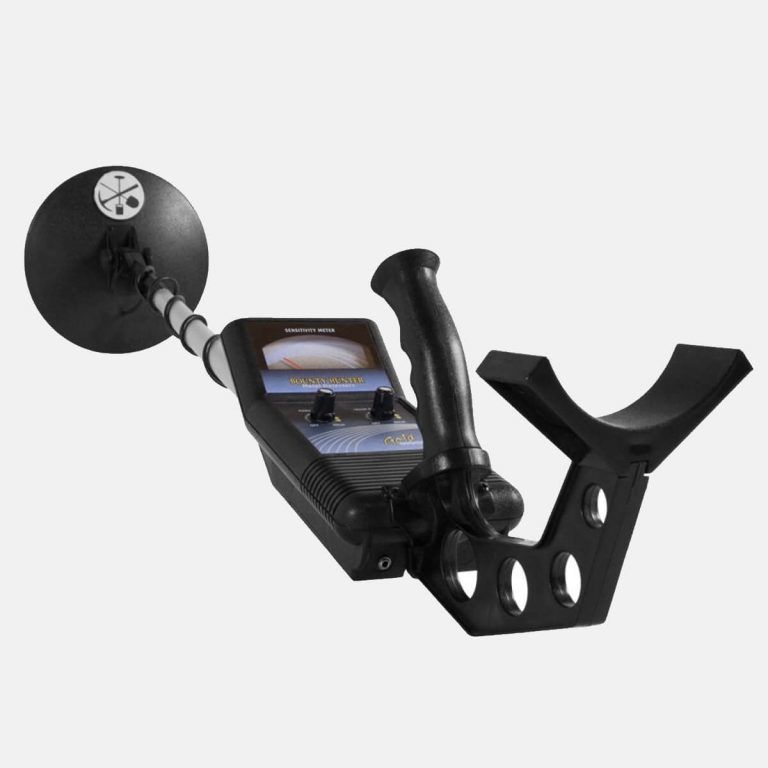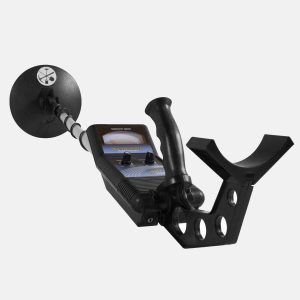 Description
First-time treasure hunters can get the basic concepts mastered with this reliable and accurate detector. Like other basic models, it requires the coil to stay in motion to detect metal so that beginners can get used to the general sweeping motions required.
The customization settings are minimal, with only basic discrimination and all-metal modes available. Although this keeps things simple for the average new user, it also means that you may spend more time digging up pull tabs and other trash while searching for jewelry or coins.
The screen does not provide clear specifics on metals' location and depth, and there will be some guesswork involved in digging up your finds. It has a significant overall learning curve and requires some trial-and-error. However, it is accurate enough to be the best metal detector under $100 for novices who want to see what's hiding in their backyards.
Pros
Good functionality and accuracy for the price
Can screen out nails and other iron
Good battery life
Cons
The display screen has few specifics on the location of metals
---
Best Beginner for Gold: Fisher Gold Bug with 5″ DD Search Coil
Specifications
2.5 lbs., 50.5" maximum length
Includes brass brush
VLF Single Frequency, 19 kHz
Waterproof search coil
Depth varies based on search settings
Uses 1 9V battery, 10-15 hour battery life
Great for learning to hunt for gold
---
User-Friendly
Feature Set
Durability & Reliability
---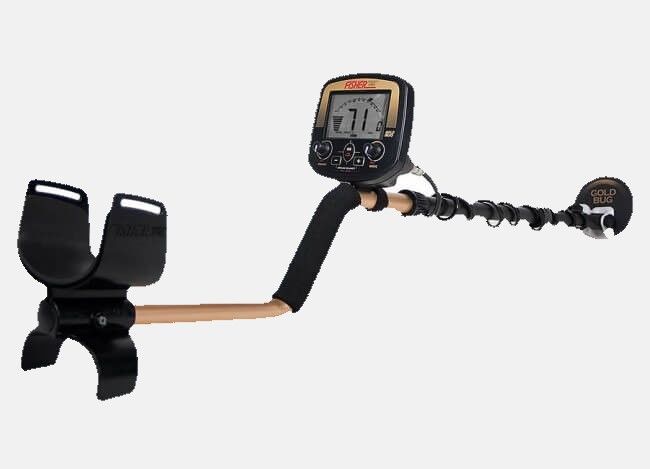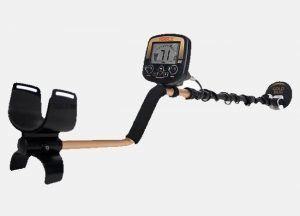 Description
As a brand, Fisher is generally respected and known for durable, accurate metal detectors. The discrimination settings on its detectors are outstanding, even on lower-priced models. Thanks to this model's computer-assisted ground balancing, it can sharply reduce false positives even in very salty or metallic soils.
The display and controls are as streamlined as possible and prioritize ID and discrimination settings. The 2-tone audio notification works well to let users know when they've stumbled upon a potentially valuable find. With 3 search modes and 99 target ID segments, you can track down gold and other precious metals faster than ever.
Some users report struggling with the control buttons and various functions, despite the clear screen. Since the depth information is not clearly displayed on-screen, it can be tricky to figure out how deep you need to dig. Overall, most reviews of this detector are positive once the owner gets used to its limitations, and it is less expensive than most gold detectors.
Pros
Clear screen with adjustable brightness
Good customizable modes for this price range
Deeper detection depth than most beginner models
Cons
Little indication of the depth of objects
Credit: TheHunterGT
---
Best Pinpointer for Beginner: Minelab Pro-Find 15 Pinpointer
Specifications
6.82 oz., 9.3 inches long
Includes carrying case
Detector Interference Free (DIF) technology
Splash-proof
Depth varies based on soil quality
1 9V PP3 battery, 30 hours battery life
Best for honing in on small treasures
---
User-Friendly
Feature Set
Durability & Reliability
---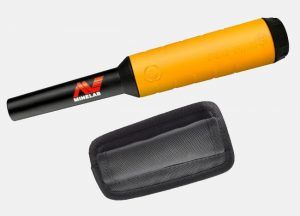 Description
Pinpointers are a critical part of treasure hunting, and even amateur hunters should keep one on their person. They are easy to lift and sweep over rough terrain or insert into freshly-dug holes while tracking down metal found by a larger device. Although some metal detectors have a special mode for pinpointing, a dedicated handheld pinpointer is often easier to use.
The sensitivity is not adjustable, but the variable audio volume helps users figure out which signals to ignore. With a bit of practice, this makes it easy to use as you hone in on a potential treasure your larger metal detector picked up. Both the tip and the wand's sides can detect metal, making it easy to use inside of holes.
This is one of the least expensive pinpointers on the market, but it's durable casing is on-par with more expensive models. User reviews say it does the job reliably and does not get damaged easily.
Pros
Small enough to be easy to carry
Good accuracy thanks to the length of the wand
Audio volume varies to make pinpointing easier
Cons
Sensitivity is not adjustable
---
Best Kids Overall: Bounty Hunter Junior T.I.D
Specifications
1.5 lbs., 31" long
VLF Single Frequency of 7.69 kHz
Not waterproof
Finds coin-sized objects up to 6" deep
2 AA batteries
Best for beginners, particularly children, in backyards and other solid ground
---
User-Friendly
Feature Set
Durability & Reliability
---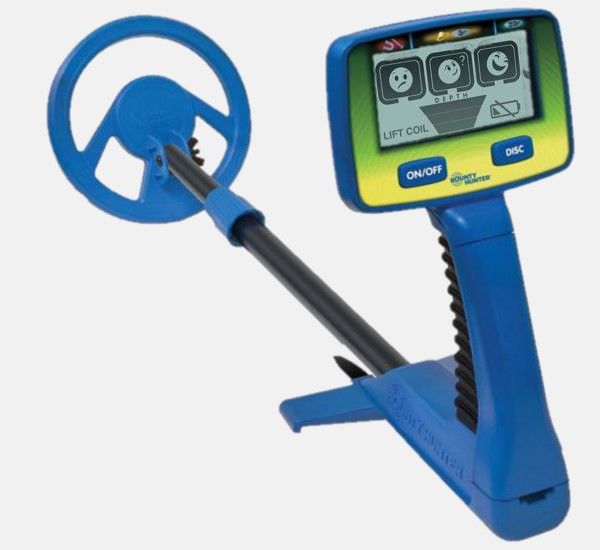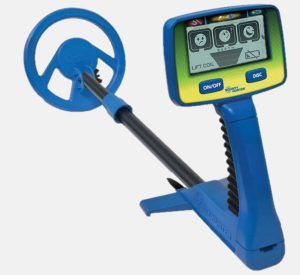 Description
This detector can distinguish between ferrous objects, non-ferrous low conductor metals, and non-ferrous high conductor metals. It also has fixed discrimination modes to allow kids to ignore debris if they desire. This provides a valuable teaching opportunity for kids to learn about how much metal trash is in the ground and different kinds of metal.
The backlit LCD is child-friendly, and the instruction manual contains excellent diagrams and how-to explanations for young explorers. The discrimination modes are easy to understand and use. Parents love the sturdy construction, 1-year warranty, and adjustable length.
Overall, it's the best metal detector for kids and comparable to adult-sized metal detectors in the same price range. It makes a great birthday or Christmas gift, especially for young ones with a parent who already owns a metal detector. It's worth trying with your child at its price point, especially if you need new outdoor bonding activities or want to get your kid interested in science.
Pros
3 audio tones and visual signals show kids different metals
Light enough to take on many outdoor adventures
External speaker makes it easy for families to work together
Cons
---
Best Lightweight for Kids :Bounty Hunter Junior
Specifications
1.5 lbs., extends to 31.5"
6.6 kHz
Not waterproof
Detects coin-sized objects up to 5"
2 9V batteries
Best for small children without much stamina
---
User-Friendly
Feature Set
Durability & Reliability
---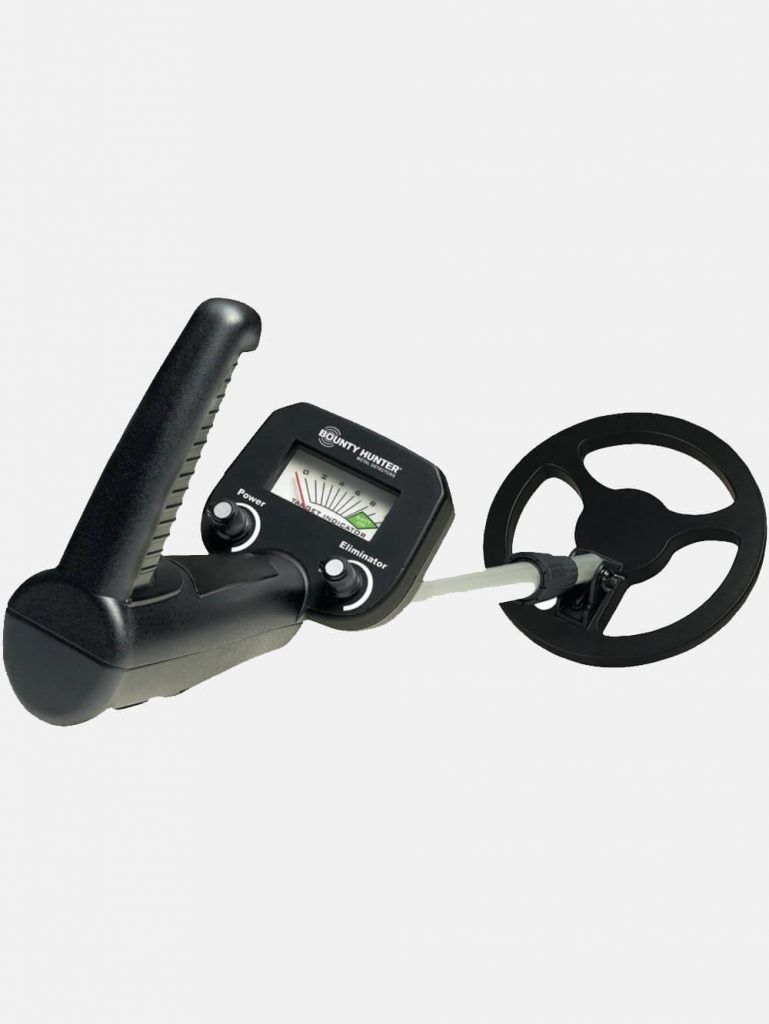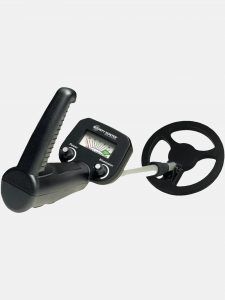 Description
Aluminum metal detectors are lightweight enough to be manageable for small children. Instead of needing extensive help from adults or older siblings, small children with interest in metal detecting can explore completely on their own. Although the display and dials require some instruction and help from adults at first, children can quickly get used to them with a bit of practice.
Trash elimination and sensitivity settings help avoid false positives and wasted time. Its lightweight construction makes it great for vacations, but users must protect it from damage because it is somewhat fragile.
The single-tone audio is loud enough to be audible outdoors, but not loud enough to be annoying to neighbors or parents. It's a thoughtfully-designed metal detector that does basic functions accurately. Children with a serious interest in treasure hunting may outgrow its simplistic features within a few years, but it's a great option for children 6-10 years old at this price point.
Pros
Inexpensive yet durable
Light enough for very young children
Settings can be fine-tuned easily
Cons
Display and dials aren't child-friendly
---
Best Value for Kids: National Geographic Junior
Specifications
1.4 lbs., detector extends up to 39"
Includes arm strap and detailed instruction manual
Reliable basic detection
Coil is waterproof
Can detect coin-sized objects up to 6" deep
Requires 3 AAA batteries
Great for hunting objects at shallow depths
---
User-Friendly
Feature Set
Durability & Reliability
---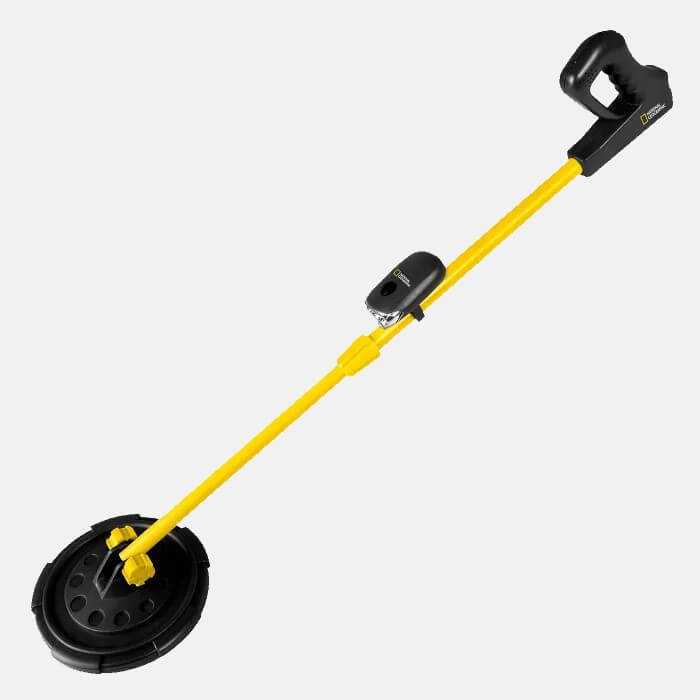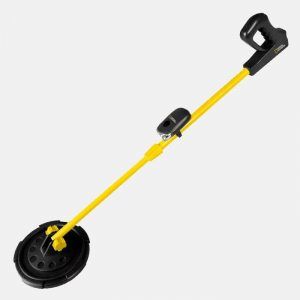 Description
Although most kids' metal detectors are inexpensive, this one is an especially good value. Siblings who are around the same age sometimes end up wanting to copy each other's hobbies, so you can get them each their own metal detector to avoid disagreements over having to share.
The detector works well in backyards, fields, and other basic treasure-hunting areas. Since it doesn't have a screen to show the type of metal encountered or its depth, it can be a little more time-consuming for kids to use. In areas with lots of shallow metals, it can keep kids happy for hours at a time.
The included guidebook is a treasure trove and is much more detailed than most instruction manuals. Homeschooling families in particular can appreciate its clear and detailed explanations of how to use the metal detector and how to account for environmental variables while treasure hunting.
Pros
Adjustable sensitivity works well
Designed with education in mind
Light and easy to carry
Cons
No screen, resulting in more guesswork than most
---
Best Pinpointer for Kids :Vulcan 360 Pinpointer
Specifications
10.5" long
Includes belt holster and battery
Pulse Wave
Tip is submersible
Maximum depth varies based on settings
1 9V battery
Great for honing in on finds
---
User-Friendly
Feature Set
Durability & Reliability
---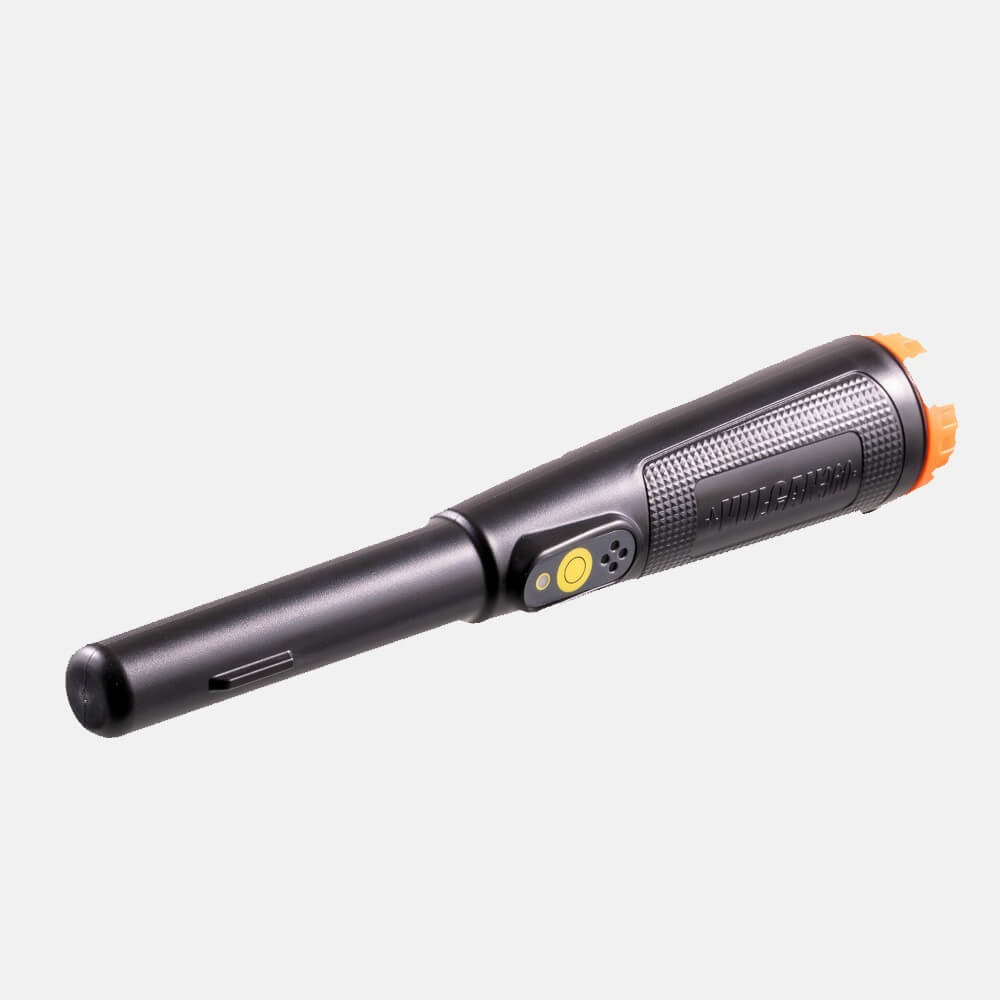 Description
Despite their small size, pinpointers aren't a great starter option for kids because they have few settings and can easily give false positives. However, an inexpensive pinpointer can be great for a kid who wants to help out parents or older siblings who are into treasure hunting.
Pinpointers don't need many features, but they do need to be durable and small enough to insert into holds when needed. This detector from Vulcan gets reliable results, while still being inexpensive enough to entrust to a child during outings. It turns off automatically to keep the batteries from draining during inactivity.
Thanks to its simple sensitivity settings, kids can learn how to fine-tune devices while hunting for treasure. Get one for yourself and loan it to your child as needed, or buy one for an older child who already has a standard metal detector and wants the additional flexibility allowed by a pinpointer.
Pros
Small and comfortable to hold
Sensitivity controls are easy to use
Submersible tip can handle mud and waves
Cons
Can't clearly indicate depth or type of metal
---
Conclusion
The overall best choice for beginners is the Fisher F22 Weatherproof Metal Detector, which has reliable and accurate basic features built into a sturdy frame.
The top kids' metal detector is the Bounty Hunter Junior T.I.D. Metal Detector thanks to its excellent kid-friendly screen and settings. Try one of these models today to bring the adventure of treasure hunting to your family's backyard.
If you are curious about how metal detectors work and what other treasures they can be used to find, we have put together a detailed guide to answer all of your questions. Also, check out our article on best metal detectors in which we have curated our favorite models for every kind usage.
Our Overall Pick
Fisher F22 Weatherproof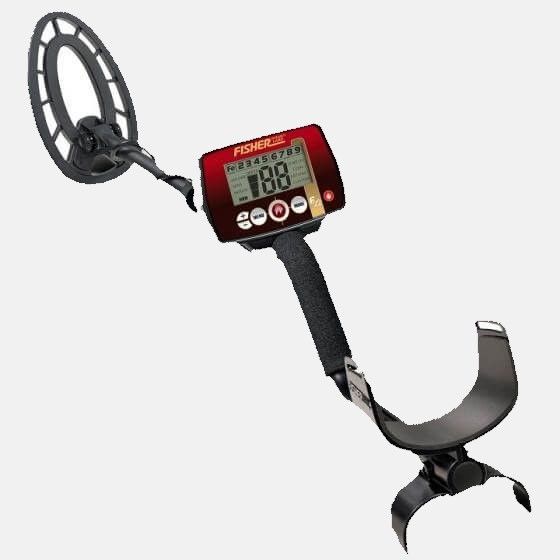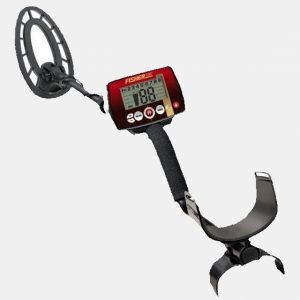 For more amazing tips and tricks for beginners, check out our article here.