Best Electronic Dart Board (And Cabinet) Reviews: Level-up Your Game Room
Disclosure: We may receive a small commission when you shop by clicking on the links on our site. This is at absolutely no added cost to you. Learn more.
Everyone loves a good games night. It's a fantastic way to get together with friends and family and have a fun-packed evening. However, pool or foosball tables can take up a lot of space, and only a small number of people can play simultaneously.
An electronic dart board fits neatly into a compact space on your wall, and you can leave it there or store it away for the next use.
There's no need to use a manual scorecard because it keeps the score for you, and many come with features to enhance the game's night atmosphere. There are high-quality electronic scoreboards for every budget, and you can choose from a range of models that come with an incredible array of preloaded games.

Read on for our review of the best electronic dart board on the market.
Electronic Dart Board Summary

Image

Product

Purchase

Cricket Pro 800 by Arachnid- Talking Electronic Dart Board

Clear LED screen for easy reading
Multiple game modes so you never get bored
Voice prompt when it's time to throw

Best Runner up Electronic Dart Board

Viper Solar Blast Electronic Dart Board

Score display located above the board for quick game information
Uses commercial-grade nylon for an extended board lifespan
Great when entertaining a large group for a game night

Best Classic Appearance Electronic Dart Board

Arachnid Cricket Pro Tournament-quality Electronic Dart Board

Large scoreboard for increased visibility
Convenient front-mounted dart storage area
Tournament red, black, and yellow color scheme
Top 8 Electronic Dart Board Reviews
Cricket Pro 800 by Arachnid- Talking Electronic Dart Board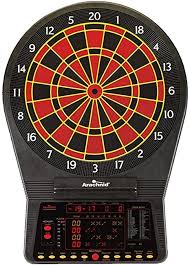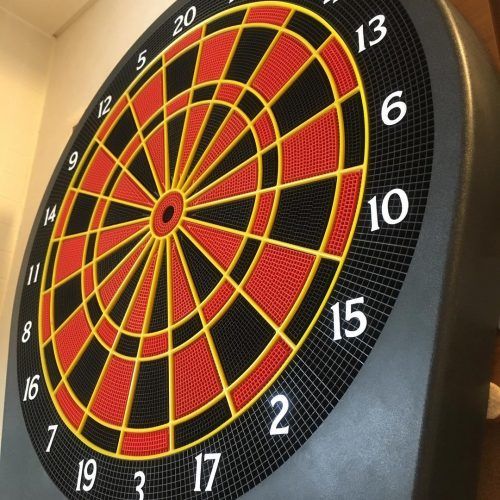 Description
This model is our undoubted favorite when it comes to electronic dart boards. The first thing we noticed was the top-notch build quality, and this is essential because a dart board can suffer some rough treatment over the years. We also love the dart averaging function, which provides the average point-per-dart score over the game.
This feature gives an accurate overall picture of your game, rather than 1 or 2 bad throws dragging your overall score down. Because this is a regulation-sized board, you can also practice for local tournaments.
The 3-level heckler mode is hilarious when playing with family and friends. The dart board provides joking criticism for bad shots, often leaving our guests open-mouthed when they hear it for the first time.
What we really like about this dartboard is size. It's pretty big compared to other boards. With a variety selection of games and minimal bounce out thanks to quality darts.
The bright, vibrant design also makes this board a feature point when visitors arrive, and games often just start naturally because the dart board is in view of guests.
Pros:
Voice record feature for personal use

Quick select game functionality
4-player score display

Suitable for beginners and experienced darts players
Cons:
Comes with a high-end price tag
Best Runner up Electronic Dart Board
Viper Solar Blast Electronic Dart Board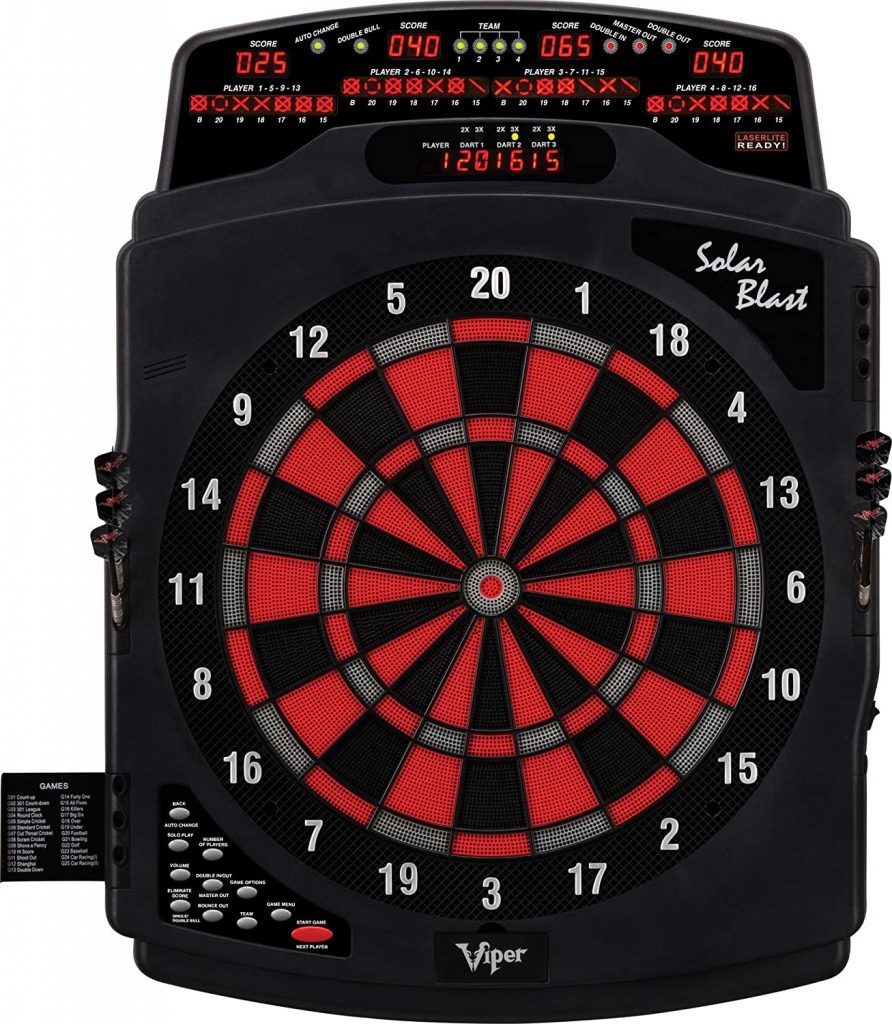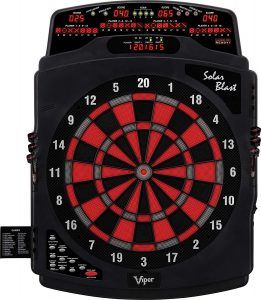 Description
Only narrowly missing out on the top spot, this model from Viper is an excellent and best rated electronic dart board. Because it allows up to 16 people to play at one time, it is suitable for domestic and commercial environments. We know we'd be delighted to arrive for an office team-building day and find this dart board on the wall.
The finely crafted surface allows for quieter gameplay, so you can play a game in the house without disturbing other people. Because this model comes with mounting hardware included, you can begin playing as soon as your package arrives. This is very sturdy and looks gorgeous.
The bright LED is easy to read, and the intuitive controls allow you to move between games quickly. Both sides of the board hold dart holsters that store up to 12 darts in total for convenience. You can also display your darts and keep them safe from harm without needing a separate holder.
Pros:
Ultra-thin spider wire allows for closer dart groupings

Comes with 6 soft-tip starter darts
Bright red-and-black color scheme

Play against the computer when practicing alone
Cons:
Some players may prefer a more streamlined board design
Best Affordable Electronic Dart Board
Viper Vtooth 1000 EX Online Electronic Dart Board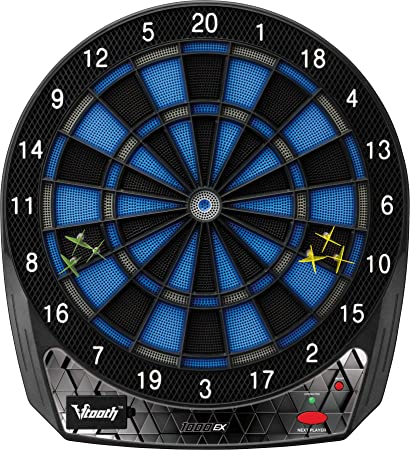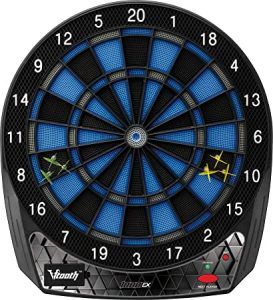 Description
We love our gadgets as well as our darts, so we had to give a mention to this model. You can download the Viper Darts Linkup app and enter the online world, playing against people from around the globe.
There's no need to practice alone or even wait for friends to come over; you can play against international opponents at the touch of a button. Simply connect the advanced board to your Android or Bluetooth device, and you're ready to get started.
The thin spider wire design means you can improve on your groupings, and there is less likelihood of your dart rebounding back to the floor. The integrated missed dart catch ring also prevents damage to the surrounding area when an errant throw misses the board.
We also like creating custom profiles, allowing each player to check their previous scores without mixing them with other opponents' scores.
Another thing we love about this dartboard is its ability to keep player's profile. One of the most decent dartboard for beginners.
Pros:
Attractive blue, silver, and black dart board color scheme

Straightforward on/off button for a quick start
Can take the board with you wherever you go

Tough tested segments for increased durability
Cons:
This electronic dart board is smaller than regulation-size
Best Runner Up Affordable Electronic Dart Board
Fat Cat Sirius 13.5" Electronic Dart Board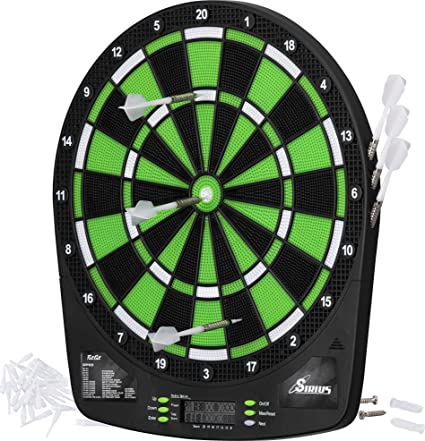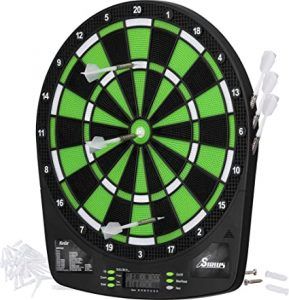 Description
Darts are all about fine margins, so we found the high-contrast target surface area useful when aiming. Distinguishing the different areas can be challenging when standing at the board's regulation distance, but we found it easier to get a better score with clearly marked sections.
There are a remarkable 595 scoring options for variety such as Single In/Out and Double Bull, while the auto player change functionality keeps the game flowing smoothly. As soon as your turn is over, the electronic dart board switches to the next player to avoid any confusion.
We like the inclusion of a large display screen that shows 2 players' scores simultaneously, which is great for keeping the competition going. There are only 6 control buttons on this model, making it simple to find the modes you need.
The board responds well to the darts even when the tips don't stick with a lot of fun games to choose from. With a range of included accessories such as 2 sets of starter darts and 24 spare tips, this is the best electronic dart board for the money.
Pros:
Large missed dart catch room protects your walls

Conserves energy with auto power-off mode
No untidy cables that could get in your way
Cons:
May not be as durable as some rival models
Best Electronic Dart Board for Storage Capacity
Fat Cat Electronx Electronic Dart Board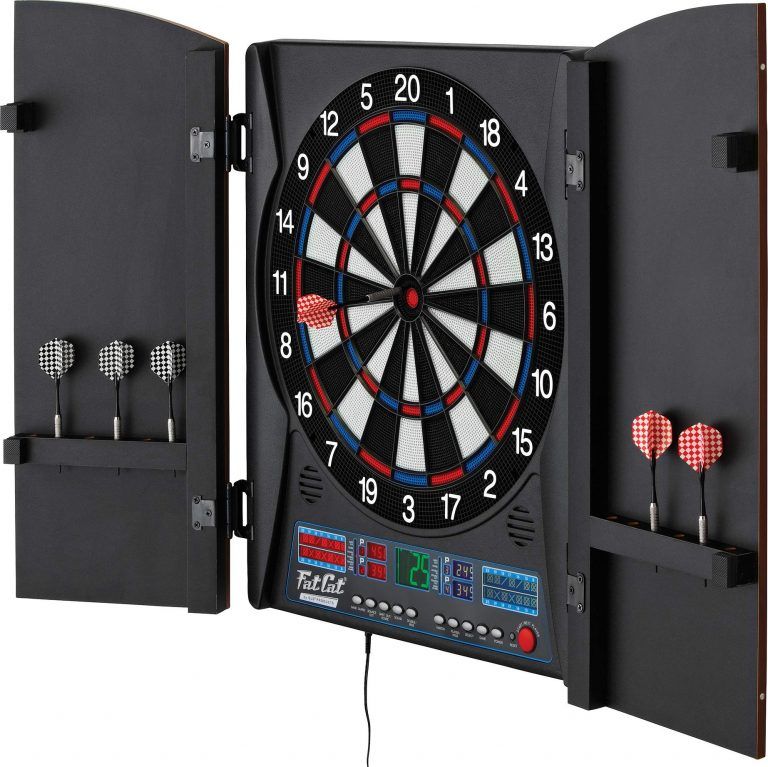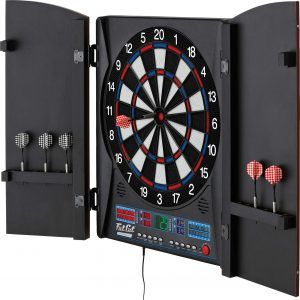 Description
We're big fans of anything that makes life easier, which is why we love this electronic dart board that comes with a built-in cabinet. You can close the doors when not playing, protecting the board from dust and moisture, and the storage space on the inside of the doors is ideal for keeping your darts. No doubt this is the best electronic dartboard with cabinet.
The segments use enduring polymer compounds to ensure this board can withstand many years of use, while the 5 difficulty levels when playing against the CPU allows you to progress your skill level.
While the 11 control buttons seem like quite a lot, they are easy to use and allow rapid game-changing. The silver button color scheme is also a striking contrast with the black board surface for an attractive design.
Because you can play with up to 8 people at one time, this model is an excellent addition to your game night selection, allowing everyone to get involved and have a great evening. Comes with everything you need to get started. The darts don't fall out anymore than they would playing on any other machine.
Pros:
LCD front panel score display

Uses durable thermoplastic for a robust performance
Stylish color scheme

Comes with a 1-year warranty for peace of mind
Cons:
Doesn't come with as many games as some other models
Best Electronic Dart Board Under $100
Biange Electronic Dart Board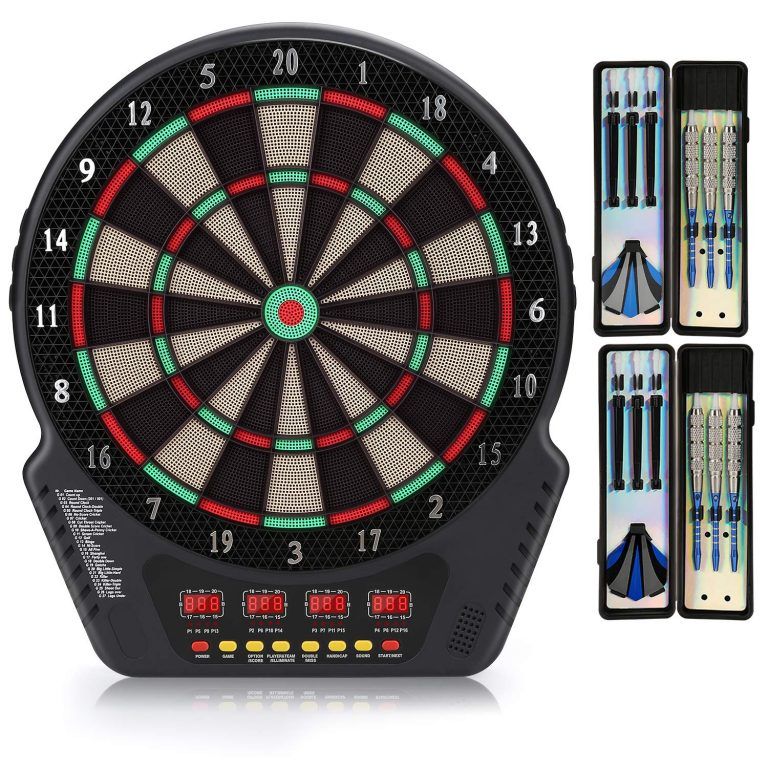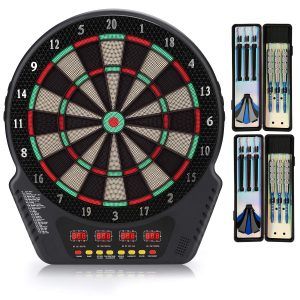 Description
We always choose high-quality products, and that's why we like the inclusion of a 1-year manufacturer warranty and 30-day money-back guarantee, which show Biange is happy to stand by this electronic dart board.
The handicap button is ideal when players of varying standards are together. It means the device automatically adjusts the scoring system to give less experienced players a chance to win.
This model also comes with 6 x 18g darts with aluminum shafts, providing a substantial feel when in your hand. The flight of a well-balanced dart can also help to improve your game, increasing speed and accuracy when throwing.
The thermoplastic surface combines superbly with the soft tip darts to create the best soft tip electronic dartboard that can provide many years of entertainment. [1] Although the 27 preloaded games are lower than in some rival boards, there are 243 scoring variations, so there's little chance of running out of entertainment when playing with family and friends.
Based on a user feedback, this dartboard is easy to install and secured nicely to the wall.
Pros:
Massive 243 game variations

Voice prompt keeps the game moving quickly
Comes with 2 sets of darts

Ultra-thin segment dividers increase target surface area
Cons:
Could have a more attractive design
Best Classic Appearance Electronic Dart Board
Arachnid Cricket Pro Tournament-quality Electronic Dart Board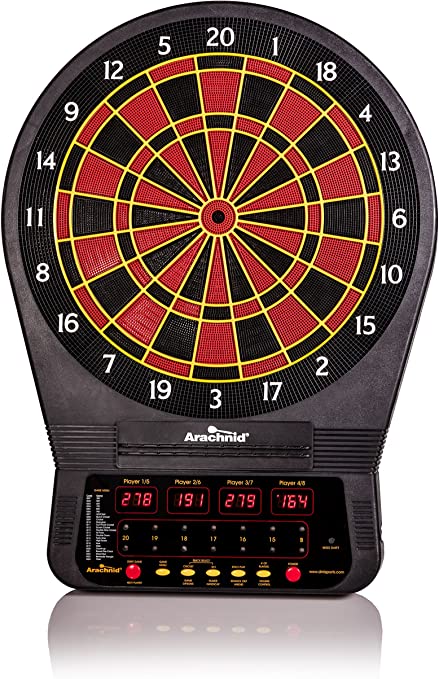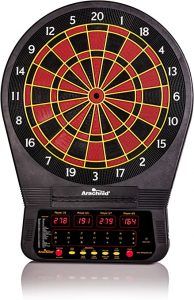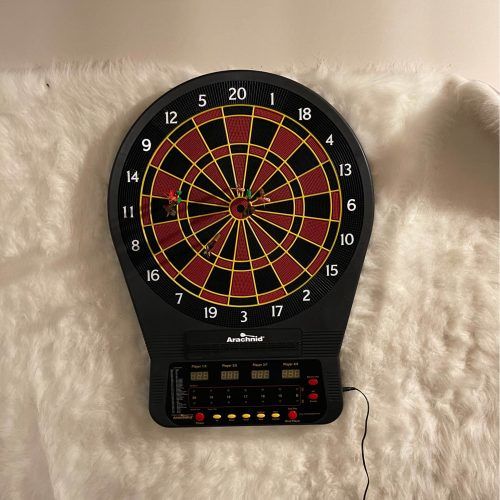 Description
If you're looking for a tournament quality electronic dart board, this could be the model for you. The micro-thin segment dividers reduce the occurrence of frustrating bounce-outs, while the 2 sets of tricolor LEDs are easy to read during matchplay.
Because this model uses NylonTough segment materials, you can be sure it is suitable for absorbing even the hardest of throws, staying in good condition, and providing value for money.
We like the player prompt to throw feature because it's all too easy to start a conversation and forget to take your turn. This functionality keeps the game going without someone else needing to remind a player it's their turn.
There are 5 cricket games for your enjoyment, and there is also volume control so you can avoid annoying other people in a nearby room. The sleep mode is excellent for energy conservation, and the on-board dart storage means you have all your sporting equipment in one place.
This thick dartboard braces nicely against dart throws with plenty of extra tips when you play. The darts seem to stick well and with a simple clockwise twist, pop right out.
Pros:
24 games with 132 variations
Player handicap feature to keep the competition even

Constructed with nylon tough segments

Comes with a 1-year warranty against defects
Cons:
No heckler or selectable bullseye features
Best Electronic Dart Board for In-Game Options
Viper Showdown Electronic Dart Board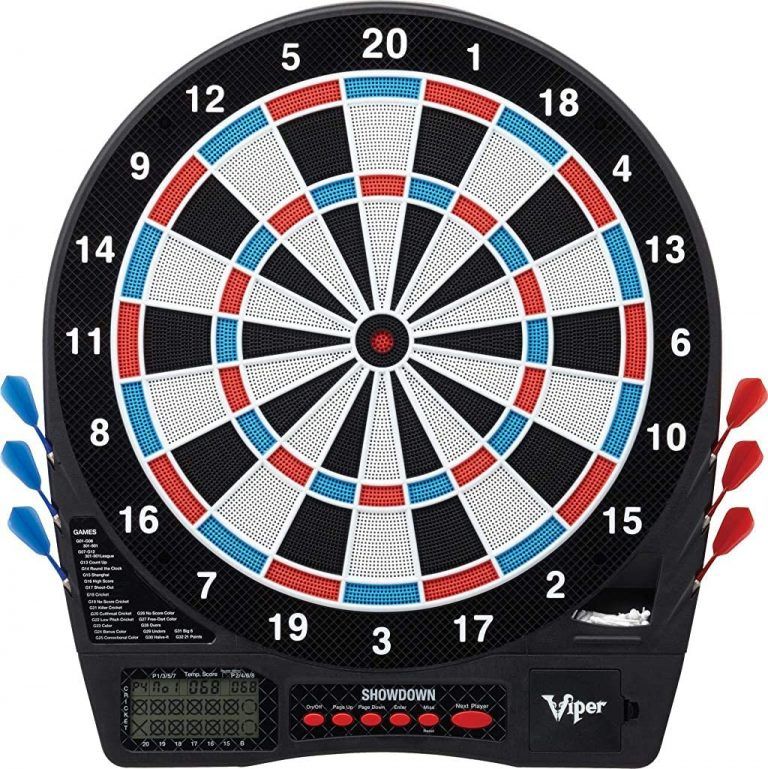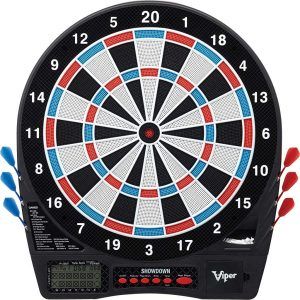 Description
Although nearly all the best home electronic dart boards offer an incredible number of playing variables, few can match this model's remarkable 32 games with 590 options. The polypropylene surface material ensures the board is well-equipped for heavy use, and the display screen is discreet yet easy to read in the bottom left-hand corner of the unit. [2]
There are only 6 control buttons, making operation straightforward, while the impact-absorbing segments reduce the risk of bounce-outs. We like the built-in darts storage capacity, which allows you to keep them beside the board. The ability to play against the computer is ideal for practicing for a competition with family or friends.
The board is well-segmented by color, allowing you to aim your shots with precision. The mounting equipment is included in the package, so you can install your electronic dart board and begin playing as soon as your delivery arrives.
According to dart board experts, the manual is a must for setup and for choosing different games and levels. The darts however are cheap plastic starter darts, good for kids.
Pros:
Comes with 6 soft-tip starter darts

Large missed dart catch ring

Crisp and sharp LED
No need for a plug when playing
Cons:
Some users have reported issues with sound quality
Conclusion
Several terrific electronic dart boards come with a fantastic array of features and provide superb entertainment. However, we couldn't look past one that outperforms its rivals in just about every category.
The voice heckling feature brings atmosphere and hilarity to any social situation, and the high-quality materials ensure this model is a solid investment in your gaming devices.
The classic color scheme appeals to many darts enthusiasts, while the crisp and clear LED enables you to keep up to date with the scores in real-time.
If you're looking to invest in the best electronic dart board on the market, we highly recommend buying the Cricket Pro 900 by Arachnid- Talking Electronic Dart Board.
Cricket Pro 800 by Arachnid- Talking Electronic Dart Board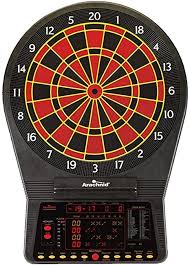 Overview
An electronic dart board can provide hours of fun and entertainment for you and your friends and family. However, there are many features, and it can be challenging to choose the right model for your requirements. There are several vital elements to consider before making a purchase.
Wall Socket/Battery Power Source
This feature may not be the first aspect of an electronic dart board that comes to mind, but it is crucial. If the model you choose operates using a power adaptor, you'll need a nearby wall socket. There is also a wire that runs from the board to the power source, so you need to ensure it does not get in the way of other objects in the room.
The plus side of an electronic dart board that plugs into an outlet is that you have continuous electricity, whereas a battery model could lose power while you're playing a game. Several models provide the option of using a power adaptor or batteries, enabling you to use the method that works best for your home.
Number of Games
We love the ability to play a variety of games, and the number of scoring options also keeps the competition interesting. If you are purchasing an electronic dart board to enjoy 1 or 2 game variations, this factor won't be as significant.
If you like to experiment with different options and enjoy playing numerous games on 1 device, you can choose a model with a large number of preloaded games, so you never get bored.
Number of Players
If you plan on throwing a party or a game night for a substantial number of people, there are electronic dart boards that can accommodate your needs. With the option to accommodate up to 16 players, you can include everyone in the fun.
If you prefer smaller gatherings, you can choose a model that allows 4 people to play together.
Player Handicap Feature
Using a handicap feature, players of all abilities can enjoy a game together. This functionality is a neat way to level the playing field and prevents weaker players from becoming frustrated when playing against stronger opponents.
Thin Segment Dividers
If an electronic dart board has segment dividers that are too thick, you can see darts bounce off the board and land on the floor. Purchasing a model that uses ultra-thin dividers means there is more of the scoring segment to aim at, helping players to improve their scores.
Intuitive Control Panel
One of the significant advantages of an electronic dart board is the intelligent processor that performs functions such as keeping score and prompting players to take their turn. It's vital to choose a model that uses an intuitive control panel to change the game modes easily.
There's no need to spend minutes trying to work out how to change the settings. Many electronic dart boards have straightforward operating features that don't get in the way of enjoying your game.
Durable Materials
Choosing a model that uses durable materials provides increased value for money. When investing in your electronic dart board, you should check which materials the manufacturers use for the segments and missed darts catcher to ensure your board can last for many years.
The LED panel and internal electronics should also use high-quality components to ensure they can last as long as the rest of the board.
For more board games options, check out our corn hole board reviews as well as dartboard reviews. Don't forget to check out our homepage for other family games ideas.