Best Foosball Table Brands For The Money: Reiviews & Buying Guide
Disclosure: We may receive a small commission when you shop by clicking on the links on our site. This is at absolutely no added cost to you. Learn more.
Whether you're a serious player or a rookie looking to play with and against your friends at parties, you should invest in a foosball table.
The best-quality foosball tables use chrome-plated, hollow steel rods, and supportive metal side aprons to ensure durability. Kids and adults appreciate designs with integrated rod guards that protect players against injury during games.
There are many different types of football tables, from particleboard tabletop units to weather-resistant hardwood or MDF options. You can choose a product that folds up into compact dimensions for easy storage, or you can invest in a model that brings a sleek and stylish aesthetic to your game room.
The best foosball tables for your home depends on your plans for use, your décor, and the durability you need. The following options provide a range of styles and sizes so you can find the perfect foosball table for your game room.
Best Foosball Table Summary

Image

Product

Purchase

Best High-End Foosball Table

Tornado Tournament 3000

The patented figurines have large cross-section for better performance
Highly durable MDF construction
High-quality bearings improve overall user experience

Best Foosball Table Runner-up

Playcraft Milan

Figurines are well-crafted and realistic
Unit includes built-in function for dispensing balls
Light maple finish is classy and elegant

Best Budget Foosball Table

Best Choice Foosball Table

Comes with built-in cup holders for drinks
Lightweight and easy to transport
Handles are comfortable and grippy for ease of use
Top 12 Best Foosball Table Reviews
Best Foosball Table Overall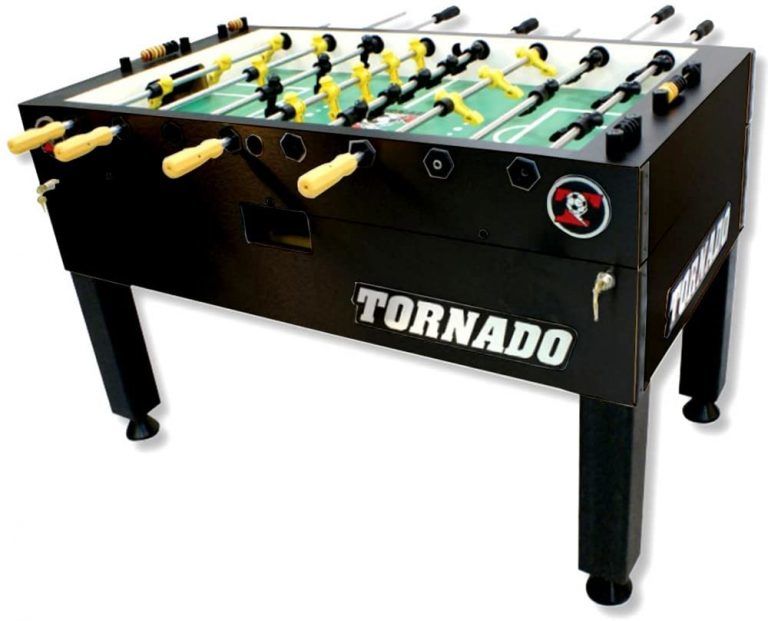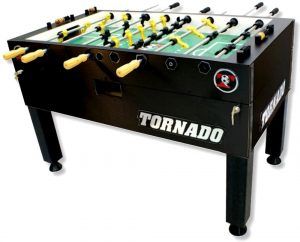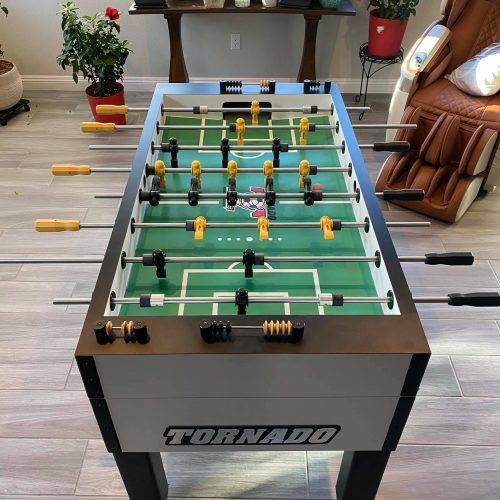 Description
Those searching for a high-end, professional-standard foosball table need look no further. The Tornado Tournament 3000 is a durable, sleek unit with rugged steel construction and an excellent playing surface.
You'll appreciate the central positioning of the automatic ball return, which makes it easy to keep playing without disrupting the game's flow. Foosball fanatics also love the figures' robustness. Each player is perfectly counterbalanced, with a broad surface area and sharp feet, so you have optimal control when you pass and shoot.
The unit is both ergonomic and strong, with effective foot levelers and comfortable, grippy handles. The frame is constructed with a corrosion and heat-resistant steel alloy, while the cabinet is made with a commercial-grade MDF. This type of engineered wood has a high internal bond strength, making it a dense and warp-resistant material.
Kids and adults enjoy this Tornado table's sleek look, with its matte black finish and bright yellow handles. Just be aware that once you've set up this unit, you'll find it difficult to move elsewhere.
This table is fairly simple to assemble and game play is amazing. The handles and bars are heavy duty and smooth. Another thing we like about this is it comes with oil to improve its smoothness. Plus, it comes with 3 balls in the box.
Pros:
ITSF-certified

for national and international leagues

Comes with 1-year manufacturer warranty

Unit has

4 leg levelers

for uneven surfaces

Figures are counterbalanced for better gameplay
Cons:
More expensive than other options on the market

Heavyweight unit can be a hassle to assemble
Best Runner-Up Foosball Table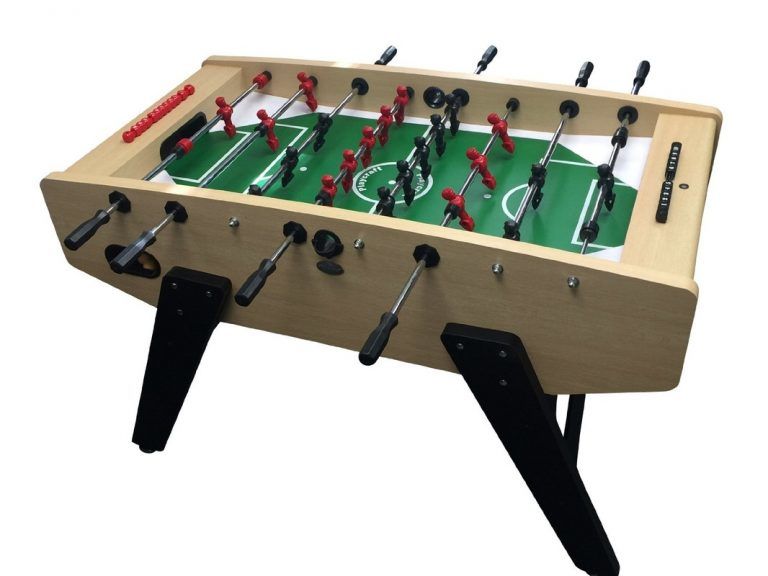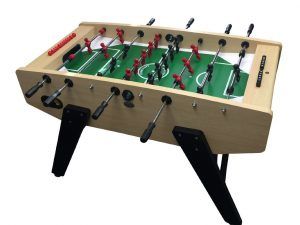 Description
If you're looking for a durable, high-quality and best foosball table brand with an affordable price tag, you've found it with the Playcraft Milan. This European-built product has several features that make it robust, including the chrome-plated telescoping rods that are anti-corrosive and easy to clean.
Each figurine is molded around a strong steel support unit, so you won't have to worry about them becoming detached from their position and moving freely up and down the rod as you play.
The table itself has a stylish, light maple finish that complements both traditional and modern interior styles. The natural wood veneer fits neatly into a farmhouse or Scandinavian interior design, while the smooth, slick steel rods look the part in a transitional or contemporary living room.
This unit is well supported by the 1.4" thick apron framework. Regular users appreciate the ramped corners that ensure you don't have to waste time flicking the ball back into play when it gets stuck at the edges of the game surface.
According to user feedback, this table very sturdy and a great value for money. Its has telescoping rods like professional tables
Pros:
Assembly is relatively easy

Robust undercarriage

framework makes this a durable unit

Stylish, vibrant design suits contemporary and modern interior styles

Corner ramps

stop the ball from getting stuck
Cons:
Style doesn't suit industrial or warehouse-style interior aesthetics
Best Budget Foosball Table
Best Choice Foosball Table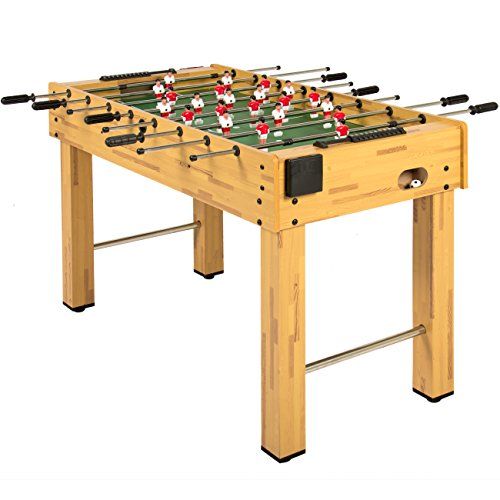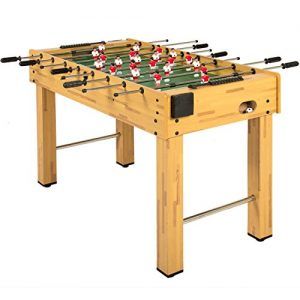 Description
This is, by far, the best foosball table for kids. Beginners and children will love this well-built budget table from Best Choice. The dimensions are perfect for 4 kids to play against each other, while the built-in cup holders are a neat and handy touch.
Adults will appreciate the light, refined finish of this composite-wood unit, which fits perfectly with most contemporary or traditional interior-styles.
The handles are ergonomic and comfortable, making it easy for kids and teens to play for hours without developing any discomfort in their wrists or hands. Players will love the design of each figure, with their large base that provides more opportunities for hitting and controlling the ball.
This table is well-constructed for its price. The chrome-plated steel rods are corrosion-resistant and easy to clean, while each leg has a broad, sturdy base and adjustable foot levelers for uneven ground. However, the MDF cabinet is more vulnerable to damage from marks and scratches than its hardwood or steel counterparts.
This is one of the most sturdy table once assembled. An attractive table especially at the price.
Pros:
Simple single goalie

configuration

Traditional and attractive composite-wood finish

Great value

for money

Ideal for children and young families
Cons:
Table isn't competition-size

Construction isn't as durable as that of other options
Best Ergonomic Foosball Table
Rally and Roar Foosball Table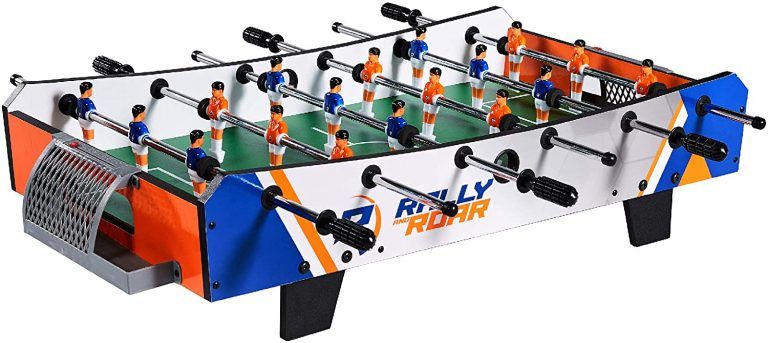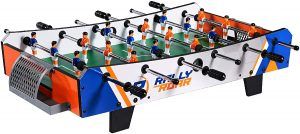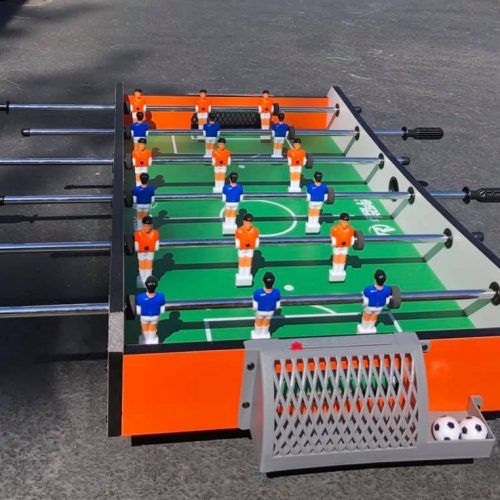 Description
There's plenty to love with this Rally and Roar unit. It's multifunctional so that you can carry this lightweight tabletop design to parties, tailgates, and outdoor barbecues. All you need is a raised flat surface, and you're good to go.
This foosball table measures 40" x 20" x 9", making it the perfect size for 2 grown adults to play a game. The ½" thick, chrome-plated steel rods are dense and robust, as well as being easy to clean. Kids and adults will appreciate the textured and non-slip handles, which make playing for long periods a breeze.
Each of the unit's 4 stout legs has a padded base to prevent any damage to the table or playing surface underneath. You'll also love that this product comes fully pre-assembled, with the playing figures and steel rods already in place upon arrival.
Serious foosball players should note that this product isn't championship size, so you won't get the premium-grade user experience with this unit that you would with other, more expensive options.
The table is nice and sturdy and was easy to put together. And based on a user feedback, the holes for everything lined up nicely, so it was well designed.
Pros:
Vibrant and colorful

playing figures

Multifunctional product can be taken anywhere

Great value for money

40" long cabinet

is ideal for 2 adults or 4 kids to play
Cons:
Not suitable for serious foosball players

Design may be too colorful and bold for some
Best-Looking Foosball Table
KICK Legend 55" Foosball Table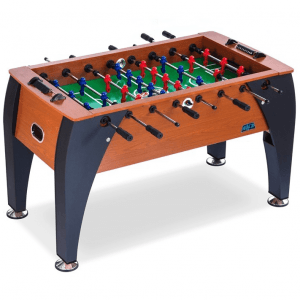 Description
If you're looking for a foosball table that combines elegant style with substantial durability, you've found the answer with the KICK Legend 55" model. This unit's cabinet is constructed with odorless and rot-resistant chestnut wood, giving it a rich, dark-brown color and a smooth, sleek finish.
The 5" thick adjustable foot levelers provide this table with a sturdy base, allowing you to stabilize the cabinet whenever it's on an uneven surface. Players appreciate the ABS plastic handles, which are easy grip and resistant to marks and scratches.
When you buy this unit as a new table from KICK, you'll receive an unrivaled lifetime warranty on the main cabinet and all its component parts.
Serious players love the ball return units, which are conveniently placed at each end of the table. These people will also appreciate the counterbalanced figures, premium-quality match balls, and the user-friendly scoring systems on the side of the cabinet.
This table assembly would take almost 2 hours to finish by 2 people. when it comes to quality, this could probably be the best you could play on. A quality table that could last for years
Pros:
Black and chestnut design

looks chic and classy

Polymer handles are easy and comfortable to grip

Stainless steel rods are

simple to wipe down

and clean

Product comes with 2 full sets of players
Cons:
More expensive than other options

Design doesn't suit a minimalist interior
Best High-End Outdoor Foosball Table
Kettler Carrara Outdoor Foosball Table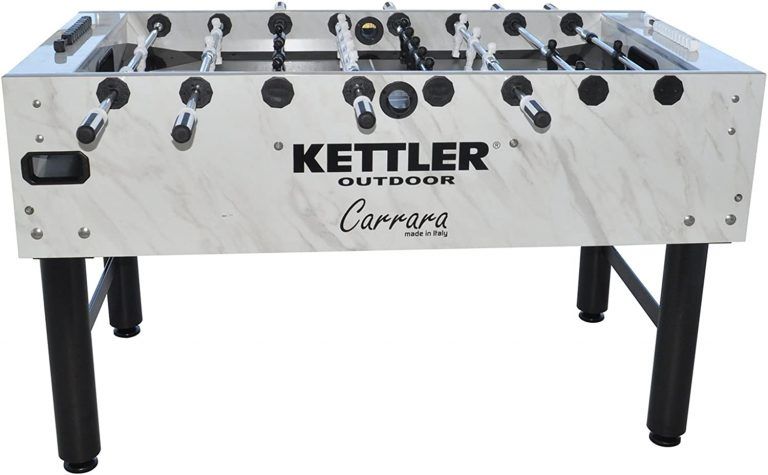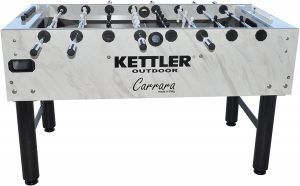 Description
This elegant Kettler model is weather-resistant and well-constructed, with a classy Italian Carrara marble finish [1] and a powder-coated steel framework. Serious foosball players will love the table top's melamine coating. This robust, thermosetting polymer provides an exceptional, high-speed playing surface that will thrill everyone that uses it.
The table has several useful extra features, including sloped corners and corner rails that keep the ball running and the game going. You'll find stylish scoring counters on either end of the table made with water- and corrosion-resistant resin.
If you're looking for the best outdoor foosball table that's heavy-duty and can endure both stormy weather and hot, sunny days, you'll love this unit. From the anti-rust chrome-plating on the steel rods to the fade and mark-resistant powder-coated framework, this product is built to last outdoors.
The package even comes with an effective outdoor cover so that you can keep the rain, dew, or snow off that gorgeous playing surface when you're not using it.
Easy to assemble and will stand the test of time outdoors!
Pros:
Melamine playing surface is excellent

Comes with a

3-year manufacturer's warranty

Marble and black finish fits contemporary and modern interiors

Comes with 10 match balls
Cons:
More expensive than other options

Takes several hours to set up
Best Foosball Table for Beginners
Atomic Pro Force 56" Foosball Table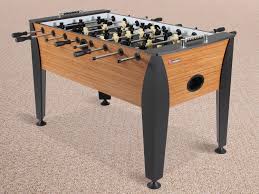 Description
This affordable Atomic model looks great and has a high-quality bamboo laminate playing surface that both beginner and expert players will love. This bamboo material has a high tensile strength, making it resistant to warping and marks. This property means you won't have to worry about your playing surface becoming bumpy and textured over time. The tabletop stays smooth and consistent, allowing you and your friends to play high-speed and exciting matches again and again.
The chrome-plated steel rods are heat-resistant and stable, although the bushings along the table's sides are made with low-quality plastic. You'll appreciate the 3.5" thick foot levelers that allow you to adjust each leg's height to stabilize the unit on uneven ground.
Beginners will love this model for its quality match surface and angled buffers, which keep the ball moving continuously and prevent any irritating stoppages in play. Fans of sleek and refined design can appreciate the unit's mottled wooden finish and curved black framework.
The table itself is a great size and is substantial!
Pros:
Rubber handles are

easy to grip

and use

Sloped buffers to keep ball in play

Heavy-duty legs are

robust

and durable

Great value for money
Cons:
Can take several hours to set up

Bushings aren't of the highest quality
Best Foosball Table for Durability
Warrior Table Soccer Pro Foosball Table 2020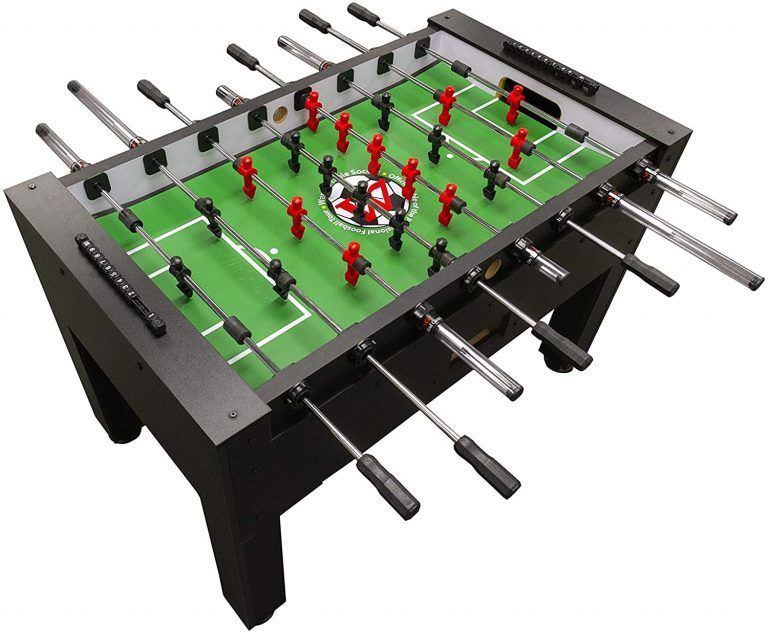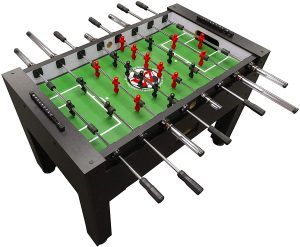 Description
This Warrior foosball table is the best on the list when it comes to durability. The split bearings are premium-quality, while the Rod Guard system prevents any injuries from rapidly moving rods. This built-in safety feature makes this an ideal table for families with small kids who like to watch you play because you won't have to worry about them getting hit in the face.
The 5" thick rubber foot levelers provide a sturdy and robust base, and the 0.6" thick steel rods are easy to clean and maintain. You'll appreciate how easy this unit is to set up since the playing figures come pre-attached to the rods, so you don't have to waste energy on an arduous installation process.
You'll love the durable PVC-laminate playing surface, which is heat- and water-resistant. The arcade-style ball return feature uses a traditional channeling system to efficiently and effectively move the ball to the center of the table.
This table takes about an hour to build by yourself. It's very sturdy and feels almost like playing on the more expensive tornado foosball table
Pros:
Professional-standard

split bearings

0.6"-thick solid steel rods are strong and durable

Great value for a premium product

Package comes with

doorstep delivery
Cons:
Play isn't always continuous

1-year warranty isn't as long as other products
Best Budget Foosball Table for Kids
Description
This affordable and portable unit fits neatly on top of your dining room table or in the middle of your living room floor. Kids love the sliding scoring system and the vibrant colors of the playing figures.
Beginners will also appreciate the 3-player rows, which make gameplay more simple. You'll also love how portable this product is: It weighs just over 10 lbs., and is easy to store away when you're not playing.
This Giantex foosball table is also relatively durable for its price, with strong, heat-resistant steel rods and 4 bulky legs for extra stability. However, you'll find that the composite wood construction isn't of the highest quality. The table and its action figures won't endure hours of rigorous activity, so make sure you're purchasing this unit for young children who are just getting into foosball. This product isn't designed for serious play among adults.
One thing we like about this table is that its not too heavy to carry in and out of the room and very easy to install. The quality is good for the price.
Pros:
Kids will love the

fun and vibrant

design

Classy, MDF wood finish

Table comes with ball return units at both ends

Option to get the model with legs
Cons:
Not as sturdy as other options on the market

No grips or rubber protection on the legs
Best Foosball Table Under $500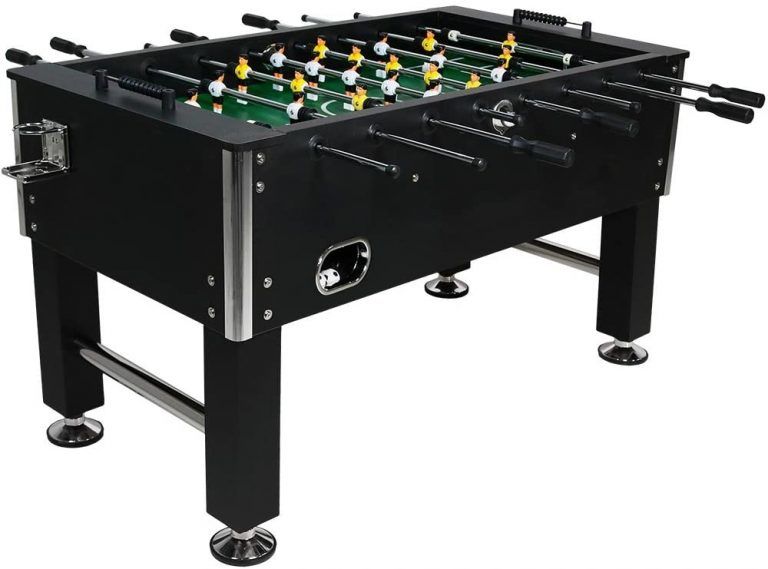 Description
If you're looking for the best home foosball table that's perfect for parties, you'll love this Sunnydaze unit, with its optional plastic cup holders and clean-cut, modern look. The playing surface is nearly 55" long, so you can easily fit 4 adults around the table during match play.
Fans of contemporary-style interior design will appreciate the thoughtful chrome touches on the unit's exterior shell. Those who prefer transitional or industrial styles will love the cabinet's sleek black finish and the round, heavy-duty levelers at the base of each foot. These adjustable units ensure you can play a proper foosball game on a completely even and smooth playing surface.
The table has 2 side ball return features, making it easier than ever to play a high-tempo game of foosball with your friends and family. The rubber handles are easy to grip and comfortable to hold, while the high-quality ball bearings allow you to spin the rods as fast as you want without fear of damaging the table.
One of the decent foosball table for the price on the market today.
Pros:
Sleek black matte finish

looks good anywhere

4 adults can fit around the table

Players are painted in vivid and bold colors

Each side has a ball return unit
Cons:
Can be a hassle to assemble

Abacus score units are made with cheap material
Best Foldable Foosball Table
WIN.MAX Preassembled Folding Foosball Table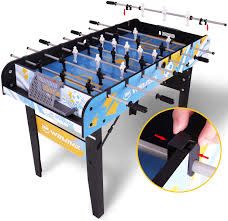 Description
This ergonomic table takes less than 10 minutes to set up upon arrival. All you have to do is unfold the legs and connect the iron playing rods to the main unit by clicking them down into their suitable indentation in the cabinet.
You'll find that this product comes with adjustable leg levelers, so you can play around with these until you've made the table sufficiently stable.
Kids will appreciate the easy-grip handles, while adults love the unit's foldable function. When you're finished playing, just lightly snap out the product's safety hinges and fold the legs into the base of the table. You can then store this table upright in any cabinet or utility room so that it's out of the way until you want to play again.
At 47.75" long, this table isn't the largest on this list, but it's certainly not the smallest. You can fit 4 adults around the table, although it will be a tight fit. However, this product is perfect for young kids and teenagers, with its bold design and vibrant color scheme.
Based on consumer feedback, this is a very sturdy and well built product that's easy to assemble. It also is the right size for adults.
Pros:
Market-leading

money-back guarantee

with purchase

Playing surface dimensions suit children and adults

Water-resistant

PVC laminate

playing surface

Easy ball collection unit at each end of table
Cons:
MDF-composite construction is less strong than hardwood options

4 adults around the table would be a squeeze
Best Foosball Table for Contemporary Interiors
Hathaway 56" Primo Foosball Table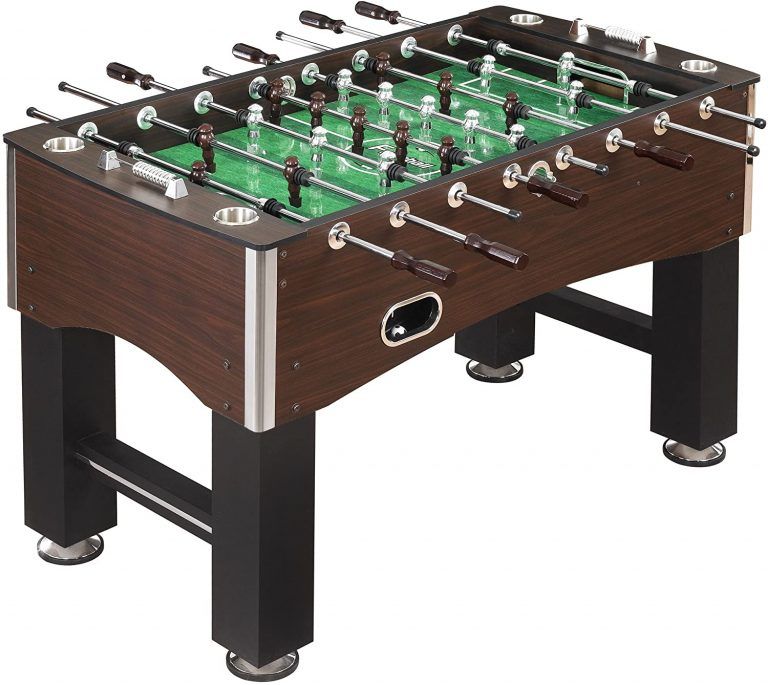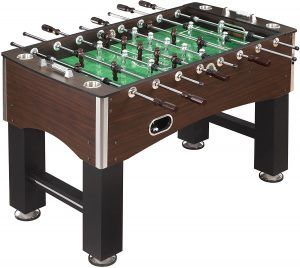 Description
Those looking for a durable, well-constructed table with a sleek finish that suits their home's contemporary interior design will adore this unit. The dark espresso finish is smooth and classy, while the cabinet's clean-cut lines and stainless steel cup holders complement the understated and functional look of any modern-style room.
This product is sturdy, with 5" thick leveler units that provide a stable, robust cabinet base. These levelers have rubber padding on their underside, so you won't have to worry about marking your hardwood floor when you move the table around.
Fans of traditional design will also appreciate many aspects of this table, not least the wooden, textured handles and the solid, vintage-style figurines.
This table is ideal for large parties, with its integrated drink holders, counterbalanced players, and easy-to-clean melamine coating. The playing surface provides high-speed match play, but you may find that the vibrant green coloring dims over time.
We can't deny that this is very attractive and nicer than anticipated mid-level table that is certainly worth the money.
Pros:
Comes with

a 180-day money-back

guarantee

High-quality, E-Z spin bearings allow for fast gameplay

Scoring units are

classy and elegant

Sturdy, thick leg construction for extra durability
Cons:
ABS playing figures

aren't too sturdy

Playing surface color can fade over time
Conclusion
While there are many top-quality foosball tables available for purchase, you can't beat the look, construction, or overall design of the Playcraft Milan.
This reasonably-priced table has a gorgeous maple finish and integrated corner ramps to prevent any dead spots on the playing surface. The supportive metal apron and heavy-duty leg levelers make this a durable and robust unit. Kids and adults love the perfectly counterbalanced players, the efficient ball return unit, and the easy-to-follow instruction manual. This table is ideal for 4 adults or 6 kids to use during parties or family events.
Anyone looking for a premium-grade foosball table that's ergonomic, sturdy, and elegant will love this Playcraft Milan product.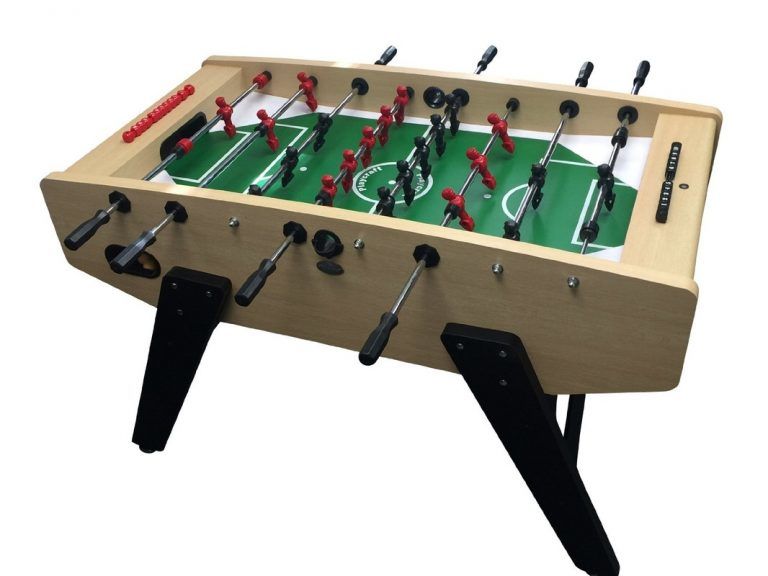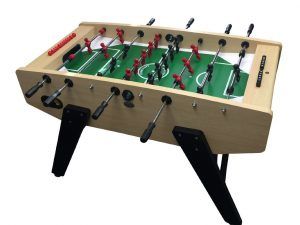 Overview
There are many different types of foosball tables, from lightweight MDF [2] tabletop units to heavy-duty steel and hardwood options. Think carefully about your main reasons for buying a foosball table before you invest in one.
Do you want a product with integrated cup holders and an easy-clean finish for parties and large family gatherings? Or are you looking for a small, ultra-portable unit for your young children? You could be an expert who's searching for a table with a high-speed playing surface and an efficient ball return system or a beginner who's looking for a regulation-sized unit that's both durable and affordable.
Whatever your reason for investing in a foosball table, consider some basic factors before making your final decision.
Weight & Dimensions
Competition-size tables are 56" x 30", but you'll need to account for the extra width taken up by the playing rods when you're figuring out where to put the unit in your house. If you want to invest in a regulation-size table, the rule is to find an 8' x 7' space for installation and set-up. Anything smaller could lead to cramped playing conditions and injury from the rods.
You should also consider the table's weight. If you're looking for a portable unit to take with you to parties and barbecues, get a tabletop cabinet that weighs less than 50 lbs.
Material Type
Foosball table cabinets tend to be made from wood, be it particleboard, MDF, or hardwood. Hardwood frames are durable and aesthetically pleasing, but they're also more expensive than engineered wood options.
MDF-composite cabinets are lighter and more warp-resistant than their hardwood counterparts. However, cheap MDF frames can also be more vulnerable to marks and stains than other market options.
Try to find a unit with steel rods because this material is robust and easy to clean. Hollow rods allow for faster gameplay than solid options.
Style
Think about what style of table you want. If you're a fan of understated modern or Scandinavian-style vibes, opt for a model with a clean-cut design and a light wooden finish. If you prefer an industrial or transitional look, try a heavy-duty MDF cabinet with matte black paint and integrated stainless steel touches.
You should also consider whether you're looking for a versatile, foldable unit or a self-standing, heavyweight table. Whereas one option gives you a functional and ergonomic design, the other acts as the fashionable focal point of your lounge or game room.
3-Goalie or 1-Goalie Set-Up
Different foosball tables have varying goalie configurations. If you're looking to develop your skills with a more challenging player set-up, get a unit with a single-goalie feature. However, if you want a table that will provide a more high-speed game, go for a product with the 3-goalie function.
Kids and beginners tend to prefer the 3-goalie tables, while adults and more serious players will appreciate the 1-goalie options.
Extra Integrated Features
Lastly, consider any extra features the table might have. Useful integrated bonuses include built-in cup holders, adjustable levelers, spare playing figures and match balls, sloped surface corners, and rod protectors.
Are you still looking for more game table options? If so, check out our buying guides for more info. Don't forget to read our reviews of some of the best table tennis conversion top and best bubble hockey tables reviews available in the market today. However, if you're looking for something that's space-saver and affordable with more game options, try our best game table for rec room, shuffleboard table and air hockey table reviews.
For top pool table brands, you should definitely check Olhausen out.