Best Hoverboard Reviews: All Terrains, All Ages & All Budgets!
Disclosure: We may receive a small commission when you shop by clicking on the links on our site. This is at absolutely no added cost to you. Learn more.
Whether you are a sci-fi fan looking for a futuristic riding experience or a commuter looking for an efficient mode of transport, hoverboards and self-balancing scooters are a very compelling and fun choice. A hoverboard will enable you to zip around effortlessly without seeming to move any of your muscles at all.
Hoverboards have had their share of bad press due to safety concerns with some of the earlier models in 2014 [1]. But rest assured, the boards on the market today are all tested extensively for safety and are required to undergo safety certifications. [2]
Best Hoverboard Summary

Image

Product

Purchase

Halo Rover X

Speed 10 mph / 16 kph
Loading capacity 44lbs to 264 lbs (20 kg to 120kg)
Motor Dual 400W with dual independent gyros
Water resistance IPX4 - Splash resistant

Best off-road / All-terrain

Epikgo Classic 8.5"

Rides smoothly on every surface
Quick charging time of 1~2 hours
Has a 0 degree turning radius

Epikgo Sport 8.5"

Top speed 12 mph
Special smooth tread design Performance tires for better steering response
Rides great on all terrains
There are a lot of great hoverboards available currently. They vary widely in terms of the controllability, ride comfort, ease of learning, speed, range, loading capacity, looks and price. To help you pick the right hoverboard for your needs, we have reviewed and curated the top hoverboards below.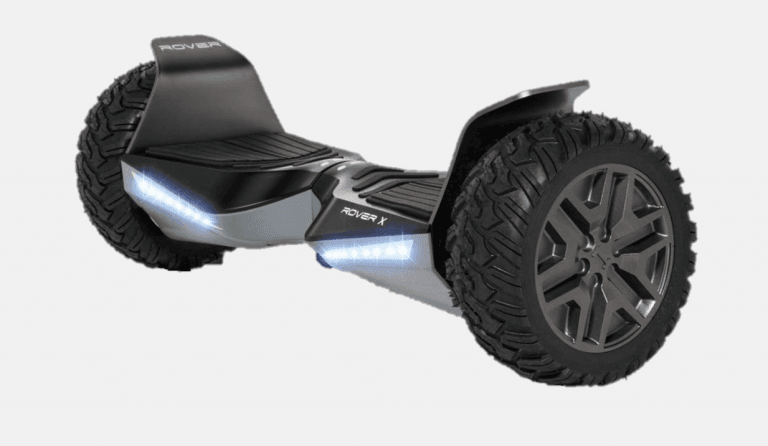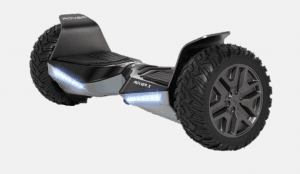 The Halo Rover X hoverboard delivers great power, torque and top end speed. The design and construction are top-notch. It has sturdy, durable aluminum frame and rugged tires that offer great on and off road rides. You can ride this board on all-terrains from sandy beaches to bumpy roads and gravel with ease. The tires are made of hard plastic, so you will never have to worry about getting a flat tire.
The hoverboard comes with an app to monitor you speed, battery life, track your route as well as control the operation modes. Beginners can use the training modes and rely on the self balancing technology of the board to get comfortable before pushing their limits. It also comes with excellent Bluetooth speakers. This board is UL2272 certified.
The Halo Rover X hoverboard is very popular for good reasons. It is a true all-terrain hoverboard, with great durability, battery life and ride comfort. Everyone from kids to adults will enjoy riding this safe and high quality hoverboard. This is easily our top choice for the best hoverboard on the market.
Since we love this hoverboard so much, we have written a detailed review of the Halo Rover X, which you should definitely check out.
Pros
Awesome all-terrain/off-road hoverboard
Rugged and durable construction
Great for the whole family
Good range
Cons
It is heavy and not very easy to carry around
Pricey (currently discounted)
Best off-road / All-terrain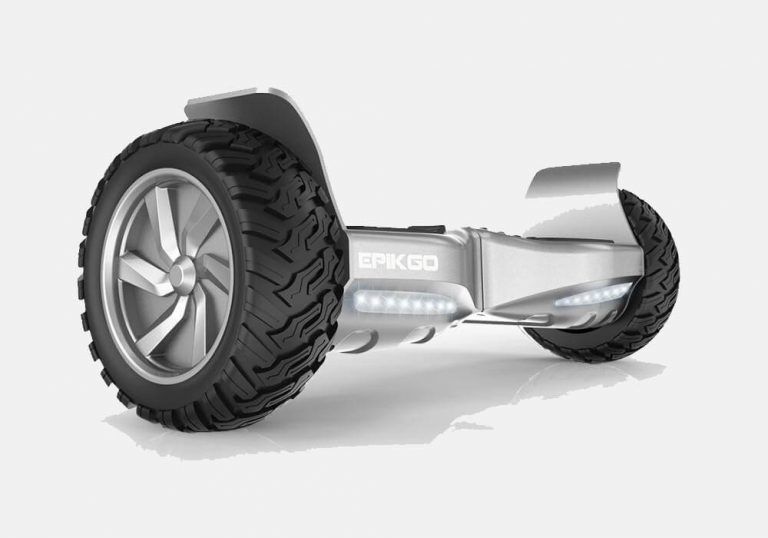 The Epikgo Classic hoverboard is an extremely well built, sturdy, good looking all terrain hoverboard. This self-balancing scooter is one of the best performing on the market while also being UL2272 certified. The areas this board excels in are its speed, range per charge, charging time and power. This combined with how well it rides on flat and rugged terrains, makes it a great board. However, our favorite feature of this board is that it is IP54 certified [1]. What on earth is that you ask? Well it means that this hoverboard is certified to be water-resistant. So you don't have to worry about riding in the rain and in puddles!
Some of the things we do feel that the Epikgo classic lacks are Bluetooth compatibility and absence of learning modes. However, since it is self-balancing, you should be able to ride this beast in no time. The Epikgo Classic definitely gets a big thumbs up from us for its versatility, durability and speed.
Pros
Has really quick acceleration
Provides a smooth ride on all surfaces
Has a 0 degree turning radius
Cons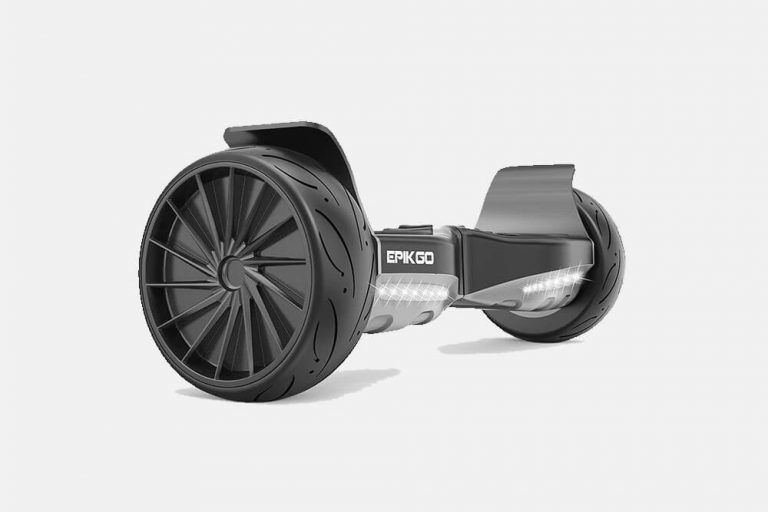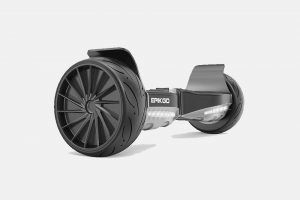 The Epikgo Sport is one of the sleekest and best looking hoverboards out there. Epikgo makes amazing quality products, and the Sport is no exception. This board is built predominantly for speed. Don't worry, it is also very safe and is UL2272 certified. The Epikgo Sport has alloy wheels and specially designed performance tires which make it very quick, while also providing a smooth and comfortable ride. Although its tires are not all terrain tires, it does very well on all roads, pavements and even mud.
In addition, its powerful motors and aerodynamically designed Aluminum body, make it fast and very durable. One thing is very apparent, every aspect of this board has been fine tuned for speed.
The only downside we could find with this board is that it does not have Bluetooth compatibility. However, with all that it has to offer, we don't think this is a deal breaker.
So if you have the need for speed, Epikgo Sport is the way to go!
Pros
Special smooth tread design Performance tires for better steering response
Enhanced torque and acceleration
Provides a smooth ride on all surfaces
Has a 0 degree turning radius
Cons
No Bluetooth speaker
Tires are meant for dry surface use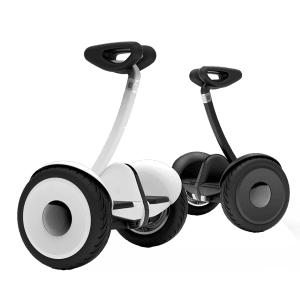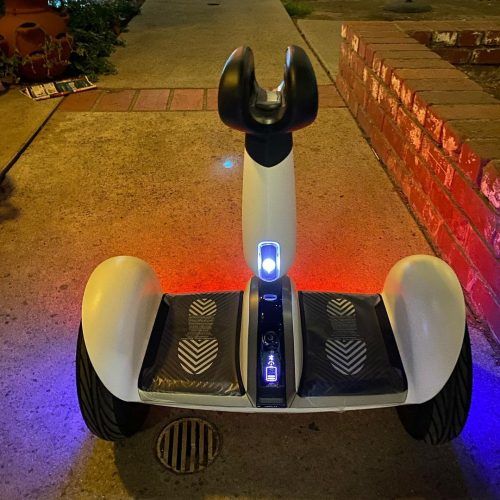 The Segway Ninebot S has a different form factor and steering mechanism compared to a conventional hoverboard. It is steered with a control stick that is positioned between the rider's knees. The rider leans on the stick to initate the turn. This feature makes the Ninebot S one of the easiest self-balancing scooters to start riding.
The Ninebot S has a high quality build, long battery life and has good power as well as speed to carry heavy loads. It is a great transportation device for commuting and riding around your neighborhood. The Ninebot S does have its quirks. The unique steering mechanism might not be comfortable for everyone to use depending on their height and other physical factors.
The Segway Ninebot S is built with safety in mind. It is UL2272 certified. It is a great personal transportation solution in an urban setting but is definitely not the best if you decide to ride off-road.
To learn more about the Segway Ninebot S, check out our detailed review where we give you an in-depth view into all the features of this awesome hoverboard.
Pros
Great for urban commute
Really good range
Easy for beginners to learn
Cons
Quirky steering mechanism
Not suited for off-road riding
No Bluetooth speaker
Best urban personal transporter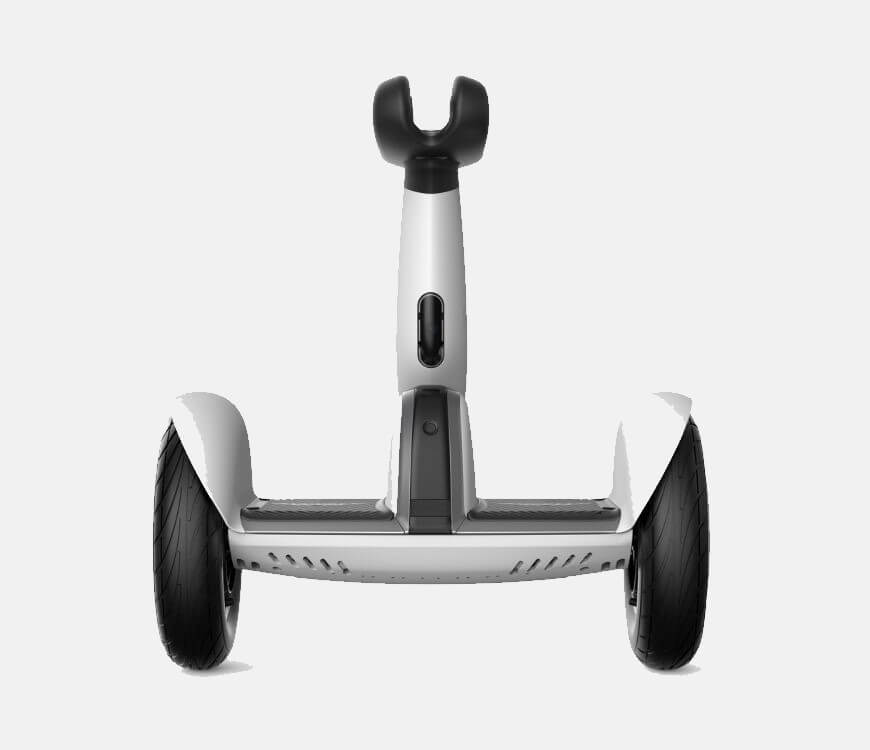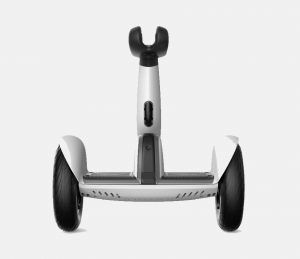 If you are looking for a fun cool way to get around your neighborhood, then look no further. The Ninebot S plus is the best urban personal transport option. It is an upgraded version of the Ninebot S. It comes with a longer range and a more responsive steering mechanism. The Ninebot S plus is really smooth to operate. It has a top speed of 12.5 mph to go with really good acceleration and braking. It is pretty compact and also lightweight despite the strong high quality build.
The self balancing technology along with the knee operated control stick make it easier for beginners to learn riding it. It is very stable to ride.The Ninebot S has a smart battery management system and comes with a lot of safety features for the battery to make sure there are no accidents.
Everyone in the family is going to be queuing up to take a ride on this beauty. Whether you are commuting to your office or your kids are riding around the neighborhood, the Ninebot S plus delivers a smooth ride with precision control and safety to make your experience enjoyable.
Pros
Fully controllability speed, modes etc through the mobile app
Can summon and have it auto-follow using the remote
Has a great range and top speed
Cons
Quirky steering mechanism
Pricey
Doesn't have fast charging
Swagtron Swagboard T1 Pro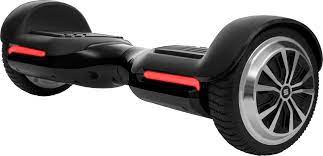 TheSWAGTRON T580 hoverboard can be remotely controlled via app. It is a very well designed hoverboard that delivers performance, safety and durability. SWAGTRON T580 comes with dual 200W motors which provide plenty of power to go really fast as well easily climb hills of up to 30 degree incline . It also has a pretty good range to go explore new places. It has 'Safe Stop' technology which helps make any abrupt stops as smooth as possible. This is a great additional safety feature to have especially since you can get to about 7.5 mph on this board. For you beginners out there, don't let the top speed intimidate you. This board does have a learning mode, which you can use to learn riding at lower speeds.
Controlling this hoverboard is just one tap away with its bluetooth app while you ride. It is no wonder that the Swagboard T580 is one of the most popular hoverboard on the market.
Pros
Easy maneuverability for riders of all ages
Durable and tough build
Cons
No app to control the board
Swagtron Swagboard Vibe T580
The Swagboard Vibe T580 hoverboard is designed for the fun and thrill-seeking adventurer in you, while keeping your safety in mind. We love that this board has an iOS and Android compatible app that makes it very convenient for tracking battery life, monitor system stats, track your route and play your favorite tunes on the inbuilt Bluetooth speakers, right from your fingertips. The app also allows you to choose between 3 riding modes, 'Learning', 'Standard' and 'Advanced', making it a great starter-board that you will continue to enjoy even when you become a more advance rider. It has great dual 250W motors which provide speed and power to climb steep (30 degree) hills, and also provide great range making it an excellent option for exploring new places.
The Swagboard Vibe is a fun, compact and light board that gets a easy thumbs-up from us.
Pros
Dynamic Bluetooth speakers
Durable build, can take a beating
Affordable price
Cons
Long charging times of 5.5 hours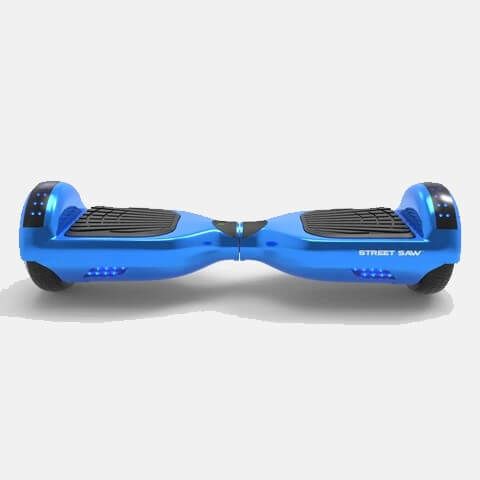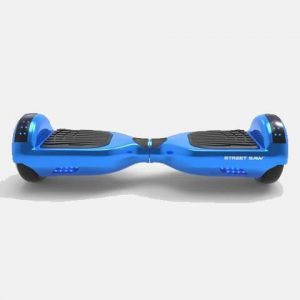 Streetsaw is an American manufacturer based in Las Vegas, that has been making really good quality and safe hoverboards. The Dailysaw is no exception and if your kids have the need for speed, look no further. The Dailysaw's top speed of 10.5 mph makes it one of the fastest on the market. Parents don't worry, the board also has learning modes that can limit the speeds while the kids get comfortable with the board.
Dailysaw has LED light strips on the wheels which provide multi-color lighting. These along with the LED headlights improve rider visibility and also lend a cool look to the hoverboard. The Dailysaw comes with a high power and high efficiency batter pack that lasts really long and provides a great range for the hoverboard. It is equipped with fast charging so you will not need to wait long to get going
The aluminum alloy chassis of the Dailysaw helps reduce the weight of the hoverboard and at the same provides strength to carry heavier loads than most hoverboards of this size. The durability, dependability, great battery life, safety and quality make the Dailysaw a very compelling choice for the best kids hoverboard.
Pros
Great attention to safety
Has learning modes for beginners, has self balancing technology
Cons
Has a short range of 4 miles
Low load capacity, not suited for all adults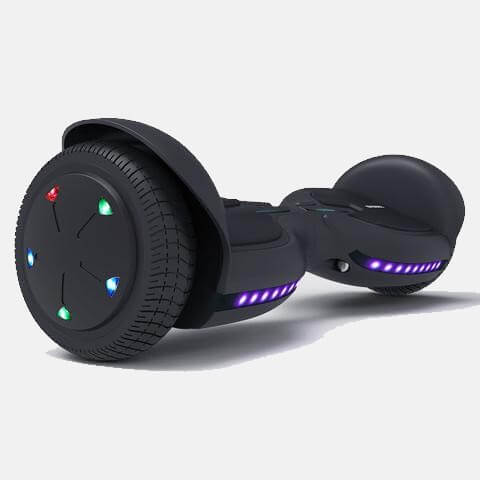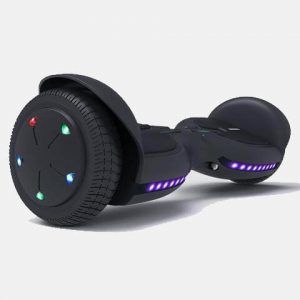 Tomoloo is known for its unique designs and this one is no different with a beautiful LED headlight pattern. While it is designed with safety in mind and is UL2272 certified, it also is bursting with fun and unique elements. The Tomoloo music-rhythmed hoverboard has inbuilt Bluetooth speakers so that you can enjoy riding to your favorite tunes. But wait, the fun does not end there!… It also has LED lights that synchronize with the music. Your kids are sure to have a blast riding this board around. It is a light and compact board that your kids are sure to love zipping around on.
Pros
Great bluetooth speakers
Fun colorful lights
Slip resistant foot pads
Cons
Best lithium free hoverboard
Swagboard Twist Remix: Kid's lithium free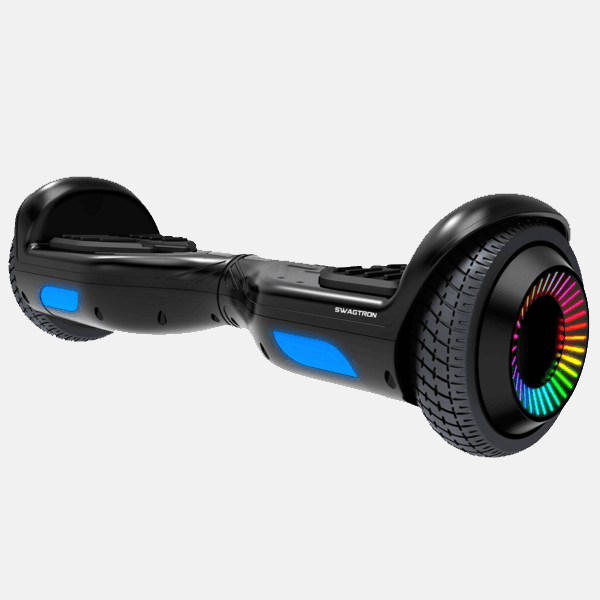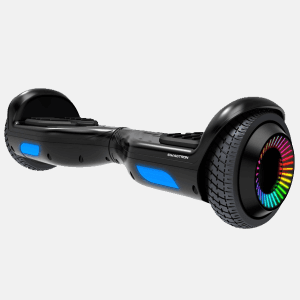 The Swagboard twist is a great kid-friendly hoverboard, designed with safety in mind. Its patented fire-resistant Lithium-free battery provides utmost protection. It is also UL2272 certified, so you can rest assured your kids are in great hands. Safety is not the only area this board excels in. Its self-balancing technology and learning mode, make it a great starter-board for your kids that they will continue to enjoy when they become more advance riders. We love that this board has great features like dual 250W motors which provide speed and power to climb steep (30 degree) hills, and also good batteries that provide great range which makes it amazing for exploring new places. These boards come with LED headlights and LED lights on the wheels which are not only great for safety by improving rider visibility, but also fun for the kids.
This is an amazing board and we are sure your kids will love it.
Pros
Built with safety first – No lithium for the batteries
Learning modes for beginners
Eye catching LED lights on the wheels
Cons
Long charging time of 5.5 hours
Not Bluetooth compatible
The Hovertrax 1.5 just screams fun as soon as you lay eyes on it. With bright colors and wheels with a saw blade design, you feel like you are carving your own path as you ride! This hoverboard is compact, super light and easily maneuverable so that your kids and you can do super cool tricks with it. It is also a great board for beginners since it self-aligns parallel to the ground on startup which makes mounting the board very easy and comfortable. It also has a training mode to learn on until you become a confident rider. This board is UL2272 certified. It is built with a sturdy and durable steel frame and the body is shatter resistant. This board can take a beating and still last you a long time.
The Razor brand is known for its quality products, and the Hovertrax 1.5 is definitely a great example of it.
Pros
Great attention to safety
Has learning modes for beginners, has self balancing technology
Cons
Has a short range of 4 miles
Low load capacity, not suited for all adults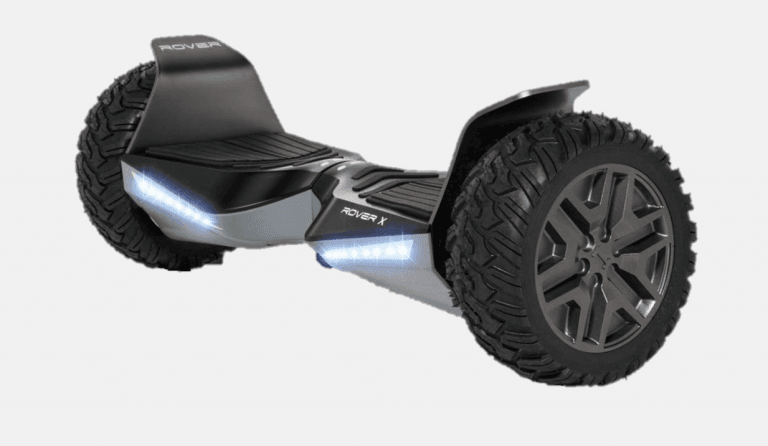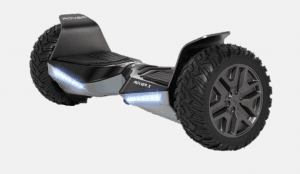 This question might seem silly at first, but from our experience, we can tell you it's valid. When we got our hoverboard for the first time, we were super excited to take it for a spin. But as we tried to step onto it, it kept moving forward. It took us several attempts to be able to finally put both our feet on the pads and operate it without wobbling. But once we got the hang of it, it was smooth sailing… [3] or should we say riding. We wanted to share a few tips with you to make your first experience much easier than ours.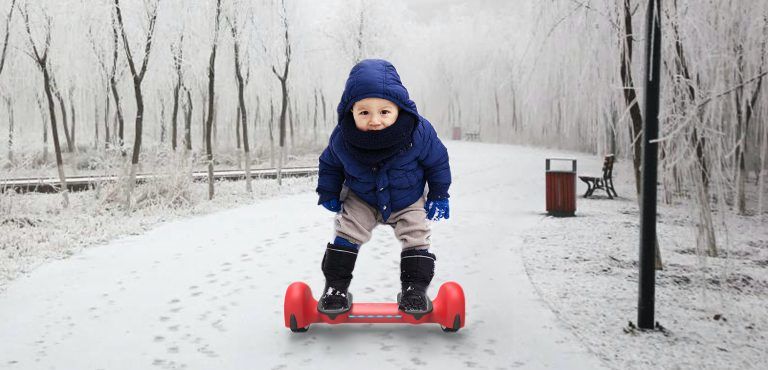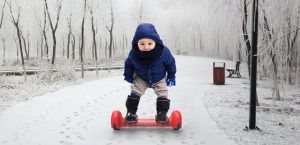 Please make sure you have your safety gear on, like helmet, knee and elbow pads on to avoid injury.
Mounting: To get on Switch ON your hoverboard and place it in front of you on an flat surface to avoid any wobble. If possible use a nearby wall, fence, railing or your friends for support. Place your dominant foot on the pad very gently. This can be a little tricky since the board tends to move when it detects pressure. Keep the hoverboard as flat as possible (parallel to the ground) and once you think you are stable, place your other foot on its respective pad. Placing your feet as far apart as possible will help you balance better.
Moving: Now that you are on the board, you are ready to start moving. To go forward, slightly tilt your toes forward. Be careful when you do this since the more you tilt, the faster the board will start moving. Take it a little slow initially till you get a hang of it. Similarly to go backwards, tilt your heels backwards.
Stopping

: You can stop the board usually by coming back to neutral position (no tilt). However, if you are going a little fast in any direction, you might need to tilt in the opposite direction to counter the motion to slowdown and then flatten to stop the board completely.
Dismounting

: To get off the board, first come to a standstill. Then shift your weight to your dominant leg and remove the other foot from the pad. Once you are stable, take your dominant foot off the hoverboard.
Turning

: To turn your hoverboard, you need to tilt one foot forward while keeping the other flat. For instance, if you want to turn right, tilt your right foot forward while keeping your left foot pad flat. You can make sharper turns by tilting your left heel back.
Congratulations!! You did it. With a little practice you will be zipping around on your hoverboard in no time!
Hoverboard Safety Tips & Tricks
There are mainly two safety categories to pay attention to while using an hoverboard. The first is the safety of the board's electrical systems and the second is staying safe while actually riding the board. Our hoverboard safety guide has tips to cover both of these categories and ensure that you have a safe and fun time riding your hoverboard.
UL2272 certification: First and foremost, make sure the board has been UL 2272 certified. This will guarantee that the board's electrical systems have been extensively tested for defects. The testing guarantees that the hoverboard is as safe as any of the electrical devices in your home like smartphones, microwaves etc. Make sure that the boards are not knock-offs.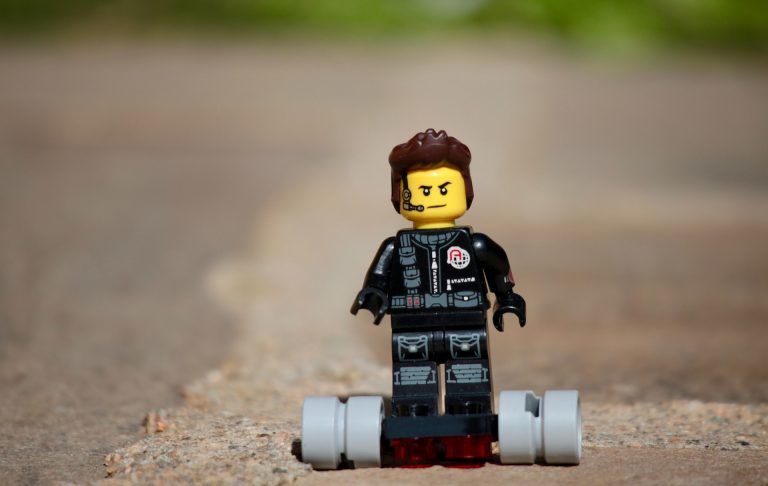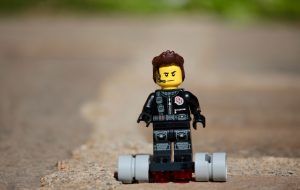 Age limits: Don't buy hoverboards for really young kids. All boards have a minimum weight requirement for the rider to ensure that the self-balancing mechanism can reliably keep the rider stable. The recommended age in most cases is around 8 years. There is no upper age limit, just make sure that the rider can react well and is capable of controlling the board. Some places also have local laws requiring the riders to be of a minimum age.
Charging: Always use the charger that was provided with the hoverboard by the manufacturer. This will ensure that the battery gets charged with right the Voltage and Current limits. Charging the battery using a higher voltage and current level than it is designed for can cause it to overheat and explode or catch fire. Also, charge the board when you can keep eye on it. Don't leave it plugged in overnight.
Store the board at room temperature: Do not keep the in a really hot place or in direct sunlight for a long time. This can cause overheating and damage the electricals on the board. Also do not keep it in really low or freezing temperatures, as that can affect the battery life.
Know your abilities: Do not attempt to ride a hoverboard if you don't think you are going to be able to handle it. You need to have decent reaction to control the hoverboard.
Use protective gear while riding: Always wear a helmet while riding no matter how fast you are going. Knee and elbow pads are also a good idea for kids and while learning to ride.
Do not overload: Make sure that you are not putting more weight on the hoverboard than what it is rated to carry. Be aware of the added weight of your backpack and other things you are carrying while you ride.
Only one person on the board: All hoverboards are meant for a single person to ride at a time. They don't have sufficient space on the riding pads to safely accommodate more. Also, having more than person on the hoverboard could exceed the hoverboard's weight carrying capacity.
Start slow and know your limits: When you are learning to ride know your limits and start slowly. Use a wall, railing, fence or your friend as support while getting on the board for the first time. Also, learn to stand still on the board before attempting to move. Build up your speed slowly as you gain experience with the hoverboard. Remember that hoverboards do not have brakes, so you cannot stop abruptly.
Start on a level surface: Always start out on a flat terrain like an empty parking lot or clear empty indoors area while learning to ride. Do not go off-roading till you are confident that you can handle the board well on a flat terrain.
Be aware of your surroundings: Hoverboards are a lot of fun but do not let that distract you from paying attention to your surroundings. Always be aware of people and traffic around you. Always follow the traffic rules and be ready to react to unexpected events.
Increase rider visibility: The head lights and tail lights on your hoverboard will increase your visibility under low light conditions. So always use them. It is also recommended to wear clothes and shoes that are reflective. This will make sure that people around you pay attention to the fact that you are moving faster than a normal person.
Limit water exposure: Not all hoverboards are designed to be water resistant. Even those that are certified as water resistant only meet the IP54 standard. This standard guarantees that the hoverboard is dust resistant (bigger than 1mm) and only resistant to splashing of water. This means that you can take it out in light rain, or through small amounts of water on the riding surface. But you should never take your board out in pouring rain or through big puddles as it can damage the electrical systems on the hoverboard.
Avoid buying used hoverboards: Generally try to avoid buying used hoverboards as you have no way of knowing if the hoverboard was maintained properly, or if it was tampered or modified after purchase. So do not let lower prices put your safety at risk.
Do not handle your hoverboard roughly: Remember that your hoverboard has a lithium-ion battery in it. You can accidentally damage the battery and cause it to explode if you beat up your hoverboard too much. This is not a plain old skateboard, so do not attempt any high impact tricks and maneuvers and definitely do not attempt riding down stairs or railings.
Do not race in high traffic areas: If you are racing on hoverboards with your friends, make sure that you do it in non public spaces like empty parking lots or empty trails. Do not race on roads with traffic or pavements being used by pedestrians. Always have a designated person keep on eye on your race trail to ensure that it is empty.
Limit the top speed for kids and beginners: Parents should make sure that the hoverboard's top speed is limited to a reasonable value while their kids are using it. Most of the hoverboards have accompanying apps that will allow the top speed of the board to be limited. Limiting the speed is also a good idea while learning to ride the hoverboard.
To learn more about how hoverboards work and all the fun ways you can use your board in, check out our detailed guide. Also, if you want to know if you should pick a flat vs. all terrain hoverboard and what the differences between them are, you can read our helpful guide. For more interesting and exciting articles, checkout our homepage.
These days, children prefer to stay at home than to go out. So we made this article to help you out. There are different summer activities for the kids they'll surely love and could keep them outdoors. Don't forget to check them out.