Disclosure: We may receive a small commission when you shop by clicking on the links on our site. This is at absolutely no added cost to you. Learn more.
If you are interested in buying a trampoline for your family, you will want to make sure you buy one from the top brands on the market that is known for its durability and safety. JumpKing is one of the leading brands of trampolines on the market today and focuses on creating solid and safe products.
Founded in 1948, JumpKing is a stand-out in the market against other companies, but it can be difficult to know which trampoline to choose. Even when you are comparing one JumpKing trampoline to another, it's important to choose the one that has the features, size, and design that suits your needs. Here are a few JUmpKing Trampoline Reviews reviews to help you find the best JumpKing trampoline for your family.
Our Top Pick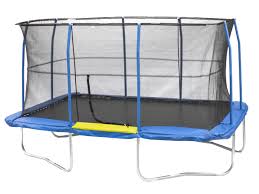 Provides a safe form of outdoor exercise
Perfect for an average sized family
Easy entry for any age
---
Our Favorite Picks for Jumpking Trampolines
---
Best JumpKing Trampoline Summary

Image

Product

Purchase

JumpKing Rectangular Trampoline

It has galvanized steel and rust-resistant frames for a lasting stability
Meets latest ASTM F381-16 Standard
7" heavy duty galvanized springs

Bounce N' Dunk 15-foot JumpKing Trampoline

Bigger jumping space
Better elasticity and deformation resistance
Sun-resistant and water-proof

JumpKing Bazoongi

3 heavy duty legs for stability
Easy access door on enclosure system
Easy to assemble unique toprail system

Bounce N' Dunk 12-foot JumpKing Trampoline

Dual closure entry with zipper and buckles.
Includes a soft Basketball and hoop
Includes a soft Basketball and hoop

JumpKing Oval Trampoline

Sit-n-Clip Easy Set up enclosure system
Teclon Enclosure sleeve coveers
8 Pole Enclosure System
---
Best JumpKing Trampoline Reviews
---
Best Overall: JumpKing Rectangular Trampoline
Specifications
Weight limit of 275 pounds
Zippered closure with dual entry
Jumping area of 140 square feet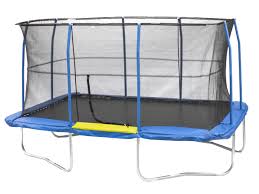 Description
The JumpKing Rectangular Trampoline is a great way to keep your kids active while having fun. This is a great size to allow kids to freely bounce around a huge 10 x 14-foot jumping area. Plus, it can accommodate both young children as well as teens.
Equipped with a dual entry that has a hassle-free closure, the JumpKing Rectangular Trampoline is easy for kids to get in and out of quickly. Featuring a long-lasting enclosure net that is made with a premium mesh that has a patented design. Made with 108 pieces of seven-inch galvanized springs allow your kids to make bigger jumps thanks to the supportive jumping surface.
Featuring eight padded poles, the top rail G3 enclosure system allows kids to bounce safely thanks to this feature. More affordable than other trampolines on the market, this model is a great choice for families due to its many features and safe design.
Pros
It has good safety features for kids
This trampoline has a large jumping area
It's perfect for professional jumpers and gymnasts
Cons
The instructions aren't very clear
It doesn't come with a ladder to get in and out of the trampoline
---
Bounce N' Dunk 15-foot JumpKing Trampoline
Specifications
The enclosure system has a patented safety design
The galvanized steel frame is rust-resistant
It also includes a basketball hoop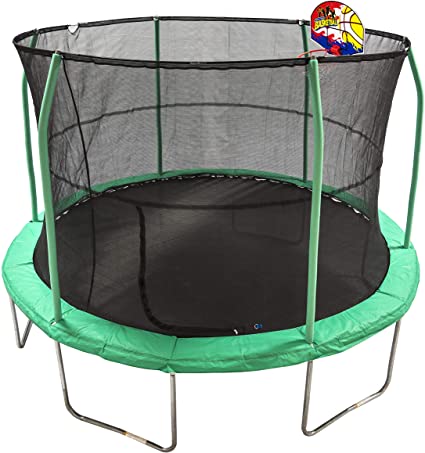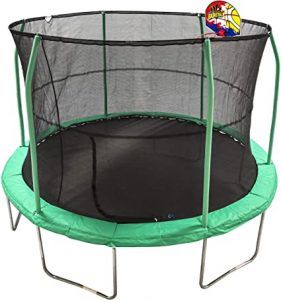 Description
A larger version of the Bounce N' Dunk 12-foot JumpKing Trampoline has the same design and features. This is the perfect size trampoline for more than two kids and teens that like to bounce or play basketball. It also includes the dual entrance that uses a zipper and buckles in the enclosure.
Made with premium mesh, the net enclosure on the Bounce N' Dunk 15-foot JumpKing Trampoline is design to be long-lasting. Made with 96 pieces of 5 ½ inch galvanize steel springs, this trampoline is well-made to support the jumping area.
Similar to the 12-foot version, the enclosure area has six padded poles that will keep your kids safe as they jump. Providing a larger jumping area than the 12-foot version, this trampoline is definitely worth the extra money if you have more than two children.
Pros
Kids have the option of play basketball and jumping
It is made of long-lasting materials
This trampoline offers a nice large jumping space for both children and teens
Cons
It only has a limited warranty
The installation is rather difficult
---
Best for Kids: JumpKing Bazoongi
Specifications
It includes G3 poles with a patented design
The frame poles are foam padded
Three heavy-duty legs support both the enclosure and trampoline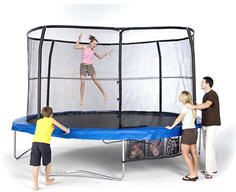 Description
Designed for children three years and older, the JumpKing Bazoongi is a 55-inch trampoline with a 110-pound weight limit. Featuring a premium polyethylene [1] mesh enclosure, this trampoline includes netting that was created to be long-lasting. Both the trampoline and enclosure feature three legs made with heavy-duty materials that provide incredible stability and support.
Equipped with T-connector that attaches the poles to the trampoline, the JumpKing Bazoongi is safe enough for toddlers thanks to the included safety pad and frame poles with a foam padding for extra protection. Plus, the trampoline frame is made with a galvanized steel that is rust-resistant.
The JumpKing Bazoongi also uses 36 pieces of 3 1/2 inch springs and comes with a dual entrance that features a buckle and zipper closure. Perfect for both outdoor and indoor use, the JumpKing Bazoongi is a smaller-sized trampoline but is a great choice for families with smaller children.
Pros
It has great safety features to protect your kids
The entry is easy to get in and out of
This trampoline has a great bouncing design
Cons
It has a limited weight capacity
---
Best Budget: JumpKing Oval Trampoline
Specifications
Heavy-duty, rust-resistant galvanized steel frame
Meets ASTM safety standards
Four W-shaped legs provide stability
Description
Measuring 9 x 14-feet, the JumpKing Oval Trampoline features a solid green pad with a high bounce. This combo also includes an enclosure that will keep your kids safe thanks to the sturdy netting that stops bouncers from falling off. According to JumpKing Oval Trampoline reviews, this is an easy to assemble trampoline with a distinctive toprail system.
The frame of the JumpKing Oval Trampoline is made with rust-resistant, galvanized steel that uses four W-shaped legs that offer long-term stability. This trampoline has a max weight capacity of 200 pounds or less. JumpKing 14ft Trampoline Reviews state that this is a great way for kids to burn off extra energy, plus it meets ASTM safety standards.
Pros
Kids get a really high bounce on this trampoline
This is an easy to assemble trampoline
This is one of the safer trampolines on the market
Cons
It has a weight limitation of 200 pounds
It's on the expensive side
---
Bounce N' Dunk 12-foot JumpKing Trampoline
Specifications
Equipped with a basketball hoop
Includes hook springs with a safety design
The galvanized steel frame is durable and rust-resistant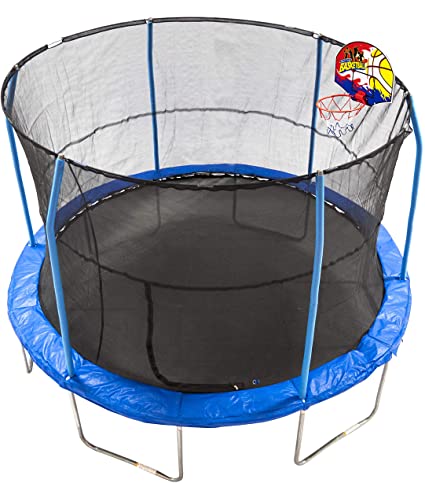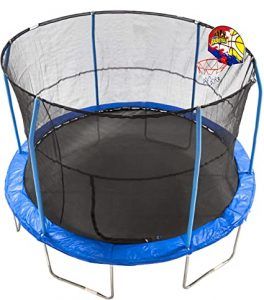 Description
Allowing you to get work done around the house, the Bounce N' Dunk JumpKing Trampoline will give you kids hours of playtime. Offering a fun and healthy way to play, this 12-foot trampoline also includes a basketball hoopmade of high-quality soft materials that will last your kids for years. Featuring an enclosure, this trampoline keeps your kids inside a safe area while they play.
Equipped with six padded poles, the premium mesh enclosure is designed to be long-lasting and durable. The Bounce N' Dunk JumpKing Trampoline includes 60 pieces of spring measuring 5 ½ inches that are made with galvanized springs providing great support for your jumping surface. There are also PVC pads that cover the springs to prevent your kids from getting their feet caught.
This 12-foot JumpKing Trampoline gives kids enough bouncing area and can also accommodate teens. The Bounce N' Dunk JumpKing Trampoline is equipped with a dual closure entrance, so getting into the trampoline is easy using the zipper and buckles. This is a good choice for families that have one to two energetic kids, especially with the addition of the basketball hoop for even more fun.
Pros
This trampoline will last your kids years
It has a nice sized area for jumping
It can also be used by teens
Cons
It's difficult to put together
It only has a limited warranty
---
Conclusion
The winner of the Best JumpKing Trampoline roundup is the Bounce N' Dunk 12-foot JumpKing Trampoline. JumpKing offers some of the highest quality and affordable trampolines on the market. Ideal for an average family, the Bounce N' Dunk trampoline is a fun way for your kids to enjoy a safe form of exercise.
Made with soft, high-quality materials, this trampoline is durable and long-lasting. Plus, it comes with a basketball hoop to add even more playtime fun. With a nice sized jumping area, both kids and teens can safely bounce thanks to the included enclosure. The definite winner of the Best JumpKing Trampoline roundup is the Bounce N' Dunk JumpKing Trampoline.
Our Overall Pick
JumpKing Rectangular Trampoline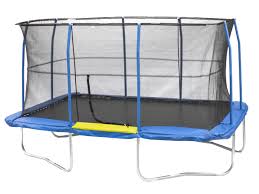 Features to Considerations When Buying a Trampoline
Types of Trampolines
Square
Taking up less space than round trampolines, a square trampoline provides more area to bounce. They also offer higher bounces than an octagonal or round model.
Round
The most common type of trampoline, a round trampoline is a more affordable option, but it doesn't offer as strong a bounce as other shapes. With the round shape, bouncers tend to end up back in the trampoline's center, so you don't have to worry about your kids falling off the edge. They also offer less jumping area out of all the trampoline types.
Rectangular
Providing the most jumping area of all trampoline types, the rectangular trampoline lets you jump really high. This is a great trampoline for gymnasts and adults as well as professional bouncers as it allows you to do aerial moves. A rectangular trampoline takes up more space in your yard, and they also tend to be a little more expensive.
Octagonal
Similar in design to a round trampoline, a bouncer tends to end up in the center, plus it doesn't allow you to bounce too high. You do get more room to bounce than a round trampoline, and they are also a little more expensive.
Considerations When Choosing a Trampoline
Size
Typically, a trampoline will measure between eight and 16-feet wide, so it's important to consider how much yard space you have and how many people will be jumping at the same time. It is often recommended that only one person jumps at a time, but if you take precautions [2], you can safely have more than one child jump simultaneously.
With a larger trampoline, you won't have to worry about collisions as long as each of the bouncers stays in their own area. If you will be having two to three jumpers at once, look for a trampoline that measures between 14 and 16-feet wide.
Safety enclosure
Providing a full perimeter of safety, the net enclosure stops jumpers from bouncing off the trampoline accidentally and becoming injured. It is possible for a trampoline-related injury to happen, so a safety enclosure is recommended, especially when kids are using it. Most trampolines will include a safety enclosure, but they can also be purchased separately.
Weight Limit
Every trampoline will come with a max weight limit that typically falls between 180 and 400 pounds. A larger trampoline will have a higher weight limit as well. And, for heavier jumpers, or if several people will be jumping at once, then you will need a trampoline with a weight limit high enough to cover everyone.
Trampoline Frames
The frame on a trampoline needs to be made with a high-quality material that is durable and long-lasting. A cheap frame will warp, rust, or bend. Also, consider the frame height and whether you will need steps or a ladder to get into the trampoline.
Springs
Giving trampolines their bounce, springs need to be made with high-quality materials. Cheaper-priced trampolines tend to have low-quality springs that can degrade and rust over time. You want to look for a durable trampoline that uses high-quality springs made with a rust-resistant and durable material.
Trampoline Tips
Place the trampoline on grass since the harder ground will put stress on the trampoline's frame causing it to break.
Don't worry if part of your trampoline gets damaged or breaks since you can easily find replacement parts.
You don't have to just bounce on a trampoline. You can also learn a bunch of trampolining moves including very basic to intense gymnastic moves.
You can hire a professional to put your trampoline together if you aren't completely confident in assembling it yourself. Safety is more important than taking the risk.
FAQ
What should you consider when finding a place for your trampoline in your yard?
Make sure you have a 24-foot clearance above the area where you plan to put your trampoline, which means there are no power lines, overhanging branches, or washing lines. You also want to have a good six-foot clearance on either side of the trampoline as well as a level area to place the trampoline.
Should you buy a trampoline that is ASTM approved?
The ASTM, or the American Society for Testing and Materials, is the regulating organization for the safety of trampolines. Buying an ASTM-approved trampoline means that it has been manufactured according to guidelines set by the ASTM for safety. It is absolutely recommended that you buy a trampoline that is ASTM approved.
How do you keep your trampoline in good condition?
A cover for your trampoline is important if you leave the trampoline out over the winter. Protecting it from snow and rain, a cover will help provide low maintenance for the trampoline. Otherwise, as long as you stick to the stated weight limit and check for damaged parts or springs occasionally, you should be able to ensure your jumper's safety with little issue.
For more trampoline options, check out our Skywalker trampoline reviews.