Disclosure: We may receive a small commission when you shop by clicking on the links on our site. This is at absolutely no added cost to you. Learn more.
Picking the finest metal detector is your first step into a world of excitement and adventure. The buried treasure beneath our feet is a glimpse into history and full of lucrative finds. [1]
There are many metal detector reviews on the internet, but we only recommend tried-and-tested models that live up to the hype. If you're ready to learn more, this guide can help you find a suitable detector.
How to Pick Metal Detectors
When choosing your detector, keep in mind that various models have different uses and an astounding range of features. Some are ideal for searching for gold, while others can find coins and artifacts in the most challenging terrains.
The target you wish to discover is the most significant deciding factor in your choice of detector. Additionally, consider which features you believe are essential for your intriguing journey into the unknown.
Our Top Pick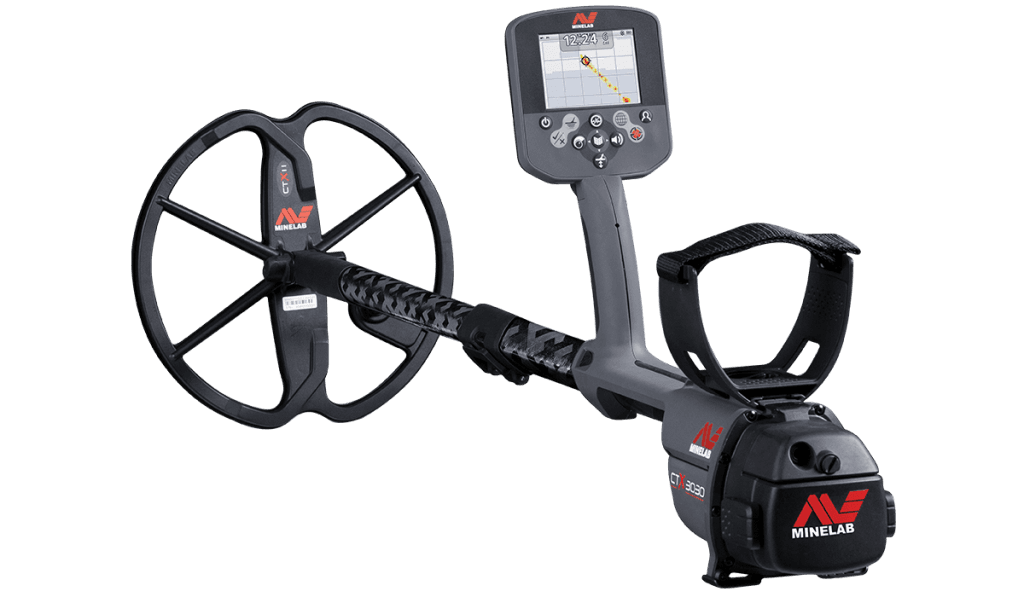 Advanced technology increases signal acquisition
Excellent discrimination, sensitivity and ground balance
Search coil, remote control, and headphones communicate wirelessly
Advanced functions for expert detectorists
---
Our Favorite Picks for Metal Detectors
---
Best Metal Detectors For Every Budget & Need At A Glance

Image

Product

Purchase

Minelab CTX 3030

Integrated GPS mapping
Full-color LCD provides an array of valuable information
Battery sand seal for increased security

Top All-Round Money Can Buy

XP Deus RC WS5

Search coil, remote control, and headphones communicate wirelessly
Advanced technology increases signal acquisition
Programmable target ID function
Fold-away telescopic stem for convenient transportation and storage

Favorite All-Round for Value

Garrett AT Pro

Versatile, all-terrain metal detector
High-resolution iron discrimination
Easy-to-read LED screen
---
Find Out What Makes These Metal Detectors The Market Leaders
---
Top Overall Pick: Minelab CTX 3030
Specifications
Weight: 5.2 lbs. Dimensions: 33.75" x 12.13" x 5.38"
Accessories: armrest strap, wireless headphone module, AC wall adaptor
VLF multiple-frequencies between 1.5-100 kHz
Waterproof up to 10 ft.
Depth indication feature
Li-ion battery with fast charging
Amazing for coins, gold, relics, and the beach
---
User-Friendly
Feature Set
Durability & Reliability
---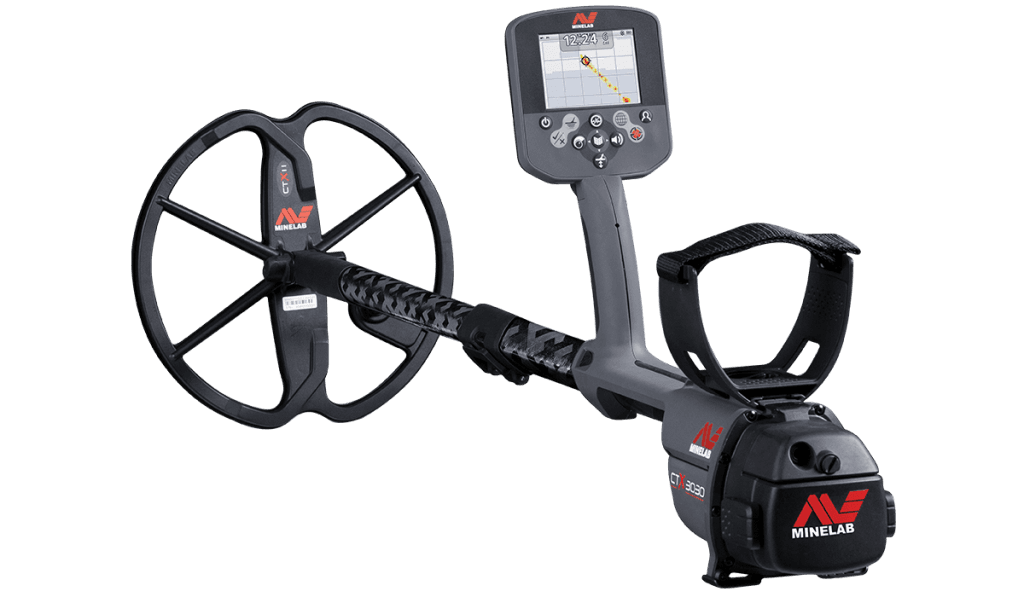 Description
If you're ready to turn your hobby into a lucrative career, you need the greatest professional metal detector. Not for the uninitiated, this feature-packed model is a joy to use, but it does take some practice.
The choice of 28 frequencies meant we could make minuscule adjustments to find the best setting, and the full-color display provided a wealth of target information. The GPS mapping is a rare, but amazing feature, logging where we had been so we could avoid searching the same area twice.
It's also fascinating to see just how much ground we covered, and yes, we patted ourselves on the back for doing so much exercise.
The push mechanism on the armrest lock felt solid and gave a reassuring feel. At no point did we feel uncomfortable, even after several hours in the field. Coming with a 3-year limited warranty, this is a great choice if you need a professional one.
Pros
Incredible option of 28 different frequencies
Armrest lock for reliability and improved adjustability
Displays data in multiple languages
Cons
A vibration mode would be the perfect finishing touch
---
Most Loved Detector That Money Can Buy: XP Deus RC WS5
Specifications
Weight: 1.8 lbs. Length: 36" with stem folded, 52" when extended
Accessories: Battery and charger, wireless headphones, remote control
VLF detector with 35 frequencies between 3.7-27.7 kHz
Waterproof up to 20 ft. for deeper searches
Depth indication included
Rechargeable lithium-ion battery with an average 15-hour lifespan
Amazing for coins, relics, and the beach
---
User-Friendly
Feature Set
Durability & Reliability
---

Description
This is our choice for the best all-round metal detector because of its incredible range of settings and features. The user reviews rave about how much it can be tweaked and how reliable it is. It is intended for use in difficult terrain when searching for small items, especially coins and tiny artifacts. It also is highly accurate in sandy terrain, making it our favorite for the beach.
The system is built to be durable, yet lightweight, so you can lug it wherever you need to go without worrying about getting worn out. The digital radio link is reliable and transmits audio through the wireless headphones perfectly.
It's the top-rated among advanced hobbyists who need the advanced features to find new treasures in popular areas. Although it is expensive, it is our prime choice for the money if you have the budget for it.
Pros
Revolutionary wireless technology
Multiple factory-set and personally-programmable settings
Lightweight design for extended excursions and increased comfort
Cons
Reasonably expensive
Complex features mean it is not suitable for beginners
---
Most Value: Garrett AT Pro
Specifications
Weight: 3.03 lbs. Dimensions: 21.50" x 14.50" x 5.63"
Accessories: Armrest strap, headphones
VLF metal detector with an operating frequency of 15 kHz
Waterproof up to 10 ft.
Depth indicator included
Uses 4 AA batteries with an approximate lifespan of 15-20 hours
Optimum for coins, artifacts, and the beach
---
User-Friendly
Feature Set
Durability & Reliability
---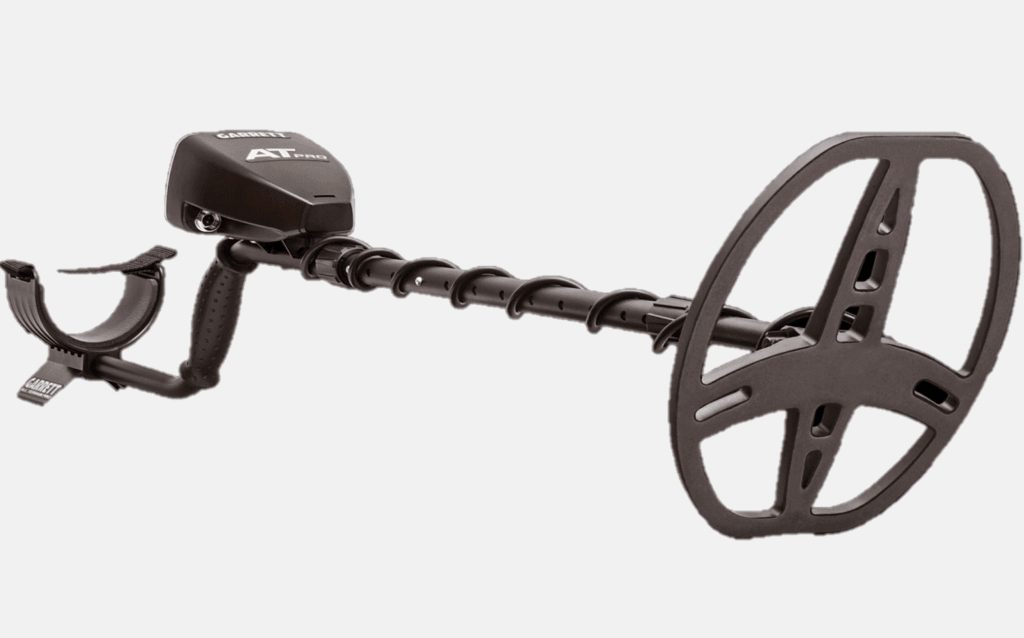 Description
Beginner treasure hunters and advanced hobbyists on a budget can appreciate the range of options on this one. The 6 search configurations allow you to refine your search parameters and get more accurate results.
Despite being a budget model, it has up to 20 hours of battery life. The armrest strap is comfortable and allows you to carry it for an extended period. It holds up well in tough terrain, including wet bogs and swamps, but it also works well on calm beaches and quiet stream beds.
It performs well and is sensitive enough to net you exciting finds like coins, bullets, horseshoes, and more. The Custom search mode can be further refined depending on the size and type of object you're searching for, allowing you to ignore junk like bottle caps and nails. Overall, it's a great first detector for new enthusiasts who want to learn more about the art and skill of treasure hunting.
Pros
Pro-mode audio provides detailed target information
Rugged design for heavy use in a range of environments
Comes with a 2-year limited warranty
Cons
Battery system is not rechargeable and could become expensive
---
Gold Metal Detectors
If finding some gold nuggets and coins sounds exciting, we have listed our top two favorites below. These are great options for various budgets and will make finding those shiny gold bits much easier.
If you want to get more details and explore more options, check out our extensive article on finding precious metals reviews.
---
Top Choice for Gold: Minelab GPX 5000
Specifications
Weight: 5.3 lbs. Dimensions: 34" x 12" x 5"
Accessories: Rubbish and Finds pouch, 2 coil covers, harness assembly
Pulse induction metal detector with bi-level frequency
Waterproof: No
Depth varies depending on mode
Rechargeable lithium-ion battery with average 25-30 hours runtime
Great for coins, gold, relics, and the beach
---
User-Friendly
Feature Set
Durability & Reliability
---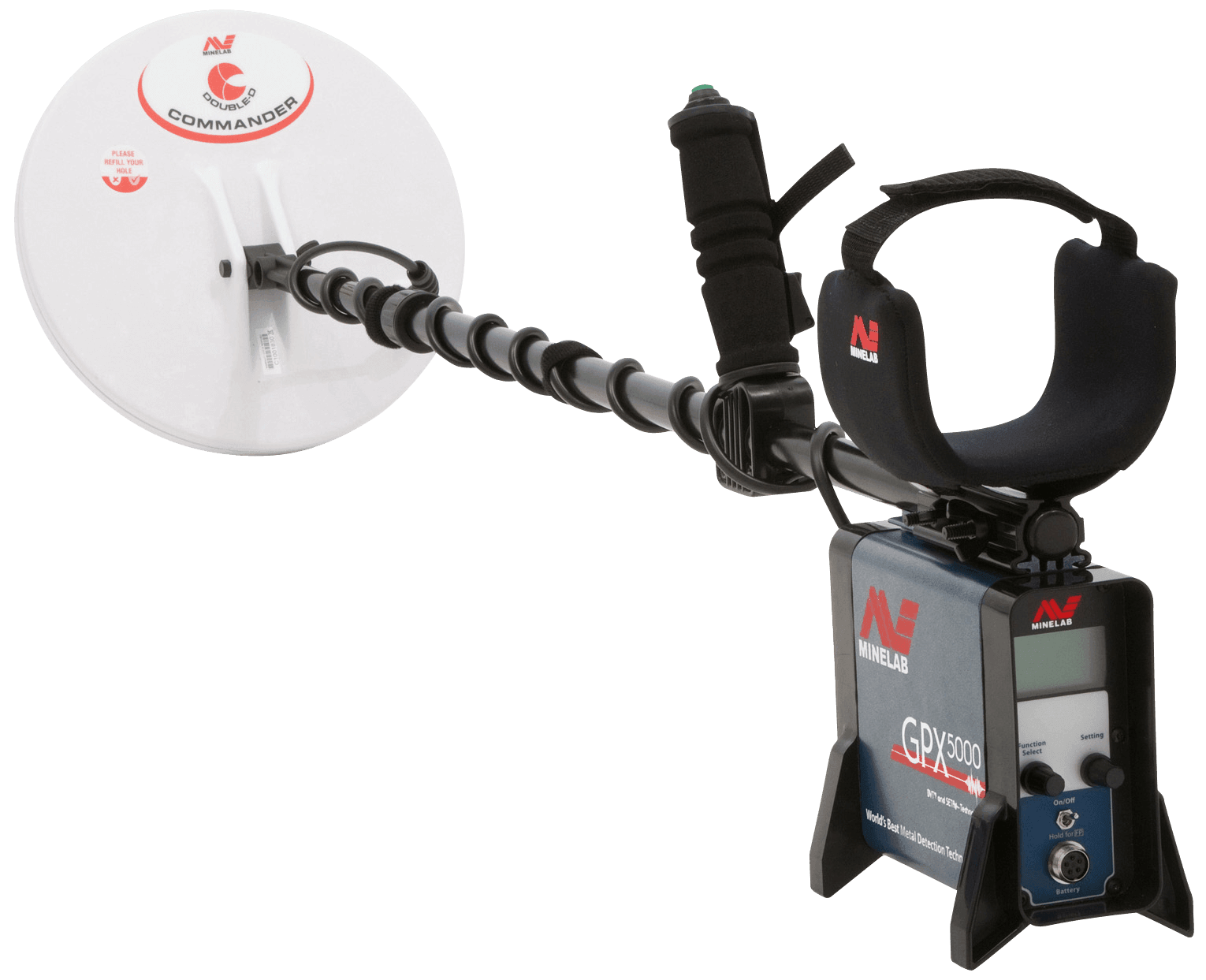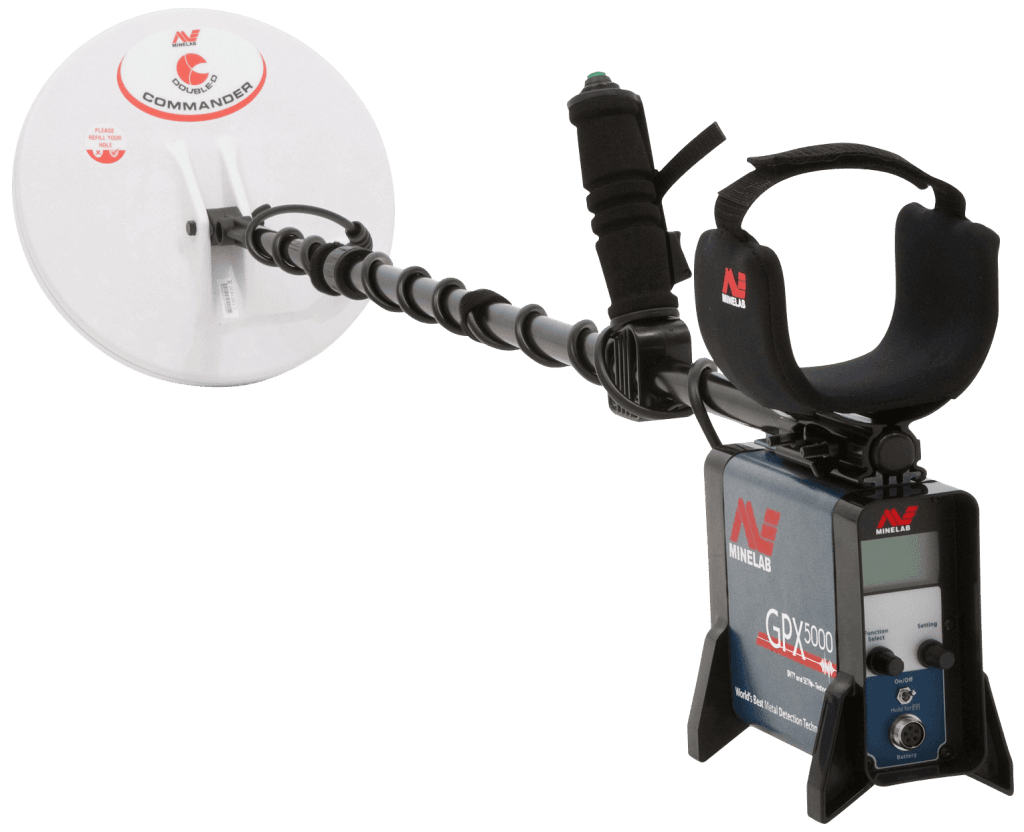 Description
Our choice for the finest detector for gold has all the high-tech features and accessories you need to find whatever's out there. Its sensitivity and discrimination are at the top of its class, allowing you to ignore irrelevant debris and only hone in on gold. Its modes are customizable so that you can be successful even in high-mineral and high-trash soils.
The incredible battery life on this detector reduces the likelihood that your battery runs dry just as the hunt is getting exciting. It is somewhat heavy, but the armrest is as comfortable as possible to make it manageable during long outings.
If you're an avid gold hunter, you'll find the high price tag on this gold metal detector to be worthwhile. Minelab's GPX series has a reputation for consistency and reliability in all ground conditions. User reviews rave about its durability and stellar results, so it's safe to say it's the best detector for gold and silver.
Pros
Can find gold nuggets of all sizes
Adjustable armrest for comfort and posture
6 available search modes
Cons
At the higher end of the price range
---
Most Value: Nokta Makro Gold Kruzer
Specifications
Weight: 3 lbs. Dimensions: 24" x 12" x 7.75"
Accessories: USB Cable, coil covers, headset
VLF metal detector with 61 kHz single frequency
Waterproof to 16.4 ft.
Depth detection included
Rechargeable lithium-polymer battery with up to 19 hours runtime
Great for coins, gold, and artifacts
---
User-Friendly
Feature Set
Durability & Reliability
---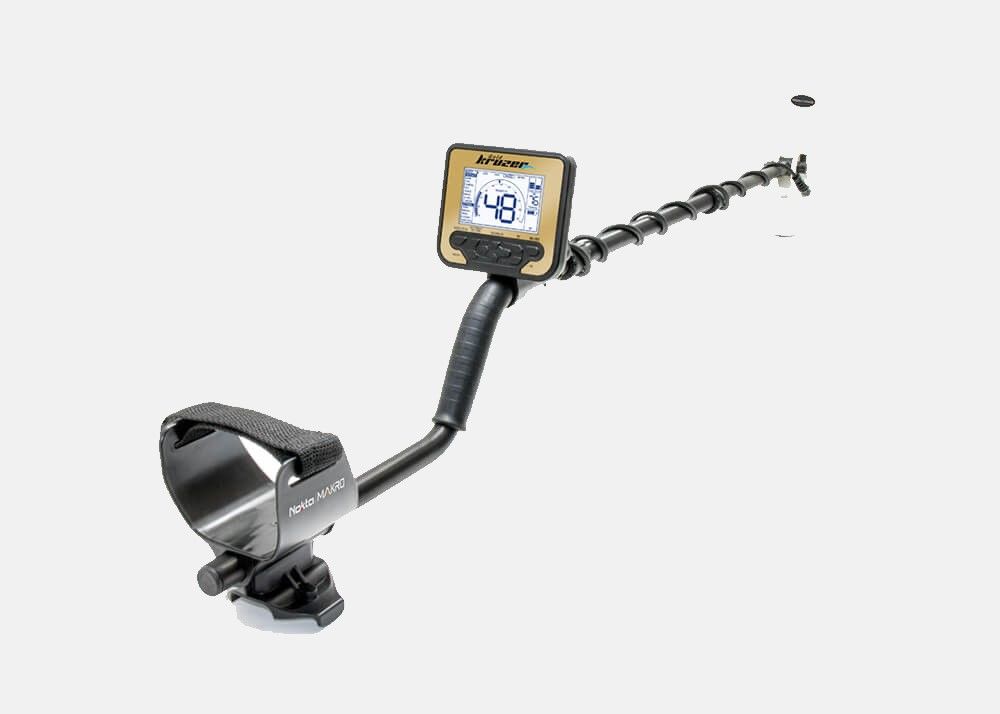 Description
For a durable model that finds even the smallest of nuggets and comes at an affordable price, we love this Nokta model. During testing, we found the discrimination to be impeccable, eliminating nails and other junk but still finding tiny nuggets of gold.
Customer reviews are almost universally positive, with reports of finding gold flakes buried in 2 inches of clay. The display panel is bright and gives you all the information you need for a productive day in the field.
We were also impressed that you can receive updates online, so you are always using the latest software. While some users may be slightly put-off by the price, even though this is a value model, it has to be weighed against the fact that this detector is waterproof up to 16 ft.
Many detectorists find river beds are a great place to find gold, so we feel a waterproof feature is essential.
Pros
Adjustable threshold and discrimination for improved performance
Clear LCD screen provides easy-to-read information
Enhanced EMI suppression
Cons
An all-round detector, rather than specifically designed to find gold
---
Underwater & Beach Metal Detectors
Beaches are a great spot for treasures since the sand hides a lot of precious finds. Even the current gets in some really cool things. So if you are interested in metal detecting at the beach or looking for options that you can bring with you when you go SCUBA diving, we have listed our top two choices below.
If you want to learn about these and explore more options, we have curated a detailed list of our favorite underwater and beach metal detecting for places that are difficult to access in our article.
---
Amazing Underwater Metal Detector: JW Fishers SAR-1 Search and Recovery
Specifications
Weight: 5.4 lbs. Dimensions: 34.25" x 15" x 7.5"
Accessories: Battery charger, carry bag
Pulse induction detector
Waterproof to 200 ft.
No depth indication feature
Rechargeable AC and DC batteries with a 12-hour average lifespan
Great for metals such as artillery, rifles, and other military-grade materials
---
User-Friendly
Feature Set
Durability & Reliability
---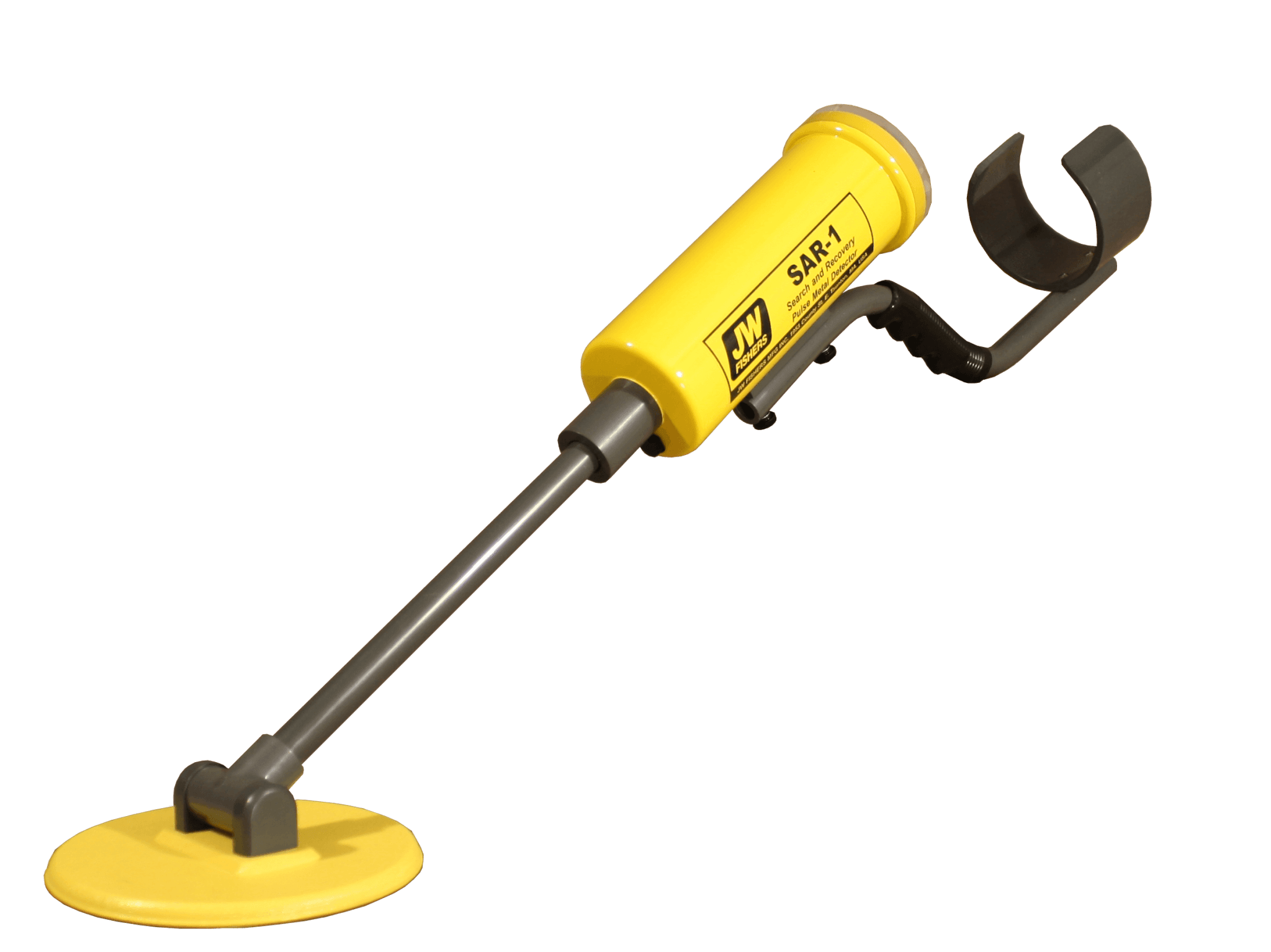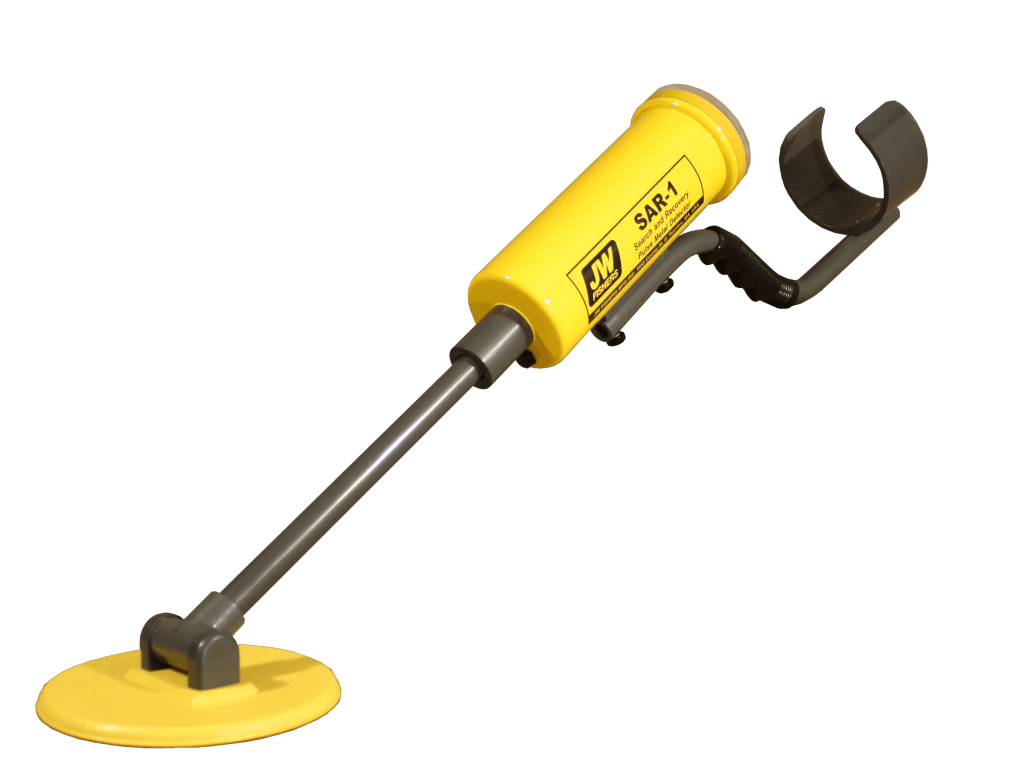 Description
For the top underwater metal detector, we couldn't look past this rugged model from JW Fishers. Also excellent as a SCUBA diving metal detector, as well as when wading into water from the beach, it can search as deep as 200 ft. underwater.
During testing, the vibrating handle gave strong feedback whenever there was a find. The bright red LED display is also easy to see beneath the surface. While the design is ideal for those in search and rescue or law enforcement, it is also a great choice for the hobbyist who likes to get value for their money.
The corrosion-proof surface means it can perform in shallow water, [2] or deep down while SCUBA diving, without damaging the frame. The intelligent design reduces the risks of getting snared underwater on branches or structures, which could be a lifesaving feature.
This is undoubtedly our favorite waterproof metal detector on the market.
Pros
Vibrating handle and visual indicators for dual-feedback system
Corrosion-proof materials for an increased lifespan
No external cables reduces the risk of potentially dangerous snagging
Cons
May be too heavy-duty for casual detectorists
---
Favorite For Beach: Garrett ATX Pro Deepseeker
Specifications
Weight: 6.9 lbs. Dimensions: 25" x 10.25" x 20"
Accessories: Travel and storage case, battery charger, custom sling
Pulse induction detector. Produces up to 730 pulses per second
Waterproof up to 10 ft.
No depth indicator
Rechargeable AA batteries x 8. Battery life of 10-15 hours
Amazing for coins, gold, artifacts, and the beach
---
User-Friendly
Feature Set
Durability & Reliability
---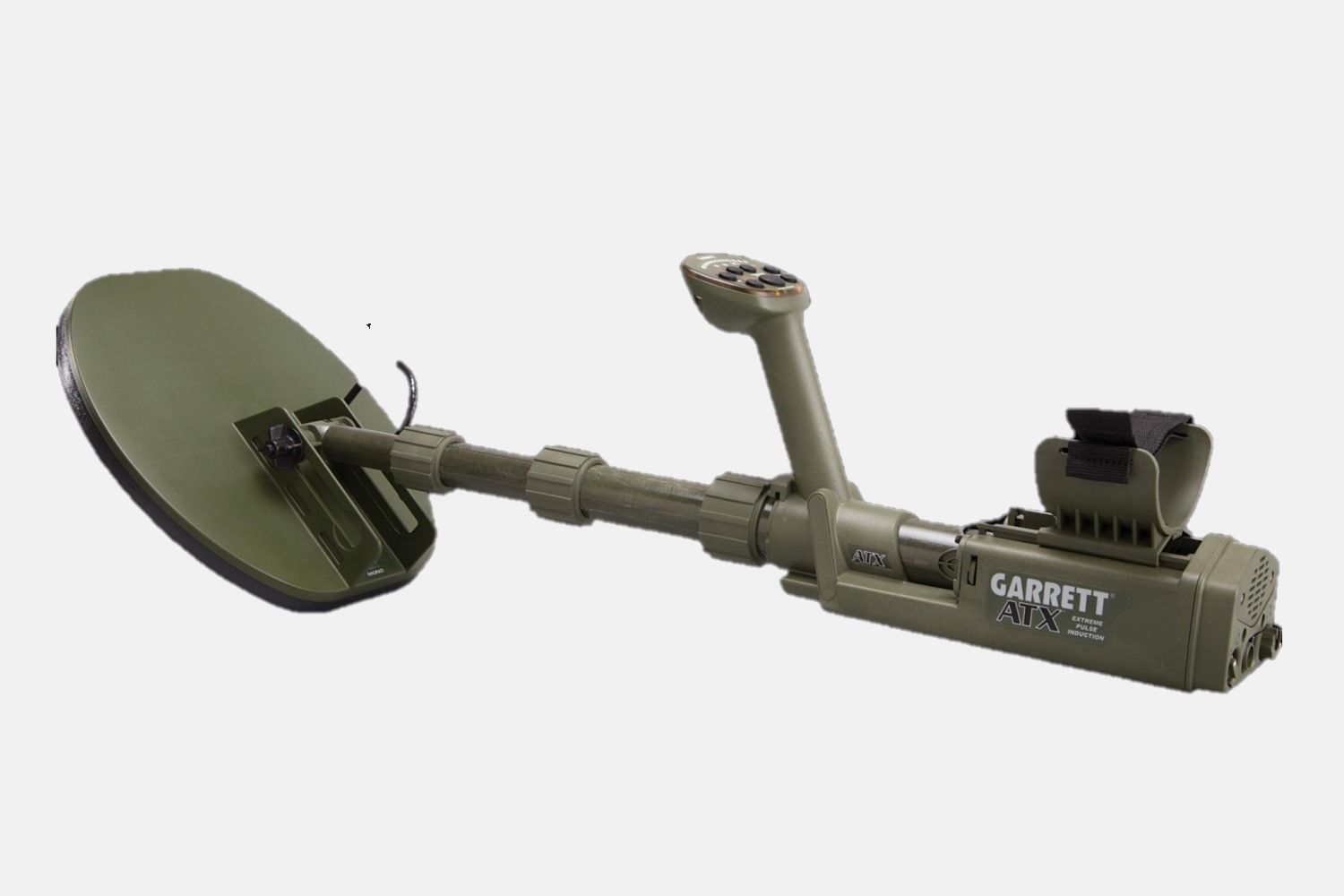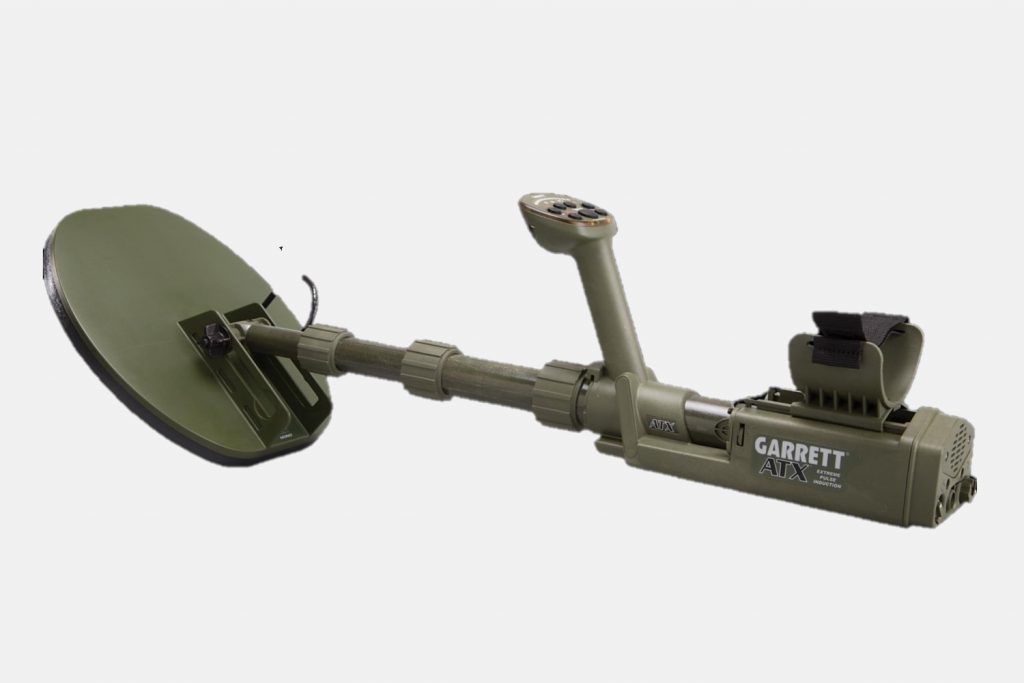 Description
The leading detector for for the beach needs to discriminate between highly-mineralized sand and saltwater, and the trinkets and coins that often lie just beneath the surface. This can lead to a slight overlap with being the top waterproof metal detector since people frequently go into the sea and their valuables fall out of their pockets.
We found the pinpoint feature to be an excellent addition, indicating the exact position of even the smallest finds. The adjustable audio threshold is clear, even on a busy beach, so you don't miss a coin or jewelry beneath the sand. Use the LED lights to get a visual reading of the signal strength and setting for added convenience.
It can be frustrating to find a piece of ground that is rich in finds, only to run into water, and so the ability to search up to 10 ft. underwater is a welcome addition.
Pros
Interchangeable headphones so you can wear your most comfortable pair
Excellent for use in mineralized ground and saltwater
Adjustable threshold for improved feedback
Cons
No programmable target ID setting
---
Beginners & Kids Metal Detectors
If you or your kids are just starting out on your metal detecting journey, we understand that there is a lot of information out there that can seem daunting, from understanding how this works, to the countless detector options. We are here to take away all the guessing and stress and let you concentrate on the amazing places you should explore. To that end, we have picked our top choice for beginners and for kids below that will get you started on this exciting journey.
If you want to learn more about these, we have an amazing article on beginner and kids metal detector reviews that you should check out.
---
Top Rated: Fisher F22 Weatherproof
Specifications
Weight: 2.3 lbs. Dimensions: 22.25" x 8.75" x 5.5"
Accessories: Waterproof semi-elliptical search coil
VLF detector operating at 7.69 kHz
Waterproof only to 0.75 ft
Depth indicator function
Needs 2 AA batteries. Approximate run time of 15-20 hours
Great for coins and relics
---
User-Friendly
Feature Set
Durability & Reliability
---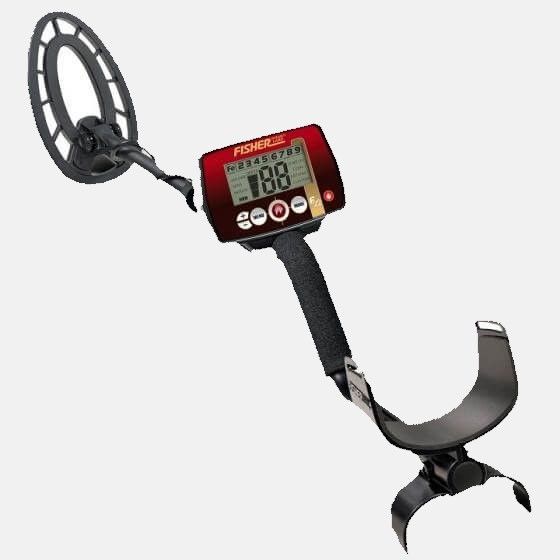 Description
Taking the title of supreme metal detector for beginners is no easy task. You need a combination of functionality, usability, and an affordable price point. It should also be simple to figure out because complicated detectors can quickly turn a beginner off metal detecting.
Fortunately, we tested this model in a range of conditions, and it responded with incredible accuracy.
It is weatherproof, and so is excellent for use in less than ideal conditions, and with 99 target ID segments, we could identify a multitude of finds with ease. The 4 search modes complement the adjustable discrimination, and the interchangeable headphone feature means that you can use your favorite pair.
One disappointing aspect is this detector is not waterproof. We felt this would have been a nice feature to let beginners dip their toes into detecting in river beds and streams. However, there are too many positive aspects to dwell on this one omission, and so we wholeheartedly recommend this model as a good beginner metal detector.
Pros
Excellent starter model
Pinpoint mode for accurate find location
5 -year warranty for peace of mind
Cons
Unsuitable for underwater metal detecting
---
Top Detector for Kids: Bounty Hunter Junior T.I.D
Specifications
Weight: 1.5 lbs. Dimensions: 31.00" x 6.25" x 5.25"
VLF signal frequency. Operates at 7.69 kHz
Waterproof: No
No depth indicator
Uses 2 AA non-rechargeable batteries
Accessories: N/A
Awesome for coins and artifacts
---
User-Friendly
Feature Set
Durability & Reliability
---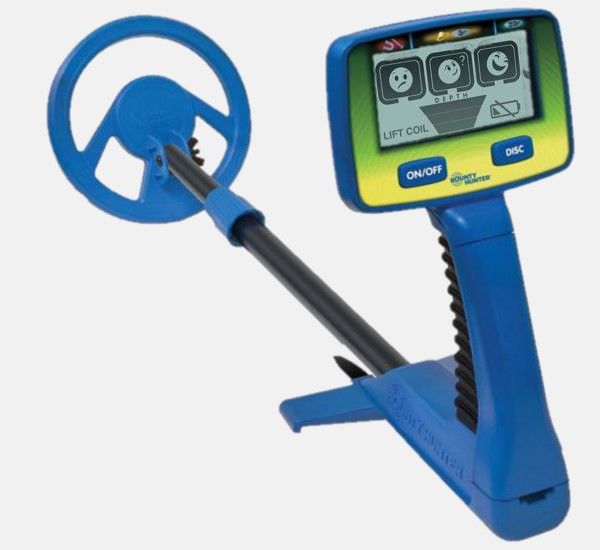 Description
A kids detector needs to be lightweight, capable of withstanding the accidental bump or scrape, and waterproof. While we could be critical and say this detector lacks quite a few features, it's a great starter model for a curious child.
The smiley and sad faces when you detect a find or junk are fun and tell the budding explorer what they need to know. The adjustable frame allows your child to pick their most comfortable position, and you can extend the frame as they grow.
The backlit display means they can keep searching in the backyard even when it gets dark, and you can bury different coins and ring pulls around the yard to keep them interested. Although it may not be the most robust model we've ever used, the price point is fair, and it can last for several years. Overall, we think this is the top choice for kids.
Pros
Headphones are not required, so kids can still hear other noises
Adjustable shaft for a comfortable carrying height
Comes with a limited 1-year warranty
Cons
Straightforward, but comes without many useful features
---
Pinpointer Metal Detectors
Pinpointers are great hand-held detectors that can identify locations of finds precisely. They are excellent for finding smaller finds like coins and are super light weight to carry around. We have listed our top favorite below which we believe will give you the best results.
If you want to get more details and explore more options, check out our extensive article on lightweight handheld devices reviews.
---
Our Favorite Pinpointer: Minelab Pro-Find 35 Pinpointer
Specifications
Weighs 6.82 oz., 9.3" long
Includes holster, lanyard, and battery
Detector Interference Free (DIF) technology
Waterproof to 10 ft.
5 adjustable sensitivity levels
9V PP3 battery, 30 hours battery life
Amazing for determining the precise location of a small object
---
User-Friendly
Feature Set
Durability & Reliability
---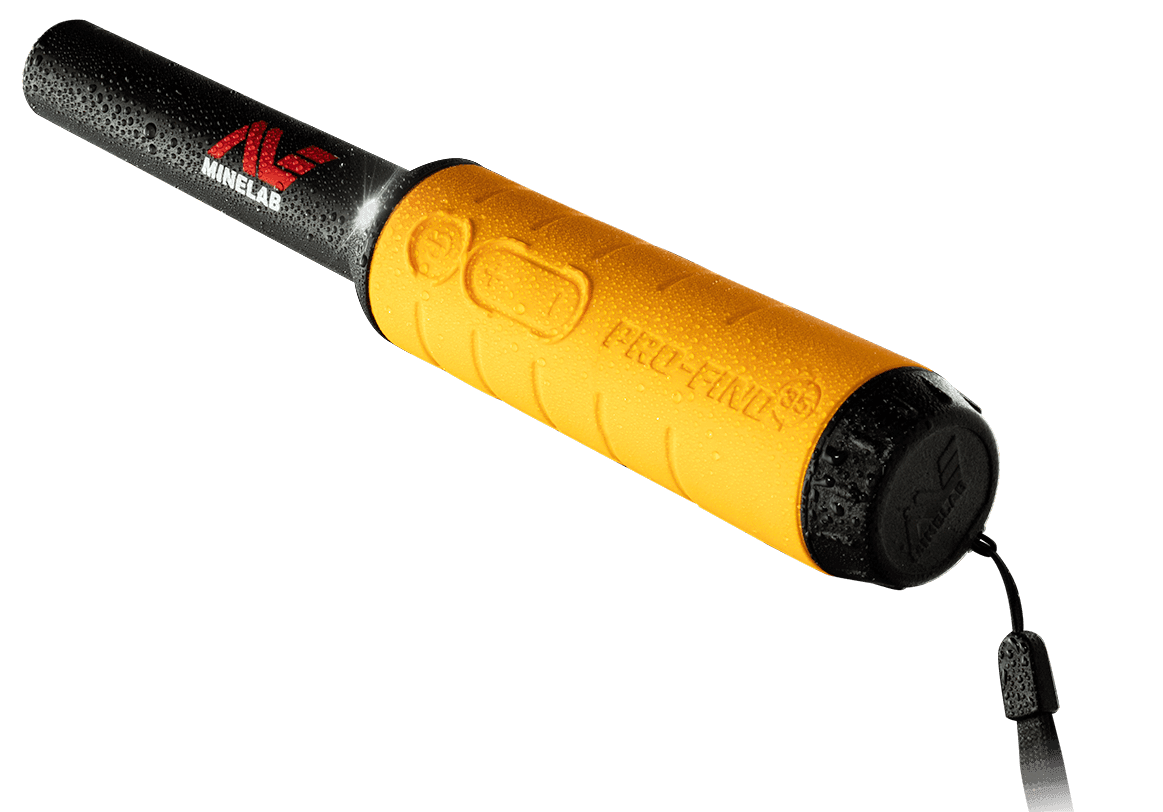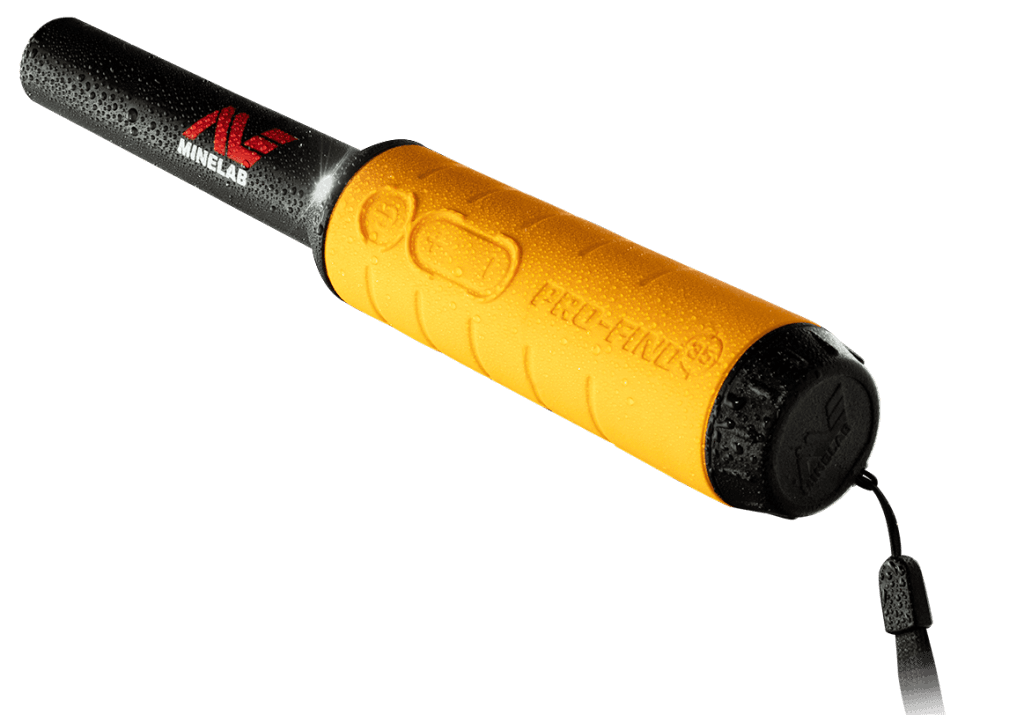 Description
The incredible sensitivity and accuracy of this device makes it our favorite pinpointer metal detector on the market. Although many handheld models have a range of functions for treasure hunting, this one has an excellent set of sensitivity settings for such a small device.
It can be a little tricky to use without a screen, but the overall simplicity helps ensure its durability. The waterproof design makes it perfect for wet areas and even brief underwater expeditions. Even the color of the pinpointer makes a difference since its bright orange color makes it easier to locate in water or heavily wooded areas.
Users love its durability and accuracy in a range of different soils. It communicates with you with audio and vibrations, so it's a good choice for busy parks and beaches where noise can interfere with your searching. Overall, it's the perfect companion for your full-sized detector, especially since it's so lightweight.
Pros
Includes excellent built-in LED flashlight
More adjustable settings than most pinpointers
Won't interfere with nearby detectors
Cons
No built-in screen of any kind
---
Top Garrett for Coins: Garrett AT Max
Specifications
Weight: 3.4 lbs. Dimensions:21.5" x 14.5" x 5.63"
Accessories: Pinpointer, support cuff, baseball cap
VLF detector operating at 13.6 kHz
Waterproof up to 10 ft.
Depth indication feature
Uses 4 AA non-rechargeable batteries with an average lifespan of 15-20 hours
Great for coins, artifacts, and the beach
---
User-Friendly
Feature Set
Durability & Reliability
---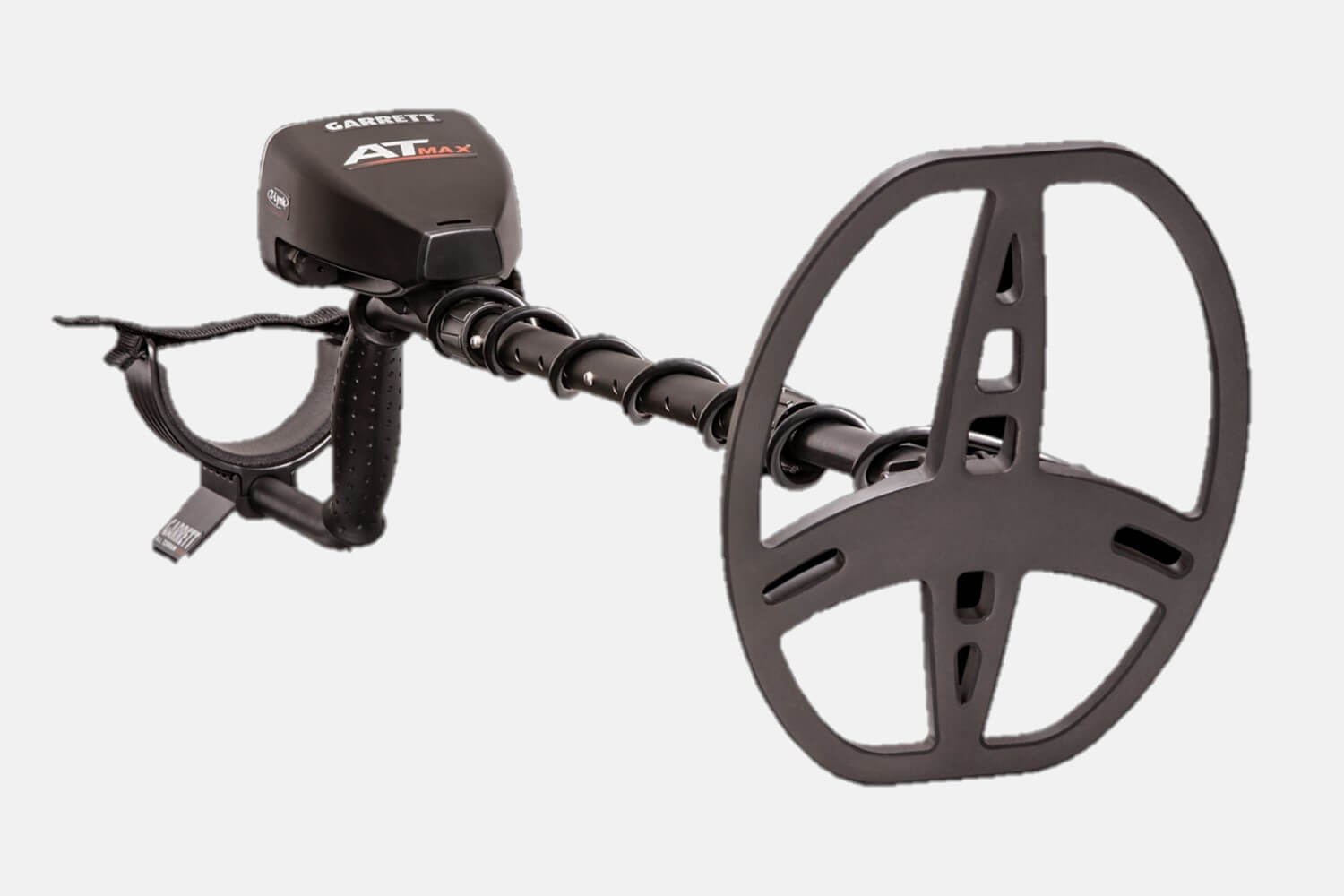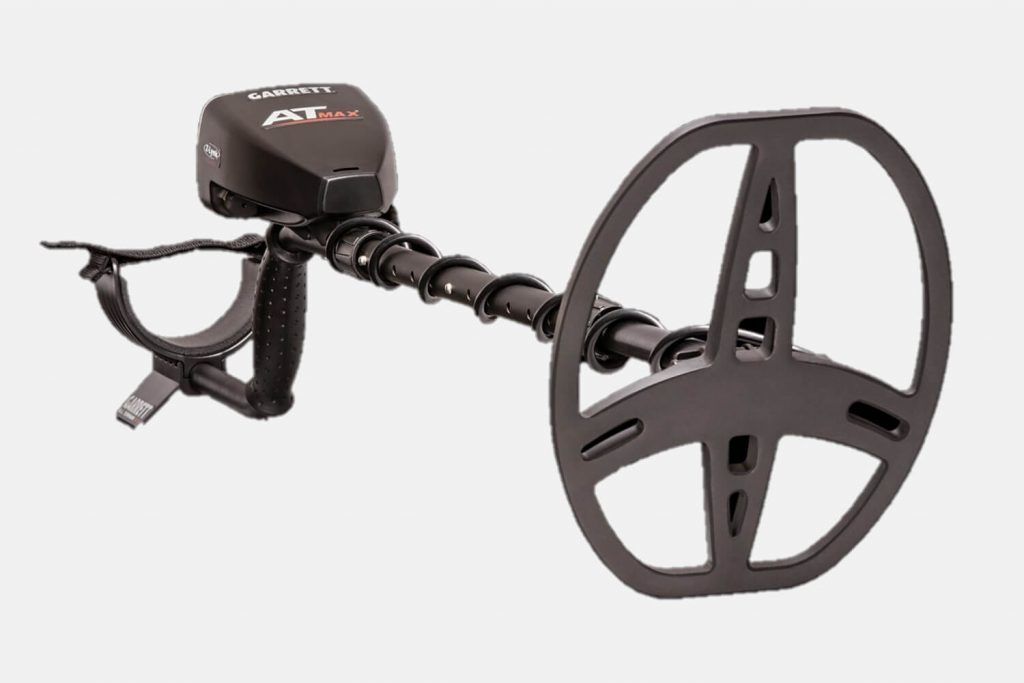 Description
One of the most lucrative types of finds can be coins. Coin finders are extremely sensitive, and by utilizing the high-resolution iron discrimination feature, we found this model saved us a lot of time by eliminating junk finds. The ground balance resolution has 175 points, so it had no trouble dealing with mineralized terrain.
Because this model searches for small items, it is also the leading choice for finding coins and rings. Jewelry can be challenging to locate, but this model transmits from the detector to your Bluetooth headphones in only 17 milliseconds. Even if you pass over a ring quickly, you'll know about it instantaneously.
Complimenting the generous amount of settings, we found the single-finger search layout easy-to-use, and it meant we could concentrate on our hunt. To top it off, Garrett even includes a pinpointer in the package. This combination easily makes the top coin hunting metal detector.
Pros
Pinpoint detection for increased accuracy
Adjustable armrest and armrest strap for reducing strain
Clear backlit LCD for easy reading
Cons
A rechargeable battery system would be more environmentally-friendly
---
Greatest for Treasure Hunting: Minelab Equinox 800
Specifications
Weight: 2.96 lbs. Dimensions: 26.5" x 12.5" x 5.0"
Accessories: Wireless headphones with case, wireless audio module
VLF detector with multiple frequencies from 5-40 kHz
Waterproof up to 10 ft.
Depth detecting functionality
Rechargeable lithium-ion battery with an operation run-time of 12 hours
Awesome for coins, gold, artifacts, and the beach
---
User-Friendly
Feature Set
Durability & Reliability
---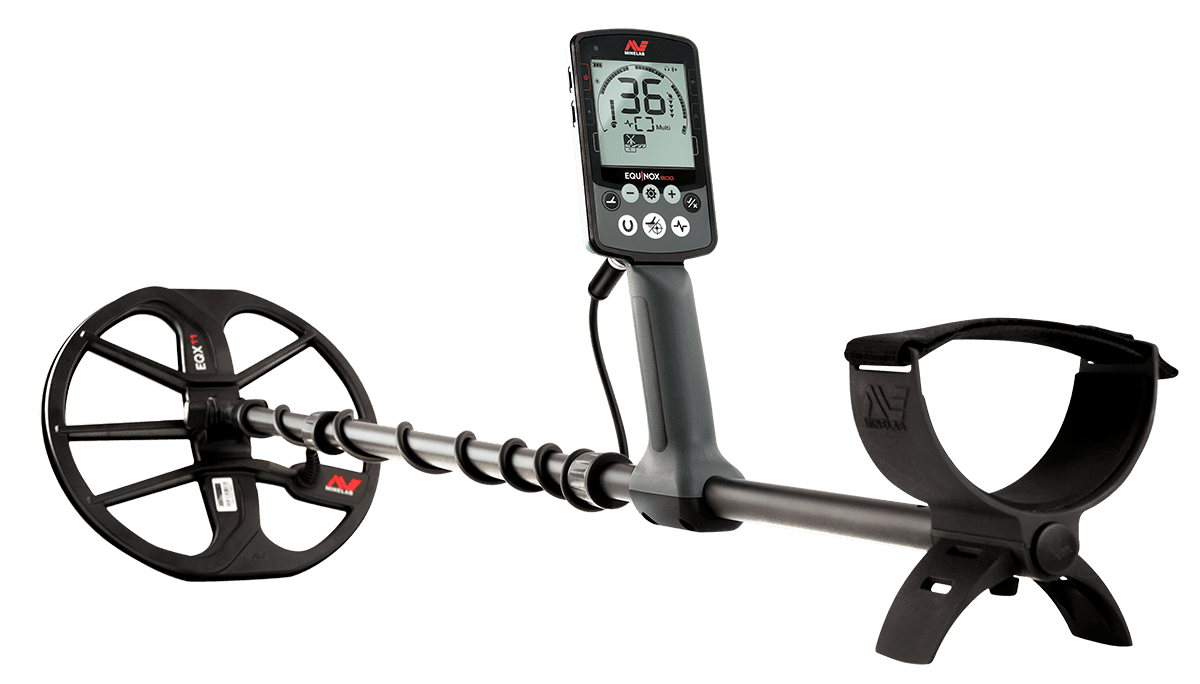 Description
Having the prime detector for treasure hunting increases the chances of making a life-changing discovery. User comments praise the generous range of frequencies, allowing detectorists to search for deep underground finds and nuggets that can lie just below the surface.
The incredible variety of target ID segments also make this the top choice for relic hunting because you can identify a multitude of different finds. The user profile setting makes switching from one setup to another a cinch. Simply press one button to move through the cycles, until you reach your park, field, or beach preferred setting.
If you enjoy the social side of searching with others, you can even set up another user profile for a family member or friend. The automatic and manual noise cancellation features allow searching alongside other detectorists or in areas where there is a lot of metal, such as piping, with the least amount of interference.
Indulge your adventurous side, and get the most worthy detector for buried treasure.
Pros
Automatic and manual ground balance adjustment
50 target ID segments for increased discrimination
Bluetooth-compatible wireless headphones
Cons
A search headlight would make this more versatile for low-light settings
---
Top Affordable Under $200: Teknetics Alpha 2000
Specifications
Weight: 2.2 lbs. Dimensions: 28.25" x 10.25" x 6.25"
Accessories: Search coil included
VLF detector operating at 7.8 kHz
Waterproof: No
Depth indicator function
Non-rechargeable 9V battery with a 20-25 hour lifespan
Amazing for coins and artifacts
---
User-Friendly
Feature Set
Durability & Reliability
---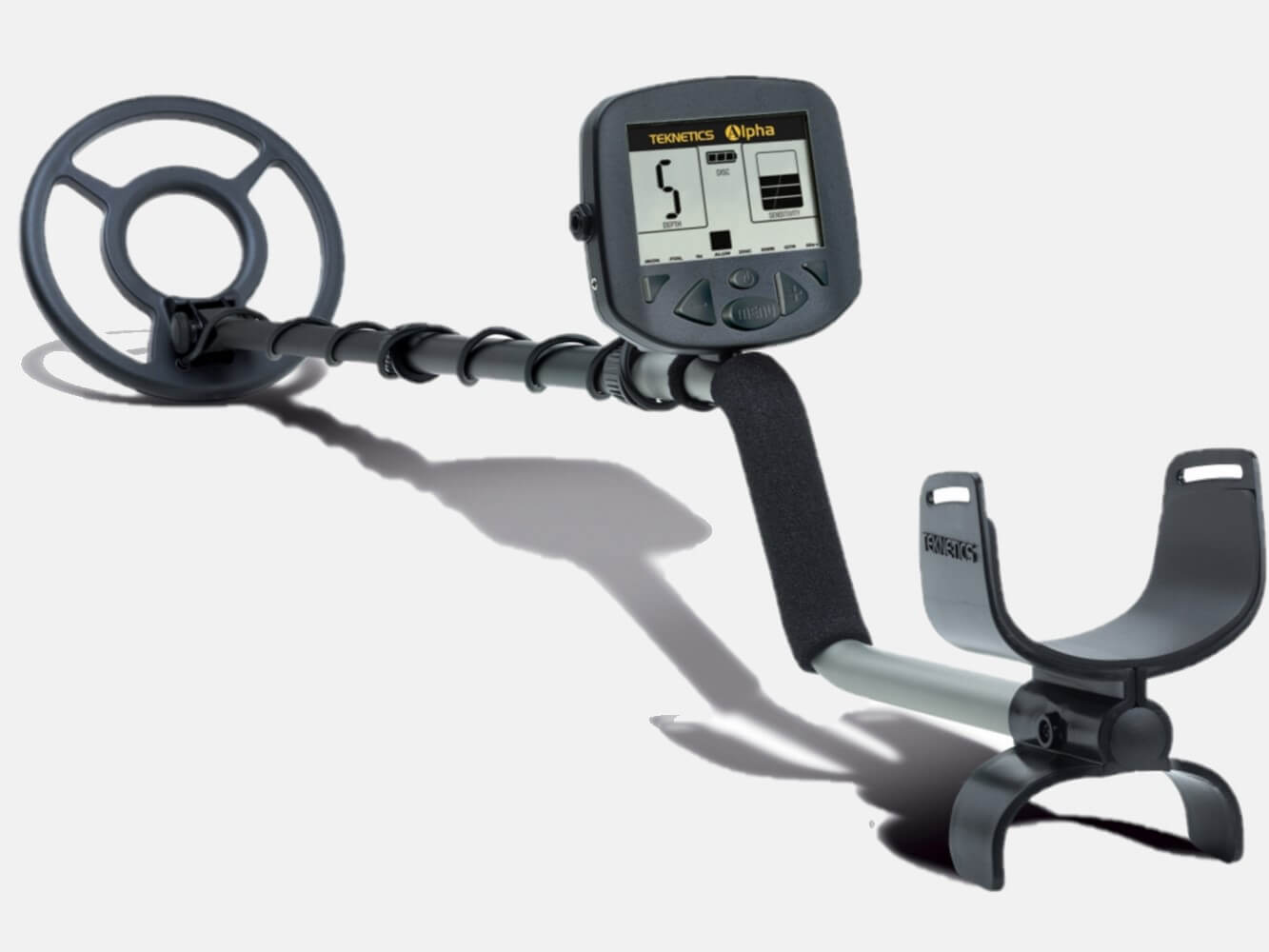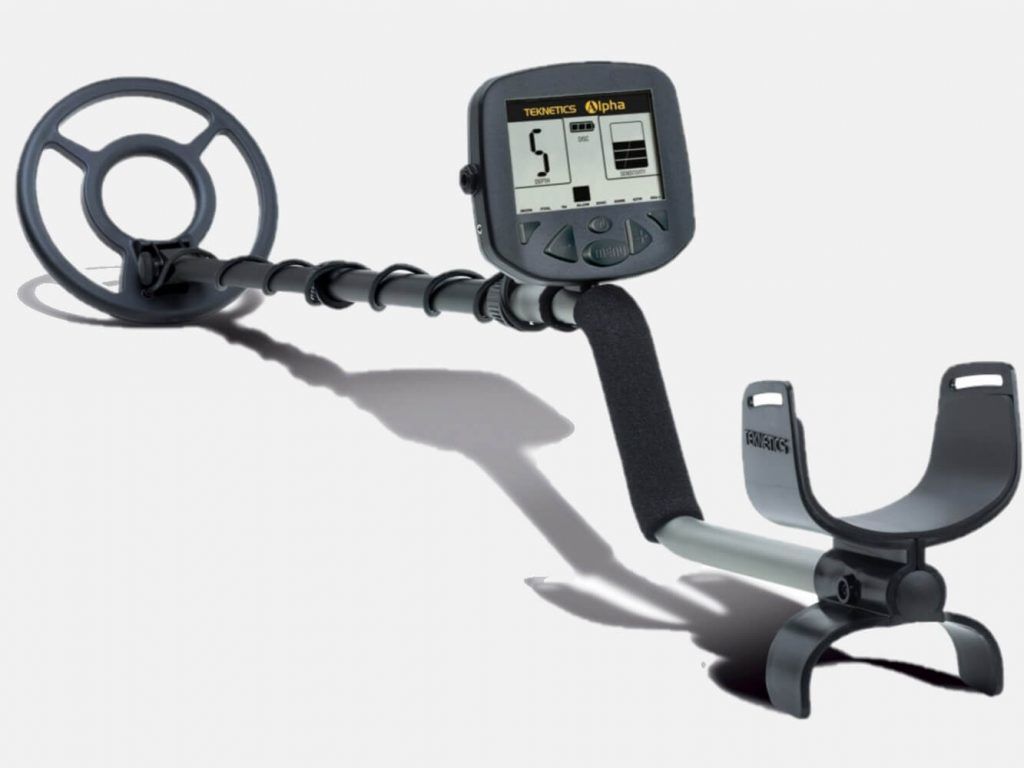 Description
This top cheap metal detector comes with features you may only expect to see on more expensive models. The large LED display screen meant we could see the menu with ease, which helps when you're walking while adjusting the settings.
The controls are straightforward, another plus point when you're trying to concentrate, and there are 8 programmable target ID segments which are enough to get started. The audio tones were loud and clear, while the 6-level depth readout was a nice touch.
It's disappointing the battery system is not rechargeable. Aside from being quite expensive to replace the batteries, if you frequently use your detector, it's also not great for the environment when you're disposing of batteries monthly.
However, for the price, this is a solid choice and full of functionality. If you're on a budget, then this is the best metal detector under $200.
Pros
Numerical depth readout is a nice addition
6 adjustable discrimination levels
Comes with a 5-year warranty
Cons
Only has 8 target ID segments
---
Top Under $150: Minelab GO-FIND II
Specifications
Weight: 2.2 lbs. Dimensions: 21.9"-51.4" assembled length
Accessories: Carry bag
VLF detector with 7.8 kHz single frequency
Only the search coil is waterproof
Does not have a depth indicator
Non-rechargeable 4 AA batteries with an average 15-20 hour lifespan
For coins and artifacts
---
User-Friendly
Feature Set
Durability & Reliability
---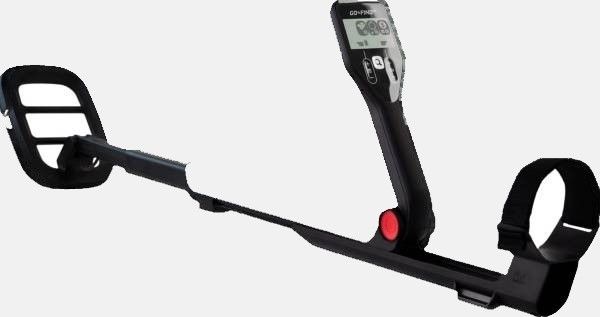 Description
If you're willing to compromise on some functionality, Minelab has come up with what we think is the greatest budget metal detector. During testing, it identified coins and artifacts, and the choice of 5 audio tones meant we could hear the beeps even when there was some background noise.
Although the headphones do not have Bluetooth functionality, they are interchangeable so that you can wear a comfortable headset. At only 2.2 lbs., this model is easy to carry when on extended searches, ensuring your arms aren't tired and sore when you come across a rich patch of land.
The collapsible feature is excellent for transportation, and it also helps when you're storing your metal detector after use. Although there are only 4 sensitivity levels, and a further 4 discrimination settings, this is still a great model for those unsure if they want to commit to a large investment before they try out metal detecting in the field. Your search is over if you're looking for the best under $100.
Pros
Excellent starter metal detector
3 levels of sensitivity to increase your chances of making a discovery
5 variable volume levels are useful when searching in a busy area
Cons
Display is not backlit, so not suitable for darker conditions
---
Prime Handheld Metal Detector Wand: Garrett Pro-Pointer AT Waterproof Pinpointer
Specifications
Weight: 0.4 lbs. Length: 9"
Waterproof up to 20 ft.
Depth and range of detection
Carbon battery-16 hours, Alkaline-30 hours, Rechargeable-8 hours
Great for small and large finds
Accessories: N/A
---
User-Friendly
Feature Set
Durability & Reliability
---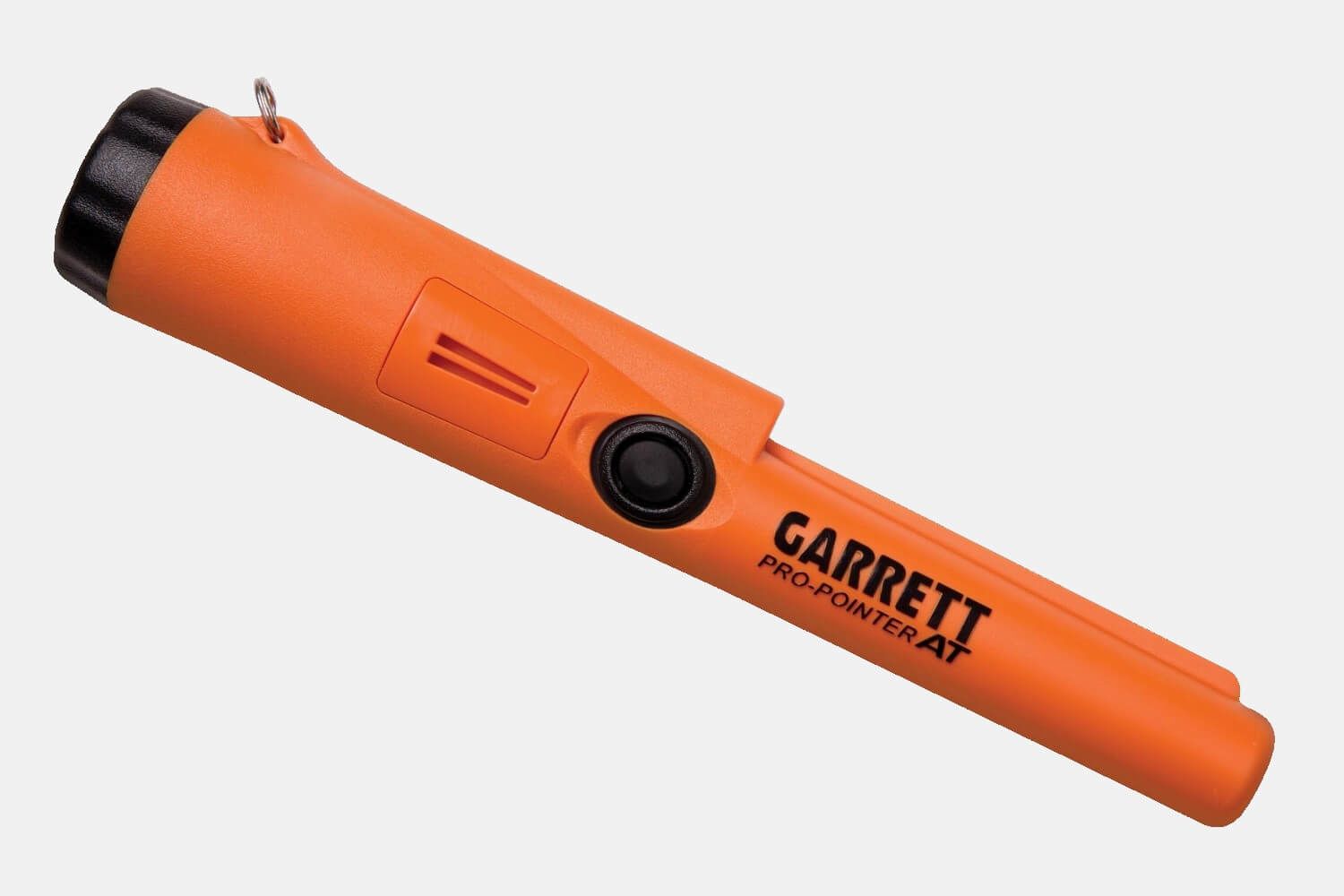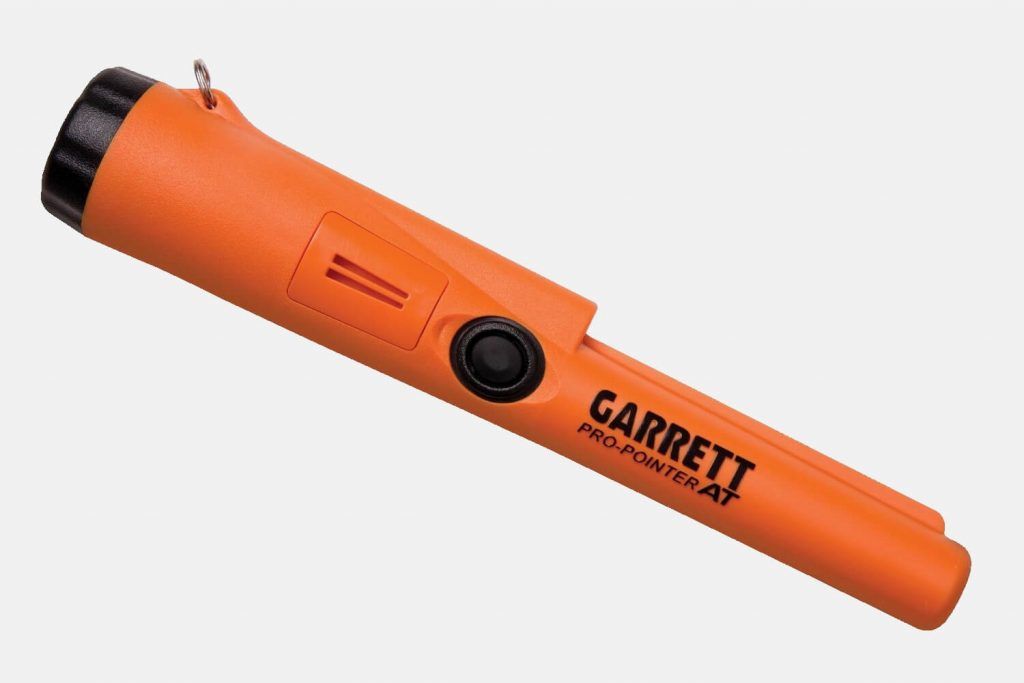 Description
A handheld metal detector wand is essential when you locate a find in rough terrain because it helps to identify the exact position, saving you time and effort when digging. Portable ones, such as this excellent model from Garrett, also come with a range of useful features so you can dig up your finds without unnecessarily damaging the surrounding terrain.
Since this is the best handheld metal detector wand on the market, it's no surprise that it comes with a fast return button to eliminate environmental distractions quickly. Wirelessly connecting to your headphones also stops your hands from becoming tangled in wires and cables. User reviews are full of praise for this feature, and we have noticed no disruption in signal processing, even though this can sometimes be a problem with wireless devices.
Because these are small devices, they can be easy to lose. The lost pinpointer alarm helps you to find your lost item, which provides welcome peace of mind.
Pros
Lanyard attachment loop for safekeeping
360° detection area so you don't miss a find
Fast retune to filter out environmental effects for more precise readings
Cons
Wireless communication only works with other Z-lynk devices
---
Favorite for Woodworking: Little Wizard II
Specifications
Weight: 0.25 lbs. Dimensions: 8.66" x 2.76" x 1.57"
Waterproof: No
No depth detection feature
Uses a 9V battery
Great at finding screws and nails
Accessories: N/A
---
User-Friendly
Feature Set
Durability & Reliability
---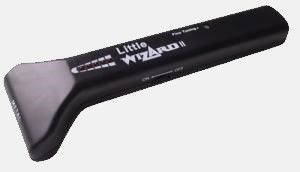 Description
A woodworking detector can keep you and your tools safe when planing, sawing, or routing. During trials, this responsive device from Little Wizard consistently found buried metal, and the audio tone was crisp and clear. For added security, the LED lights lit up to show when we made a find.
The sensitivity was easy to adjust, and the lightweight and compact design was ideal for working in tight conditions. Anyone who works in tight spots that can be tricky to reach can benefit from using a handheld detector.
Since this is a wood detector, do not try to find lead shot in waterfowl. Although users have reported they could locate the shot, that is more a testament to this device's power. It is not designed for this task and will probably miss some lead.
While it may not be great for helping to de-shot your hunting catch, it is certainly the top woodworking metal detector.
Pros
Essential safety device before woodworking to avoid potential blade damage
Removes guesswork when locating buried nails
Inexpensive and straightforward to use
Cons
Does not detect lead shot
---
Conclusion
Despite strong competition from rivals, the XP Deus RC WS5 Metal Detector is the undisputed all-round champion. Using the latest technology, it brings unrivaled convenience to enhance your treasure hunting experience.
Enjoy the incredible range of discrimination and sensitivity settings, combined with the wireless connectivity, and don't forget to let us know what you find.
Our Overall Pick
Minelab CTX 3030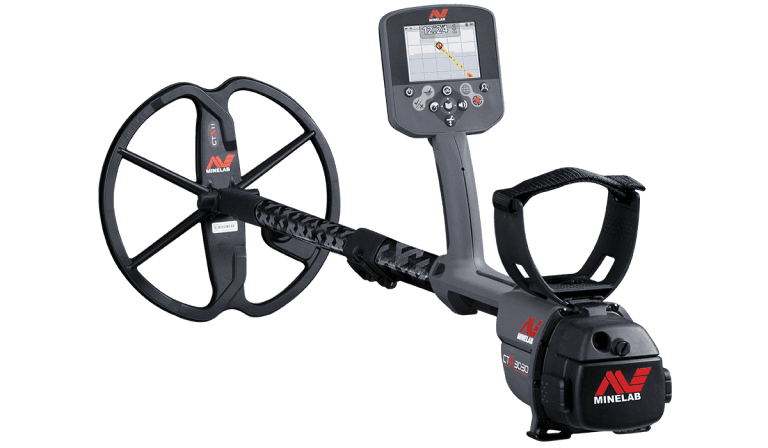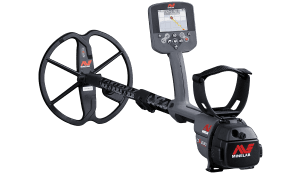 Top Brands
There are some amazing brands that make great products. They offer a wide range of features, usages and prices. They make some top notch metal detectors on the market and we have curated a detailed list of their top products that you should check out.
Brand Comparisons
After reviewing most of the detectors from the best brands, we found that it can get hard to pick the best product for your usage, since they all look great. To help make your decision making a little easier, we created detailed comparisons of the top products in several categories. This way you can have all the specs, pros and cons of these in one place and compare them very easily. Hopefully this will help you choose your favorite one easily.
What to Look for While Picking a Metal Detector
Not all of them are created equal. Unless you're willing to pay serious money for a highly-specialized model, you'll have to prioritize your needs.
Gold vs. Other Metals – Some detectors are tailored to search for gold and silver, while other, cheaper models are not sensitive enough to hone in on those.
Number of Frequencies – The number of frequency settings affects how much you'll be able to customize your search and avoid false positives on trash. It's even better if you can save your presets, so you don't have to manually recreate them every time you go out.
Value – Metal detectors can range in price from around $100 to $4,000 or more. If you're a new hobbyist, it's okay to set a low budget to start out and upgrade to a serious model later.
Weight – Heavier metal detectors can strain your back and arms for the first few uses until you've built up the right muscles. Although having a good arm strap helps, a lightweight detector is always easier to haul over heavy terrain.
Battery – The best metal detectors usually have rechargeable lithium-ion batteries, which are better for the environment than disposable batteries. These batteries typically last for upwards of 25 hours of use, which is plenty for most hobbyists.
Underwater Detecting – Many metal detectors are waterproof up to a certain number of feet, making them a good choice for beaches, bogs, and other wetland areas. Non-waterproof detectors need to be kept away from mud and water
Display – Some metal detectors only use indicator lights or black-and-white screens to help indicate the metal location, but an increasing number have full-color screens. The right option for you largely depends on your budget and how much time you're willing to spend digging around.
How to Choose Metal Detectors for Different Uses and Interests
Choosing the best metal detector for you depends on how often you want to use it, your budget, what you hope to find, and where you are going to search. Fortunately, there are metal detectors to fit just about every scenario.
How Much is a Metal Detector?
The more expensive the metal detector, the easier it is to tune, the more features it has, and the more sensitive it can be. However, there are many excellent models to accommodate every budget, so if you want to start with a cheaper model, there are plenty of choices.
Can Metal Detectors Detect Gold?
This is probably the question we receive the most, and the answer is yes. There have been many gold finds, from professional treasure hunters to hobbyists just detecting for fun.
While all-purpose metal detectors can locate gold and have the best chance of finding gold nuggets and flakes, you'll need a high-frequency model. They usually also have specialized coils that are more sensitive to finding smaller pieces of buried gold.
Underwater Metal Detectors
If you're going to search near water, an underwater metal detector comes with waterproof housing. You can partially or completely submerge the unit in water. You can also choose between VLF models effective in freshwater, or PI detectors that are better for use in saltwater or mineralized sand. We have a detailed metal detecting guide where you can learn more about how metal detectors work, interesting finds that people have made across the world and fun lingo used by the community. For more interesting and exciting articles, checkout our homepage.