Disclosure: We may receive a small commission when you shop by clicking on the links on our site. This is at absolutely no added cost to you. Learn more.
Whether they feature your favorite pop culture characters or take you back to another place and time, pinball machines are fun. You can't deny it. The game gets your adrenaline going and pumps you full of those happy chemicals known as endorphins. Maybe that's why pinball enthusiasts love the game so much? [1]
The longer you go without losing a ball, the more focused you get. There's more on the line, right? Especially with modern games where win streaks and multipliers can launch you to the top of the highest scores board. [2]
From full-sized and full-featured arcade pinball machines to tiny electronic toys you can put in your pocket, there's a game for everyone. Adults, kids, and especially kids at heart will all find the best pinball games right here. We've rated them, reviewed them, and broken down their best features so you can see just what these top machines are made of. You'll also see their drawbacks. No product is perfect. Not even pinball machines.
Check out our top picks and then let us know which one you went with. We'd love to hear from you. But first, let's share our top picks for the best pinball machines.
Our Top Pick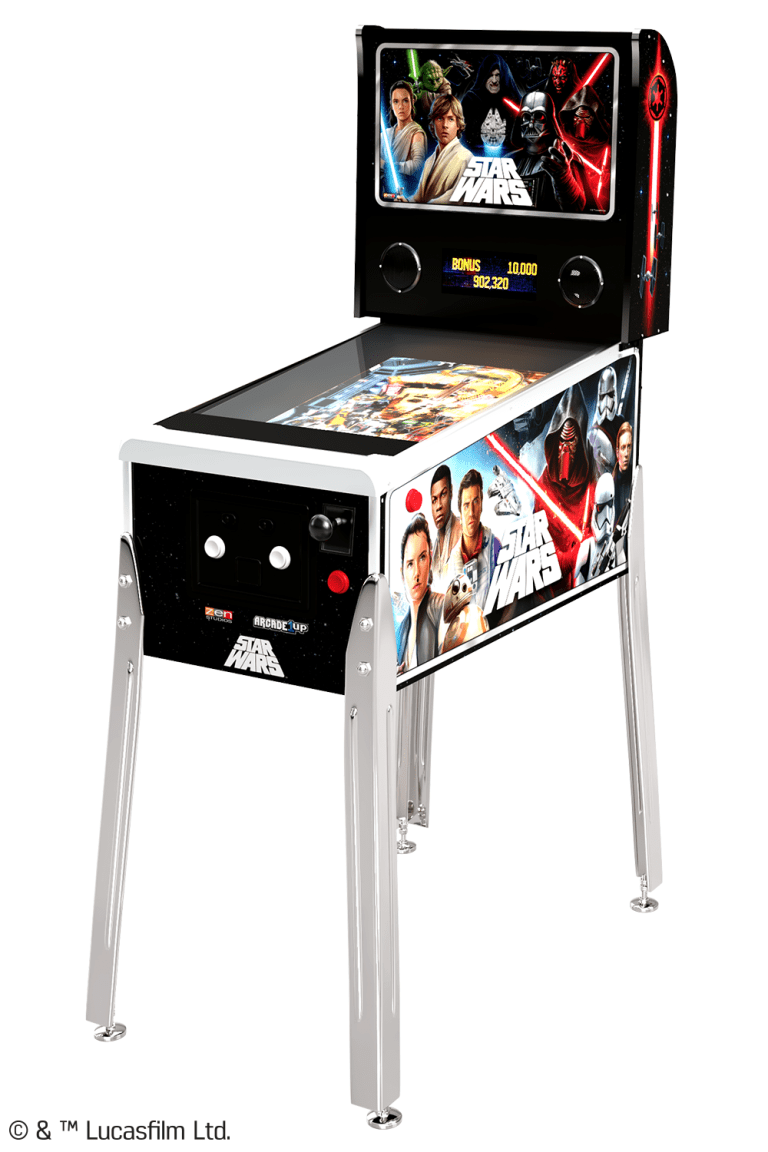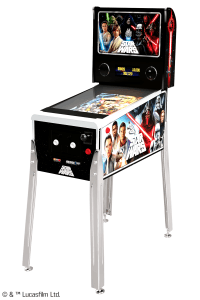 Designed, manufactured by Arcade1Up– highest quality, best experience
Meticulous attention to detail for Star Wars fans
Premium upgrades offer an incredible playing experience
---
Our Favorite Picks for Pinball Machines
---
Best Pinball Machine Summary

Image

Product

Purchase

Arcade1Up Star Wars Digital Pinball

Dual speaker with metal grill
Includes 10 games from Star Wars
Alpha-numeric display simulates traditional pinball machines

TMNT Handheld Electronic Pinball

Fully functional pinball in the palm of your hand
All your favorite Teenage Mutant Ninja Turtles characters
2 LCD screens for more realistic play

BRIO Classic Tabletop Pinball Game

No electric power required – not even batteries
Extensively tested for safety for kids 6+ years
Small, lightweight – store it, bring it with you

Stranger Things Premium Arcade Pinball Machine

Stern Pinball: most recognized name in pinball games
Premium features for a more immersive experience
Full-size arcade pinball machine – wherever you want!
---
Best Pinball Machines Review
---
Best Overall: Arcade1Up Star Wars Digital Pinball
Specifications
Type: Full-size design: 70% smaller
Dimensions: 36″ L x 20.″ W x 59.5″ H
Weight: 90.39 lbs
Assembly: 15-20 minutes, tools included
Best for: Home, recreational use
---
Rating
---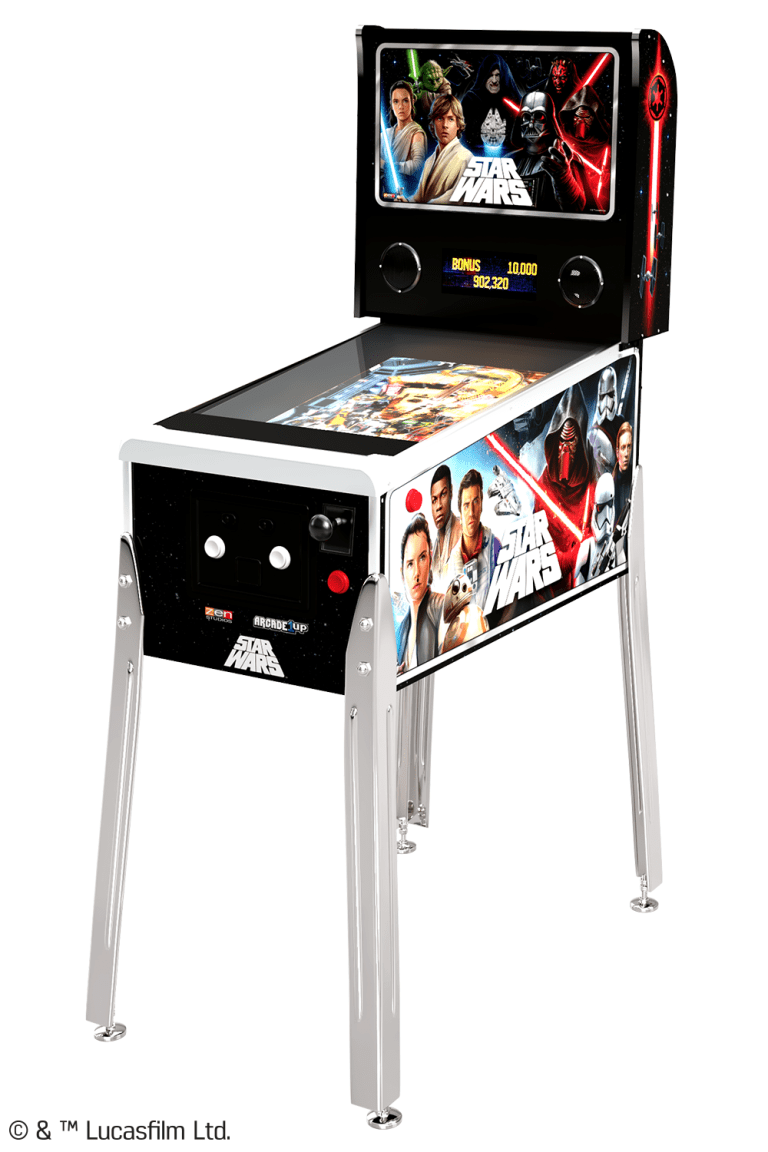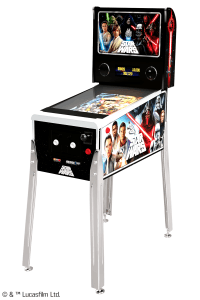 Description
Arcade1Up has created a digital pinball machine that looks just like the real thing, only it's a bit smaller so takes up less room at home. And, because it's digital, you can experience 10 pinball games in just one machine. Pretty sure there aren't many people who have room in their basement for 10 machines so… Arcade1Up has the solution.
A unique feature of this 10-in-1 digital pinball machine is that the ball plunger and flippers are mechanical. They are physical items that move and they work seamlessly with the digital games. With the scrolling alpha-numeric scoreboard up top as well, you don't have to give up the true pinball machine experience completely.
With so many games included as well as such great features, it's also one of the best pinball machines under 500. It's perfect for both adults and kids, with instructions, tips, and high scores for each game.
Pros:
Plug and play – easy to get started
Stereo speakers with volume control
Pause feature – come back to your game later
Cons:
Not a true mechanical pinball machine experience
---
TMNT Handheld Electronic Pinball
Specifications
Type: Handheld
Dimensions: 4.25″ L x 1.75″ W x 3.5″ H
Weight: 1.6 ounces
Assembly: None required
Best for: TMNT fans and kids
---
Rating
---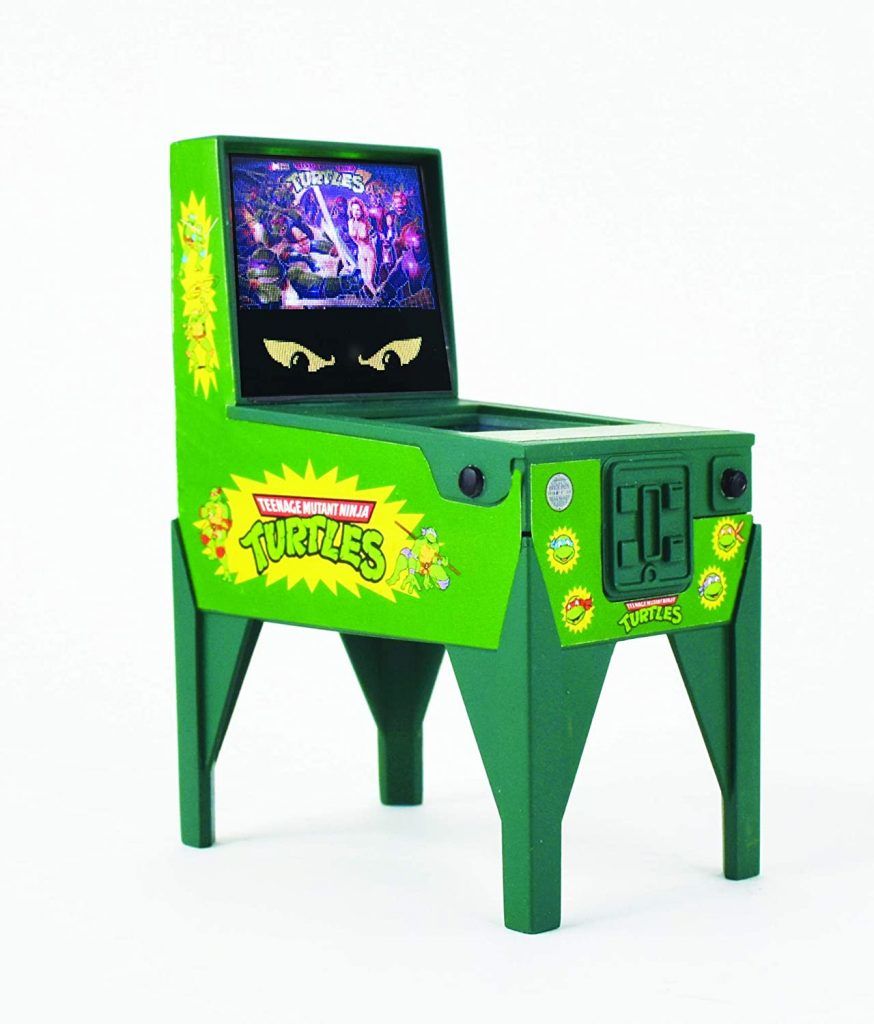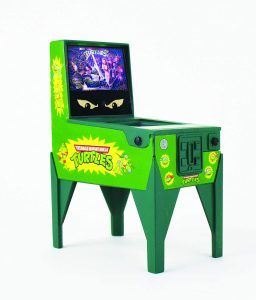 Description
The Teenage Mutant Ninja Turtles (TMNT) have entertained several generations since the mid-80s. No matter what age you admit to, you're sure to love the throwback feel of this handheld pinball machine. The electronic game is operated by buttons on each side of the toy which is designed to look just like a full-sized machine. It even has two LCD screens to simulate the full size as well.
You'd think that as small as it is, the gameplay would be limited or the game itself kind of cheesy (not referring to their pizza). But with multiple levels to play as you battle Shredder and his minions, you'll be quite surprised at just how intense the game can get. It also keeps high scores which can create some competition with friends. Toss the "machine" around the room or pass it to a friend when you see them.
If you have any TMNT toys hanging around, you could always set them up for a picture around their new toy-sized arcade machine. Recreating some of the scenes from many of their shows and movies might be fun and they might just find that "bodacious" too.
You'll definitely love this as much as we do. The carefully produced playfield features and loops, the special modes, the multi balls, and even the spinning pizza.
Pros:
Compact size – carry it with you
Multi-level gameplay
Keeps high scores for multiple players
Cons:
No volume setting to adjust
Doesn't include the originally licensed music and artwork
---
Stranger Things Premium Arcade Pinball Machine
Specifications
Type: Full-sized
Dimensions: 74″ L x 27″ W 55″ H
Weight: 250 pounds
Assembly: Unfold and secure, proprietary system
Best for: Pinball enthusiasts and pros
---
Rating
---
Description
Stranger Things has been a hit TV show for a while now[3]. You've heard of it, right? It's not strange how it became so popular. I mean, secret government labs and all that. Now you can take on the creatures of "the Upside Down" yourself and in true arcade fashion. Head up the ramp to take on the Demogorgon or check out your pinball's telekinetic powers with the magnetic ball lock.
Actor David Harbour, the small-town Chief of Police, provides the voice clips [4]. With original artwork as well, any fan of the show will be impressed with the authenticity and attention to detail. This premium upgrade to the Stranger Things machine has a few extra features. The most exciting of which is a projector that focuses on the playfield during play.
Stern Pinball, Inc. specializes in making the best pinball machines for both arcades and recreational fun, and they have for nearly 100 years now. While it may be a little harder to find room for a full-sized pinball machine, it may just be worth the investment if you are a true pinball enthusiast.
Pros:
Highest quality pinball machines on the market
Genius assembly design – unfold it!
Arcade experience at home (or anywhere)
Cons:
Finding room for a full-sized machine can be difficult
On the expensive side for recreational pinball play
---
BRIO Classic Tabletop Pinball Game
Specifications
Type: Tabletop
Dimensions: 20.5″ L x 13.5″ W x 4.75″ H
Weight: 4 pounds
Assembly: None required
Best for: Children
---
Rating
---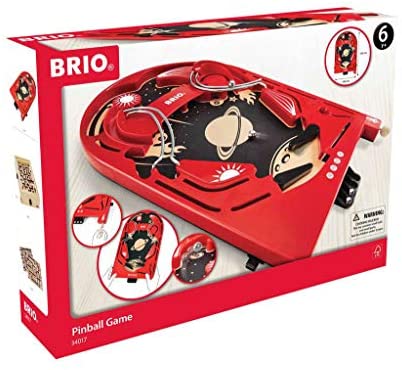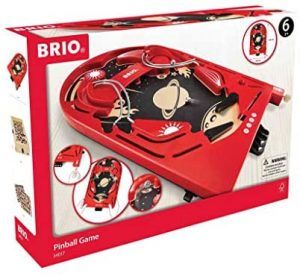 Description
The BRIO Classic Tabletop Pinball Game will take you back to a day when tabletop pinball machines didn't light up and make sounds and… well, you get what I mean. BRIO has been making wooden toys since the late 1800s and even though phones and tablets are popular choices these days, a vintage-feel game might just break the screen-stare.
The flippers are easy to operate which makes them perfect for small hands. The board allows you to see how the various turns, bumpers, and paths work. While improving motor skills and hand-eye coordination, your child is also starting to understand basic physics. Gravity. Momentum. And how, as a player, they can influence the movement of the pinball.
Because there aren't any lights or sounds to keep a child interested, it may be difficult to keep them focused on a wooden game like this on their own. Playing with friends or as a family makes it fun (and also gives you someone to keep track of your score!)
Another thing we totally agree with most users is the fact that it is very well designed and built to last that might well pass into younger generation in the future. It's sturdy enough and there's no buzzing and singing noise that annoys you. This can definitely hold your kids attention as this is super fun to play with.
Pros:
Everything included – board and 4 pinballs
Simple operation for young players
Can improve hand-eye coordination and motor skills
Cons:
Harder to keep track of scoring
May not hold the interest of younger kids
---
Conclusion
There are some pretty awesome pinball machines to choose from but we recommend the Star Wars machine. Not only is it a full-sized pinball machine, the same that you would find in your favorite arcade, but it is also made by Stern. Take a walk through any arcade and see just how many of the machines are made by Stern. That says a lot more than we can say here.
It also gives you the same experience that you would get playing those same machines at the arcade. If that's what you're looking for then you can't go wrong with a Stern machine. And the Stranger Things premium option is a superb choice.
Our Overall Pick
Arcade1Up Star Wars Digital Pinball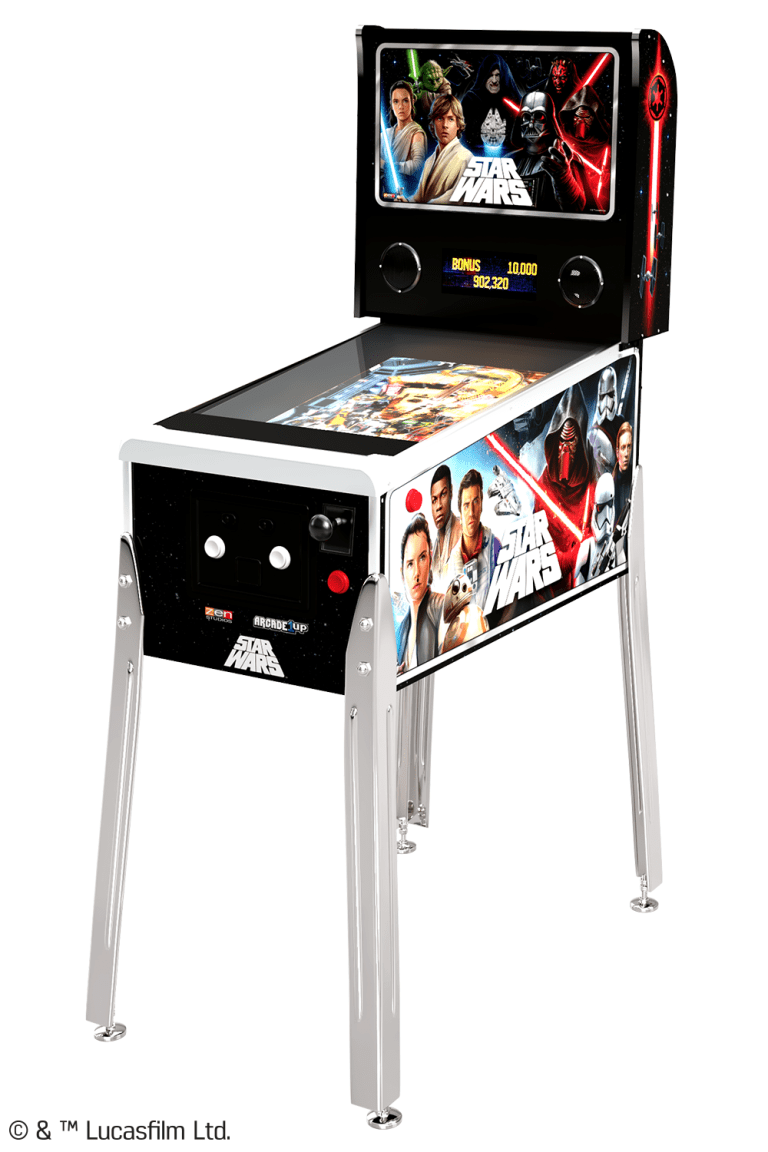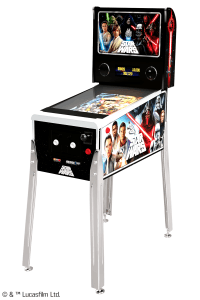 Fun Things About Pinball Machines
Ever want to know how our modern pinball machines were invented? Not sure what makes a classic pinball machine "vintage?" Or are you curious about the most expensive pinball machine of all time? Check out these cool facts about pinball machines!
A Short History of Pinball (and other cool facts)
The original pinball games were called "bagatelle" and resembled the Price Is Right's "Plinko" game more than they did our modern version of pinball. Roll the ball up, it comes back down to score on pins as it makes its way down and you get points for wherever it lands on the bottom. Bagatelle seems a little boring but you can still buy bagatelle boards today.
Eventually, those "pins" became bumpers that bounced the ball. And then with electricity, the scoring could be done automatically using relays and wires. Over time, the playfields became more complex. The games started following a storyline. And fun new features were added like multi-ball, tilt, ball lock and so many more. No wonder it evolved into the ball-flinging, flipper-flipping game that we can't get enough of today though. We needed more excitement.
Vintage Pinball Making a Comeback
BRIO is just one manufacturer who has designed a classic pinball game that requires no power. There are no scoring and no screens. But they are certainly not the only company making these wooden, tabletop pinball machines and these toys are becoming more popular as parents look for ways to limit screen time. Older adults can even take a trip down memory lane, as they say.
These new pinball games might be classic but they aren't vintage. Vintage pinball games are ones that were made before the modern machines that we have today. Typically that means before the mid-1990s.
The Most Popular Pinball Machines
Once video games became popular, pinball machines were on the way out. Or so it seemed! With a few licensing contracts, pinball machines were being designed with popular movie and TV themes. To this day, one of the most popular pinball machines is The Addams Family, which was based on the 1991 movie starring Raul Julia and Anjelica Huston and Gomez and Morticia Addams. It sold over 20,000 machines and is still found in arcades today.
The Top Pinball Machine to Own
The machines that we reviewed here are just a small sampling of the many that are available. But let's go over a few things:
Some machines work with mechanical parts and some machines are fully digital. And then we have digital machines that use some mechanical parts like flippers and plungers.
Some full-sized machines are the same you'd see in an arcade and some machines fit in the palm of your hand.
Some machines have lights and sounds and digital scoring, but some machines have no batteries or electronic features at all.
What this means is that there really is no "best pinball machine for home use." The best pinball machine will be the one with the features that are the most fun for you and your friends and family. It will be a pinball machine that you love to play and love sharing with others. It's also one that is within your budget and one that you have room to set up.
When you do find that perfect pinball machine, don't forget to send us a picture and let us know how you love it. We are fond of our pinball games too. If you couldn't tell.
Wanna play more than just one game at home? Check out our best multi game table for adults where you can play 3 games in just 1 table. Don't forget to read our cornhole board reviews for other board games to choose from. If you're still not sure what to purchase, visit our homepage for more detailed buying guides.