Best Metal Detector Pinpointer Reviews: Top Rated For Probes For The Money
Disclosure: We may receive a small commission when you shop by clicking on the links on our site. This is at absolutely no added cost to you. Learn more.
If you're a fan of finding valuable treasure pieces [1] in a maze of rock and dirt or along the forest and ocean floor, you need to get a pinpointer metal detector.
Once you've established the general area for hidden bounty, you can use the best pinpointer metal detector to zone in on your metal target's exact position. If you are hunting through mud and dirt piles, you can use the pinpointer to uncover your find's precise location.
With a pinpointer metal detector, get ready to impress your friends and family with your treasure haul.
Best Pinpointer Metal Detectors Summary

Image

Product

Purchase

Garrett CSI Pro-Pointer AT

Can distinguish between different-sized targets
Comes with grating tool for moving topsoil
Shuts down automatically after a period of non-use
Stealth mode included

White's Bullseye II Pin-Pointer

Affordable and effective
Includes audible and vibrate modes
Long handle is comfortable and easy to use
System tuning is completely automatic
Includes effective LED light
High sensitivity threshold

Best Overall Waterproof Pinpointer

Quest XPointer Pro-Waterproof

Has LED, vibration, and audio signals
Comes with innovative target locking function
Simple power reset function
Long battery life
Lightweight and easy to carry
Has a bright flashlight for murky waters
There are several essential things to look for when finding the best pinpointer metal detector for you.
First, check the detection range. Some pinpointers may look the part, but can only detect targets within a couple of inches, rendering them useless if you like deep-digs and sea-bed searches.
It's useful to look at other things, especially the product's battery life, waterproofing level, and affordability. You can also look at the metal detector pinpointer reviews for users' thoughts on the ease of use.
Best Pinpointer Metal Detectors
Garrett CSI Pro-Pointer AT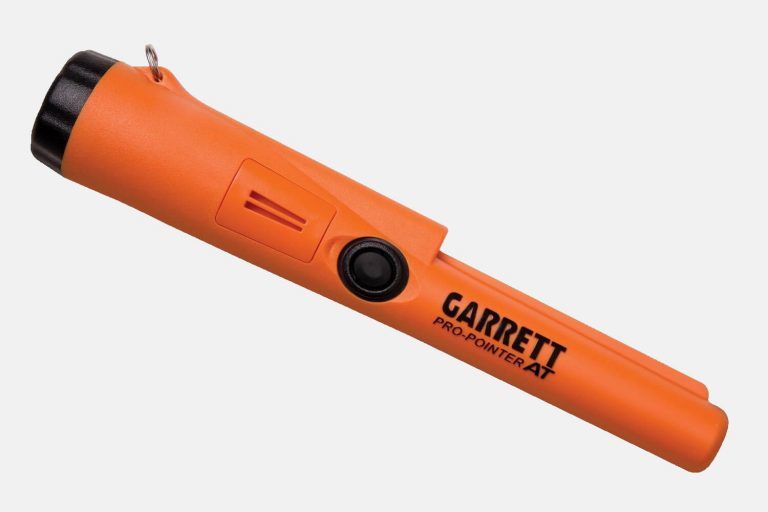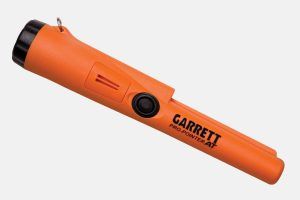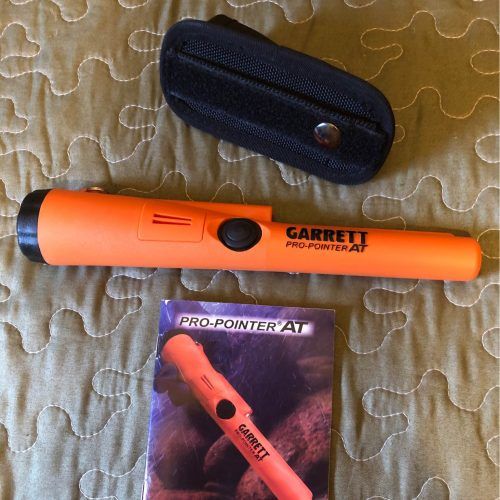 Garrett HQ has clearly been listening to its clients and amateur detectorists because the Garrett CSI Pro-Pointer AT includes all the features we've always wanted in a pinpointer but never quite got – until now.
Quite simply, this is the best pinpointer metal detector that money can buy. Garret has built a sturdy, waterproof detector and painted it a vibrant orange for extra visibility.
The adjustable sensitivity function is a game-changer. You can adapt the detection receptiveness depending on what size target you're seeking. Just press the black button just below the 360° pinpointing tip.
You can also choose to revise the detection sensitivity completely and instruct your pinpointer to disregard the immediate surrounding environment, by choosing the reset function on the same black button. If you're searching through a particularly mineralized or rocky soil layer, this can be a useful way to find a precise and small target.
For that reason, this pinpointer is perfect for finding small metallic targets in almost any environment.
"Carrot Garrett" is designed to be submersible up to 20 feet. One of the decent digging tools decent digging tool for beginners.
Pros
Comes with cylindrical 360° detection tip

Can recognize and clarify the outlines of targets

Reset function can fully tune out surrounding sand or rocks
Cons
Detection tip is not always uniformly sensitive
Runner-Up Best that Money Can Buy
Teknetics Tek-Point Pinpointer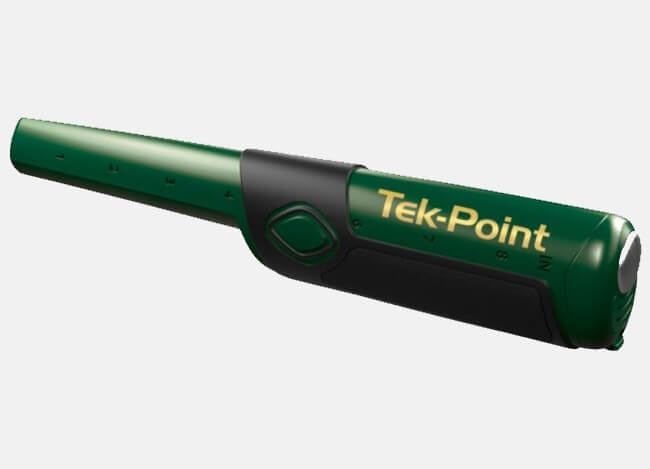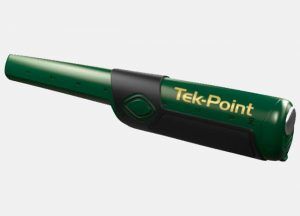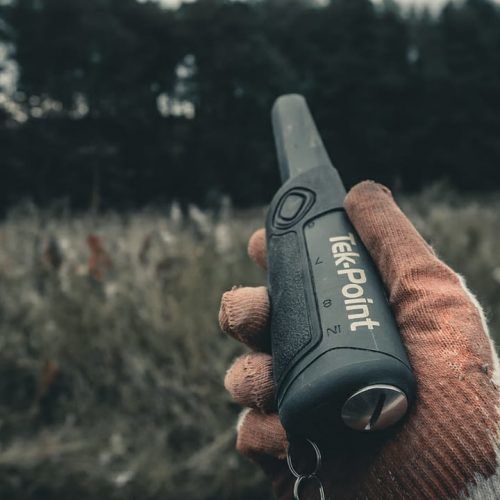 The Teknetics Tek-Point is the best pinpointer metal detector if you're looking for pulse-induction technology from your device.
This technology uses a single coil within the pinpointer to transmit and receive electrical impulses from the target. The Tek-Point's extra high rate of 2,500 electrical pulses per second makes it an exceptionally precise pinpointer of metallic objects, particularly in and around heavily mineralized areas.
The Tek-Point is also waterproof, although only in depths up to 6 feet. This can be an issue if you want to use it for scouring the salty sea bed deeper underwater.
This pin-pointer also has a slightly awkward user interface. It can take a while to figure out how to change the sensitivity settings.
This pin-pointer is ideal if you're on land and searching several feet beneath the topsoil. It can effectively tune out any surrounding hot rocks and zone in on your metallic target.
The Tek-Point is well-built and durable. It runs solely on 2 AA batteries. You won't have to scour the web for those dreaded 9V batteries ever again. This model is one of the best pinpointers for the money.
Pros
Pulse-induction technology helps detector find deeper targets than VLF options
Durable and hard exterior shell
Has low, medium, and high sensitivity levels
Cons
Only waterproof up to 6 ft
White's Bullseye II Pin-Pointer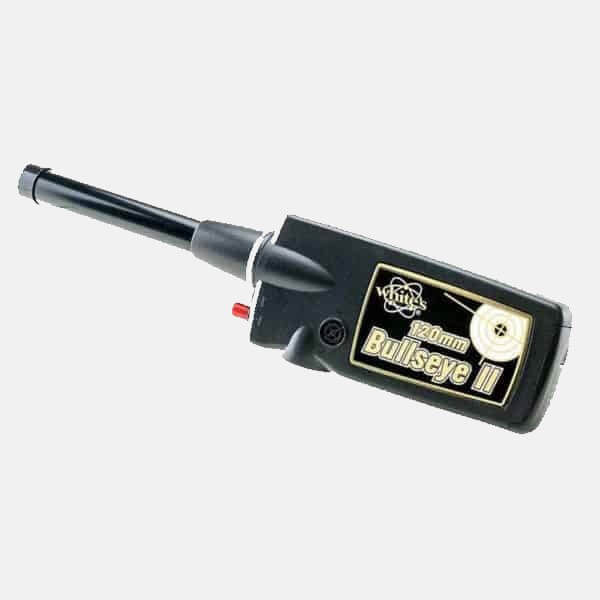 This gem is the best pinpointer metal detector on the market when it comes to value for money.
It has a 20-hour battery life, meaning you can go through several long sessions of detecting before having to charge its 9V battery.
Everything about the White's Bullseye II screams simplicity, and in the best possible way. The extra-long handle is designed for ease of use: You can scan and search for hours without getting hand cramps or having to put the pinpointer down.
There's no need to tune this detector's frequency before heading out. It does this all automatically for you. The Bullseye detects targets from its tip, rather than from any longer part of its frame, meaning you can double your recovery time for target acquisition.
The Bullseye is best for detecting targets in soil and rocks on land. If you keep it in the river for too long, its weaker external shelling can begin to leak.
Pros
Pinpoints small targets with tip rather than body

Long-lasting battery life

Simple audio and vibrate signaling to find targets
Cons
Shelling and outer frame isn't as hard or waterproof as with similar pinpointer models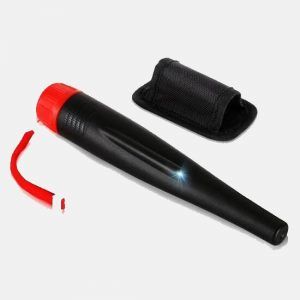 If you want a simple, cost-effective, and light option, the Pyle Pinpointer is the best pinpointer metal detector for its value.
The detection area around this product's tip is completely waterproof. The whole pinpointer is very watertight to depths of up to 20-30 feet underwater because of its marine-grade protection.
This detector's sensitivity is also noteworthy. The probe tip can accurately detect small targets that are more than 1 inch underground.
This product is great for people looking to start with pinpointing. Its affordable price and lightweight design belie its watertight durability and sensitive pinpoint function. The loud audio signal transmitted upon detection is clear and effective.
The Pyle Pinpointer indicates when its battery is low, saving you from running out of charge while you're out in the field. It also has an automatic power-off function, helping to preserve that battery.
However, if you're looking for a pinpointer with a large detecting range and an adjustable sensitivity function, it probably isn't for you. The probe loses a lot of its accuracy for ranges above an inch, so it isn't the right option for seeking out deeper targets underground.
Pros
Lightweight and affordable

: Very useful for beginners

Built-in speaker for an effective audio detection system

Marine-Grade waterproof

up to depths of 30 ft.

Has a useful low-battery indicator function
Cons
The detection depth range is small and limited

The 9V battery isn't included in the price
Kuman Unearthing Tool Pin-Pointer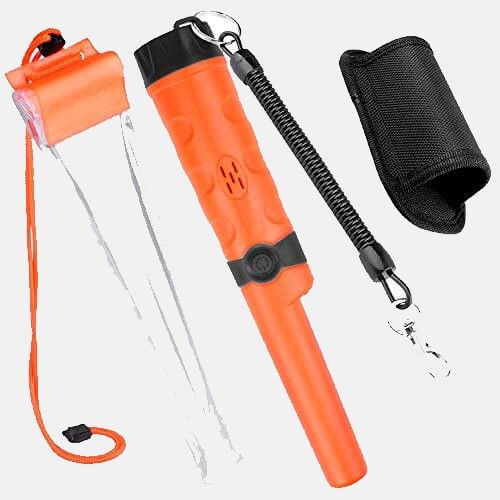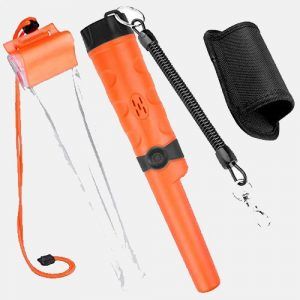 The Kuman Unearthing Tool is the best pinpointer metal detector if you're new to metal detecting and want some help finding smaller targets.
This pinpointer has an impressive 360° detection area around the bottom half of its body, helping you detect a metallic target within a wider surface area.
When it detects a target, the Kuman vibrates and transmits a loud alarm, leading you to your bounty. It's also pretty easy to operate: there's a single power switch on the side that controls the sensitivity level.
The Kuman's exterior is ribbed and textured, making it easy to grip and use for long periods without discomfort.
The Kuman is an affordable pinpointer that works best for beginners just starting with metal detecting. Once you've become a full-blown detectorist, you'll likely need to get a tool that has a deeper detection range and is fully waterproof.
For a starter pinpointer, though, this is ideal. It's simple to use and surprisingly accurate within its somewhat limited range.
Pros
1-touch system makes resetting the sensitivity easy

Automatic tuning system saves you the bother of manually tuning

Audio and vibration alarm system is loud and effective

Ribbed sides help with grip
Cons
Not particularly durable

Not fully waterproof
Minelab Pro-Find 15 Pinpointer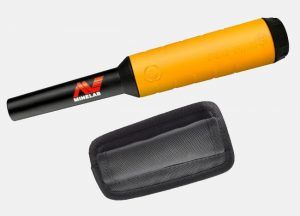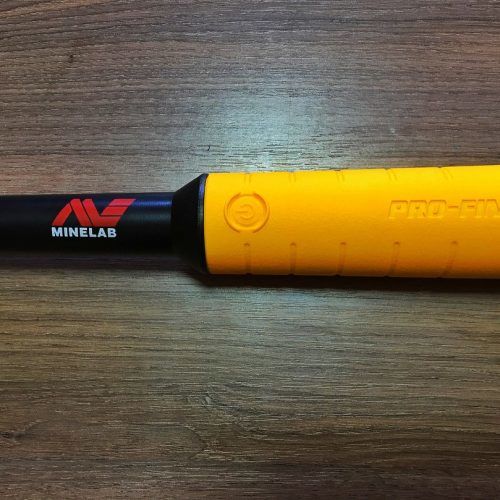 The Minelab Pro-Find 15 Pin-Pointer is the best pinpointer metal detector when it comes to indicating a target's proximity.
The loud alarm intensifies in volume the closer you get to your bounty, making it easier to zone in on a specific area.
This pinpointer also includes the Minelab-patented Detector Interference Free technology, which cuts off the coil's electromagnetic pulse when you're not using it. This means that you won't get any signal interference from your pinpointer if you're using your metal detector.
The battery life for the Minelab Pro-Find 15 is impressive, especially considering the product's price and the battery life of similar options. You'll be able to take it out several days in a row without having to change or charge the battery.
One downside of this pinpointer is the fact that it's not waterproof, meaning you can't submerge it in shallow waters to search for booty on riverbeds or in rock pools. However, for a beginner, this detector is a great starter choice.
Pros
Easy target location

DIF technology turns off pinpointer's magnetic field when not using

Can rinse off under a tap
Cons
Not waterproof

Only an audio indicator is provided
Best Waterproof Pinpointer Metal Detectors
Best Overall Waterproof Pinpointer
Quest XPointer Pro-Waterproof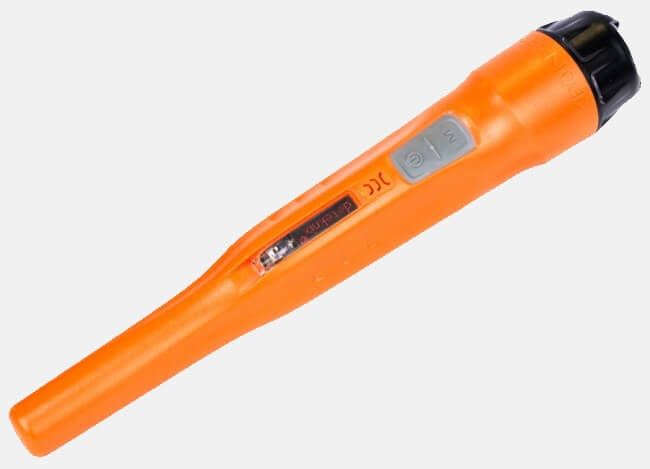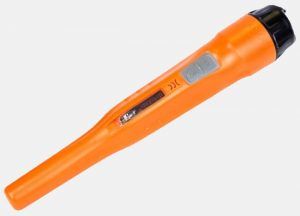 The Quest XPointer Pro is the best waterproof pinpointer metal detector you can get for deep-sea, river, and lake searches.
Quest HQ have built this one specifically to be highly water-resistant, and this specialized design shows. The XPointer Pro is entirely waterproof to depths of up to 200 feet, making it a distant leader in the sea and riverbed targeting market.
The XPointer's body is durable and easy to grip, with its textured orange surface. It also comes with an attachable belt holster, which minimizes the chance of losing it in deeper waters.
The power button has a simple on/off function, but it can be a little stiff on occasion. For that reason, it's probably best to get used to the automatic alternative function. Wave the pinpointer down then up around 4 times, and you'll turn it on. To turn it off, hold it up above you for 4 seconds.
When you're deep underwater, this movement-based function can be extremely effective. However, the stiffness of the power button can be a hassle when you're on land.
When it comes to a top-quality underwater metal detector pinpointer, it's difficult to look further than the XPointer.
Pros
The best pinpointer on the market for deep dive searches

Light and comfortable to carry above and below water

Contains a target-locking function that helps pinpoint your metal
Cons
Has a shorter battery-life than similar options have

The on-off button can be stiff and awkward to pressuring
Best Value Waterproof Pinpointer
DR. ÖTEK MT6 IP68 Waterproof Pinpointer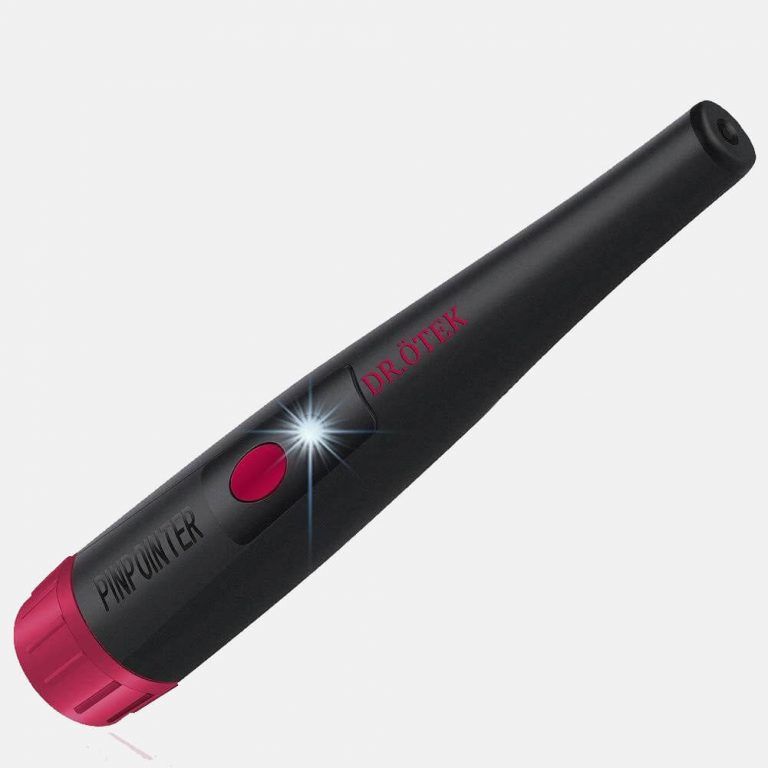 When it comes to searching for hidden sub-aquatic treasure on a budget, the Dr. Otek IP68 Pin-Pointer is the best waterproof pinpointer metal detector available.
Most other similarly-priced pinpointers on the market clock out and break down at around 10 feet underwater, but the Dr. Otek can remain watertight at far deeper depths and for far greater lengths of time.
The single-button function is useful. It makes the pinpointer easy to turn on and off and helps with reconfiguring its detection system if needed. You just have to hold the button down for several seconds and the MT6 resets its accuracy within particularly mineralized or distracting environments.
This model's detecting signals are unique, as well. Its 4-color LED light system reflects the probe's distance from the target, with a red light meaning the treasure is further away than if blue or white light is showing.
Although the MT6 may not have the impressive detection and waterproof ranges of the XPointer Pro, it's an affordable and effective underwater metal detector pinpointer that suits all kinds of bounty hunting. This pinpointer makes a great gift for friends and family who love SCUBA diving.
Pros
Fully submersible

and watertight to great depths

1-button function helps make resetting detection range easy

Has a multicolored light function

to show distance from target

Has an LED and vibration alarm rather than audio one
Cons
Powered by 9V batteries, which can be difficult to find

No adjustable sensitivity function
Conclusion
There are many high-quality, accurate, and reliable pinpointer metal detectors available, but when it comes to distinguishing and finding a variety of targets at a range of depths across all kinds of environments, the Garrett CSI Pro-Pointer AT is unbeatable.
With an unrivaled reset function, the capacity to distinguish between multiple target signals, and adjustable sensitivity system, the Garrett CSI Pro-Pointer won't let you down. It is simple to use and durable, which means you can get many years of enjoyment out of this handy pinpointer metal detector.
If you are interested in finding out about what other types of detectors exist and basics of using a metal detector, check out our in-depth reviews of the top metal detectors on the market. Also, to learn about how metal detectors work and the interesting finds people have made around the world, we have put together a detailed metal detecting guide to answer all of your questions.
Garrett CSI Pro-Pointer AT