Disclosure: We may receive a small commission when you shop by clicking on the links on our site. This is at absolutely no added cost to you. Learn more.
A pool table is the ultimate addition to an entertainment loving home. As well as being a professional sport, pool is a pastime enjoyed by millions of people all over the world. It's played in bars, leisure centers, and game rooms in every country across the globe.
An underrated aspect of pool tables is their aesthetic appeal. Some tables are beautifully crafted from quality wood, making them stylish additions to a living space. Some contain contrasting colors and flashy accents, while others are far more contemporary in design.
Whether it's the stylish aspect or an interest in the game of pool that appeals to you, researching the marketplace for pool tables can be overwhelming. There is an abundance of options at a host of different price points.
This guide contains the best pool tables brands that cater to several different uses. From tables designed for kids to budget options for adults, and from premium slate tables to slightly cheaper non-slate variants, we've covered all avenues.
Our Top Pick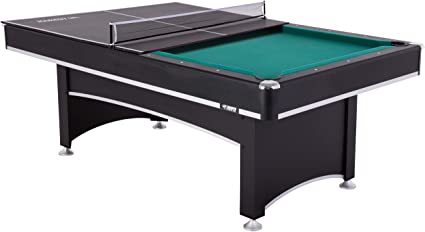 Compliments your game room with its matte black color
Touch screen and multi-function control knob
GPS navigation system for logging coordinates
---
Our Favorite Picks for Pool Tables
---
Best Pool Table Brands At a Glance

Image

Product

Purchase

Triumph Phoenix Billiard Table

Parlor-style table with detailed wood carved legs
18mm MDF frame to ensure table stays level
Leather drop pockets with walnut veneer frame

Minnesota Fats Covington 8′ Camel Wool Table

Classy antique finish adds style to the room
Professional-grade camel wool blend cloth
Solid wood legs that are built to last

Barrington Hawthorne 100" Table

Accuslate surface comes with 7-year warranty
6″ rails with white diamond design on inlays
Sophisticated French-style drop pockets
---
Top 12 Pool Tables Reviews
---
Best Overall: Triumph Phoenix Billiard Table with Table Tennis Top
Specifications
Dimensions: 74" x 36.5" (adjustable height)
Manual drop pockets
Steel corner caps
Includes: 2 x cues, ball set, triangle, brush, chalk, 2 x paddles, table tennis balls, net post set
---
Quality
Playing Experience
---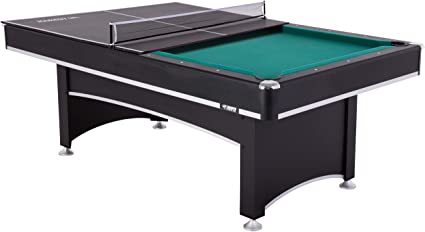 Description
You might enjoy a game of pool from time to time, and a professional-standard table may not be on your radar. A versatile option that can be adjusted and transformed into a table tennis table holds a lot more value to some people.
The Triumph Phoenix pool and table tennis table is the ultimate entertainment feature for a household with game-obsessed kids (or adults). With an adjustable conversion top, you can go from pool to ping pong in a matter of minutes. Although the quality lacks compared to other tables on our list, both tops provide more than adequate playing surfaces.
As a 2-in-1 product, the frame is not designed to support a pool table in the long-term. Over time, the playing surface may become slanted or cracked. However, careful maintenance can help elongate the lifespan of the table.
As a casual addition to your games room or as a gift to last your kids a few years, this table is ideal. It is a good table that offers decent value for money.
Pros:
2-in-1 pool and table tennis table
Adjustable legs make table suited to adults and children
Includes all necessary pool and table tennis accessories
Cons:
Only 7' long (not regulation size for pool)
Lacks quality when compared to other tables
---
Game Room Star: Minnesota Fats Covington 7.5' Camel Wool Table
Specifications
1" Dura-Bond slate alternative playing surface
Can be installed in under 1 hour
Dimensions: 96" x 53" x 31.5"
Weight: 250 lbs.
1-year limited warranty
Regulated by World Pool-Billiard Association
Includes: Triangle, chalk, balls, brush, 2 x cues
---
Quality
Playing Experience
---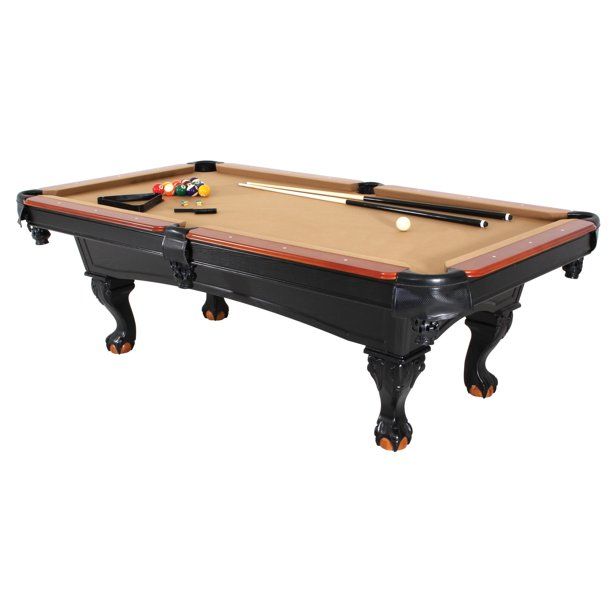 Description
This full-size table is perfectly suited to a stylish home. It is crafted from antique oak wood and painted black for a classy finish. The unique claw design on the legs means that even when the table isn't in use, it contributes to the room.
Pool fanatics will be impressed by the professional-standard camel wool cloth. The table is World Pool-Billiard Association regulated and matches industry standards in terms of length and width. However, it is slightly taller (o.5") than regulation tables. This shouldn't impact its playability and is definitely worth it for the sleekly designed table legs.
The playing surface has a slate alternative but also contains MDF (medium-density fiberboard). While it plays excellently, certain pool players would prefer a surface made entirely of slate.
The Minnesota Fats Covington boasts K66 rubber cushions [1], which give the ball a perfectly balanced rebound. You'll have no trouble getting accustomed to the speed and control of this table.
Although you could invest more money for superior-quality materials, this table meets tournament standards across several categories. It is by no means cheap, but the Minnesota Fats Covington is a quality and durable piece that retains its value over time.
Pros:
Built using antique wood for a stylish finish
Comes with assembly tools
Accessories, including balls and cues are included
Legs are made from solid wood for maximum stability
Cons:
Playing surface is made from slate alternative
Some buyers complained about the build quality
---
Best Value: Barrington Hawthorne 100" Table
Specifications
Dimensions: 100" x 56" x 31"
Weight: 319 lbs.
Ornate claw leg design
1" reinforced particle board playing surface
Scratch-resistant wood veneer cherry finished rails
---
Quality
Playing Experience
---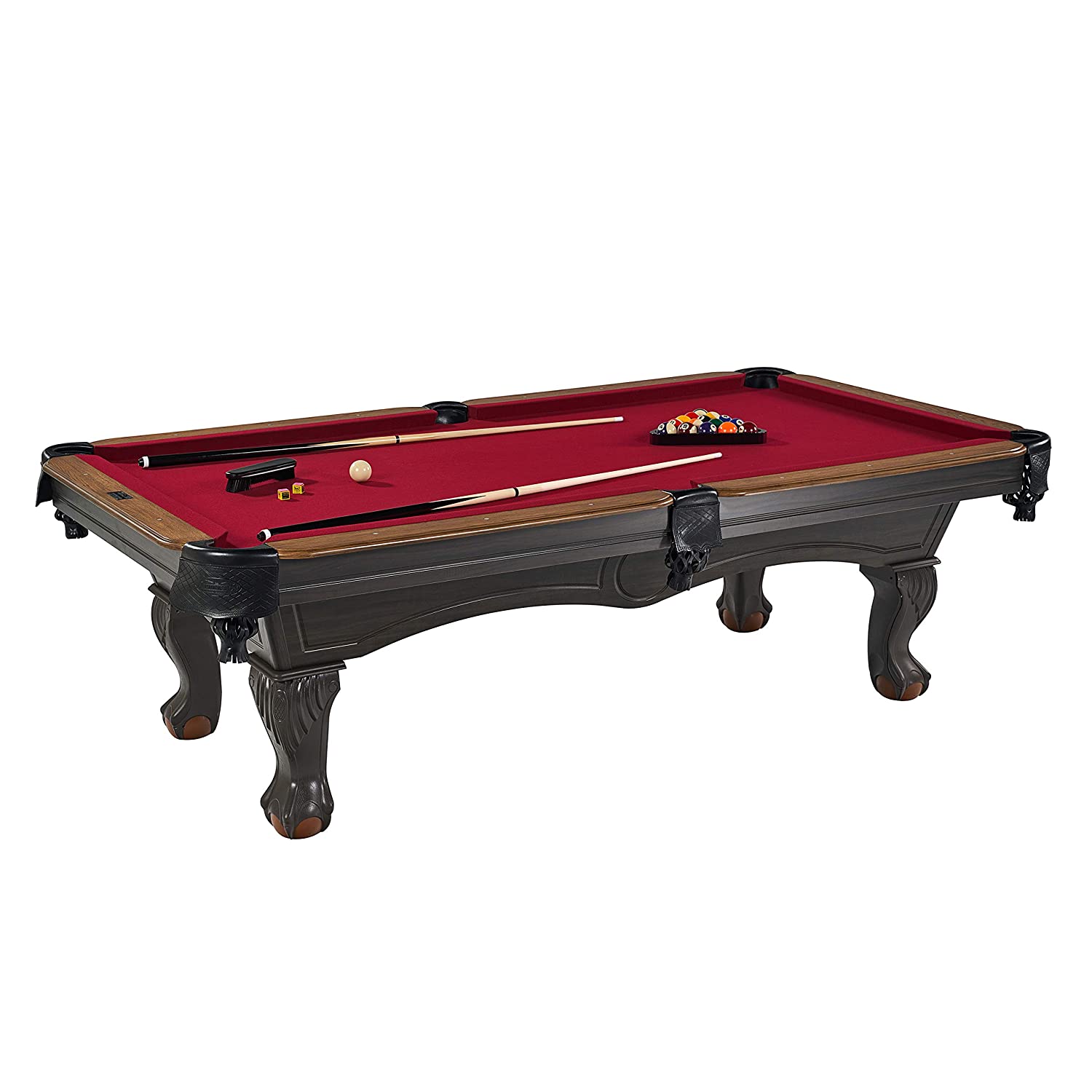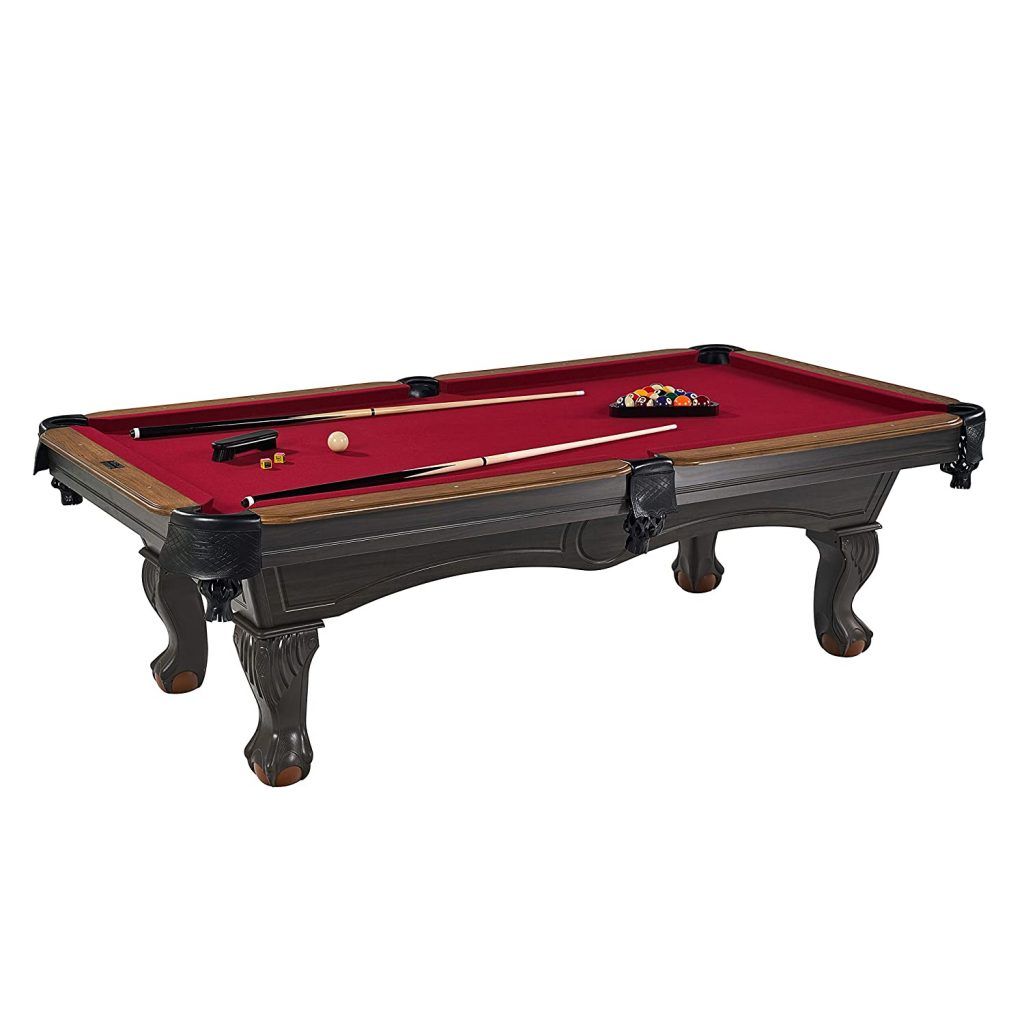 Description
The Barrington Hawthorne is a beautifully built table. It features a combination of rich cherry wood with a luxurious deep green top, adding serious character to whatever space it occupies. The build quality of this table is excellent. From the scratch-resistant professional standard rails (K66 rubber) to the classic drop pockets, the Hawthorne is everything you want from a traditional pool table.
One of the features that immediately stands out with this product is its sturdiness. It is crafted from quality materials and weighs around 319 lbs. when assembled. The thick legs allow players to trust the table when leaning into their shots.
This table is tournament size, making it suitable for home competitions or as a practice table for competitive players [2]. Considering the size, durability, and quality of this table, it deserves it's place on this list since it plays so well.
The 1" reinforced particle board provides an excellent playing surface in the short-term. However, pool enthusiasts may be let down by the fact that it is non-slate. Particleboards are more likely to warp over time.
The 50% wool-blend top is also below professional standards, meaning the playing surface doesn't compete with other top tables on our list.
Pros:
Professional tournament size
Solid built for increased durability
Scratch-resistant solid rails
Cons:
50% wool-blend top isn't professional standard
---
Best Budget Option Under $2000: Mizerak Donovan II 8' Table
Specifications
K66 nose rubber cushions
Dimensions: 99" x 55" x 31"
Weight: 715.1 lbs.
Includes: Triangle, brush, ball set, chalk, 2 x cues
---
Quality
Playing Experience
---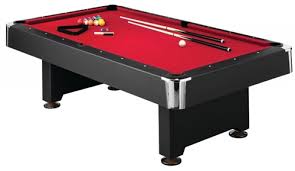 Description
The Mizerak Donovan II contains contemporary design features that look amazing in your game room. It boasts several great features that many tables within its price range don't have, including a slate playing surface (also available in slatron).
Visually, this table looks fantastic. The black framework combines tastefully with the burgundy felt for a modern but elegant feel. While the felt material offers aesthetic appeal, the real advantage to this material is its playability.
Stacked on top of a beautifully balanced slate piece, the wool and polyester blended felt provides a fast and smooth playing surface. The K66 nose rubber cushions are professional standard, allowing for consistent and measurable shots.
A standout feature of this table is its adjustability. The pedestal legs have individual chrome levelers that can even out the playing surface on any type of flooring.
This table is excellent value for money. Although it isn't cheap, it is certainly not one of the most expensive options available. The pockets, rails, and playing surface can compete with the highest quality tables on our list, and the adjustable legs give it serious versatility. This should be strongly considered by anyone in search of a bargain.
Pros:
Excellent value for money
Made from quality materials
Even and smooth playing surface
Sleek modern design
Cons:
Very heavy (715 lbs. when assembled)
Substitutes MDF for solid wood in many places
---
Kids Favorite: Barrington Hatherley Premium Pool Table with Darts Set
Specifications
Dimensions 100" x 56" x 31"
Weight: 290 lbs.
Lime-green felt top
Leather drop pockets
---
Quality
Playing Experience
---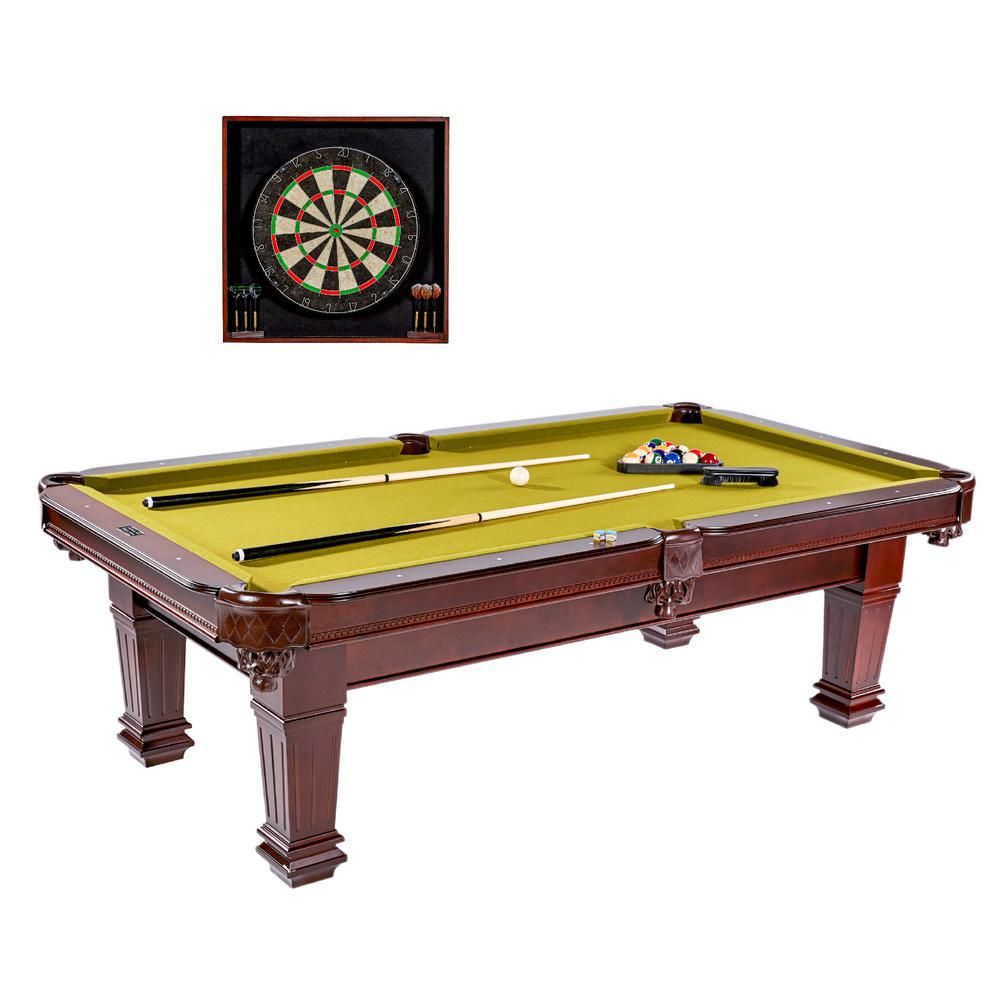 Description
Although the free dart board is an added bonus with this product, it stands alone as a premium pool table. Built with furniture quality from solid walnut, the Barrington Hatherley oozes class. Apart from the sturdy solid wood legs and frame, this table also features pristine leather pocket drops and striking lime green felt top.
The competition quality wool felt is 25mm thick, sitting on top of a smooth playing surface. While aesthetics are often important when choosing the best pool tables for home use, the most critical aspect is playability. This is where the Hatherley truly shines.
In addition to the quality felt top, solid wood build quality, and sturdy frame, the cushions are made from K66 rubber, meaning it could be used in competition. This level of quality helps you perform consistently, giving you a more extensive knowledge of the game of pool. The bounce is firm and reliable, allowing you to develop precision in your shots.
With such a high-quality build, cushions, and playing surface, this table must be well taken care of. Fortunately, it comes with a felt brush, enabling you to keep the surface smooth and free of dents or markings.
This one is actually a pleasure to play on, bumpers and side rails have just the right amount of spring and the leather pockets have relaxed nicely and it honestly doesn't look cheap.
From craftsmanship to playability, the Barrington Hatherley is the ultimate pool table to add to your home, game room, bar, or arcade.
Pros:
Legs crafted from quality walnut
Comes with free professional standard dart board
Professional-quality cushions
Cons:
---
Most Affordable: EastPoint Sports Pool Table
Specifications
Dimensions: 87″ x 50″ x 31″
Weight: 215 lbs.
Includes: 2 x cues, ball set, chalk, triangle, brush
K66 rubber bumpers
Traditional claw leg design
---
Quality
Playing Experience
---
Description
The EastPoint pool table is our value pick for prospective buyers. It is designed to look the part, and its playability is surprisingly impressive.
Measuring just under regulation size, don't mistake this table for a professional or competition standard product. Instead, it is a budget alternative that has a lot of great qualities for the price.
Unfortunately, this table substitutes plastic for solid wood in the legs, and the playing surface lacks the professional feel of slate and felt cloth. However, unlike other cheaper tables, it is built with a solid frame and support braces that give added support to the playing top. This gives players more control when playing.
The cushions are made using K66 rubber, giving it professional-grade bounce and predictable ball movement. It also comes with cues and playing accessories included, meaning you don't have to invest in expensive equipment after you've bought the table.
This pool table actually looks good enough once completely assembled. It's very easy to level but the bumpers are a bit slow. This is also heavy. It has a cushion already attached to the playing surface. The felt is already applied.
If you're looking for best affordable pool table that offers decent playing capabilities but doesn't break the bank, this EastPoint product is hard to beat.
Pros:
Low price point
Leg leveling system to give table balance
Classic style drop pocket
Cons:
Felt is prone to scuffing
Not full professional size
---
Most Compact: Fat Cat Frisco 7.5' Pool Table
Specifications
Dimensions: 89.5" x 50.5" x 31"
Weight: 231 lbs.
Beveled legs with wood veneer mahogany
K66 rubber bumpers
Includes: 2 x cues, ball set, triangle, chalk
---
Quality
Playing Experience
---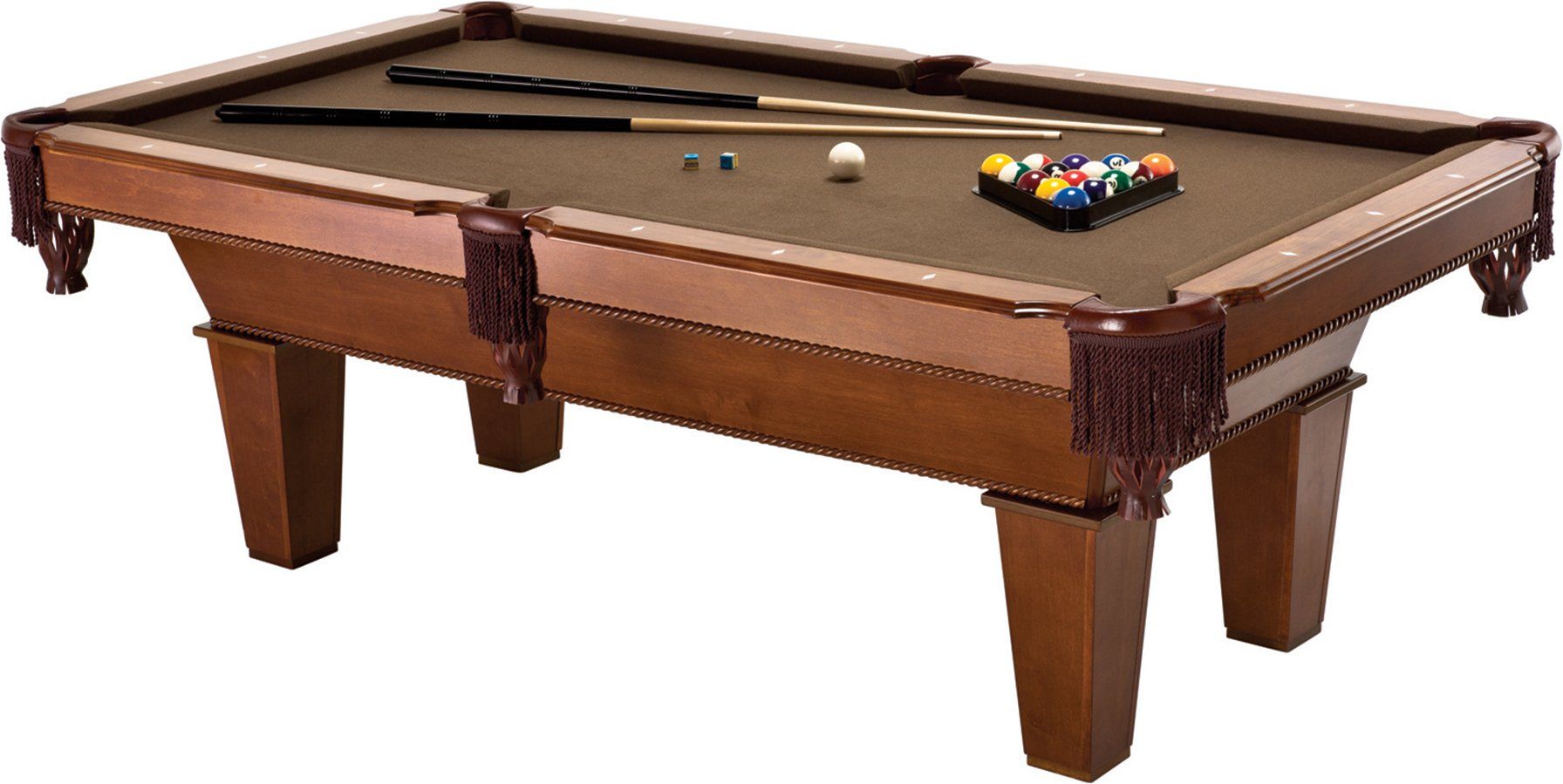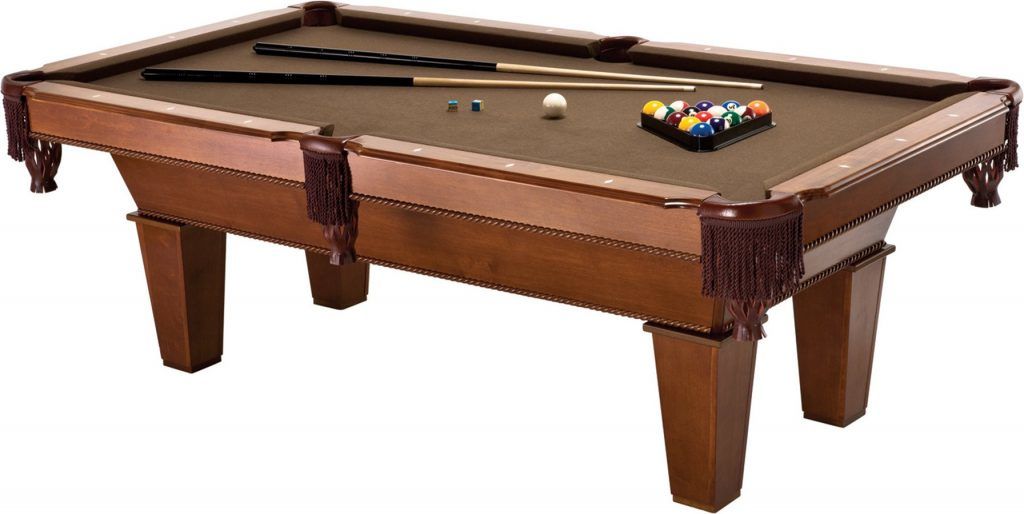 Description
The Fat Cat Frisco is just under the professional standard size at 7.5' long. This makes it the perfect compact option for someone with limited space in their home. The Accuslate playing surface combined with the K66 rubber cushions makes the Fat Cat Frisco an enjoyable and consistent table to play on.
Although many players would prefer a slate surface rather than the Accuslate found on the Fat Cat Frisco, it comes with a 7-year warranty, so you are covered if the board starts to warp prematurely. Consistent maintenance can keep your table in good condition for longer.
One of the top features of the Fat Cat Frisco is the diamond pattern on the inlays. It is ideal for amateur or beginner players to learn how to angle their shots and also features as a useful tool for more advanced players to improve their accuracy and practice techniques.
Learning to play on a quality compact size table can have its benefits. By utilizing the professional-grade cushions and diamond inlays, you can develop your skillset [3] to the point that you are ready for a full-size table.
The table is beautifully designed, and the dark, coffee-like maple shades give it an old-school look. The braided accents around the pockets make every pot one to savor. It is a classy-looking piece that you'll be proud to display in your home.
Based on user feedback, leveling is as easy as the assembly. It looks gorgeous and detailed once finished. It's heavy duty and well built.
Pros:
Easy to level (hidden wooden levelers)
Diamond inlays allow for more accurate play
Classy wooden design enhances the room
Cons:
Owners have reported difficult assembly
---
Best Non-Slate Table: Hathaway Augusta Non-Slate Pool Table
Specifications
Dimensions: 100.5" x 55" x 32.5"
Weight: 326 lbs.
Turbo-speed, tournament-tested, K66 profile gum rubber cushions
Maple hardwood top rails featuring diamond design inlays
Includes: 2 x cues, ball set, aluminum bridge head, triangle, brush
Stable interlocking cross and center support beam
---
Quality
Playing Experience
---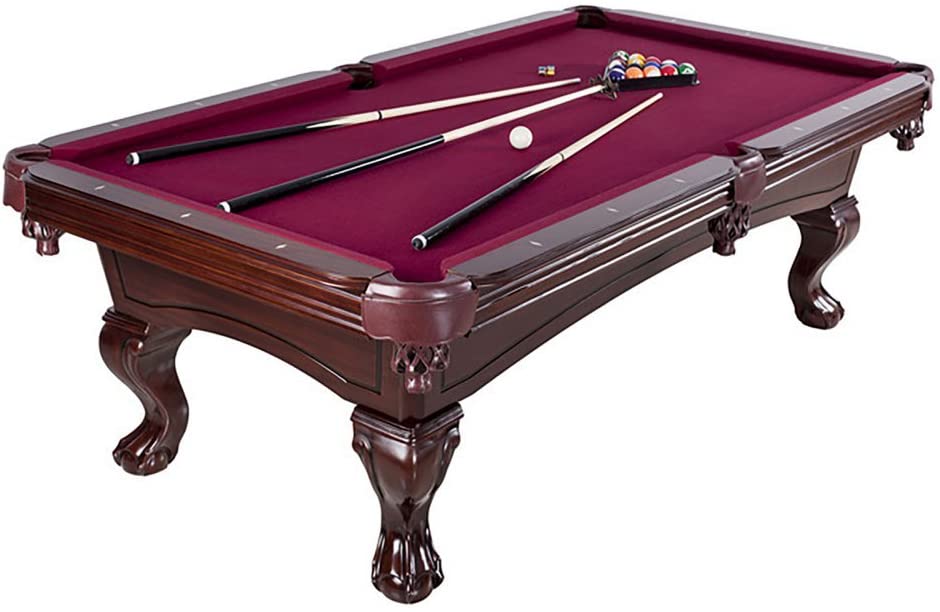 Description
The Hathaway Augusta pool table contains virtually everything you want from a professional table apart from the non-slate playing surface. While slate is a must-have for certain pool players, the MDF Slateronic material is a genuinely effective modern alternative. It is 1" thick and covered in Maple Veneer, giving the table a smooth and fast roll.
Other factors that add to the Hathaway's excellent playability are the 4.5" maple top rails and the competition-grade, exclusive turbo-speed, K66 profile gum rubber cushions. These are professional-level characteristics that allow for precision when measuring up angles. Quality features not only enhance your play, but they also contribute to a longer-lasting table.
Aesthetically, this table looks fantastic. Combining mahogany, maple, and deep ruby felt, the Hathaway Augusta resembles an antique furniture piece. The deluxe shield pockets and maple veneer polish of the refined design.
There is no substitute for quality when it comes to pool tables, and the Hathaway Augusta has plenty.
Note that this is a lot heavier and it might need 3 people or so to move this table from one place to another.
Pros:
Full-size competition standard table
Diamond inlays for accurate shots
Slateronic surface designed for smooth and stable performance
Cons:
Some pool players will want a professional slate surface
---
Great Warranty: Rack Taurus 8' Pool Table
Specifications
Dimensions: 96" x 53" x 32"
Weight: 304 lbs.
1" MDF bed playing surface
Professional grade woolen blend felt
K66 bumper cushions
Includes: 2 x cues, ball set, chalk, triangle, brush
---
Quality
Playing Experience
---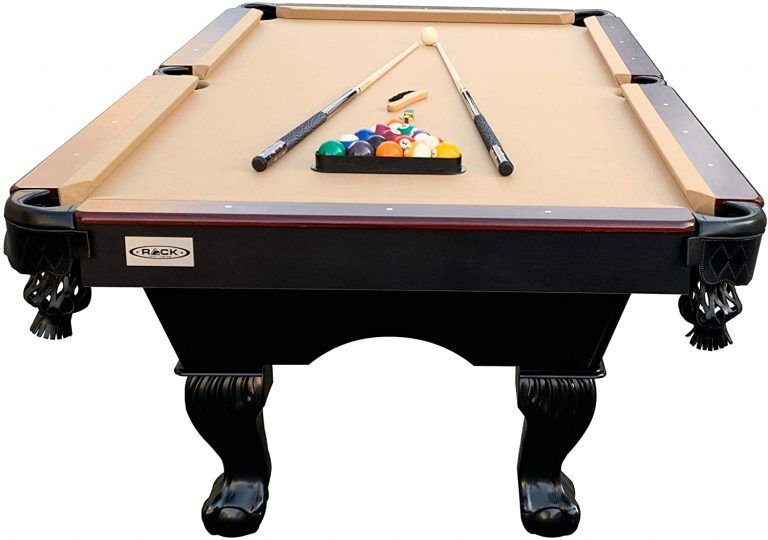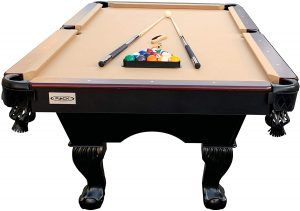 Description
The Rack Taurus is another full-size, tournament-grade table. The antique tiger claw legs with supporting iron stands ensure that the table looks fantastic while giving it excellent support. As a heavy-duty table, solid support legs are essential.
While the playing surface is MDF rather than slate, it is sturdy and resistant to warping. The premium K66 bumper cushions and wool blended felt provide a fast but controlled playing top. The leather-accented pockets look great, making potted shots all the more satisfying. From the playing surface to the finer details, this table demonstrates consistent quality.
One of the major benefits of investing in the Rack Taurus is the lifetime warranty. If any of the features break down or become defective due to no fault of your own, rest assured that they'll be repaired or replaced free of charge.
The quality and price trade-off for this table, combined with the lifetime warranty, make it a real contender for the best billiard tables available. It can serve as a fantastic practice table or a perfect addition to your game room.
Pros:
Heavy-duty table to support leaning players
Stylish leather accents
Tournament-grade design
Cons:
Non-slate playing surface
---
Most Durable Pool Table: Fat Cat Reno 7.5' Pool Table
Specifications
---
Quality
Playing Experience
---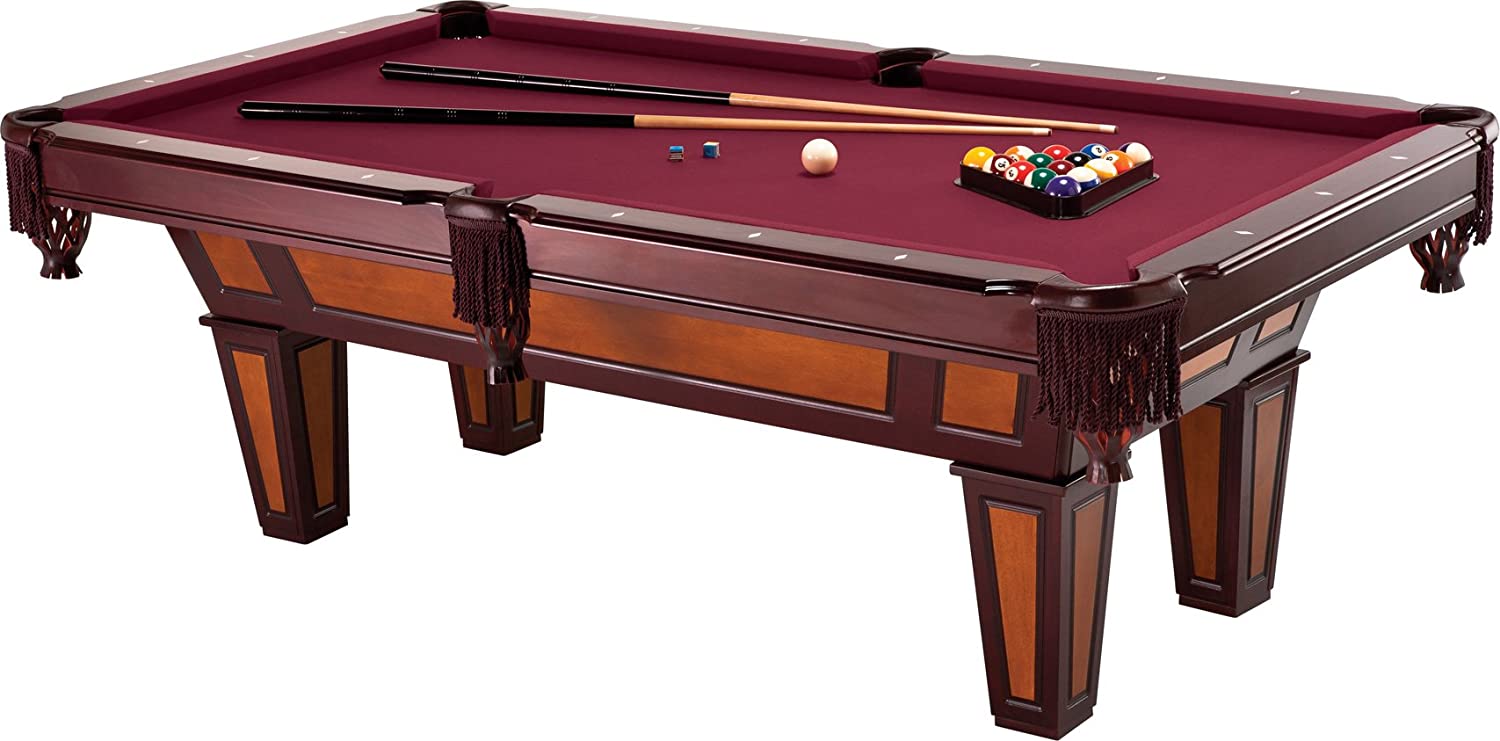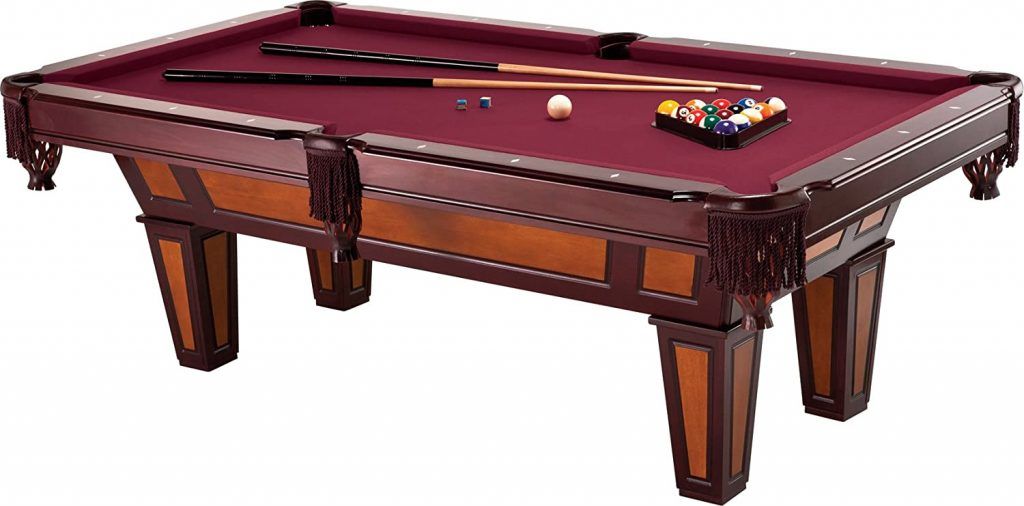 Description
The Fat Cat Reno is a beautiful table that combines classy design and professional standard playing features. It is built with quality and durable woods and contains scratch-resistant coating to help keep it protected. At a slightly higher price point than several other tables on our list, added durability is significant as it allows the table to retain resale value.
The Accuslate playing surface is covered with a 60% wool blend felt. While this allows for a relatively smooth playing experience, it doesn't live up to a slate playing surface with an 80% wool blend. Because the felt quality isn't optimal, ensure that you practice regular maintenance after use.
Apart from this minor drawback, the Fat Cat Reno has some professional-grade features. The K66 bumper cushions provide an excellent and measurable rail for shot placement. The pearlized diamond inlays allow players to measure their shots with precision, and they look fantastic.
Based on ping pong experts, rails are awesome that they have an amazing rebound. The felt is a wool blend but still of high quality.
The unique design of the Fat Cat Reno makes it the perfect addition to a stylish game room.
Pros:
Scratch-resistant rails for improved durability
Good build quality
Pearlized diamonds look great and contribute to playability
Cons:
60% wool blend felt doesn't match professional standards
Complaints about assembly difficulty
---
Amazing Playing Surface: Mizerak Escalade Sports 8' Dakota Pool Table
Specifications
Dimensions: 99" x 55" x 31.25"
K66 nose rubber bumper cushions
Includes: 2 x cues, ball set, brush, chalk, triangle
---
Quality
Playing Experience
---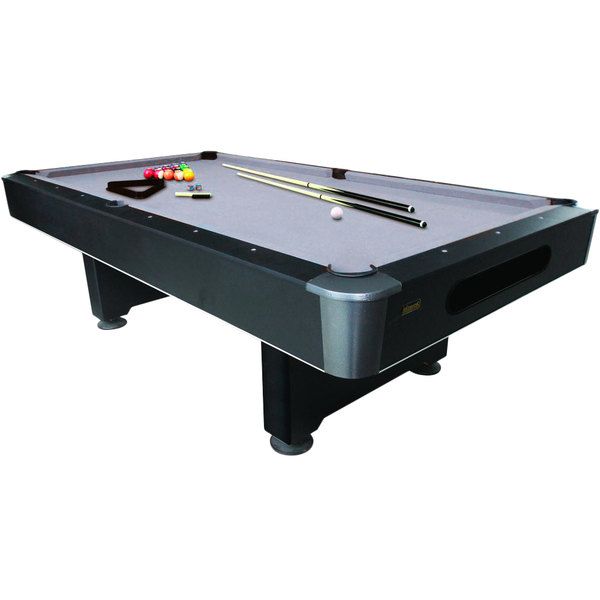 Description
The Mizerak Escalade Dakota pool table is the perfect option for someone preparing for a competition or who fancies themselves as a pool shark. It is built from quality materials and undoubtedly has the best playing surface of any other product on our list.
This full-size table boasts a ¾" slate playbed. While professionals prefer a 1" thick surface, the quality is still recognizable. The wool blend and K66 nose rubber bumper cushions further enhance the playability of the Mizerak.
The Mizerak Dakota plays like a dream. Although your shots will zip across the table very quickly, the roll is smooth, and even long shots retain accuracy. What's more, the felt handles ball spin exceptionally, allowing you to develop consistency.
A major attraction to this table is its ball return system. The table collects balls after they've been potted, making re-racking a breeze. This also reduces the likelihood of you having to replace expensive pockets.
The design of the Mizerak Escalade Dakota is an arcade-style. While it still looks great, some buyers may prefer the more elegant look of the other tables on our list. However, if it's playability you're after, this is the table for you.
Pros:
Excellent slate playing surface
Built with levelers for adjustable height
Full-size table
Cons:
Only a ¾" playbed
Difficult assembly
---
Portable & Foldable for Small Spaces: Hathaway Fairmont Portable Pool Table
Specifications
Dimensions: 76" x 43.25" x 32"
Includes: nylon carry bag, ball set, 2 x cues, chalk, brush, triangle
Blended felt playing surface
Chrome-plated corner castings
---
Quality
Playing Experience
---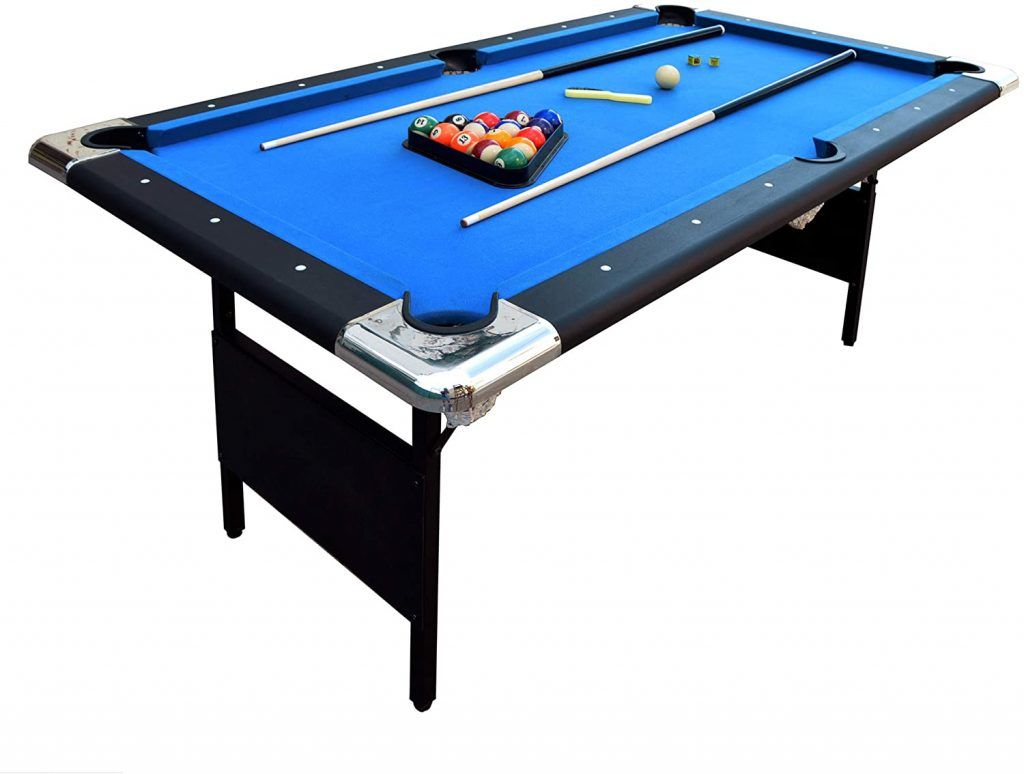 Description
This pool table is perfect for a family with active young kids. Despite being compact and foldable, the table plays quite well. It has a slight frame but weighs a sturdy 190 lbs. The playing surface is made from ½" poly sealed materials, making it a lot smoother than most smaller tables.
There is no assembly required for the Hathaway Fairmont. It can be set up or folded away in a matter of minutes. It comes with a nylon bag, allowing you to transport all accessories easily. Whether you're taking a summer road trip or visiting relatives for the holidays, bring this table along with you.
The Hathaway has some premium features, including 5" rails, blended wool felt, and chrome-plated pockets. You might be surprised at how nice this table feels to play on.
The downside that you will notice immediately is the size. Because it was built to be folded away, the table feels small in every way. You may not want to lean too heavily for your shots.
Although this is a great product and an excellent gift for your kids, it's important to note that it's not intended for serious pool players. This table is substantial and worth the money, probably more. However, real felt would have been nice but overall the quality is great for the money.
Pros:
Portable and easy to set up
Durable steel legs
Integrated leg levelers
Cons:
Unsuitable for competitive practice
---
Conclusion
After comparing the various pool tables available on the market today, the Barrington Hatherley is the clear standout.
It is built from quality solid wood for extra durability. This is needed to give adequate support to the playing surface. The table is beautifully balanced with the K66 rubber cushions. These allow players to measure and time shots more effectively.
As a full-size table, the Hatherley is ideal for someone who needs to practice for a competition. It is built with professional design in mind. Whether you want a quality table to improve your game nights, or you're after a beautiful table to complement the look of your home, the Barrington Hatherley is a perfect choice.
Our Overall Pick
Triumph Phoenix Billiard Table with Table Tennis Top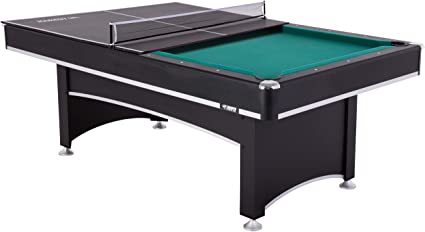 Overview
A pool table can transform your game room from a chilled-out movie den to a miniature sporting arena. Whether you're a fanatic who loves nothing more than studying angles and mastering cushion shots, or you're a more casual player who enjoys a game with friends, buying a pool table is always a good choice.
No matter your budget, there are certain qualities you should look out for in a pool table. A cheap table that checks the right boxes is often better than an expensive one that lacks in a few key areas. Here are some features to consider when comparing products.
Slate
The playing surface of a pool table can be made from several materials such as plywood, slatex, fiberboard, permaslate, slatron, slatine, or honeycomb. However, none come close to slate when it comes to accuracy and performance.
Slate is a fine-grained rock that can be cut and leveled into sheets that are perfect for playing pool. Pool tables built using slate are categorized by thickness. One-inch slate is recognized as the most accurate slate available by the BCA (Billiard Congress of America). Most tournaments use tables with at least 1" slate.
Sellers and manufacturers will often advertise ⅞" slate as 1", so ensure that you ask for the true measurement of slate before purchasing your table. When paying a premium price for your product, details such as slate thickness can make all the difference.
Cloth or Felt
Quality felt is a key ingredient to a good pool table. It affects the speed and traction of the playing surface and contributes to the longevity of the table. Look out for felt made from a combination of wool (80%) and nylon (20%) that's coated in Teflon.
For maximum durability, find cloth that weighs somewhere between 18 and 22 oz. per yard. The felt should be glued first, then screwed into place.
Legs
As the primary support mechanisms for the table, strong legs are essential. Supporting heavy materials for extended periods is stressful enough without considering the amount of extra leaning and pressure applied by players when taking shots.
There are 2 types of pool table legs, and both are suited to most players. Post legs are made using solid pieces of wood, and 2-piece legs use a nut and bolt anchor system for added security.
Post legs generally don't require any maintenance since they are made from solid wood. These are the ideal choice for most buyers because of this. Two-piece legs can loosen over time, taking away from the stability of the table.
Frame
A quality and strong frame is vital in supporting a slate playing surface. If the frame isn't sturdy, the slate will begin to sag and could potentially crack.
Depending on the thickness of the slate, you'll need a particular type of frame. A quad beam frame is optimal for a 1" slate playing surface.
Cushions
Pool table cushions are usually made from natural gum or synthetic materials. In general, natural gum is recommended since synthetic variants tend to dry, causing the cushion to lose bounce.
Pockets
Avoid hard plastic materials when it comes to pockets. It is a matter of time before they crack or become damaged. Opt for soft, rubberized plastic materials that stand up to the constant impact with pool balls.
Warranty
Always look for a warranty when purchasing a pool table. Some of the premium providers offer a lifetime guarantee, ensuring you're covered if you run into issues.
Other Considerations
Pool cues, balls, and accessories are also important when buying a table. While the surface and quality of the table is the most crucial factor, having the best pool sticks still improves your experience.
Ensure you have enough room to install a table and play. Although you might not have a perfectly sized pool room, it's vital that there is enough space around the table to take shots comfortably. Around 5' of clearance is optimal. Check out our review on how to move a pool table and learn the proper ways to handle its parts.
We have also reviewed interesting items you can use for leisure. Check out our homepage for more info.
Don't miss your chance to read our full detailed review of table tennis table and paddles together with the best tabletop air hockey available in the market today. We also have multi game tables for more top games you can play in just 1 table. If you're looking for top pool tables available today, check out our Spencer Marston and Olhausen pool table reviews.
For more game tables, check out our shuffleboard reviews here.