Disclosure: We may receive a small commission when you shop by clicking on the links on our site. This is at absolutely no added cost to you. Learn more.
Did you know shuffleboard dates back to the 1500s? That's right, this game has a serious history, originating in England and moving to America with the early settlers. The earliest games were played with British coins sliding across actual tables, but over time, the game has developed into the sophisticated form we know today.
Shuffleboard is a misunderstood game that people often relegate to retirement home communities, but it's finally getting the attention it deserves. Anyone and everyone can play shuffleboard, great for the young or old alike. So long as you have enough energy to push a puck, you can play. However, if you're not sure how to play it, head to our article and learn how to play shuffleboard.
We know the high that comes from an excellent shuffleboard game with friends or family, and we know the disappointment that accompanies a shuffleboard table top that doesn't live up to expectations. To save you time and emotional energy, we've reviewed a selection so you can find the best shuffleboard table for your home.
Our Top Pick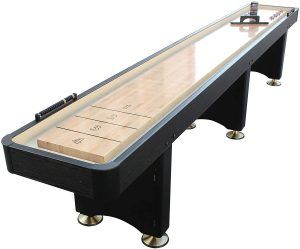 World's first 3D ground scanner
Touch screen and multi-function control knob
GPS navigation system for logging coordinates
---
Our Favorite Picks for Shuffle Board Tables
---
Shuffleboard Table Summary

Image

Product

Purchase

Playcraft Woodbridge 9 ft. Shuffleboard Table

Top-quality entry-level table
Provides built-in storage space
Includes 1-year warranty
Features durable hardwood corners

Best Compact Shuffleboard Table

Hathaway Ricochet Shuffleboard Table

Takes skill to land on the right score
Uses ricochet design to imitate full-size table
One of the smallest shuffleboard tables
Features durable solid maple butcher block

Best Pro-Style Shuffleboard Table

Playcraft Telluride Pro-Style Shuffleboard Table

Can electronically keep track of your game
Creates a sophisticated Game Room atmosphere
Replicates a professional shuffleboard game
---
Top 10 Shuffleboard Table Reviews
---
Best Shuffleboard Table: Playcraft Woodbridge 9 ft. Shuffleboard Table
Specifications
Tabletop dimensions: 108" x 24" x 31"
Playfield dimensions: 98" x 15"
Overall weight: 220 lbs.
Set of 8 playing weights
Playing weight dimension: 2⅛"
Includes speed bead wax
Includes 2 plastic slide scorers
Features 2 or 3 legs, depending on length
---
Performance
Fun Factor
---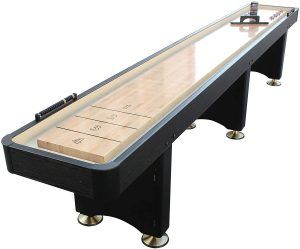 Description
Don't be fooled by this table; this is a hefty shuffleboard table that means business. The size and weight of this 1-piece table requires you to have a good understanding of the dimensions of your house and your game room.
Because the table is so heavy, it will help if you have a second pair of hands to help you steady things as you attach the legs to the tabletop, but once you get it up and ready, you're ready to begin playing.
Match the overall finish to your décor with the Black, Espresso, Cherry, or Honey Oak color options and choose from playing the shorter 9' or longer 16' table block options. The 9' length only requires 2 legs instead of 3. The longer tables come with the added bonus of featuring a 1-2-3-4 scoring pattern for greater playing options.
The playing surface is a 1⅝" solid hardwood butcher block finished with layered satin polyurethane to give your game the glide it needs.
According to users, they didn't find it hard to set up the table. They also liked the fact that its well-made, very solid and looks great for the price.
Pros:
More than 1 color choice
Longer length tables feature 1-2-3-4 pattern
Has numerous table length options
Doesn't have a laminated surface
Cons:
Assembly can be tricky
A financial investment
---
Best Compact Shuffleboard Table: Hathaway Ricochet Shuffleboard Table
Specifications
Tabletop dimensions: 84" x 44" x 31.5"
Playfield dimensions: 42.5" x 27" x 78"
Set of 8 playing weights
2 built-in puck holders
4 built-in drink holders
Abacus scoring system
---
Performance
Fun Factor
---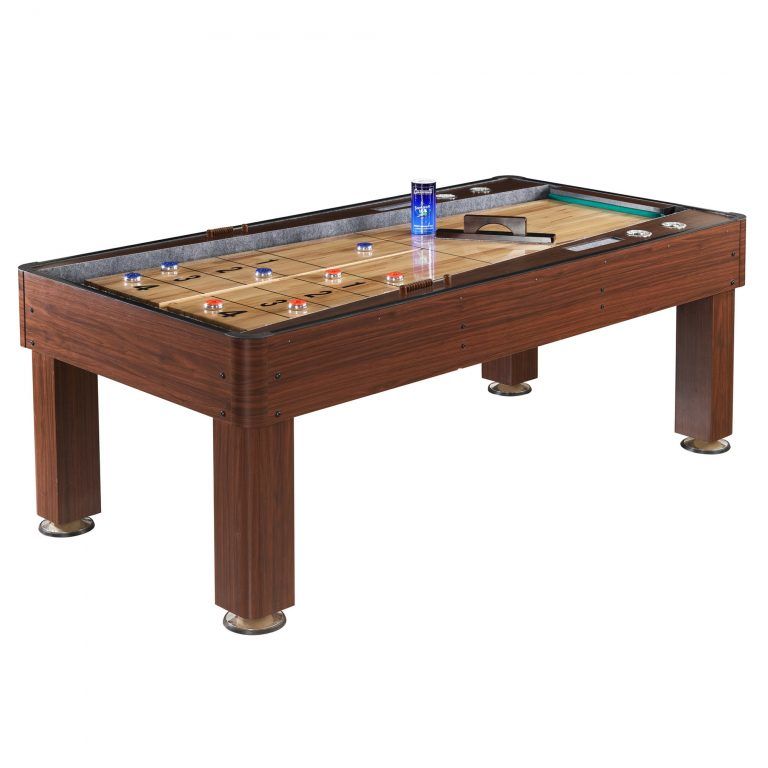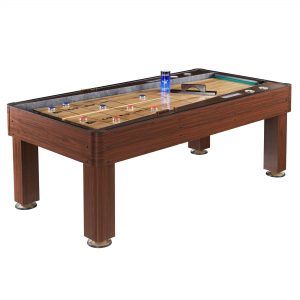 Description
Another large shuffleboard table, this Hathaway Ricochet model will suit smaller spaces with its 7 foot shuffleboard table construction. The size makes it ideal for people who want the benefit of an actual table without buying a huge piece.
If you're looking for an authentic table, you may not be satisfied with the PVC-laminated engineered wood table surround, but the solid maple playing surface may redeem its quality status. This playing surface is poly-coated and 1.5" thick.
This Hathaway piece breaks with convention, producing an innovative space-saving playing board design. This is a significant consideration if you can't bear the thought of any deviation from the original game. The numbered sections are at the same end. The puck must bounce off a gum rubber at the other end of the table to score.
All other expected features are included. You get carpeted, sound-absorbing gutters, sturdy legs with leg levelers, 4 red and 4 blue pucks, and a powder wooden brush.
Pros:
Comes with 180-day warranty
Uses a space-saving design
Gives the original layout a refreshing design twist
Cons:
Not made from real wood
Doesn't include climate adjusters
---
Best Pro-Style Shuffleboard Table: Playcraft Telluride Pro-Style Shuffleboard Table
Specifications
Tabletop dimensions: 130" x 22" x 4"
Tabletop Weight: 247 lbs.
Overall package weight: 785 lbs.
24" hardwood electronic scorer
3" vertical stave
Includes speed-wax
Comes with playing instructions
Features 3" leg levelers
---
Performance
Fun Factor
---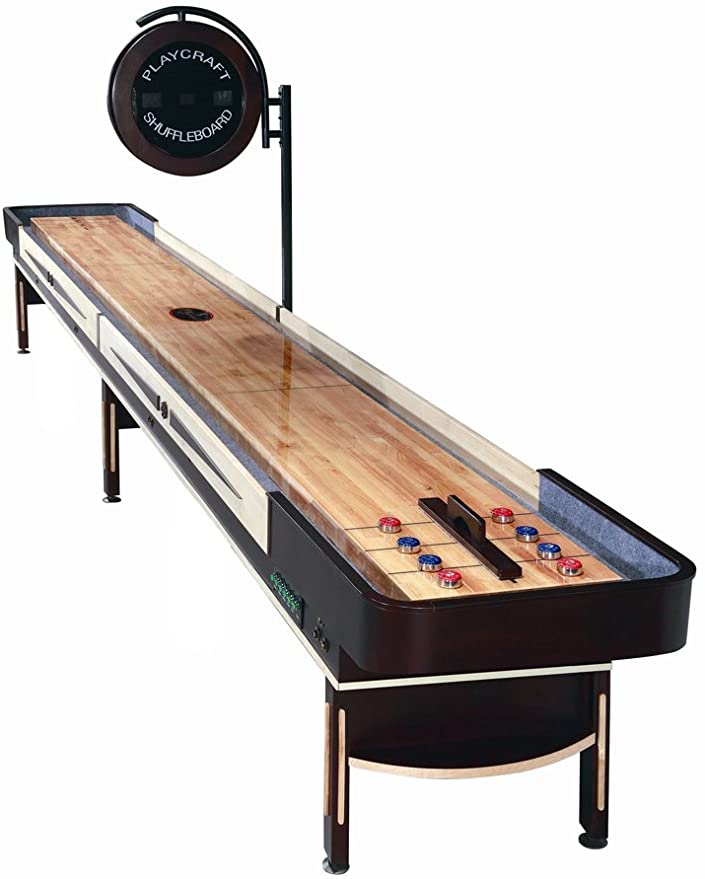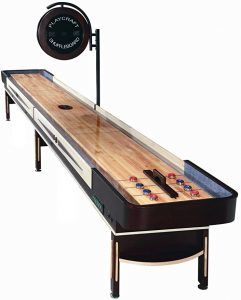 Description
If you want a table that really looks the part, the Playcraft Telluride Pro-Style Shuffleboard Table is ideal. This table comes with all the accouterments you would need to create a game night-feel, but it is best for those who don't mind some product assembly.
The overall solid hardwood construction gives this table a quality feel and comes available in 2 wood stain options: Espresso or Honey. The dark depth of Espresso creates an impressive contrast with the side panel birch detail, whereas the caramel-hue of Honey has less contrast and a less-dramatic feel.
This table's core is built with the players in mind, with traditional gray carpeted side walls and gutters that help muffle noise and 0.25" polymer butcher block surface made from Canadian Maple wood.
The overhead electronic scorer is an incredibly unique touch that kicks the competition up a notch but may be too obscuring for some.
It's scoreboard is very useful and works great even after months or years of use. It's sturdy enough and a quality board at an affordable price.
Pros:
Uses pro-style design
Has a quality, sturdy construction
Includes all essential game pieces
Has a unique, stylish design
Larger tables feature 1-2-3-4 score system
Cons:
Large and heavy
One of the most expensive shuffleboard tables
---
Best Designer Shuffleboard Table: Barrington Clyborne 12 ft Shuffleboard Table
Specifications
Dimensions: 144" x 24" x 32"
Playfield dimension: 129.875" x 16"
Exterior table top width: 1.25″
Overall weight 254.56 lbs.
Set of 8 playing weights
Includes can of wax
Features hidden leg levelers
Color: Brown and gray
---
Performance
Fun Factor
---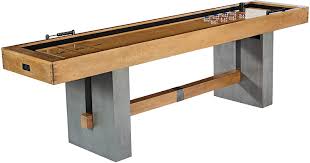 Description
This shuffleboard table comes with unequivocal coolness. The modern, clean-lined design uses industrial-looking components [1] with a rustic edge for a truly unique look.
Sadly, if you go beyond the phenomenal look, reviews on this shuffleboard are mixed. Quality can be hit or miss despite the style factor (with some people reporting warped or uneven playing surfaces), so if you want a shuffleboard piece for the long-haul, you may be disappointed.
The pre-assembled box-style legs create a solid base for the shuffleboard tabletop, but you will need help lifting the tabletop onto the legs since they are not made for helping turn the table upright.
Made from a 1.75" solid wood butcher block, the playfield surface is scratch-resistant with a 5mm poly-coating, which certainly makes for a slick game surface. If you want to enhance the game, you can use the included can of speed powder.
Also included are the traditionally colored blue and red pucks—4 blue, 4 red.
Pros:
Provides a large, sturdy playing surface
Features playfield adjustment knobs
Has a fabulous, unique style
Uses lined walls and gutters
Is structurally reinforced by steel leg brace
Cons:
An expensive piece
It has some impractical aspects
---
Best Tabletop Shuffleboard: GoSports Shuffleboard and Curling 2 in 1 Board Game
Specifications
Overall dimensions: 44⅝" x 12⅞" x 1¼"
Overall weight: 16.65 oz.
Weight/roller dimension: about 1"
Set of 8 playing weights/rollers
Ideal for 2-4 game players
Not suitable for children under 3
Color: Brown and white
---
Performance
Fun Factor
---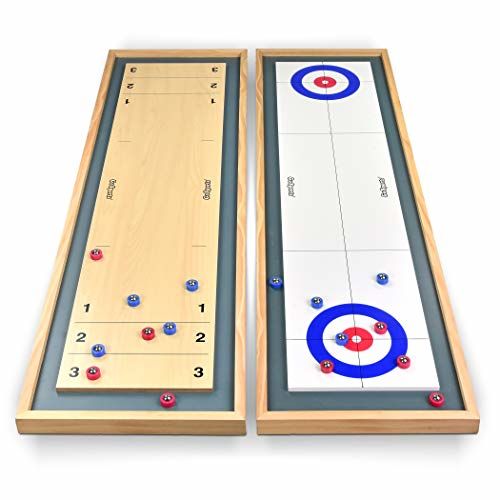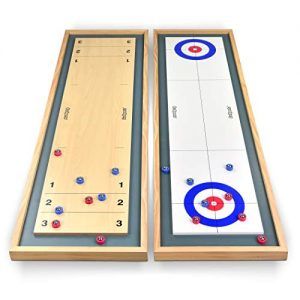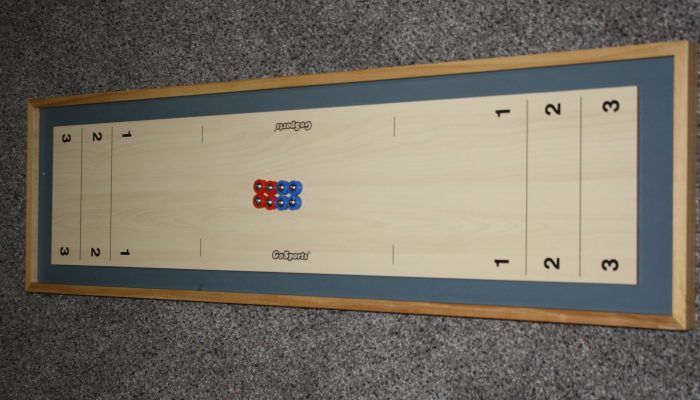 Image Credit: Mike Szlanski
Description
This 2-sided game board is an easy way to add excitement to any family night. The portable design allows you to use this tabletop design on top of any suitable table in your house, which provides ultimate convenience.
The 45" length is ideal for a lively game without being too large for rooms with limited space. This design allows you to play a serious game without investing in a large furniture piece and is far better than rolling out an inferior shuffleboard game mat.
The jury is in about this piece; the craftsmanship is high-quality, the price is fantastic, and the only complaint is tiny condition flaws such as marked edging or a slight wobble in surface detail. However, these minute details aren't enough to impact the overall appeal and quality.
This is, so far, the best shuffleboard table for the money. The solid wood surface looks and feels high-quality, letting you know it's not a cheap imitation and really elevates the gaming experience. We really like the fact that the pucks have a nice weight and glides well, perfect for the board.
Pros:
Uses solid wood playing field
Has a quality feel
An affordable, budget-friendly choice
Has a portable design
Cons:
Limited playing space
Not a full-size shuffleboard table
---
Best Beginner Shuffleboard Table: Hathaway Austin 9′ Shuffleboard Table
Specifications
"Tabletop dimensions: 95.5″ x 16″ x 1.5"
Playfield dimensions: 110.25″ x 24.75″ x 31.5″
With built-in storage
Includes 4 blue and 4 red pucks, 1 table brush, and 1 can of table wax.
2 abacus score counters
---
Performance
Fun Factor
---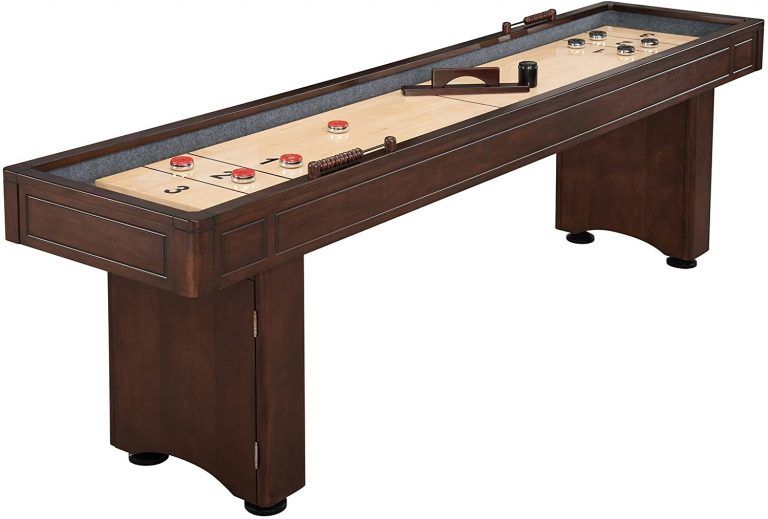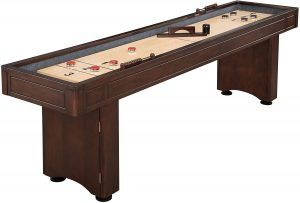 Description
The Hathaway Austin Shuffleboard gives you a roomy 9' length and classic table construction without the same price as other similar models. How does it do this? It sacrifices on material purity. Note that this purity doesn't impact quality.; it merely means you're getting an engineered piece.

The entire table surround is made from furniture-grade, mahogany wood cabinet finish, giving a worn, natural look without being too glossy or sophisticated. With independent leg levelers to give more support it needs as well as ensuring an even play on any surface.

Enjoy all your games on the tournament-grade surface, engineered wood and covered in a white maple veneer playing surface, giving you the smooth glide you need for fast-paced games.

The beaded score counters are an excellent, practical touch on the tabletop edges.

Overall, this table has everything you'd need and comes in a low-key farmhouse style design with top-quality construction.
Pros:
Comes with all necessary components
Provides a full-sized playing surface
Slightly cheaper than other table models
Sturdy, structurally reinforced design
Game-enhancing poly-coated surface
Cons:
---
Best Storage Shuffleboard Table: Hathaway Challenger Shuffleboard Table
Specifications
Overall dimensions: 108" x 24.25" x 30.5"
Playfield dimensions: 98" x 15" x 1.5"
Overall weight: 220 lbs.
Puck dimension: 2⅛"
Puck weight: 9.5 oz.
Set of 8 playing weights
Antique bronze cabinet hinges
---
Performance
Fun Factor
---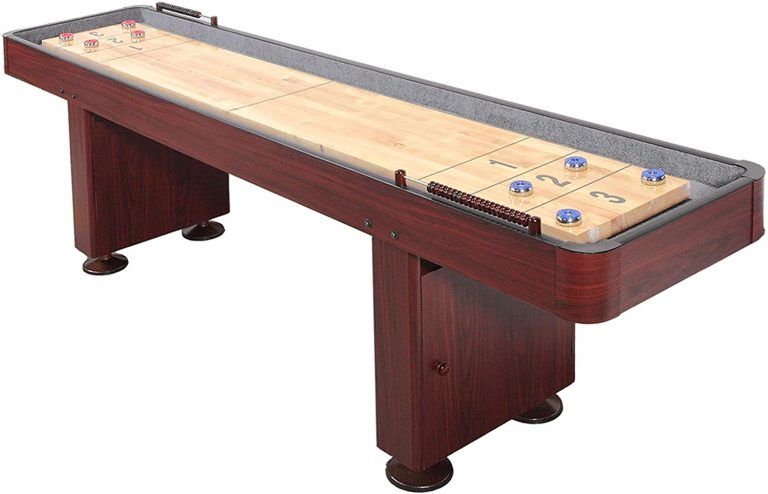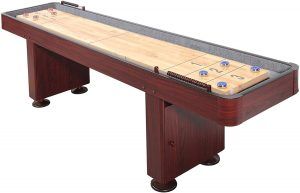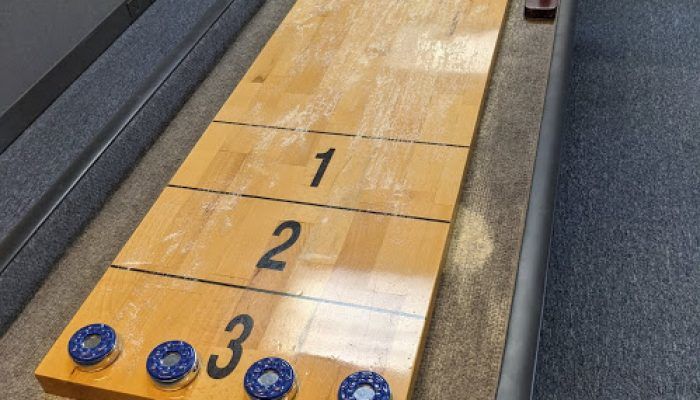 Image Credit: Sue Guidry Feigley
Description
If you want a shuffleboard with a traditional look, go for the Hathaway Challenger Shuffleboard Table. This piece isn't about flash; it's an uncomplicated design with all the essentials and practical finishing touches.
Don't be deterred by the laminated engineered wood exterior. While this may not suit everyone's taste, it still manages to look the part and provides a simple uniform appearance around the table.
The playing field surface block is constructed from hardwood, creating a high-quality appearance and excellent functionality. The integrated climate adjusters keep the playing surface completely level and flat regardless of any heat or humidity. However, you may want to replace the included can of wax/powder, which some people found too slick.
Enhance the flat, stable playing surface with the independent leg levels, which are easily adjustable to suit wherever you place it. The cleverly built-in storage adds to this table's inherent convenience, providing you with 4 shelves for any additional game-related items.
Another thing we totally agree with Ping Pong experts it the Setup. Its simple yet performs pretty well as well as its comparable to other high end shuffletables. We recommend you to level both legs before attaching to a table top so it would be easier to balance the table.
Pros:
Playing surface won't warp because of the climate
A permanent shuffleboard furniture piece
Loaded with practical features
Designed for a level playing field
Cons:
Engineered wood exterior
Requires some assembly
---
Best Children's Shufflboard Table: Best Choice Products 10-in-1 Game Table
Specifications
Overall dimensions: 48" x 24" x 30.5"
Overall weight: 51 lbs.
Set of 4 playing weights
Features non-slip footing
Material: Plastic and wood
---
Performance
Fun Factor
---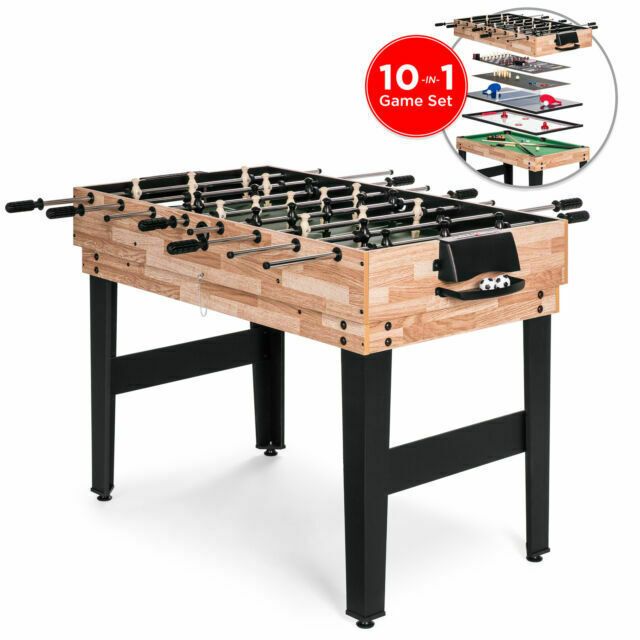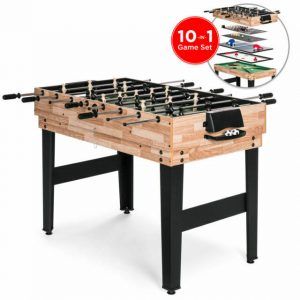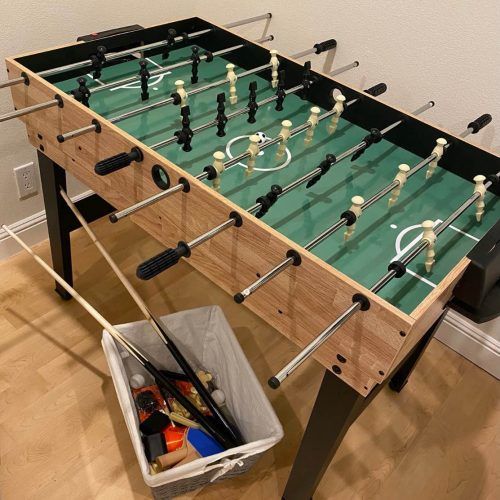 Description
If you want a flexible multi-tasking tabletop model, this Best Choice 10-in-1 Game Table gives all the choices you'd need for your next game night or to keep the kids entertained.
The 10-in-1 design gives plenty of versatility for any kind of game mood. All the appropriate accompanying pieces for each game are included in the set, complete with pool billiards, chess pieces, dice, cards, mini soccer balls, bowling pins, and 2 red and 2 blue weighted pucks.
As you'd expect for a design of this sort, the shuffleboard table layout is different from the standard. There's no wooden backdrop, no glistening playing surface, or thickly barred ending point sections. Instead, you have a black shuffleboard surface—somewhat resembling an old chalkboard—that doubles as a bowling surface.
The table has a natural wood imitation surround that will suit any kind of décor and helps give the table a distinct, quality look. The non-slip feet are a practical, safety-enhancing feature.
This is has the perfect size for kids with pretty great games they will truly enjoy. With overall great quality table and a reasonable price.
Pros:
Utilizes a simple design and construction
Versatile multi-functional piece
A cheaper tabletop model
Can store unused games within the table
Perfect side for children and young teens
Cons:
It has a cheaper construction
May not be suitable for adults
---
Best Portable Shuffleboard Table: Franklin Sports 2-in-1 Shuffleboard Table and Curling Set
Specifications
Dimensions: 45" x 13.25″
Overall weight 1.25 lbs.
Set of 8 playing weights
Each player gets 4 weights
Material: Plywood surface, laminated top, hardwood trim
---
Performance
Fun Factor
---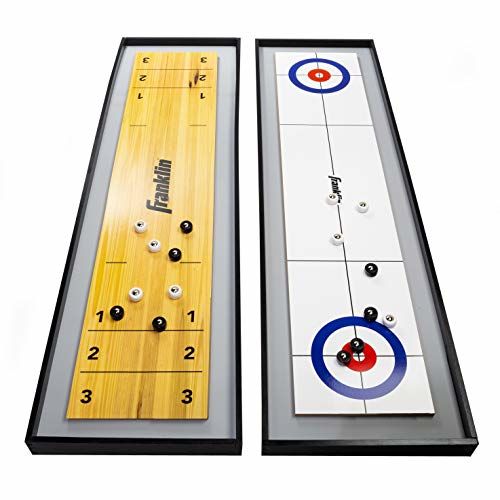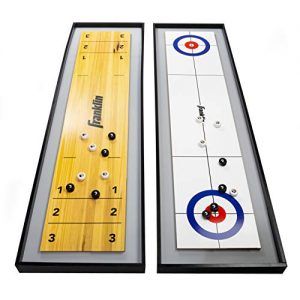 Description
You won't need to worry about awkward assembly with this 2-in-1 Shuffleboard Table and Curling Set. This is a portable style, designed to be lightweight and move around. If you want to get straight to the fun without worrying about proper assembly, this is the ideal choice.
The flippable playing surface features a shuffleboard tabletop on one side and curling set-up on the other, allowing you to transition seamlessly from one game to the other.
You don't get the entire table construction with this piece, but that doesn't severely impact this table's quality; it still feels solid despite the cheaper price point. Just don't expect a solid butcher block playing surface; it's a laminated plywood surface.
The black and white sliding pucks feature a steel ball bearing to give them the weight they need to slide across the 4' long playing surface. You also get the standard carpeted surrounding gutter and raised edges.
One of the most portable shuffleboard available today. this could fit on your kitchen counter and can even take to outdoor gatherings. It's sturdy and great quality .
Pros:
It doesn't require assembly
Cheaper, budget-friendly choice
Can start playing immediately
Easy to take to a friend's house for game night
Suitable for small homes
Cons:
Isn't a game room focal piece
Uses a simple design
---
Best Shuffleboard Bowling Combo Game: Franklin Sports Table Top Shuffleboard Bowling Game
Specifications
Dimensions: 36" x 11"
Overall weight 1.25 lbs.
Set of 2 playing weights
Set of 6 mini weighted bowling pins
Includes magnetic bumper bars
Edges are weighted
---
Performance
Fun Factor
---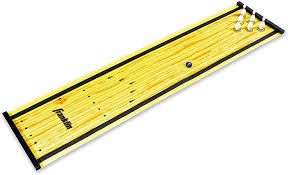 Description
Get the best of 2 family-friendly worlds: Shuffleboard and bowling. This Franklin Sports Table Top Game is excellent for spontaneous game nights.
You can enjoy an easy setup with this shuffleboard mat. There's no complex assembly or heavy construction, and you can play the game without impacting the space in your home. Simply turn this mat into a shuffleboard tabletop by placing it on any table surface, and you have your own shuffleboard-bowling fusion game ready for fun.
The weighted metal bars at both ends keep the no-stick polypropylene mat flat and smooth on the table surface, creating the kind of surface you need for playing a successful game.
Each bowling pin is weighed, just like the pucks, so they move as they need to. However, you don't get the standard 8 pucks; you get 2 pucks—1 yellow, 1 blue—to knock down the pins.
Once you've finished your game, simply roll up the mat and store it away. It doesn't get any simpler.
Based on user feedback, pucks can roll well and they don't slide to stop really fast. The mat rolls up into a small cylinder for storage which is really convenient. With 2 weighted magnetic bars that keep the mat flat.
Pros:
Is incredibly affordable
Easy to store
Gives a refreshing twist on standard shuffleboard layout
Doesn't require batteries or assembly
Can start playing immediately
Cons:
Provides a small playing surface
It doesn't have a traditional shuffleboard layout
---
Conclusion
Want an excellent quality shuffleboard table that will give you hours of fun and won't leave you with buyer's remorse? The Playcraft Woodbridge 9 ft Shuffleboard Table is the best table for the majority of people.
The heart of this shuffleboard has exactly what you need for an optimal game performance: A solid hardwood butcher block playfield—a must-have for any serious shuffleboard player. By getting this right, the rest of the table is simply a bonus (and a well-built bonus at that).
Style versatility is also a huge plus making this the best shuffleboard table for home. You aren't restricted by length or color; you're free to get the right table for your home's style and décor.
Our Overall Pick
Playcraft Woodbridge 9 ft. Shuffleboard Table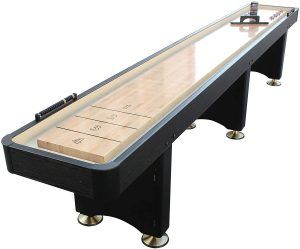 Overview
Choosing the right shuffleboard table for your game nights can add sparkle to an otherwise routine week and help bring activity and life to a quiet evening when board games just won't do. Although the shuffleboard premise is simple, it's this simplicity that makes it suitable for people of all ages, without complex rules or overcomplicated setups.
Buying an actual shuffleboard table takes things up a notch, and purchasing the right one can enhance your home and seamlessly blend into it. To buy the right shuffleboard for your home, it's essential to keep certain things in mind. You can find a table you love and can use for years to come.
Playing Surface Finish
Ask any shuffle boarding fan what the most crucial part of the table is, and they'll agree: The playing surface. This is the heart of the game, and bad quality in this area can result in a terrible game. It's incredibly frustrating to think you have the right table, only to begin playing and learn the substandard surface will never give the results you want.
The finish is crucial. Each playing surface will have a thick, glossy layer. Typically, modern shuffleboards use polyurethane or epoxy to create this slick finish, and both offer a highly durable option that extends the life of the shuffleboard. Epoxy tends to last longer, but polyurethane [2] is highly scratch-resistant, more flexible, and better equipped to deal with humidity.
Shuffleboard Material & Thickness
Thicker shuffleboards are best if you want a durable piece. Traditionally, shuffleboards were 3" thick to allow for future sanding and re-finishes, so thicker is best.
Shuffleboard can be a rough game. All it takes is an overenthusiastic move to blemish your pristine, beloved table, so material hardness is key. Solid hardwood surfaces give the best durability and strength for those heated games.
Size
Shuffleboards come in a range of sizes, but they can really become large once you get to full-sized tables. You'll see these tables ranging anywhere from 7'-22'. If you're a shuffleboard fanatic, the 22' length may be extra appealing since this is the kind used in professional tournaments, but you'll need to make sure it checks other boxes, too.
It's easy to get swept away when looking at beautiful shuffleboard tables, but before you start, work out how much space you have for one. Measure out the space exactly and know how far you can extend. This doesn't mean you can't enjoy looking or playing around with placement once you get it, but know how large is too large for your home.
Take into account the room you'll need for surrounding action. An enjoyable game will involve people gathered around the table. Do you have enough space? Chances are you won't be happy with the table if you don't have enough space to walk around it.
A couple of tables have additional components like electronic scorekeepers, which add vertical height too. If you plan on using these additional parts, you'll need to plan for those as well.
Climatic Adjusters
Wooden playing surfaces can warp over time—becoming convex or concave—with humidity. Climatic adjusters allow you to give the board the right curvature and are a must-have for a serious player.
Maneuverability and Assembly
Shuffleboards can be heavy. Not only do you want to ensure you have enough space in the room for one, you need to check you'll have the means to lift it through the house and that it fits through the front door. Stairs, corners, doorways; think about potential obstructions as you're trying to get the table to its destination. Will there be issues? Incorporate these details into your purchase and go for a smaller table if need-be.
Assembly is another major consideration. Large tables don't come fully assembled and will need some practical know-how and muscle to piece it together, then turn it upright into its position.
Looking for something more? Check out our best multi game tables for kids with MORE than just 1 game they can enjoy and our top quality air hockey tables as well as our foosball table reviews for more fun family games. We also reviewed , Olhausen, one of the best billiards brand in the market today.
Visit our homepage for more ideas on how to enjoy your family time and have fun outdoor with our disc golf basket. If you're still not sure what to purchase, check out our ping pong table buying guide for more ideas.