Disclosure: We may receive a small commission when you shop by clicking on the links on our site. This is at absolutely no added cost to you. Learn more.
Kids today spend far too much time inside and not nearly enough time outside. If you want your kids to put down the video games and spend some time in the fresh air, why not invest in a trampoline and activities to keep the kids engaged? Most manufacturers now include safety features [1] that let your kids bounce for hours without suffering even the slightest of injuries.
After looking at safety features, sizes, shapes and accessories, we picked the Springfree 13ft Jumbo Square Smart as the best one. This Device uses U-legs that add stability to keep it from shaking and an enclosure that keeps kids from bouncing out. You even get great accessories like a basketball net that help this one stand out from all the other brands on the market.
Our Top Pick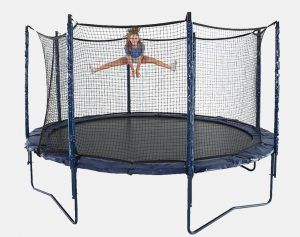 ---
Our Favorite Picks for The Best Trampoline Brands
---
Quick Summary Of The Top Trampolines

Image

Product

Purchase

JumpSport Elite 14′ With Enclosure

Powerful bounce
Heavy-duty and UV protected mat
Has an all-weather frame

Springfree 11ft Jumbo

Designed for a spacious backyard
30 times more shock absorbent than pads
It has flexible composite rods instead of metal springs

X-Large Vuly Thunder Pro

Bouncy without compressing coils or rods
Proven strong and safe
Long-lasting and soft net
Shape and Size
This workout device comes in a wide variety of sizes that can range from smaller models designed for exercising at home to models large enough for your kids and all their friends to use. Size typically ranges from eight-feet to 17-feet. Make sure that you have enough space for it that you choose, including free space both around and above this.
Don't assume that the only trampolines available today are the round ones that you played on as a kid. Many companies now make rectangular or square models that have more floor space. You can also opt for one with an octagonal design.
Capacity
Read over the description of the product carefully to determine if the manufacturer made any capacity recommendations. This will tell you exactly how many users can play on it at the same time. Letting too many people use the product at the same time can lead to injuries like concussions and broken bones.
Weight Limit
Though you may not know it, many come with a weight limit that tells you upfront the amount of weight it can support. Letting more users play on it can result in damage to the springs or the pad. Always make sure that you purchase one that can accommodate the combined weight of all jumpers.
Jump Mat
Look at the size of the jump mat in comparison to the overall size of the product. The jump mat refers to the area inside the trampoline that you can actually jump on. Some manufacturers will tell you the size and include the frame in that measurement without listing the size of the jump mat.
Number of Legs
The number of legs on it can give you an idea about its overall stability. While some models come with just two legs, those that feature four legs are usually more stable.
Frame Height
Checking out the height of the frame is especially important when buying one for younger users. Those that are higher off the ground may require a ladder or steps for kids to climb inside. Trampolines that sit closer to the ground may not have as much bounce though.
Enclosure Net
One of the best safety features found on newer models is an enclosure net, which is a net that completely surrounds the outside of the product. This keeps kids from bouncing up and off. The net should have a thick or tight weave that keeps body parts from lodging in the net.
Spring Pad
It features various springs inside that provide users with the bounce they want, but you should never buy one unless it has a thick and durable spring pad. Not only does this pad extend the life of the springs, but it keeps jumpers from hurting themselves on those springs.
Construction
Most models use either a W or a U construction, which refers to the structure of the legs. Those with a U construction are often more stable because more of each leg touches the ground.
---
Best Trampoline Brands Details – How To Pick The Best?
---
Top Overall: JumpSport Elite 14′ With Enclosure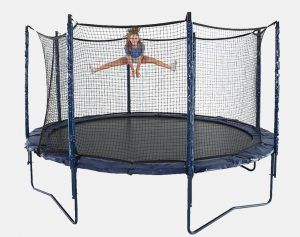 User-Friendly
Feature Set
Durability & Reliability
Many kids love studios because they can play fun games as they bounce, and with this Elite Basketball Package from JumpSport, you can let your kids recreate the excitement of those games at home.
Designed with safety in mind, it features the patented StagedBunce technology designed by JumpSport that helps the springs absorb shocks while also helping players jump higher while still staying within the confines of the enclosure.
The galvanized steel frame features a deep blue color that will retain its original color after years of use outside.
Like other safety net enclosures, the one on this comes with a tighter weave to keep hands and fingers from sticking into the material and a door that jumpers can access from both inside and out.
The basketball package that comes with this set features a backboard that you can install right on the back of the product, a cushioned hoop that helps players slam dunk balls without hitting any hard edges and an inflatable basketball that players can toss through the hoop on the backboard.
What we also like about this product is the materials that appears to be above the standard with thicker steel frame and foam paddings. solid and safe net that could last for years. Setting up is relatively easy as well.
Pros
Clear screen with adjustable brightness
Good customizable modes for this price range
Deeper detection depth than most beginner models
Cons
Little indication of the depth of objects
---
Safest On The Market : X-Large Vuly Thunder Pro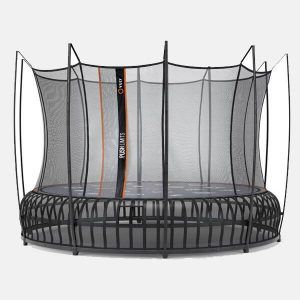 User-Friendly
Feature Set
Durability & Reliability
Depending on where you live, you might prefer a trampoline that blocks off access to the bottom like this X-Large Vuly Thunder. Though many models have an open or exposed area underneath, this is potentially dangerous because pets and even kids can run underneath and suffer injuries caused by the jumpers on the top.
Vertical and horizontal bands wrap all around the base of this model to keep and animals out.
Called one of the safest one on the market, the Thunder is 12.5-feet in size and uses a round shape, but it also comes with a net that uses a durable and dependable form of silk mixed with other ingredients to last longer.
This net completely encloses the product to keep jumpers safe, but the net comes with a door that features zippers on both the right and left as well as the front and back to help jumpers more easily get in and out.
To ensure that you can put it together yourself, Vuly created this model to use just six parts and no bolts or smaller parts that you might lose.
Pros
Detailed target ID scale for more accurate hunting
Good balance of value and features
Convenient external built-in speaker
Cons
---
Amazing for Workouts : AlleyOOP 14′ Power DoubleBounce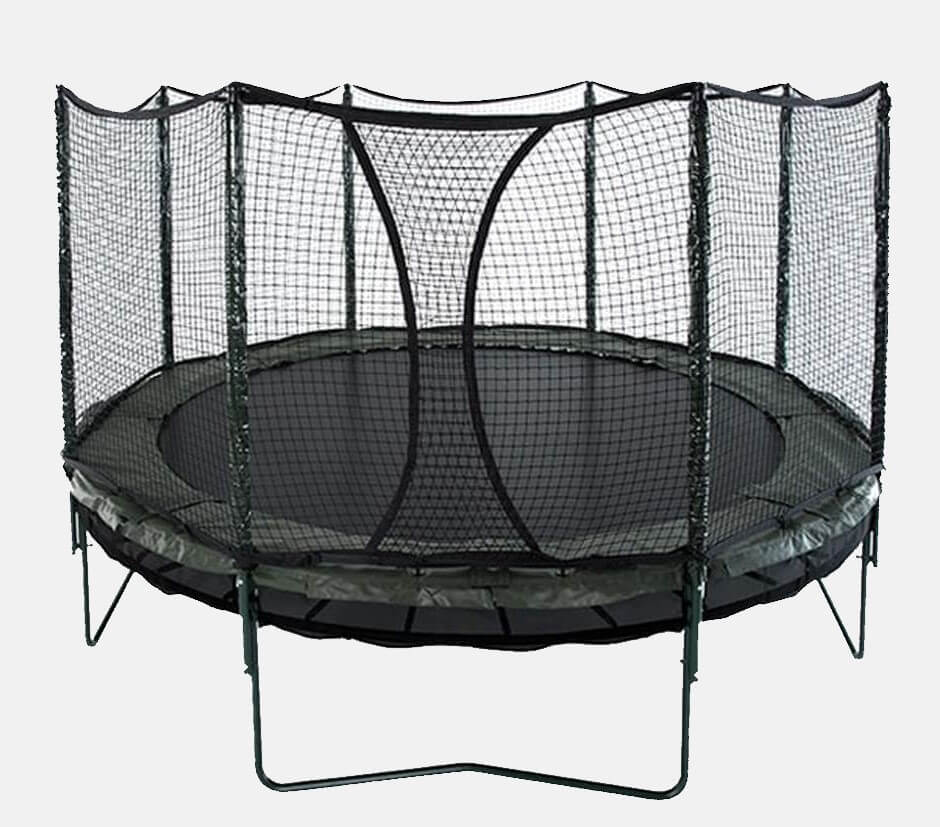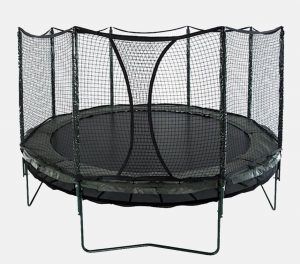 User-Friendly
Feature Set
Durability & Reliability
The AlleyOOP from JumpSport just might make you want to jump and scream as much as your kids do once you get inside. It comes with an integrated safety enclose that is easy to install, and this enclose features a durable net with a tighter weave to cut down on accidents as well as coating that prevents sun damage.
Though this set comes with just the trampoline and enclosure, you can opt for other accessories like an octagonal cage that wraps around it or a ladder that helps younger jumpers get inside.
JumpSport uses its patented DoubleBounce technology system that helps you go further and higher with each bounce, and this system uses 128 primary or standard springs around the edges that connect the jump mat to the frame as well as 64 Power Springs that tighten up that mat and put more power behind your jumps. [3]
An AirShock Safety System uses new technology to cut down on air resistance to help you jump higher while also ensuring that the springs can absorb the shock of each jump.
Pros
Good functionality and accuracy for the price
Can screen out nails and other iron
Good battery life
Cons
The display screen has few specifics on the location of metals
Credits: Jakob Barnhill
---
Favorite for Kids : Springfree 11ft Jumbo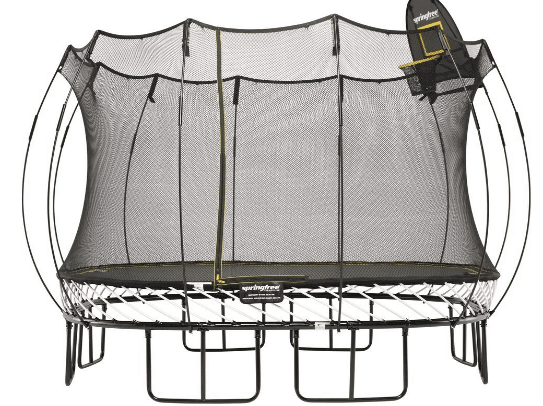 User-Friendly
Feature Set
Durability & Reliability
When you think of smart technology, you probably think about your cell phone or your watch, but Springfree wants to change the way you think about that technology with this 11 ft. Jumbo Square Smart , which is the first smart ever to appear on the market.
This product comes with an integrated digital display system that lets kids pick and choose from 10 different games that they can play on their own or with friends [2], and those games can help users burn calories and get in shape without feeling like they're working.
It also comes with a basketball hoop with a net and backboard as well as a ball for playing pick up games on it.
Rated for jumpers up to 220 pounds, this has an overall load rating of 1,100 pounds and can help multiple jumpers play at the same time.
As a year-round device, it comes with powder-coated steel legs and a powder-coated steel frame as well as an enclosure that is resistant to UV rays and won't fray. The right weave of the enclosure netting will keep little hands and fingers safe too.
We love the Springfree brand since they combine smart technology and quality to make some amazing products. Check out our detailed review of the best trampolines that they offer.
Pros
Good volume and sensitivity customization
Sturdy and strong with a 5-year warranty
Easy controls and clear screen
Cons
---
Safe and Sturdy : Acon Air 4.6 15ft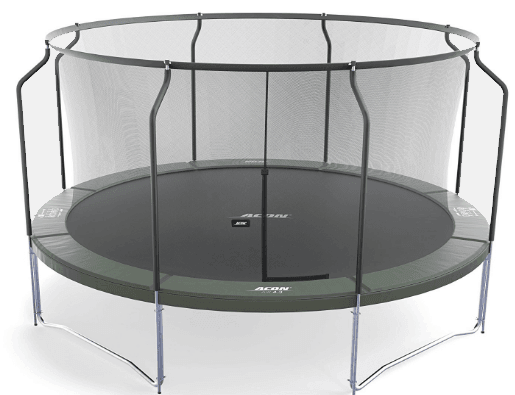 User-Friendly
Feature Set
Durability & Reliability
This ACON Air 4.6 15′ with Premium Enclosure just might be the best choice for parents concerned about their children and their kids' friends suffering common injuries on this device because it comes with one of the best enclosure systems around.
That system uses galvanized steel pipes that rise up from the legs with curved top pieces that keep the enclosure inside it and keep it from hanging over the side. This enclosure is resistant to certain weather conditions as the sun's rays.
As it does not have any restrictions regarding single users, it does have a maximum weight capacity of 295, which is strong enough that two or more jumpers can usually use it together. The polyurethane [3] jump mat has a UV treatment added to the surface that keeps sun damage from weakening the mat, and the mat has a good amount of bounce.
Made from heavy-duty steel, both the frame and the legs are resistant to environmental hazards, and the manufacturer includes a special tool for adjusting the springs.
Pros
Small enough to be easy to carry
Good accuracy thanks to the length of the wand
Audio volume varies to make pinpointing easier
Cons
Sensitivity is not adjustable
---
Best for Playing Sports: Skywalker 15-Feet Jump N' Dunk
User-Friendly
Feature Set
Durability & Reliability
Priced much lower than other ones, this Skywalker 15-Feet Jump N' Dunk with Safety Enclosure and Basketball Hoop is cheap enough that you can treat your kids to one as a birthday gift or bring one home to keep your kids occupied this summer.
It will encourage your kids to get out of the house and have some fun with their friends without sitting in front of the television. It features W-legs that keep the product stable and to prevent it from falling over when multiple users bounce on it.
Skywalker attaches the jump mat directly to the protective padding around the sides to eliminate gaps that kids can fall into and to keep kids away from all the metal areas of the product.
UV-resistant polyurethane used in both the jump mat and the enclosure net is resistant to the UV rays that might damage or weaken other materials. It's a sturdy trampoline with safety enclosures that fits well and has a good padding.
This model also comes with a lightweight basketball hoop that attaches to one of the poles for playing hoops.
Skywalker is one of the most popular brands on the market and rightfully so. They make quality products that the entire family can enjoy. Check out our informative article which will give you a breakdown of their amazing products.
Pros
3 audio tones and visual signals show kids different metals
Light enough to take on many outdoor adventures
External speaker makes it easy for families to work together
Cons
---
Very Strong : JumpSport 10′ x 17′ StagedBounce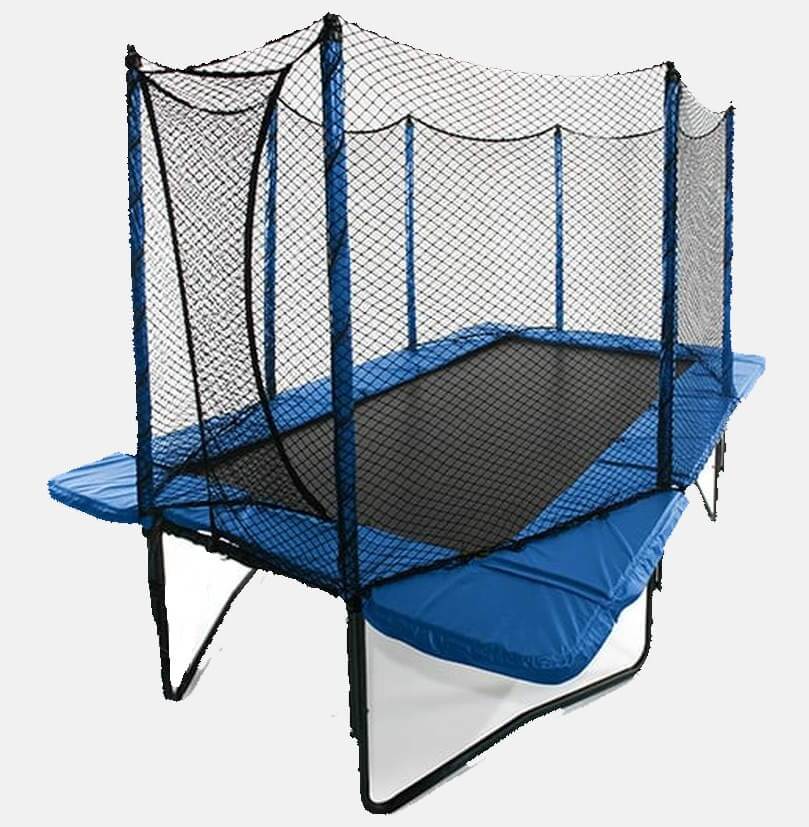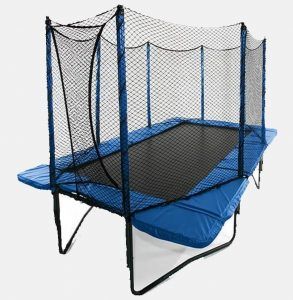 User-Friendly
Feature Set
Durability & Reliability
This 10′ x 17′ StagedBounce with Safety Enclosure from JumpSport comes with everything you need for a party or to have some fun with your family and friends.
The StagedBounce technology designed and patented by JumpSport forces half of the springs to engage each time someone makes a jump, which gives it a springier feel than some of the others on the market.
Though it has a wide jump mat, it also has a wide area of padding that surrounds that jump mat to protect those who might bump or crash into the enclosure.
That enclosure wraps around the product and comes with a small door that users can access after climbing up the included ladder, and a zipper on the inside makes it just as easy to leave the jumping area.
The heavy-duty steel frame uses a cold rolled steel that is strong and resistant to damage. JumpSport added a frame pad that covers the top of the frame to prevent accidents, this pad uses a type of PVC that is resistant to stains and most weather conditions.
Pros
Inexpensive yet durable
Light enough for very young children
Settings can be fine-tuned easily
Cons
Display and dials aren't child-friendly
---
Our Overall Pick
JumpSport Elite 14′ With Enclosure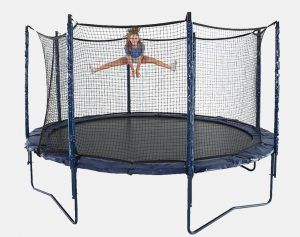 Thinking of buying a trampoline but not sure how to measure? Worry no more! Read our article on how to measure a trampoline and learn more. If you are looking for some of the best trampolines for adults on the market today, take a look at our Jumpking trampoline reviews as well as our detailed guide. Also, for more interesting articles on trampolines and other amazing leisure activities, check out our homepage!