Disclosure: We may receive a small commission when you shop by clicking on the links on our site. This is at absolutely no added cost to you. Learn more.
Whether you are looking for a metal detector that can help you find coins, jewelry or other valuables or someone who just wants a great reliable, easy to use metal detector, you are in the right place. All these 3 detectors are great in their own way and are guaranteed to serve your specific needs, whatever they may be. We have detailed all the features that you should care about while buying your next metal detector, to make deciding between these 3 models easy.
Let's first start with the similarities between these 3 models. The iron audio tones that these detectors generate, mean you don't need to check the LCD screens, and there is only a 0.3-pound difference in the weight of the models, making them easy to carry on extended hunts. The sensitive discrimination modes increase your chances of success, and the 11" search coils are ideal for deeper searches.
AT Pro is recommended on dry sand but not on wet land.
The Fisher F75 is very accurate and reads dimes to 18 inches in good soil, but you have to swing wide and fast. We also love the fact that it detects small bits of gold.
And based on user feedback, the Ace 400 is a single frequency VLF detector, so it will not perform well in wet sand or saltwater since the salt will cause too much falsing and severely limit your depth.
Below is a detailed table which will give you a clear, apples to apples comparison of the features of each of these 3 detectors.
| | Fisher F75 | Garrett AT PRO | Garrett ACE 400 |
| --- | --- | --- | --- |
| Why Consider? | A feature-packed model, including digital shielding and pinpointing technology. An excellent mid-range detector. | For hunting in a variety of terrains, the versatility and rapid recovery time make this model a top performer, even over more expensive models. | Coming with an enticing price tag, a solid warranty, and a high level of sensitivity, this detector is ideal for a wide range of users. |
| Ideal for: | A solid choice for coins, jewelry, and artifact hunters, and those who search on wet, mineralized sand. | Those who aren't sure where they want to hunt, and who value intuitive, easy-to-use controls. | Lightweight and accurate, this is a great detector for those looking to gain experience in the metal detecting world. |
| Iron Discrimination Segments | Yes, levels 0-65 | Yes, levels 0-40 | Yes, multi-toned response |
| Notch Discrimination | Yes | Yes | Yes |
| Is the Volume Adjustable? | Yes | No | No |
| Tone Levels | Yes, 4 levels | Tone roll audio | 3-tone audio system |
| Search Modes | All Metal, Discrimination, Motion All Metal, Pinpoint | All Metal, Coins, Custom, and 3 Pro Modes | Coins, Custom, Jewelry, Notch Discrimination, Pinpoint, artifacts |
| Sensitivity Depth Adjustment | Variable depth settings | 8 sensitivity segments | 8 sensitivity segments |
| Threshold Adjustment? | Yes | No | Yes |
| PinPoint | Yes | Yes | Yes |
| Waterproof | Search coil only waterproof | Yes, up to 10 ft. | Search coil only waterproof |
| Battery Condition Indicator | Yes | Yes | Yes |
| Depth Indicator | Yes, shallow, medium, and deep | Yes, 5 depth indicators up to 9.84" | Yes, up to 8" |
| Search Coil | 11" DD search coil | 8.5 x 11″ PROformance DD Search Coil | 8.5" x 11″ DD Search Coil |
| Total Weight | 3.5 lbs. | 3.03 lbs. | 2.8 lbs. |
| Headphones Included? | No | Yes | Yes |
| Operating Frequency | 13 kHz | 15 kHz | 10 kHz |
| Digital Target ID | Yes | Yes | Yes |
| Length | 45-54" (adjustable) | 43-56" (adjustable) | 40-53" (adjustable) |
Conclusion
If you will be hunting in a variety of terrains, the Garrett AT PRO boasts rapid recovery time and easy-to-use controls in all types of environments. For those who don't mind a steeper learning curve, the Garrett ACE 400 has high sensitivity, and is lightweight and accurate.
However, our top choice is the Fisher F75, an excellent mid-range model that features pinpointing and digital shielding for all terrains and prospects.
Our Overall Pick
Fisher F75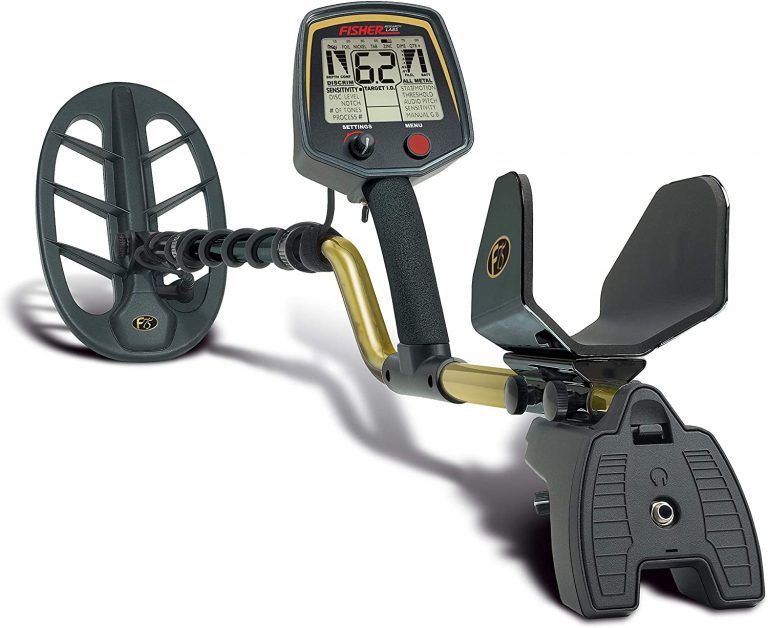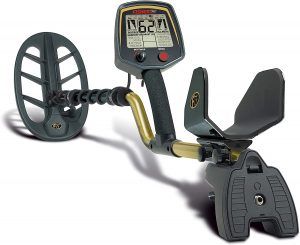 If you are looking for more information on metal detecting, check out our comprehensive guide with information on all things metal detector. Take a look at other guides that we have that should help you quickly pick the best detector for your usage.