Best Garrett Metal Detectors Reviews Of AT, ACE Series & Everything Inbetween: The Most Loved & Trusted Brand
Disclosure: We may receive a small commission when you shop by clicking on the links on our site. This is at absolutely no added cost to you. Learn more.
Garrett Metal Detectors has been family-owned and operated in the United States since 1964 [1]. The company takes great pride in its products and, since its inception, wanted to manufacture products that are affordable and extremely efficient and high-quality. In this, the company of Garrett Metal Detectors has succeeded.
This company offers a varied and useful range of metal detectors, from the basic Garrett ACE 300 to the high-end Garrett AT PRO to military-grade detectors like the Garrett ATX.
This company certainly knows what is important to detectorists, which is depth, sensitivity, and accuracy. Along with these basic tenets, Garrett includes other extras that are particularly useful to specific types of detectorists.
For example, the Garrett Sea Hunter Mark II has fluorescent markings and neutral buoyancy [2] to keep it visible and neutral under the waves. The Garrett ATX, one of the best all-terrain, military-grade detectors on the market, can lock the detection head at 90˚ to scan embankments or even walls for hidden treasure.
Garrett Metal Detectors Summary

Image

Product

Purchase

Best All-Round Metal Detector

Garrett AT PRO

DD PROformance submersible search coil enhances detection abilities immensely
Digital Target ID makes identifying finds elementary
6 modes: 3 standard and 3 pro
Compatible with 5 different coil sizes for heightened customization
PRO audio mode can help the user identify target depth and identification

Garrett ACE 400

5 discrimination modes for expert detectorists
Higher frequency is better at detecting gold and lead
Frequency Adjust feature lets you toggle for exact customization
The DD PROformance search coil is extremely popular in other models
Notch discrimination allows you to modify discrimination patterns
Iron audio tells you what kind of metal you've detected
Pinpointing lets you zero in on your target

Garrett ACE 300

5 preset modes including Zero-Disc (no discrimination), jewelry, coins, relics, and custom
Custom mode setting is saved when you turn it off for use next time
Pinpointing function works in all-metal, non-motion mode
Graphics display as well as high-quality audio for precision, sensitivity, and accuracy
Preset ground balance is excellent for beginners since you don't have to fiddle with it
Depth indicator tells you how deep you'll have to dig
Best All-Round Metal Detector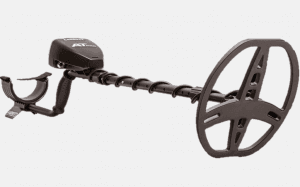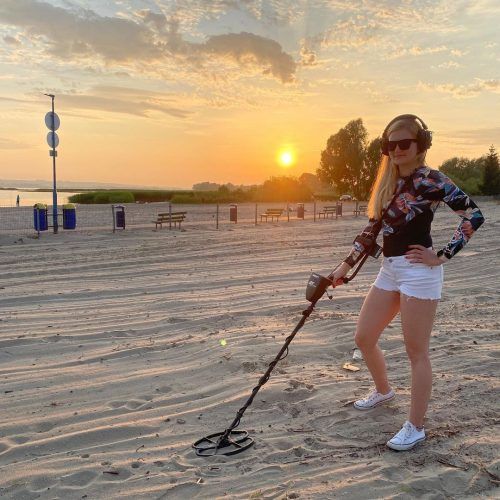 For those looking for a device with advanced features and customization at a reasonable price, look no further than the Garrett AT PRO. This metal detector is excellent for intermediates or experts with 6 modes already programmed into it.
The best features of the Garrett AT PRO are notch discrimination, both manual and auto ground balance, pinpointing, Iron audio, and a target ID with the corresponding scale. The 15 kHz operating frequency is higher than most other competitors in the same price range but lower than the Garrett AT Gold. This higher frequency makes detecting small objects, like golden nuggets, a cinch.
Two different audio modes, standard, and pro add to the Garrett AT PRO's versatility. There are 3 tones in standard, denoting different types of finds, but many more in the pro mode, so you can figure out target depth and composition.
Although it is not recommended on wet land, it still work perfectly fine on dry sand and is made to satisfy both experts and amateurs.
Pros
Batteries come installed

Excellent

interface usability

Hi-res iron discrimination levels
Cons
Design is outdated

Doesn't work well with rechargeable batteries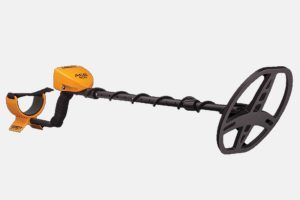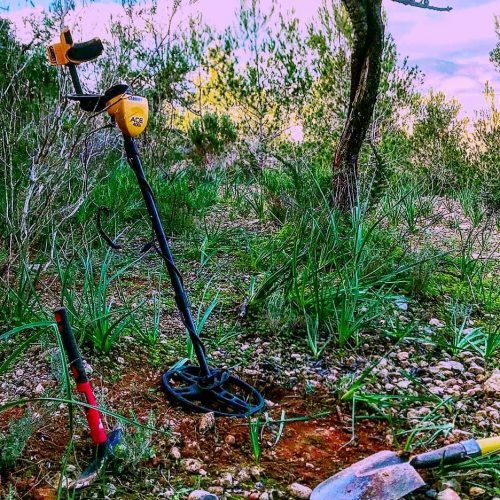 The Garrett ACE 400 takes the ACE 300 and makes it better. A slightly higher frequency of 10 kHz and the depth detector results in increased sensitivity and more accuracy.
With a new digital target ID that presents a scale of 0-99, you'll know whether you've found a full silver coin, or a plated one. The scale's common numbers correlate to the conductivity of the metal, depending on the type of ground it is in.
The iron audio is a new feature that tells you what kind of metal you've found, although it won't work if you're in Zero-Disc mode.
A 3-tone display easily and quickly lets you know the type of metal under the ground and how conductive it is. The Pulse-Width Modulation is even sharper, making your search more precise.
This detector is a great choice if you've been detecting for a while and want to get an advanced machine for a more precise detecting session. Garret is also known to have great customer service.
Pros
Digital target ID

Camlocks

help stabilize the detector

Powerful and affordable
Cons
Not good for beach hunting

Too heavy for smaller people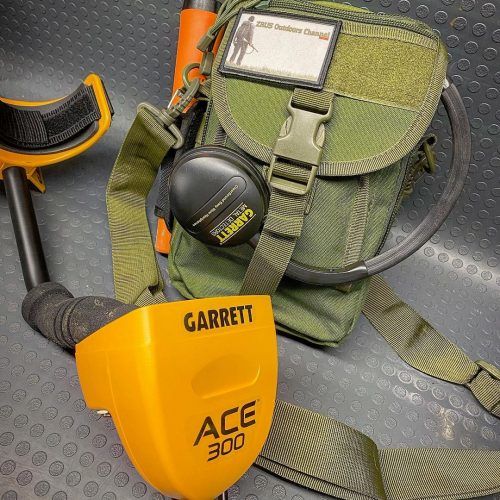 This is an excellent detector and gives you a ton of features at an affordable price. The Continuous Wave frequency operates at 8 kHz with 4 slight adjustments available, which is convenient if you're competing with power lines or other detectors.
Five discrimination modes range from Zero-Disc to custom, which is saved when you turn off your detector. With precise discrimination modes, you can focus on coins, jewelry, artifacts (relics), or whatever you like. Although you can further customize the Jewelry, Relic, and Coin settings, these will not be saved when you power down.
Iron masking finds all the valuable buried bits, even if there's iron lurking nearby. Adjust the iron discrimination, illustrated by 4 segment bars on display to discard readings from iron pieces that may be hiding something valuable.
A great, highly functional detector for someone who is just starting out but would like an upgrade from the basic model.
Pros
Enhanced iron resolution

8 sensitivity levels

Digital ID

with 0-99 scale
Cons
Factory set ground balance
Best Underwater Metal Detector
Garrett Sea Hunter Mark II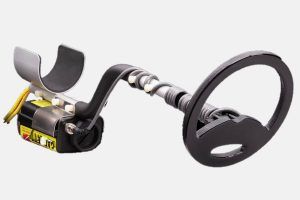 A Pulse Induction detector, the Sea Hunter Mark II is superb in highly mineralized environments like the ocean and brackish water. It also performs supremely well on wet sand, but if you want to hunt for metal in dry sand, your best bet is a VLF device.
The Sea Hunter Mark II uses a frequency of 7.2 kHz with 22 adjustable frequencies, and it pulses an astounding 250 pulses per second, so it is an ideal companion with which to search a sunken ship. [3]
This metal detector has 2 discrimination modes, which are motion modes, on top of a deep-seeking, all-metal mode. This allows you to personalize the level of trash discrimination.
There are 4 types of assemblage for all different scenarios. Full-length for proper balance and mobility; the long unit; the shortened version for underwater hunting; or fix the control box on your waist for ideal mobility. It is also brightly-colored for visibility and neutrally buoyant.
Pros
Expert detector for

serious underwater hunts

Favorite detector of

Sir Robert Marx

, expert treasure hunter

One-handed operation

for ease and comfort
Cons
Shaft may be wobbly out of water

Headphones may not be fully waterproof
Best Expert Metal Detector
If you're a serious detectorist who needs a machine that you can take on your most rugged adventures, look no further.
The lower pulse rate of the ATX makes it much more sensitive than other machines, and the frequency scan button is a huge bonus. Hit the button, and the device scans all available ground frequencies for the best one.
There are only 2 modes, which helps with simplicity – motion and no-motion. Motion mode is great when you're getting a general lay of the land. When you get a hit, use the no-motion mode to hone in on your target. The audio tone becomes steadier the closer you get to your find.
The strongest asset of the ATX has to be the automated ground balance function. No more manual switches to perfect your ground balance; the ATX can do it for you. An iron check button also helps you avoid worthless trash.
Pros
External

audio speaker

Military-grade design

2-year warranty
Cons
Heavy to carry

Headset cable difficult to attach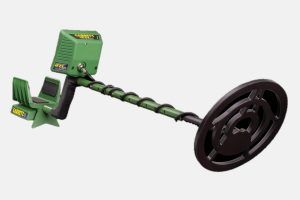 The GTI 2500 is not for the faint of heart. If you're a detectorist who only wants to go for the good stuff and tired of digging up trash, this may be the perfect metal detector.
This device operates in the mid-range of frequencies at 7.2 kHz, which is known as the "sweet spot" in terms of detecting both highly conductive and low conductive items.
One thing that makes this device stand out against all the others on the market is its ingenious true imaging size that can group objects into Size A – coin-sized – or Size D – soda can-shaped – and anything larger, which is a Size E.
The LCD shows you just how deep your find is as well with a useful graph in its Graphic Target Imaging function. The 6 modes allow you to search for all types of metal, and the GTI 2500 has both automatic and manual grounding capabilities.
Pros
Motion and no-motion mode

"Last Mode Switching" switches back to

your previous mode
Multi-tone response

based on depth and tone
Cons
Not fully waterproof

Controls can be confusing
Best Sidekick Metal Detector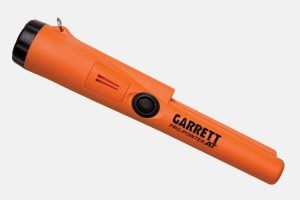 If you're sick of wasting hours digging up the wrong spot or sorting through large areas of dirt, you may need to add the Garrett Pro-Pointer AT to your metal detecting toolbox. At 9" long and only 6.5 ounces with batteries, this is the perfect device to exactly pinpoint your find.
Z-lync tech allows you to hear the signaling wirelessly through your headphones so you won't be distracted by your environment.
The re-tuning feature quickly hones in on your target with the push of a button. The 3 sensitivity modes boost accuracy, and the Pro-Pointer AT also vibrates as well as emitting audio signals.
After 5 minutes without a button depression, the Pro-Pointer AT chirrups to signal its whereabouts, and its Automatic Power-Off feature reserves battery power.
A 360˚ scanning area on the wand provides a greater surface area on the pinpointer, so it detects more accurately. If you're even slightly serious about metal detecting, a Pro-Pointer is worth it.
Based on user feedback, this is by far one of the most decent digging tool as it is designed to be submersible up to 20 feet.
Pros
Wireless convenience

Best for all kinds of terrain

Can be used in all weather
Cons
Needs extra device to sync with other detectors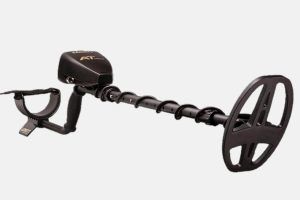 This device is focused on helping you find those tiny bits of gold that others may have overlooked.
The automatic and manual ground balance is great on its own, but with the Ground Balance Window, it becomes a gold-seeking machine. Gold usually occurs in highly mineralized areas, so it's important to get a device that can handle it, like the Garrett AT.
This metal detector is ideal for searching in shallow, freshwater areas highly conducive to gold. And the high operating frequency of 18 kHz detects golds in the smallest amounts.
The continuous audio response feature lets you hear the signals that are less than obvious, and the all-metal mode provides excellent depth and sensitivity.
Even though it is mainly purchased to look for gold, the True All Metal Mode makes it easy to look for jewelry or relics with 2 different discrimination methods. This is a great gold hunting option at an affordable price.
Pros
Excellent ground balancing

Ideal for gold hunting

Provides greatest possible sensitivity and depth
Cons
Garrett AT MAX Waterproof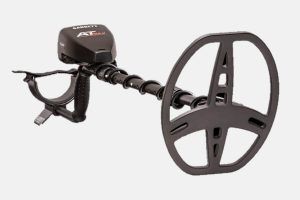 The Garrett AT Max is an extremely sensitive and accurate metal detector that you can take in every terrain imaginable. This bundle prepares you for treks into streams, mud, and marshes.
Marketed as an advanced, all-terrain, single-frequency metal detector, this device operates at 13.6 kHz and can detect a wide range of objects. The adjustable ground balance can help if you're interested in detecting highly mineralized environments like the seaside. There are both auto and manual ground balance adjustments in quarter-point increments for ultimate accuracy.
The AT Max's adjustable thresholds and sharp audio signals help you delineate your objects with more precision than any other detector. The Z-Lync wireless technology is 6 times faster than Bluetooth to give you an almost instantaneous result.
The metal detector's included 8.5" x 11" patented DD search coil can help you search deeper than ever before, and the coils are interchangeable with other Garrett detectors for added convenience.
Based on user feedback, S-shaft design is more ergonomic than the straight shaft design. You don't have to worry looking for replacements of its parts since there are more aftermarket accessories and upgrades available, such as coils. Afterall, Garrett has a better repair and warranty service.
Pros
Built-in Z-lync tech

Auto-pairing

6 times faster

than Bluetooth
Cons
May be extremely chattery or chirpy

Changing batteries may lower sensitivity
Conclusion
Garret Metal Detectors knows what's important to today's detectorists. With ample features for improved accuracy, depth, sensitivity, and incredible assets like Z-Lync tech and the Pro-Pointer, every expedition can succeed.
Every product is backed by the company's warranty, which has a long history of excellent customer service. It doesn't matter whether you're just starting in metal detecting or are looking for something very specialized, Garrett has an option for you.
If you are curious about the workings of metal detectors or you want to check out other popular brands on the market, head over to out detailed guide where we answer all your questions. We have also put together a list of our favorite models and written in-depth reviews of metal detectors to make picking your favorite one very easy.