Disclosure: We may receive a small commission when you shop by clicking on the links on our site. This is at absolutely no added cost to you. Learn more.
The Halo Rover X is a beast of a hoverboard that packs great power, torque and speed in a strong, sturdy and sleek body. It is extremely durable and can take a beating while still performing without a hitch. Its training modes make it a great starter board, that also suits your needs as you gain more experience and ease in to the more advanced riding. It is one of the best all-terrain hoverboards.
Its great battery life, excellent sounding Bluetooth enabled speakers and smooth ride will make this hoverboard a hit amongst the whole family. You might have a bit of a sticker shock at first. But the quality, safety and features of Halo Rover X make it a bargain. It certainly has become one of our favorite off-road hoverboards.
Our Top Pick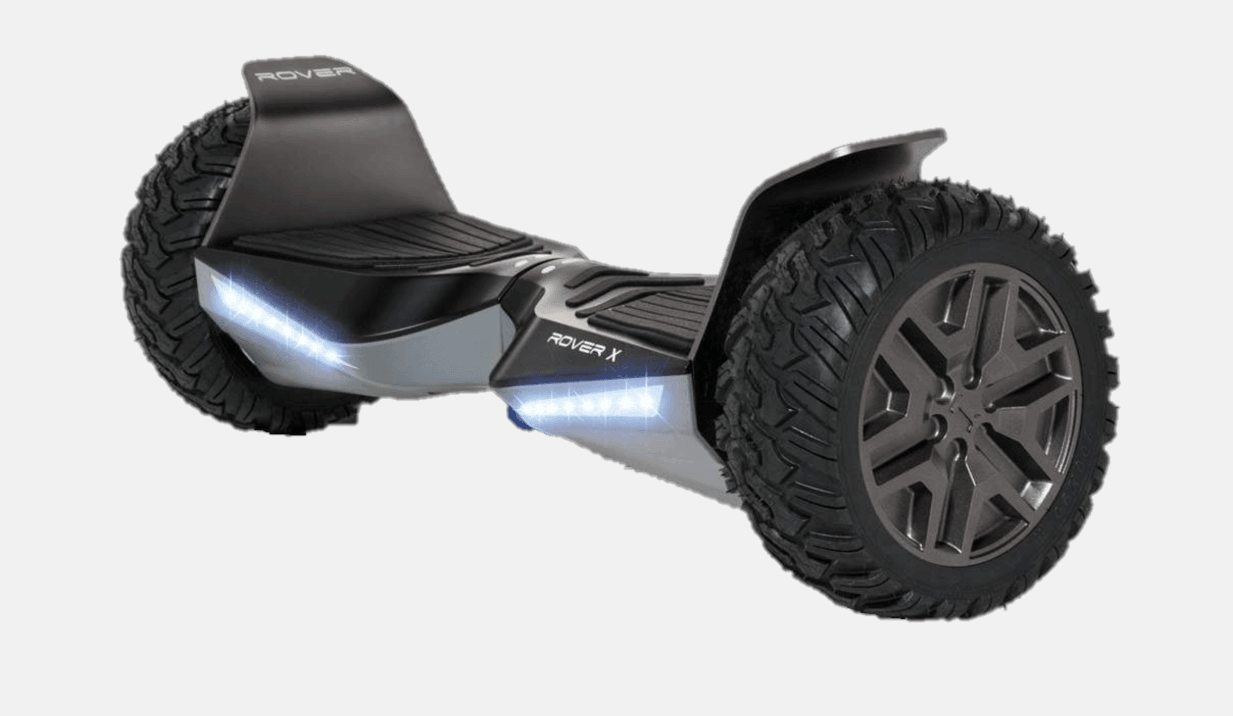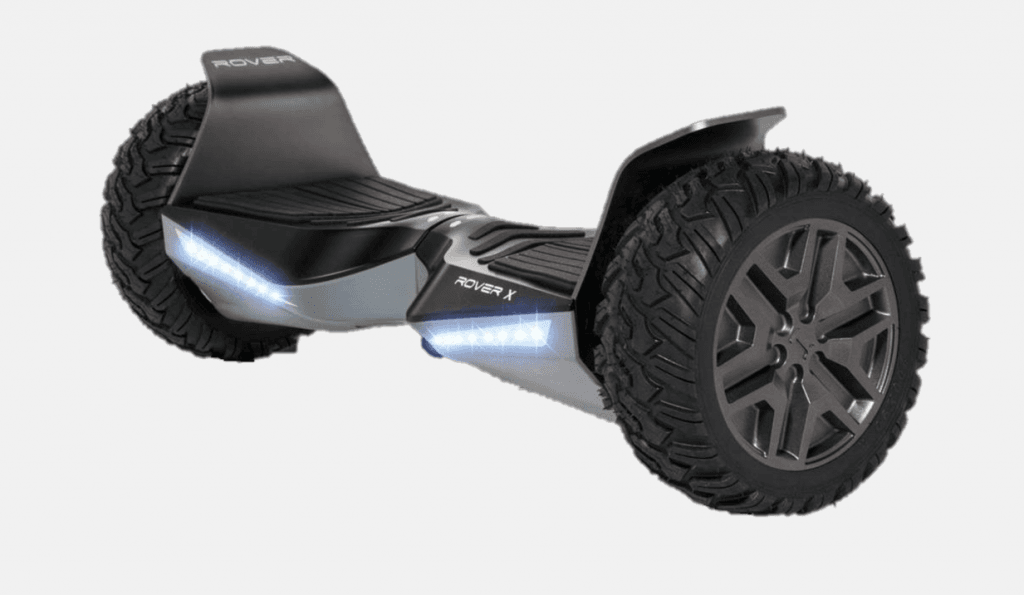 Motor Dual 400W with dual independent gyros
Range per charge 10 miles / 16 kms
Awesome all-terrain/off-road hoverboard
Rugged and durable construction
Technical Specifications
| | |
| --- | --- |
| Self-balancing technology | Yes |
| Range per charge | 10 miles / 16 kms |
| Speed | 10 mph / 16 kph |
| Maximum Incline | Up to 20 degrees |
| Loading capacity | 44lbs to 264 lbs (20 kg to 120kg) |
| Dimensions | 26.4 x 8.7 x 9.6 inch / 669 x 220 x 243 mm |
| Weight of Hoverboard | 32 lbs / 14.5 kg |
| Bluetooth controlled | Yes, App and speakers |
| Wheel size | 8.5 inch (hard rubber tires) |
| Charging time | 2.5 to 3 hours |
| Battery type | Rechargeable Lithium Ion, 4.3 Ah, 36V, 154Wh |
| Motor | Dual 400W with dual independent gyros |
| Water resistance | IPX4 – Splash resistant |
'Indestructible' build and power to conquer all terrains'
'Indestructible' is the word used by the manufacturer to describe this hoverboard. With its high-grade aluminum body it is certainly a super durable and well made hoverboard. The wheel guards help reduce the chances of damage to the
body of the hoverboard and also prevent clothing from getting stuck in the wheels.
Halo Rover X is equipped with wide deep grooved no-flat plastic tires that provide amazing traction and stability on all kinds of surfaces. You can ride this baby from a carpeted surface, to pavement, lawn, gravel and sand on the beach without a hitch. The 8.5 inch wheels also provide plenty of clearance from the ground, so you can ride worry free on uneven terrain.
The dual motor design with powerful 400W motors provides plenty of juice to zip around even if you decide to go off-road. You will be able to carry heavier loads at faster speeds and up steeper inclines without any strain.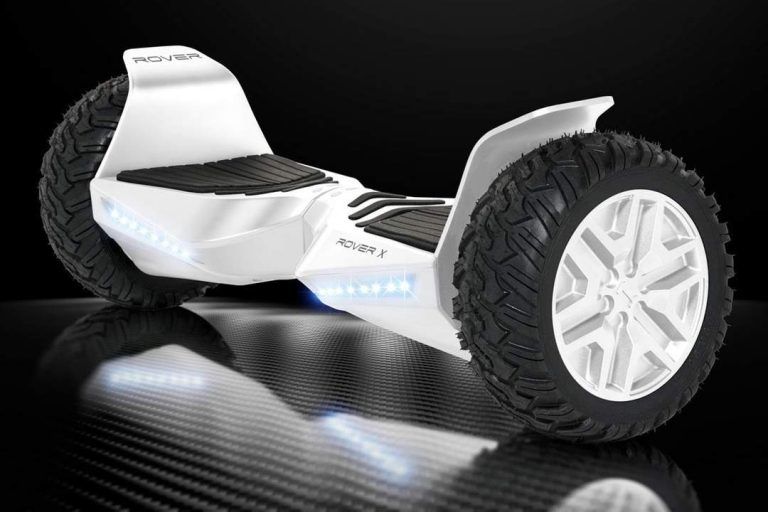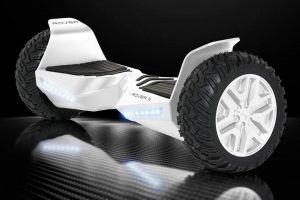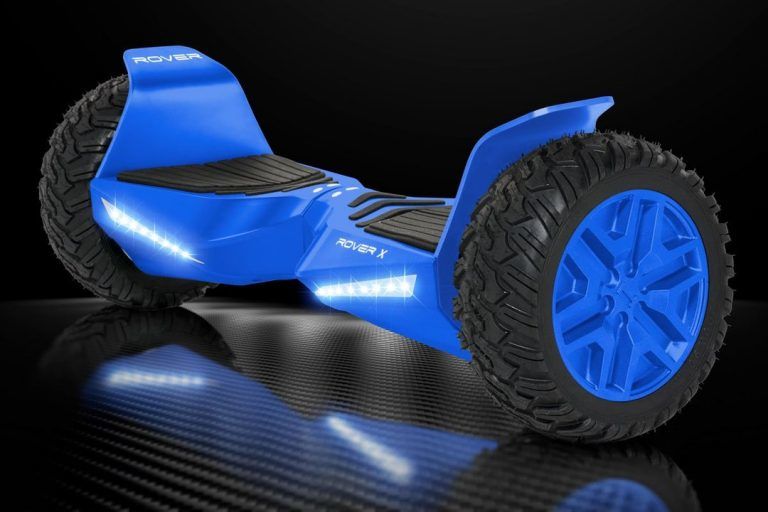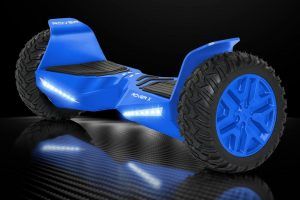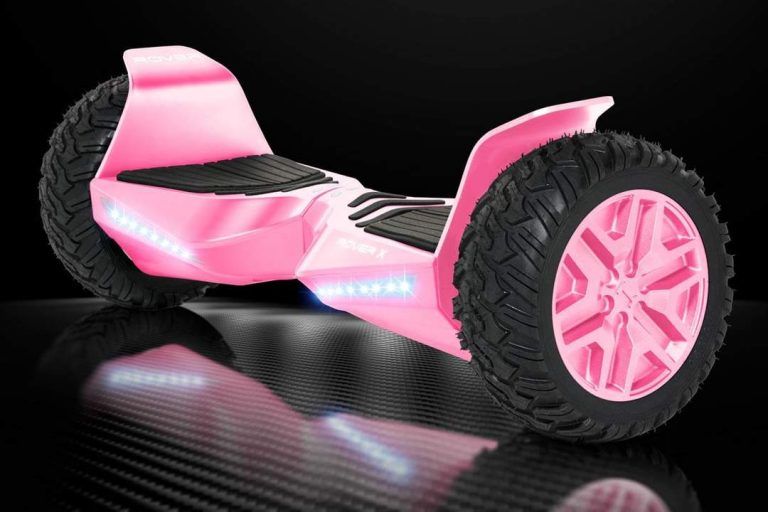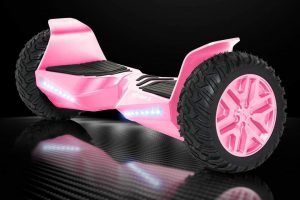 The Halo Rover X is styled with sleek angular edges that are reminiscent of high end sports cars. It comes in 4 beautiful colors – Black/Grey, Blue, White and Pink, something for everyone in the family.
It also comes with a hard carrying case that you can use to transport the hoverboard.
Fast speeds and customizable limits while learning
The Halo Rover X is one of the fastest hoverboards on the market. The Rover's powerful motors will easily propel the hoverboard to a top speed of over 10 mph. Most of the competition max out at 7.5 mph.
If you are new to hoverboards and find the high speed intimidating or if you are a parent who is concerned about your kids' safety, do not worry. The people at Halo have provided users with 3 training modes – beginner, intermediate and advanced. You can adjust the max speed for each mode to your preference for a comfortable and safe ride. Customization and selection between modes can be done easily though the Halo smartphone app or by using the 'ON' button on the hoverboard.
Smartphone app to control and monitor the hoverboard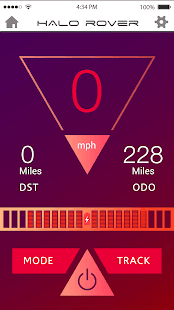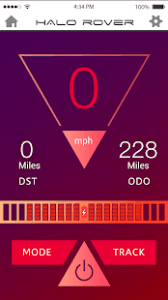 Halo Rover X hoverboard is accompanied by a handy smartphone app that you can use to monitor and control your Rover. You can digitally lock the hoverboard by switching it 'ON' or 'OFF' through the app. The app also has the following features.
Speedometer: Track your current speed and the top speed during your ride.
Trip meter: Track the distance you have travelled since your last charge.
Odometer: Monitor the total distance that your hoverboard has travelled.
Battery Level: Keep track of the battery's charge level to know when you will need to be recharge the hoverboard.
Driving modes: This allows you to customize/pick between one of the 3 modes; Beginner, Normal/Intermediate, and Advanced.
Track routes: You can easily locate and track your routes on the map.
The app connects to the board via Bluetooth and we found that sometimes this does not work smoothly and runs into connectivity problems. Restarting the app usually fixes the issue. This is definitely something that can be improved.
Speakers with Bluetooth connectivity
The Halo Rover has built-in Bluetooth speakers. You can pair these with your phone and play your favorite tunes as you ride with the wind blowing through your hair. The hoverboard has a relatively loud start up sound every time you switch the board on. We found this mildly annoying and could have certainly done with out it.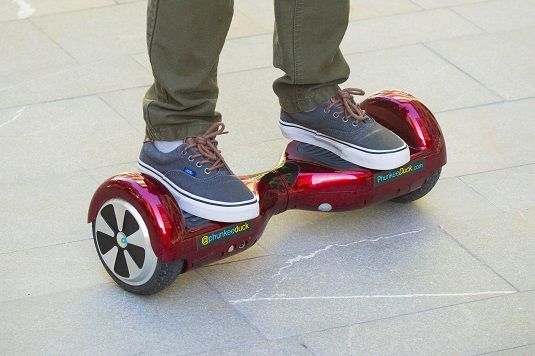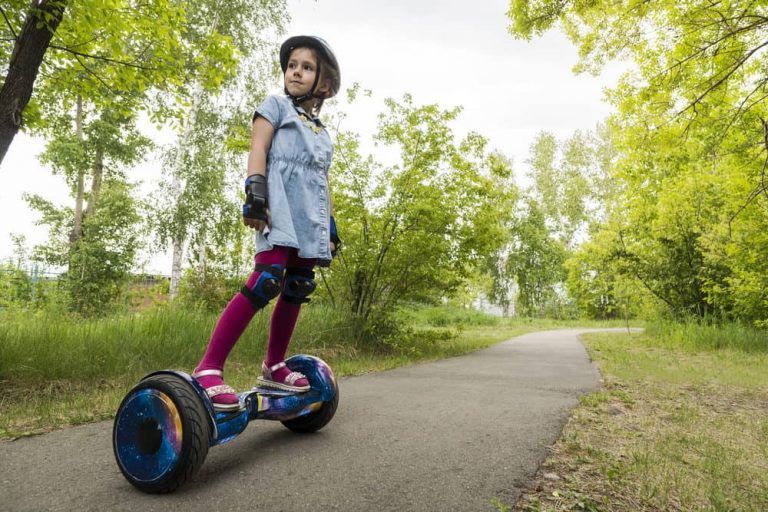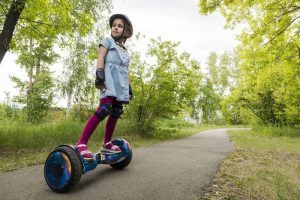 One of the safest hoverboards
The Halo Rover X is one of the safest hoverboards on the market. It is both UL 2272 and UL 2271 Safety certified [1]. This means that their electrical system (UL2272) and the battery (UL2271) have both been rigorously tested to ensure there are no defects. The Rover boards are also equipped with LED headlights, brake lights and turn lights for visibility around pedestrians and traffic.
Great customer support
We have found that Halo prioritizes their customers. Their knowledgeable support team is known to provide timely support in resolving any issues or questions. They have also created an array of tutorial videos on Youtube about device configuration, Bluetooth setup, Protective wing set-up, etc. We found these videos and the FAQ section on the website very helpful to get the Rover up and running within no time.
The Rover comes with a 1 year warranty for any defects in the device. Halo has a reputation of being pretty responsive in addressing shipping defects or issues and replacing or repairing your board with no questions asked.
Sturdy all-terrain hoverboard with plenty of power for all your needs
The Halo Rover X hoverboard is one of the most popular hoverboards on the market, and deservedly so. Its strong and sturdy aluminum frame with powerful motors and rugged tires make the Halo Rover X a true all-terrain hoverboard. The accompanying app provides the rider with the ability to monitor and control features of the hoverboard. The Bluetooth speaker system on the hoverboard sounds great and will have you rocking when you ride.
This hoverboard might seem to be on the pricier side at first. But it will win you over with its performance and features. We really enjoyed playing with … Er … testing the Halo Rover X hoverboard. If you are looking for a hoverboard that will last a long time and one that your whole family can enjoy, then the Halo Rover X is the hoverboard for you.
You should also check out our article on best hoverboards if you want to check out more options or visit our home page for more leisurely activities.
Halo Rover X