Best Minelab Metal Detectors Reviews: Great Quality From A Loved & Trusted Brand
Disclosure: We may receive a small commission when you shop by clicking on the links on our site. This is at absolutely no added cost to you. Learn more.
Minelab is synonymous with the finest metal detectors in the world. Producing precision-engineered detectors in Australia, the brand has been supplying explorers and treasure hunters with the highest-quality metal detectors for more than 3 decades. Its exacting standards meet military-specifications, and armed forces worldwide use these detectors to find mines in warzones.
Minelab sees rugged terrain, mineralized soils, sands, and deep water as challenges. Each metal detector is made from rugged materials that withstand the elements, and is equipped with the latest technology. Happy customers report finding nuggets where other detectorists have already passed over the land and missed the find.
While Minelab is based in Australia, its distribution network spans the globe. The 50-strong research and development team takes feedback from its distributors worldwide who hear customer reports firsthand, and consistently produce the best and most responsive detectors on the market.
For a world-leading metal detector brand, look no further than Minelab.
Minelab Metal Detectors Summary

Image

Product

Purchase

Best Overall Minelab Metal Detector

Minelab GPZ 7000

Full-color LCD
Waterproof Super-D smart search coil
Intelligent GPS integration system
Advanced technology reduces audio lag time

Best Minelab Metal Detector for Value

Minelab Go Find 66

Automatic ground noise reduction
4 preset find modes
Bluetooth compatible wireless headphones
Attractive sleek and slimline design

Best Minelab Metal Detector for the Beach

Minelab CTX 3030

Reliable and adjustable armrest lock
Innovative battery sand seal for the beach
Settings available in multiple languages
Impressive for deep and more shallow searches
Best Overall Minelab Metal Detector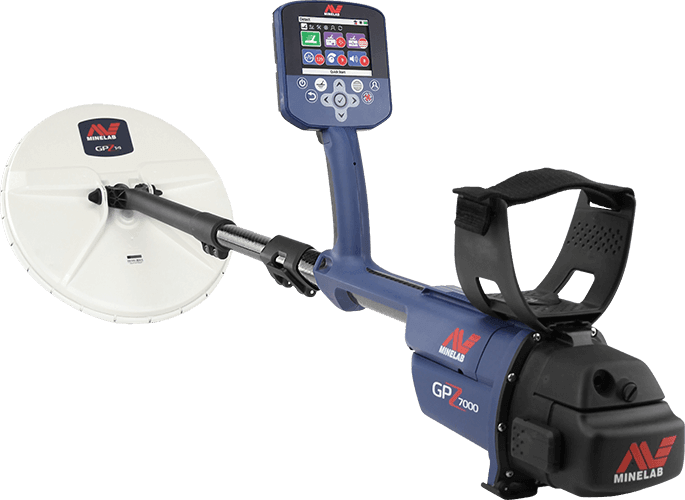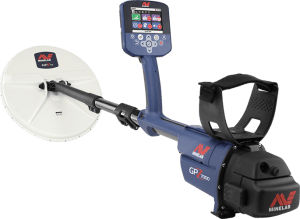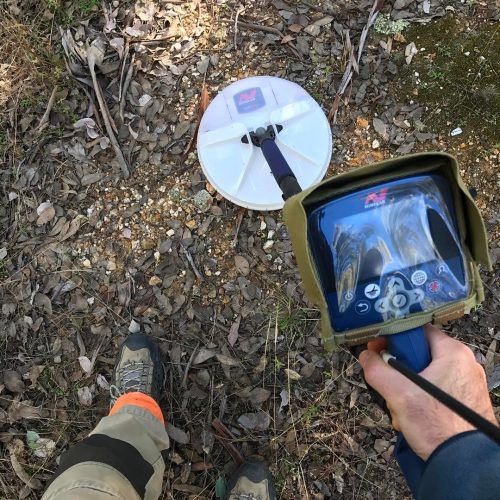 Minelab promotes its GPZ 7000 model as the future of metal detecting, and we're finding it hard to disagree. While the price tag is high, we can say that it represents excellent value for money. If you are traversing grounds where you've hunted before, take this detector over the area again, and you may turn up undiscovered finds because it can search for deep, small nuggets.
The interchangeable underwater and land handles provide improved grip, and the audio transmission has a lag time of under 10 milliseconds. The U-Blox GPS system matches time and location data with your detector settings, so you don't search the same area twice.
The enhanced noise immunity technology cancels unnecessary chatter, and wireless technology means you can search without troublesome cables and wires. For your comfort, the headphones are interchangeable, allowing you to wear your most comfortable set. The waterproof search coil means you can search in depths of up to 3 ft.
According to metal detecting experts, this machine has a variety of exciting features and new technologies. A multipurpose detector that can find lots of things at the same time with the help of its wireless audio, integrated GPS and a weatherproof platform. Plus its easy to navigate for detecting ang mapping with icons showing settings at glance.
Pros
Finds deeper, larger gold nuggets

Variable search modes

Precision ground balance
Cons
Expensive, so best for advanced and professional detectorists
Best Minelab Metal Detector for Value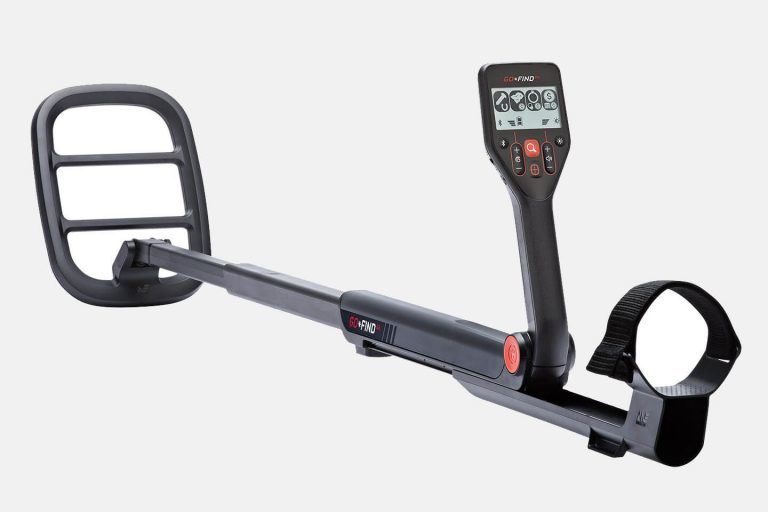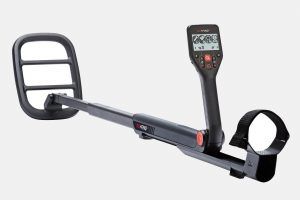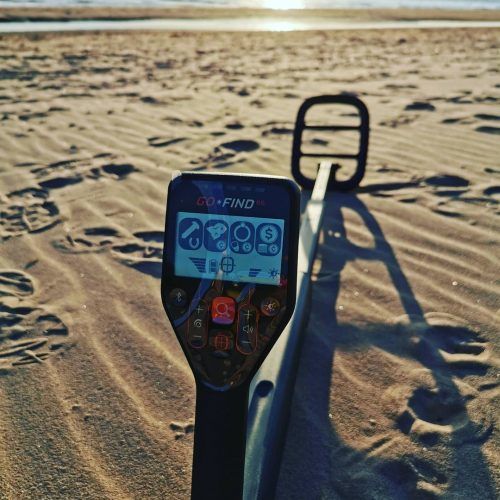 Metal detectors don't have to be expensive, and we were pleasantly surprised to find features on this model that you usually find on more expensive detectors. The Smartphone Pro app allows you to record your favorite hunting spots on Google Maps, and even listen to your music playlists through the headphones.
We love the ability to share favorite locations with fellow detectorists through the app. The GO-FIND feature uses LED lights to identify if you've found treasure or trash, so you only dig when you need to. The adjustable shaft helps to find your most comfortable carrying position, and it collapses for easy transportation.
For personalization, peel and press the included camouflage skins, and instantly blend into your search environment. The large search coil excels when hunting for treasure deep underground, and the pinpoint locator provides accurate information about the precise position of your find. The generous number of included accessories make this a value-packed choice.
Pros
Adjustable shaft for carrying comfort and easy transportation

Pinpoint mode for improving the accuracy of find location

Comes with a 2-year limited warranty
Cons
Search coils are not interchangeable
Best Minelab Metal Detector for the Beach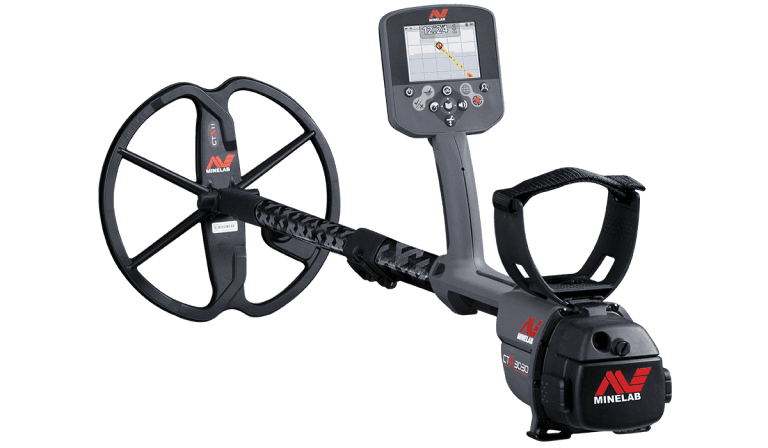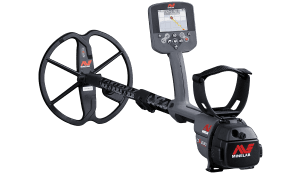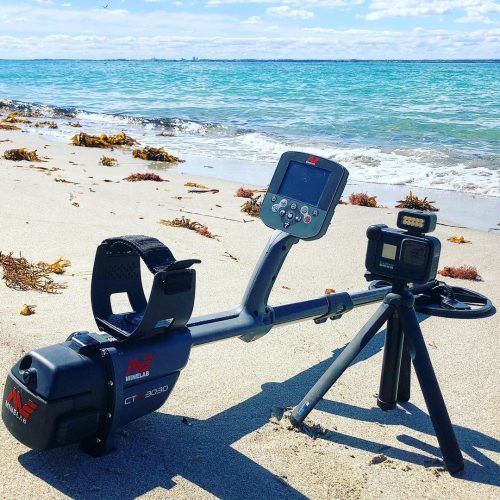 Beach metal detecting means highly magnetic sand, variable degrees of mineralized terrain, saltwater, and potential damage to your battery. Minelab tackles these issues with vigor, and the intelligent O-ring design prevents sand from compromising battery integrity.
During testing, the full-color LCD provided instant clear, informative feedback on targets, even when searching at depths up to 10ft underwater. The exceptional range of frequencies allow you to search with high and low settings, ideal for switching between shallow and deep hunting, or large and small targets.
The ergonomic design places the weight of the frame behind the armrest, removing strain from your forearms. You can adjust the armrest to suit your frame, which aids with good posture and reduced tiredness or injury.
The target trace, and target separation functions simplify identification, alerting you to only the finds you are hunting. Programmable tone ID settings give clear indications for find characteristics, saving wasted digging time, and eliminating junk finds.
We can't deny that it's heavy but not too bad with the help of its shoulder strap. The coil options work well for different terrain. This is the best machine that will last for years.
Pros
Suitable for searches on multiple-terrains

10 customizable search modes

Backlit LCD for low-light conditions
Cons
A relatively heavy metal detector
Best Minelab Metal Detector for Small Nuggets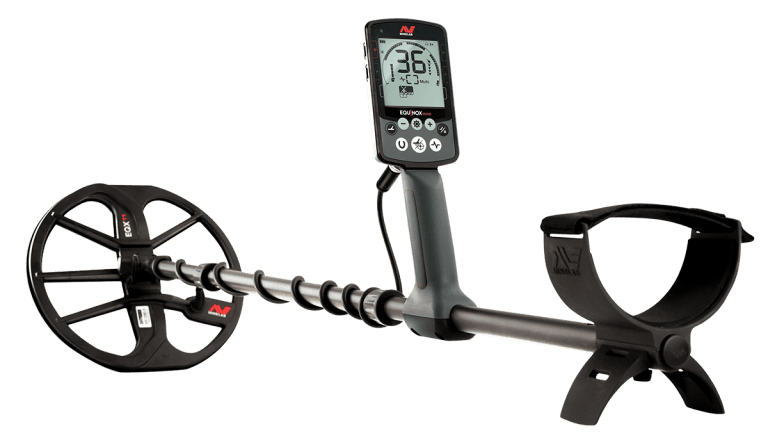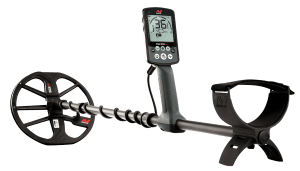 If you search by ear or have hearing problems, you'll enjoy the ability to shift non-ferrous tones and volumes. Complementing that ability, the Equinox 800 has wireless capability, and we found no lapse in signal transference from coil to headphones.
The advanced options were responsive and triggered increased sensitivity, giving hits for shallow and deep targets. However, we did notice it was difficult to separate targets at low settings. Switching between the 4 detection modes is straightforward, and moving between high and low frequencies contributed to more effective searches.
With 50 target ID segments, eliminating junk finds is easy so that you can concentrate on valuable finds. The automatic ground balance negates highly-mineralized soil effects, helping to find nuggets that other detectors may miss.
The rechargeable long-life lithium-ion battery is environmentally-friendly and saves money over the long-term. We found the backlit LED display was excellent in low-light conditions so that you can hunt long into the evening.
This is one of the most flexible machine on the market at the moment when it comes to tweaking the sensitivity and descrimination. It's completely waterproof and the wireless bluetooth headphones are a huge plus.
Pros
8 custom search modes

Programmable target IDs

Automatic and manual ground balance adjustments
Cons
Some users found materials to be poor quality
Best Minelab Metal Detector for Beginners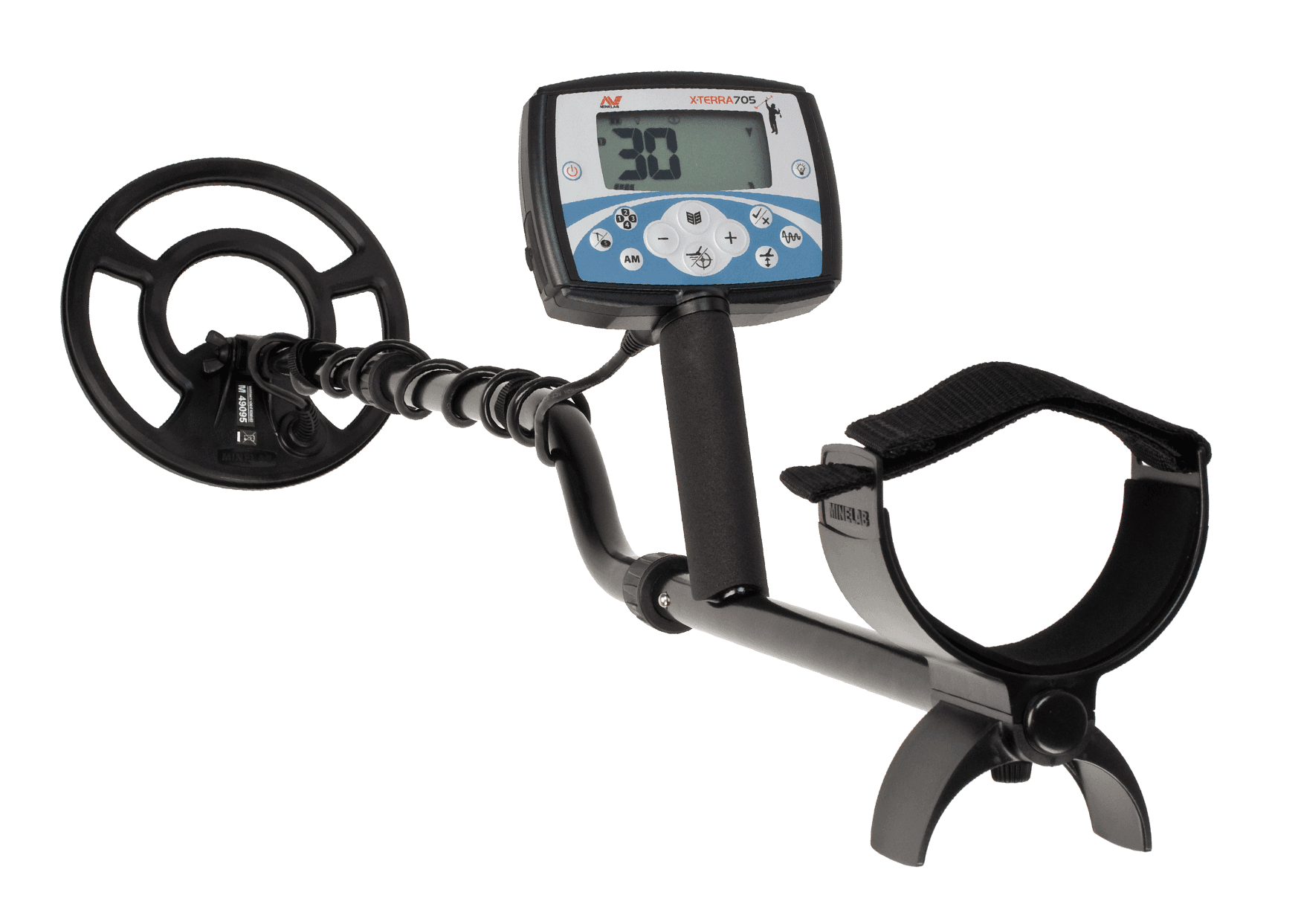 User reviews are almost universally positive for this beginner metal detector from Minelab. The easy set-up meant we could start searching almost right out of the box, and the impressive battery runtime of up to 25 hours meant we never had to worry about losing power.
The large backlit LCD was easy to read, and we found the menu was presented in a simple and efficient format. Although it is a beginner model, we could hunt coins, artifacts, and golds using a range of configurations without difficulty. The lightweight design meant we could search for a long period without our arms tiring, contributing to a pleasant day of detecting.
The multiple search frequencies help when detecting at varying depths, and the interchangeable search coils mean you can experiment with various setups. Adjustable threshold and discrimination settings add to this versatile metal detector's flexibility, allowing beginners to find their most effective positions for finding valuable treasure.
Pros
Adjustable threshold and sensitivity

Lightweight design reduces arm strain

Visual and audio low battery alerts
Cons
Wireless headphones would have completed the package
Best Minelab Metal Detector for Easy Set-Up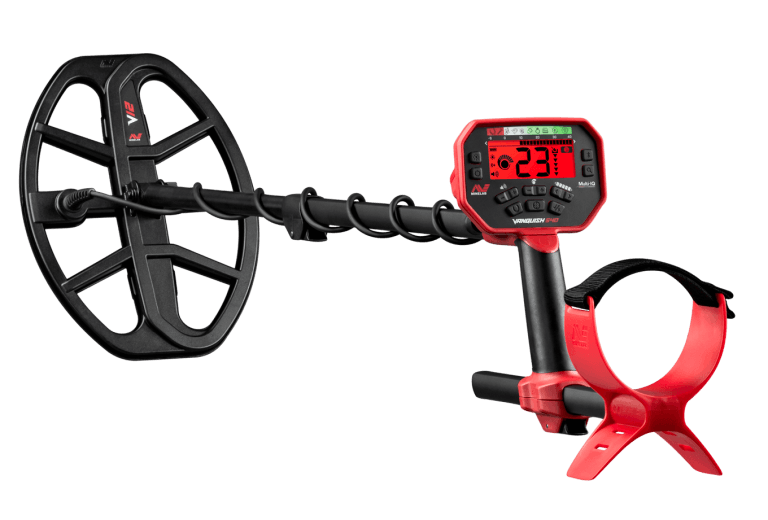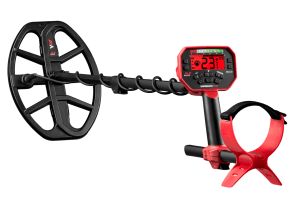 If you want to start searching as soon as your metal detector arrives, this model is easy to set up. The handy getting started guide and included rain cover were all we needed to begin our hunt, although there is also a useful V12 skid plate. The 5 target tones were loud and clear, even among background noise, and we moved easily between the 10 volume settings.
Multi-IQ technology provides the advantages of multiple detectors in one machine, finding silver, jewelry, coins, artifacts, and gold in various terrains. When you identify your preferred settings, save them using the custom find mode. Set the iron-bias mode low or high depending on your needs, and eliminate junk finds.
For searches in low-light conditions, we found the red backlit LED screen clearly displayed the relevant information, and the automatic ground balance adapted well to mineralized soils and sands. Although not fully-submersible, this detector is a terrific addition to the market.
Based on user feedbacks, this is one of the excellent beginner machine on the market. It's multi-frequency that works much better in mineral rich soil and even salt water. It has a slightly better depth with a lot better accuracy and reccovery speeds.
Pros
Programmable target ID function

Red-backlight is ideal for evening searches

Bluetooth audio system
Cons
A search flashlight would've topped it all off
Best Minelab Metal Detector for Gold
Minelab Gold Monster 1000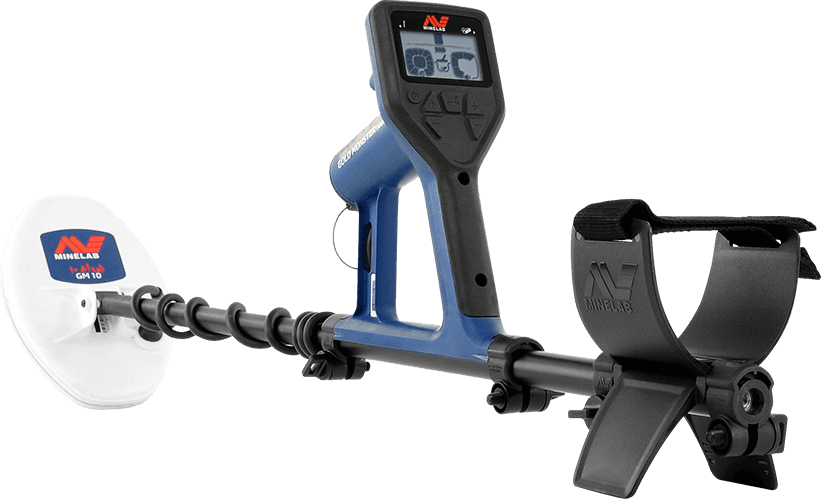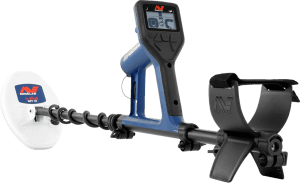 We love this metal detector's convenience, which uses data to determine the chances of your find being gold. If you don't want to waste time digging up junk, this may be the right choice for you. The adjustable threshold and discrimination contribute to the sensitivity, while the automatic ground tracking helps to locate all-important gold finds.
Not a one-trick pony, switch to the all-metal mode, and search for other precious materials. Use the interchangeable search coils to search deeper, and the depth indicator function helps to improve find location accuracy.
You'll know before digging if you have the right tools for that depth of soil or sand. The long-life rechargeable battery system is one of the best available, lasting an incredible 20-25 hours so that you can search for extended periods.
While it's unusual not to have a backlit display and a hindrance for searching in low-light conditions, we feel it would be unfair to hold that one omission against an all-around excellent metal detector.
This monster is a really fun and accurate VLF machine.
Pros
Rainproof control box

Gold chance indicator for target identification

Fast processor for improved results
Cons
Would have liked to see programmable target IDs
Best Minelab Metal Detector for the Range of Features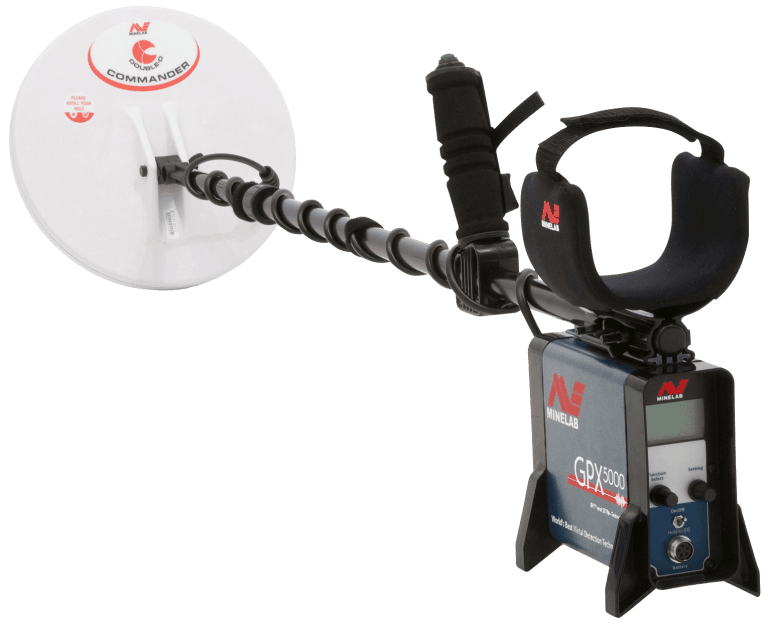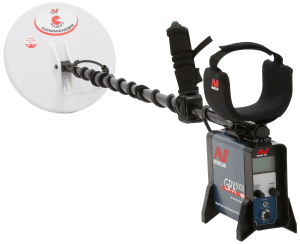 Even though we test metal detectors every day, it's rare to come across one with the enormous range of features on this model. There are 6 variable search modes, including deep, general, pinpoint, and various custom modes to eliminate junk finds.
The adjustable volume levels are sufficient for hearing faint tones, and although we were disappointed the headphones aren't Bluetooth-compatible, at least they are interchangeable.
The pulse induction technology is ideal for searching in sandy, highly-mineralized areas, and we recommend it for use around salt lakes and beaches. The dual-voltage technology (DVT) [1] works in conjunction with the Smart Electronic Timing Alignment (SETA), increasing your chances of finding buried treasure. Multiple users report finding both large and small sub-gram nuggets, and after some practice, even relatively new beginners can learn to operate the impressive array of controls.
The generous range of accessories includes a complete set-up kit, and there is an armrest strap and a harness assembly for maximum comfort.
This machine can find civil war bullets over 15 inches according to a user feedback whose very satisfied purchasing this machine. It's also much better at discrimination. You'll definitely get what you paid for.
Pros
Discrimination control eliminates junk finds

6 variable search modes

Volume control for hearing faint signals
Cons
No vibration mode when locating finds
Best Underwater Minelab Metal Detector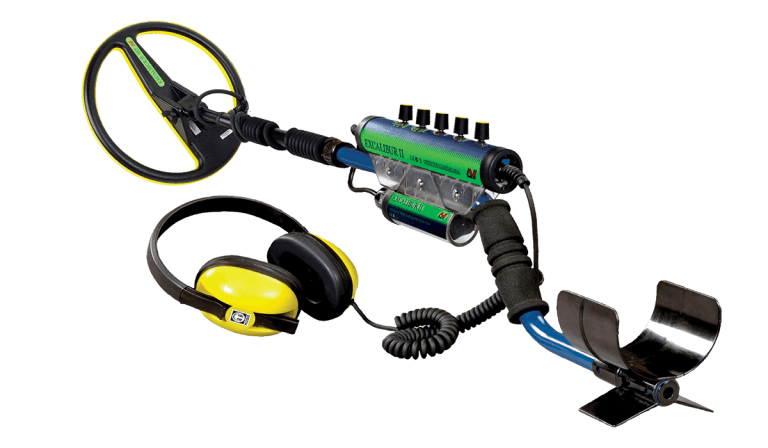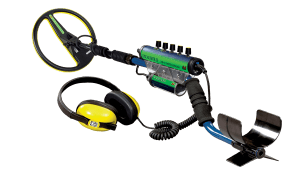 Eliminate signals using the unique iron mask discrimination system, allowing you to find coins and jewelry near iron junk. With a broad range of 17 frequencies between 1.5-25.5 kHz, we found this model identified gold, silver, and other precious metals. We know from experience that many other detectors would pass these finds by because they are lying close to an iron nail.
The Excalibur II is unmatched for underwater searches. Operational at depths of up to 200 ft., it's possible to discover shipwrecks and other valuables claimed by the ocean. However, step back onto dry land to continue your search because it works just as well in the park or in a field as it does underwater.
The adjustable armrest is comfortable and useful since this model is one of the heavier metal detectors at just over 5 lbs. A low audio alarm alerted us when we needed to recharge the battery. However, this happens rarely because the runtime averages over 20 hours per charge.
Pros
Pinpoint setting for increased accuracy

Hard-wire headphone jack

Iron mask discrimination technology
Cons
A search flashlight would be useful when underwater
Conclusion
Minelab metal detectors search deeper than its rivals and are sensitive enough to find sub-gram nuggets or elusive retirement gold nuggets. There is a model for any detectorist, from the new beginner to the experienced professional, and there is a detector for any scenario. [2]
The customer service support is unparalleled, and the lengthy warranties provide welcome peace of mind. To invest in the best, buy a Minelab Metal detector.
To read similar articles about more brands on the market, check out out article. Also check out our detailed reviews of popular metal detectors that we think worthy of their praise and also their pitfalls so you can make a well informed buying decision.