Best Olhausen Pool Table Reviews: The Top Pool Table Brand
Disclosure: We may receive a small commission when you shop by clicking on the links on our site. This is at absolutely no added cost to you. Learn more.
Butch and Don Olhausen grew up in New Mexico [1]. As kids, they'd help their father recover pool tables, learning and honing a skill [2] that they would later translate into a successful entrepreneur story.
By 1973, the owner of the company they worked for in California offered to sell the brothers the company for $1,000. After some consideration, they agreed on the sale price and made plans to double the business within their first year of ownership.
Their business expanded exponentially, and today, Olhausen Billiard Manufacturing sells nearly 300,000 pool tables each year after manufacturing them in their 250,000 ft2 facility in Portland, Tennessee [3]. Widely considered "Best in Billiards," Olhausen is still a family-owned and operated business dedicated to quality, service, selection, and value.
Today, the Olhausen brand has opened its business to include other games such as shuffleboard, air hockey, and foosball, but it's Olhausen pool tables that most people know and appreciate. Olhausen pool table reviews are always so positive that customers often return to this company to round out their finished basements with arcade-style games. [4]
Their pool tables are often considered the gold standard of billiards by consumers and industry experts alike. The materials that this brand uses are only top quality, and so Olhausen offers a lifetime warranty on all of their products. They use only premium, diamond honed slate to create a flat, even, perfect playing surface with quality checks done throughout the manufacturing process.
Here are the top pool tables Olhausen has to offer.
Top Olhausen Pool Tables At a Glance

Image

Product

Purchase

Blackhawk Pool Table

Beautiful matte black and Brandywine stains
High-quality materials
Delivery and installation handled by authorized dealers

Breckenridge Pool Table

Solid wood finished in grey for pleasing appearance
Buffalo nickel sights accentuate natural wood beauty
Upgrade to premium cloth color before delivery

Hampton Pool Table

Beautiful solid hardwood and leather pockets
Exquisite detailing on legs and apron
Includes cue drawer, no need for a rack
Top 5 Olhausen Pool Tables That You Will Serve You For Years To Come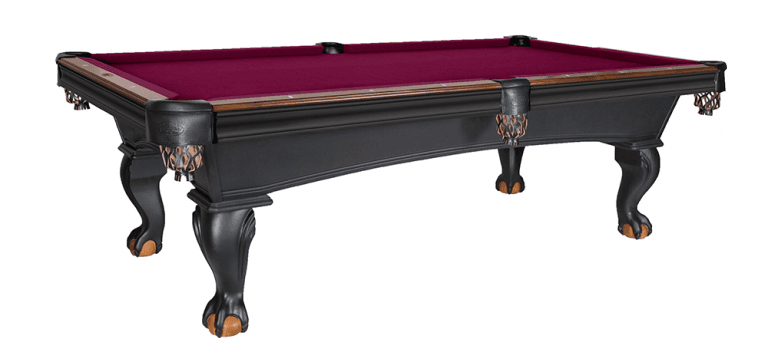 Description
Friends and family gather around communal objects of interest during parties and get-togethers, and the Olhausen Blackhawk Pool Table is no exception. This great pool table offers lots of fun, from high-speed action to its ornate Empire style design. The leather pockets are woven and tasseled to accentuate the beauty of the dark finish.
The legs and feet are reminiscent of clawfoot bathtubs, making this pool table an excellent fit for older homes with large finished basements that need a focal point of fun. You have your choice of cloth color to fit into any design scheme. Choose from dark burgundy to airy tan colors to complement and create a beautiful atmosphere while entertaining guests whenever they stop by.
You can be sure that your table is high-quality with the Olhausen brand name attached to it. The company stands by all of its products with a lifetime warranty, so any time it may need to be repaired or serviced, you can reach out to an authorized Olhausen dealer for assistance.
Pros:
Creates fun, competitive family memories

Hone your game with practice at home
Focal point that family and friends flock to

Life long investment in entertainment and design
Cons:
High price point

Larger tables won't fit in limited space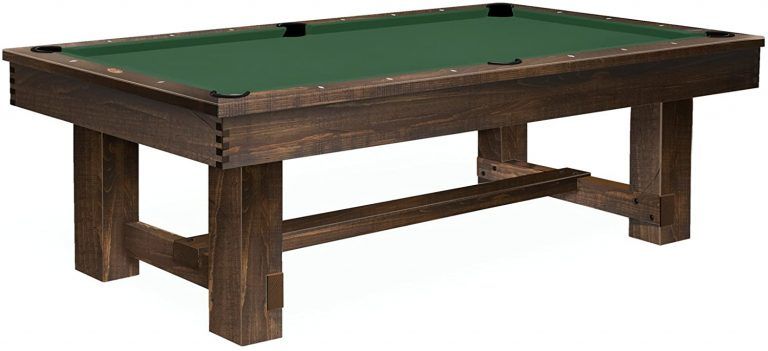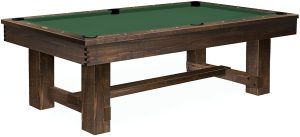 Description
The Olhausen Breckenridge pool table is an excellent option for families that feel at home in a rustic, log cabin or farmhouse decor scheme. This quality pool table gives you all the benefits of a pool table without disrupting the color or decor stylings of your living room.
Guests will be stunned by the contemporary design and sturdiness of this pool table. It's manufactured using only the best materials for durability, guaranteeing a lifetime of fun and excitement with family and friends.
The warranty enables authorized dealers to care for your pool table should it ever become damaged, but the 1" slate is so durable and strong, chances are you'll never need to call anyone for help.
Upon delivery of your table, you'll also receive 2 all-natural cue sticks crafted from solid maple wood measuring 58" long, 1 set of billiard balls, a 2 piece cue rack, 1 plastic 9 ball rack, 1 plastic 8 ball triangle, and a plastic rail brush to keep your rails looking as beautiful as the day your pool table arrived.
Pros:
Makes entertaining guests on game nights easier

Matches existing decor beautifully

Black leather pockets nest balls safely
All accessories needed are included
Cons:
Hefty price point may be a turn-off

8' long table may be too big
Contemporary Style Pool Table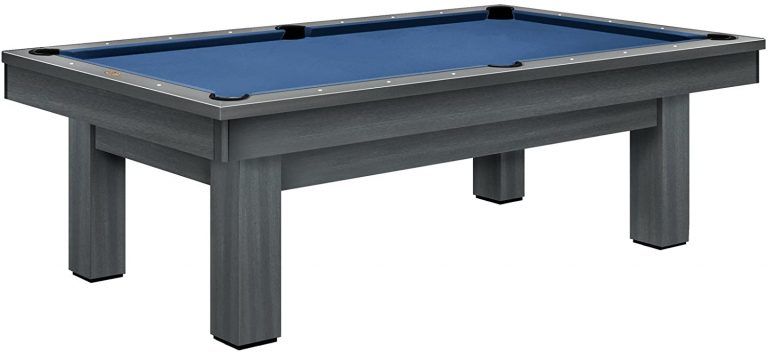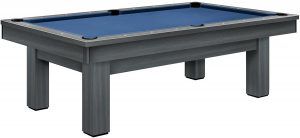 Description
The West End Pool Table by Olhausen Billiards is an excellent pool table for all decor and color schemes. Authorized dealers will allow you to choose the color of cloth your pool table is finished in, but the contemporary lines and modern stylings are suited to any finished basement, living room, or open floor plan.
The clean lines are an immediate hit with friends and family that stop by, and commercial designers recommend this table because of them. The Accu-Fast cushion rubber rails keep gameplay fast and exciting over the 1" slate surface. Friends and family will be dazzled at the unique appearance of this pool table and marvel at how easy it is to play a fun game of pool every time they're over.
Rack up the set of B balls to shoot into the left corner pocket over your choice of standard colored felt. Upgrades are available should you want something outside of the standard color palette, but no matter what you choose, the West End Pool Table by Olhausen is sure to be a hit.
Based on user feedback, this table is solid hard with useful drawers and has no skinny rails.
Pros:
Fits shabby-chic to contemporary decor

Choose color cloth

Initial purchase, installation, and any service is all handled in-house
Durable enough to withstand decades of play
Cons:
Steep price point

Heavy piece of furniture is not portable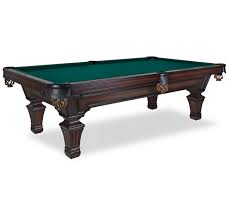 Description
Hide your accessories away in exquisite detailing and comfort with the Hampton Pool Table from Olhausen Billiards. This top-selling model is sturdy enough to last decades without incurring damage or needing service, so feel free to teach the kids how to play pool on this very adult looking pool table without worrying about durability or wear.
When not in use, your cue sticks and billiard balls fit neatly into the built-in drawers, eliminating the need to take up space with a cue rack. Your triangle and diamond-shaped plastic ball racks come with the table and store away nicely in the drawers as well.
With materials sourced and assembled in the Olhausen Tennessee manufacturing plant, the gold Olhausen logo inlay lets every guest and family member that stops by know that they're playing on the best pool table that America has to offer.
Exterior black leather pockets are functional to gameplay but also work as accessories to this luxurious pool table. The intricate detailing on the legs of this pool table gives it an old empire styling feel, making it perfect for vintage decor schemes.
Pros:
Work on your billiards game on a beautiful table
Practice with friends and family in friendly competition

Pool table is built to last with sturdy engineering
Cons:
High price point

Cloth choices are limited without paying additional cost
Best Pool Table for Practicing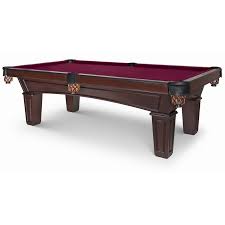 Description
Bring your game of pool to a new level with the Belmont Pool Table. It is a beautiful piece of furniture that allows you to practice like the pros at home. The clean lines and design of this solid wood pool table fits contemporary and vintage styles to create a luxurious experience.
Delivery and assembly is taken care of by your authorized dealer, who will contact you after purchase to discuss cloth color options. You can pick from one of the standard available colors or upgrade to a customized color at an additional cost.
Enjoy the fun a friendly competitive game of pool can offer without having to leave the comfort of your own home. Rack up your balls to break them with the included 58" maple cue sticks. The balls will bounce against the rubber rails securely before rolling into one of the 6 black leather exterior pockets. Lean against the sturdy solid maple and fruitwood construction to get line up your perfect shot with the pearlized sights on the rails.
Pros:
Reasonable price point

Enjoy a custom pool table in your game room

Engage in memorable fun with friends and family

Helps hone your skill and gameplay
Cons:
Heavy pool table cannot be moved easily
Conclusion
Olhausen pool tables are the best pool tables on the market because the company only uses top quality materials that will last through the pool table's lifetime. Olhausen pool table prices might sometimes be considered steep, but the quality of their product makes it completely worth it and you can be rest assured that you will own a table that will serve you very well and last you a lifetime. They also guarantee everything with their warranty, so you never need to worry about damage done to your table.
They often feature accessories drawers that enable easy storage solutions for areas that may not have extra space available for cue stands. With an Olhausen pool table, you're purchasing the world's best billiards table and the experience of quality every time you rack'em up to play.