Disclosure: We may receive a small commission when you shop by clicking on the links on our site. This is at absolutely no added cost to you. Learn more.
Whether you are spending increasingly more time at home or simply enjoy an occasional game of pool with friends and family, you may be considering purchasing your own table. Fortunately, there are several decent, affordable brands on the market today, including Spencer Marston, a world-renowned manufacturer focused on high-quality and detailed beauty.
Since 2004, Spencer Marson has been building pool tables enjoyed by billiard enthusiasts across the globe. [1] Believing in the importance of recreational pursuits in everyday life, the company sets its sights on exceeding expectations regarding their tables and complementing accessories. They pride themselves on building solid tables from top to bottom. High-level attention is given from the rail tops all the way to the hand-carved wooden legs and feet of every one of their pool tables.
In addition to their focus on quality, Spencer Marston offers one of the largest installer networks in the country, so you'll never have to worry about setting up your pool table yourself. This is often a concern since pool tables generally are heavy and need to be set up in a way that optimizes play, such as ensuring a completely level surface.
Imagine all the fun you will have with a pool table at your beck and call 24-hours a day. If you're ready to start shopping, however, you may not know how to go about finding the right fit for your home or business. We're here to help you with this by providing valuable information in our Spencer Marston pool table reviews below.
Our Top Pick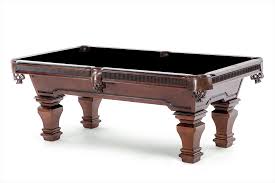 8 ft. long maple hardwood table perfect for any level of play
Designed with scalloped aprons and leather drop pockets
Table is offered in 10 different Simonis 860 surface cloth colors
---
Our Favorite Picks for Spencer and Marston Pool Table
---
Best Spencer Marston Pool Table Summary

Image

Product

Purchase

Spencer Marston 8 ft. Stratford

Built for stability and durability out of 100% maple hardwood
Supported by creatively carved and leveled legs
3-piece slate is 1" thick

Best Pool Table for Home Game Rooms

Spencer Marston Serotina

Modern, clean design to fit in any home game room
Length is 7' like those found in pubs and bars
Full game accessory set included

Best Pool Table for Larger Homes

Spencer Marston 9-ft. Tuscany

Bold, 9' long pool table
Sturdy, sophisticated design without being too flashy
Superior surface cloth available in 10 solid colors

Best Pool Table for Durability

Spencer Marston Prato

8' long pool table just right for all players
Constructed of highest-quality Canadian hardwood for durability
Genuine leather drop pockets that stand up to harsh conditions and high usage

Best Pool Table for Smaller Homes

Spencer Marston 7-ft. Tuscany

Solid, carved legs properly leveled for stability
Tournament-approved slate foundation
Classic look with black cherry finish to dress up any room
---
Top 5 Best Spencer Marston Pool Table Reviews
---
Best All Around: Spencer Marston 8 ft. Stratford
Specifications
Overall outside dimensions: 56" x 100"
Playing surface measurement: 44" x 88"
Weight when fully assembled: 900 lbs.
Full installation included upon delivery
Comes with a Premier Accessory Kit
---
Durability
Design
---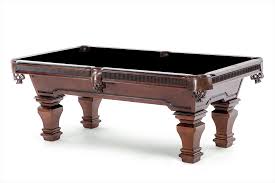 Description
Spencer Marston believes in creating beautiful products, and this 8' Stratford pool table is no exception. Crafted with a classic and sophisticated design, you won't need to hide this table under a cloth when guests come over. Its scalloped apron, leather drop pockets, and intricately carved legs and side rails make it a showpiece, or at the very least, an inviting attraction.
But beauty isn't all this table offers. Expect a great game every time due to its Simonis 860 surface cloth [2], considered the finest available and used by billiard halls and tournaments worldwide. Also, expect an even surface due to the levelers on the legs of the table.
Built with three pieces of 1" diamond honed slates, noise will be kept at a minimum as you play, avoiding any unnecessary distractions.
Along with the table and its free installation, you receive the full Spencer Marston's Premier Accessory Kit. This kit includes four 58" cue sticks, matching ball racks and brushes, premier ball set, chalk, wall rack, and a lightweight cover; everything needed to start playing your first game in your own home.
Pros:
Built with strong support for longevity
Intricate carvings create a stylish addition to any room
Comes with all the accessories needed to start playing right away
Robust lifetime warranty
Cons:
This table is extremely heavy
---
Best Pool Table For Home Game Room : Spencer Marston Serotina
Specifications
Full dimensions with top included: 54½" W x 93" L x 34" H
Table playing surface dimensions: 40" x 80"
Full weight of table: 870 lbs.
Installation included upon delivery
---
Durability
Design
---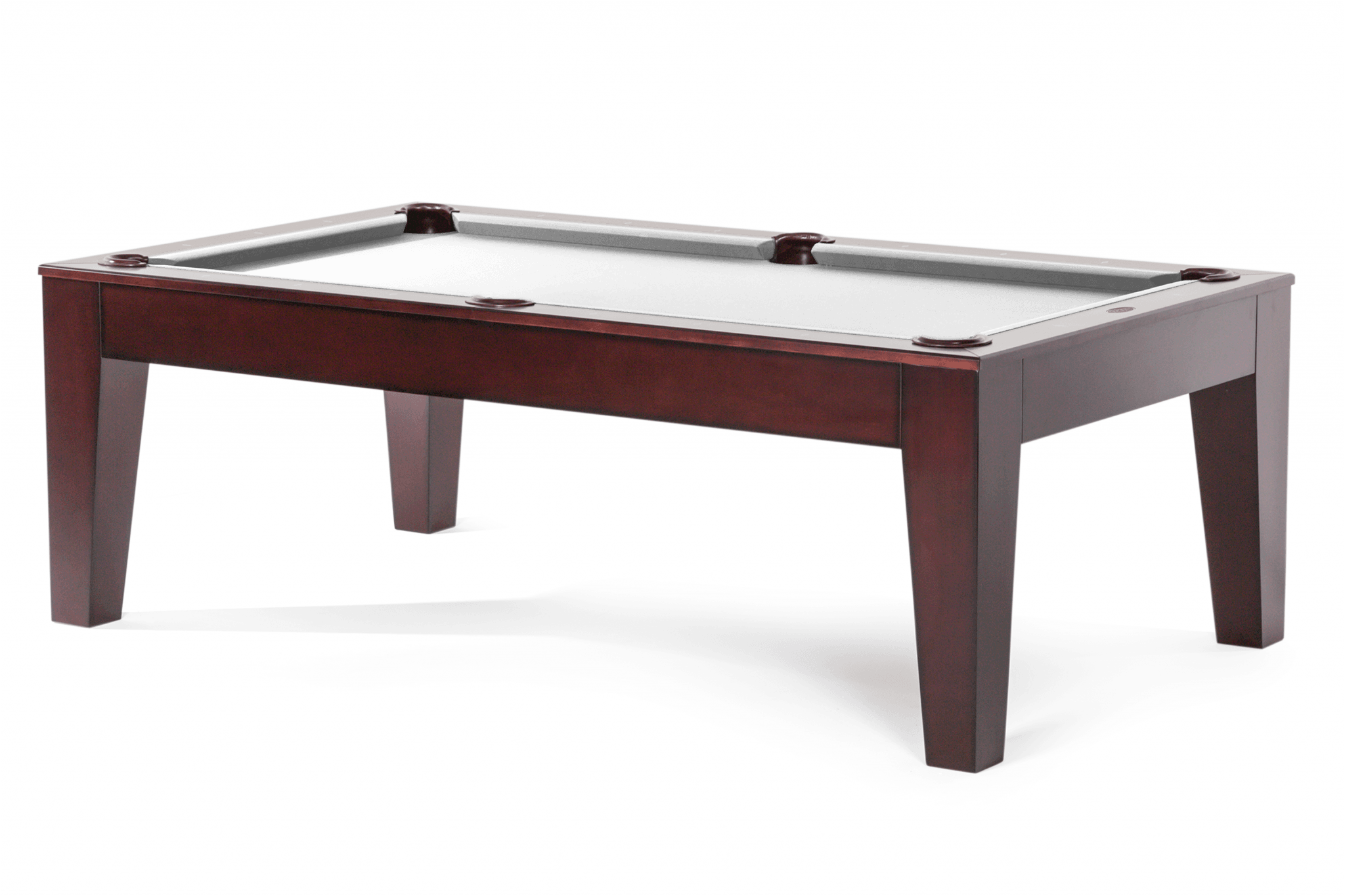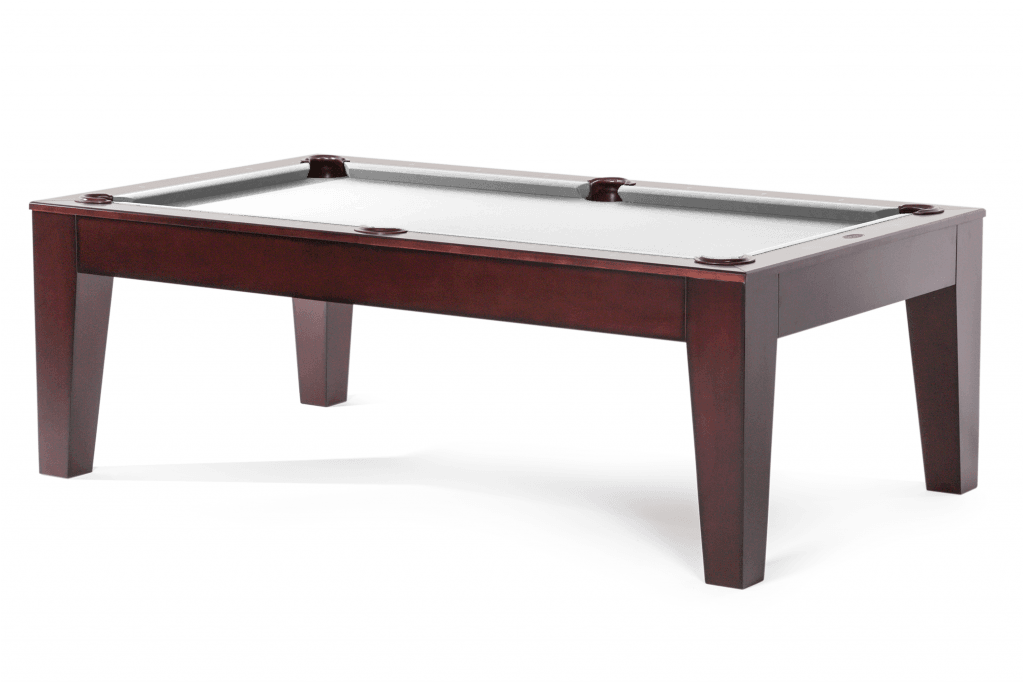 Description
If you play pool while out at pubs, bars, or pool halls, you are most likely used to playing on a 7' table. If so, then you'll want to stay with that size by adding the Serotina pool table to your home game room.
The Serotina is built with the same strong, sturdy features as its brand counterparts. It's constructed of 100% hardwood with the same 3-piece 1" thick slate and inlaid couple Diamond sites.
While the overall design is more streamlined, the surface cloth itself is still the high-quality Simonis 860 and comes in 10 solid colors, including black, burgundy, camel, dark green, mocha, slate grey, and blue.
You can also use the Serotina as a dining table or a space to play your other games, making it versatile and user-friendly in smaller spaces. Included is a 4-piece dining top, which can easily be removed when you're ready to enjoy a game of pool. These 4 pieces are simply aligned with included dowels, creating a tight fit to protect the cloth surface below.
Pros:
Modern design which won't overwhelm the room
Built with 3 thick layers of 1" slates for stability and less noise
Versatile top to use as a dining table
Cons:
Too heavy to move after put in place
---
Best Pool Table For Larger Homes: Spencer Marston 9-ft. Tuscany
Specifications
Outside dimensions without top: 62" x 112"
Playing surface dimensions: 50" x 100"
Assembled weight: 975 lbs.
3 layers of 1" slates
Full Premier Accessory Kit included
---
Durability
Design
---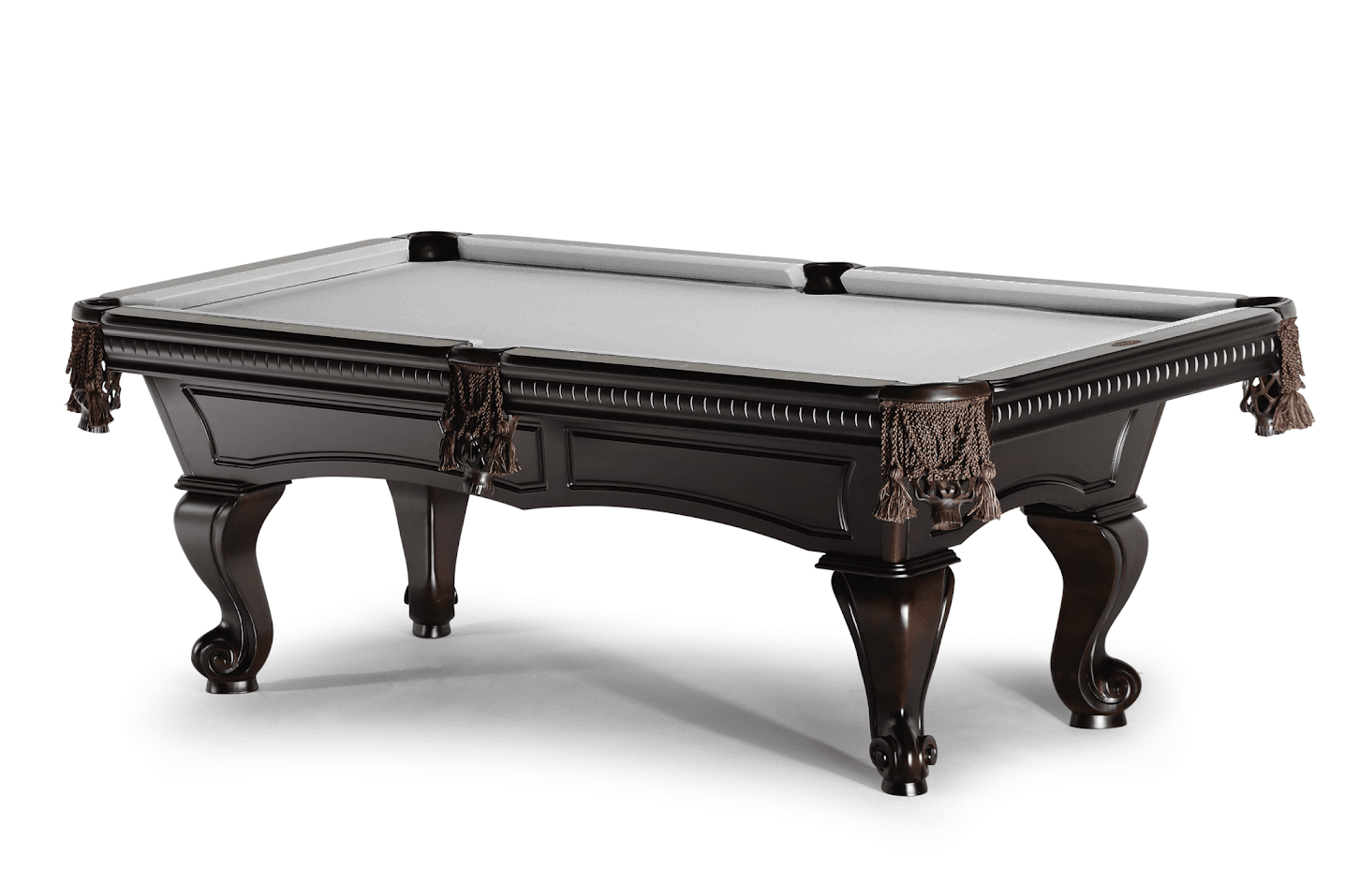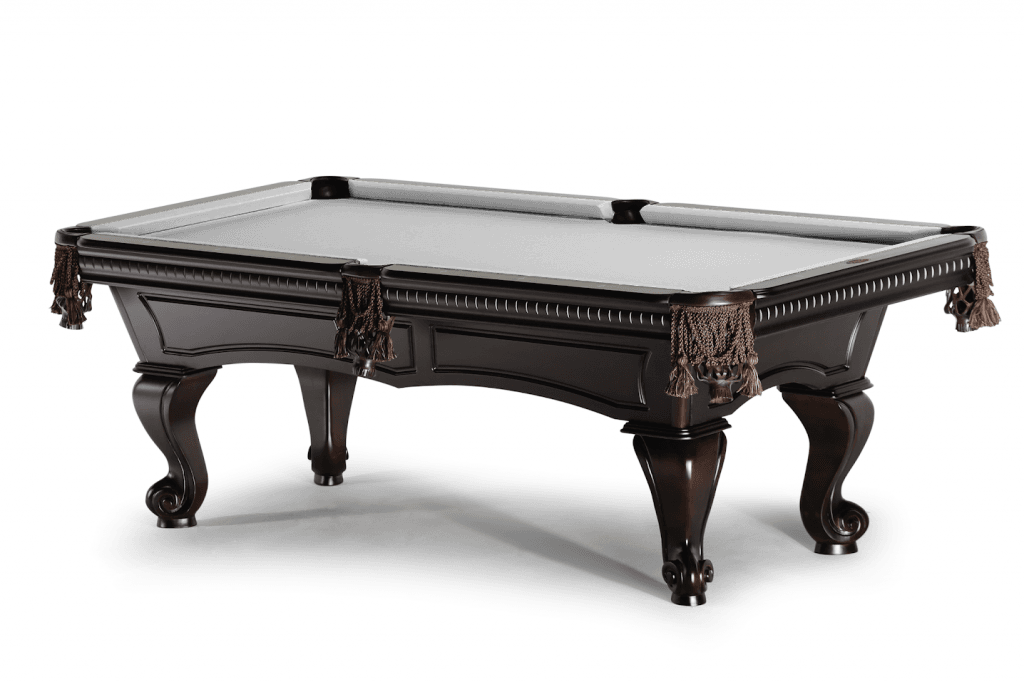 Description
If you have a large-size home and like having your pool table serving as a centerpiece in the room or open space, the 9' Spencer Marston Tuscany is a good choice. With a sophisticated yet slightly understated design, you won't need to add much else to the room to make a big style statement.
Crafted out of 100% hardwood and added Tuscan finish, this table also features a deep cherry red stain. It comes with beveled legs, fully-leveled for a perfect game of pool, from the first one to well past the hundredth.
The table's drop pockets are genuine leather and not prone to excessive damage over the years. The durable surface cloth, high-quality Simonis 860, will resist tears for years as well, regardless of how many games are played.
The Premier Accessory Kit matches the style of the table, so it can easily be left out in the open. Included in this kit are four 58" 2-piece cue sticks, matching racks and brushes, and a premium ball set. A 2-piece Roman wall cue rack keeps everything organized, and a lightweight table cover protects against dust and spills.
Pros:
Beveled legs are evenly leveled
Larger table fully installed and assembled by manufacturer's team
Lifetime warranty, including shipment damages, parts, and additional installer fees
Cons:
---
Best Pool Table for Durability: Spencer Marston Prato
Specifications
Outside dimensions: 56" x 100"
Playing surface dimensions: 10" x 88"
Assembled weight: 900 lbs.
3-piece 1" slate
Premier Accessory Kit included
---
Durability
Design
---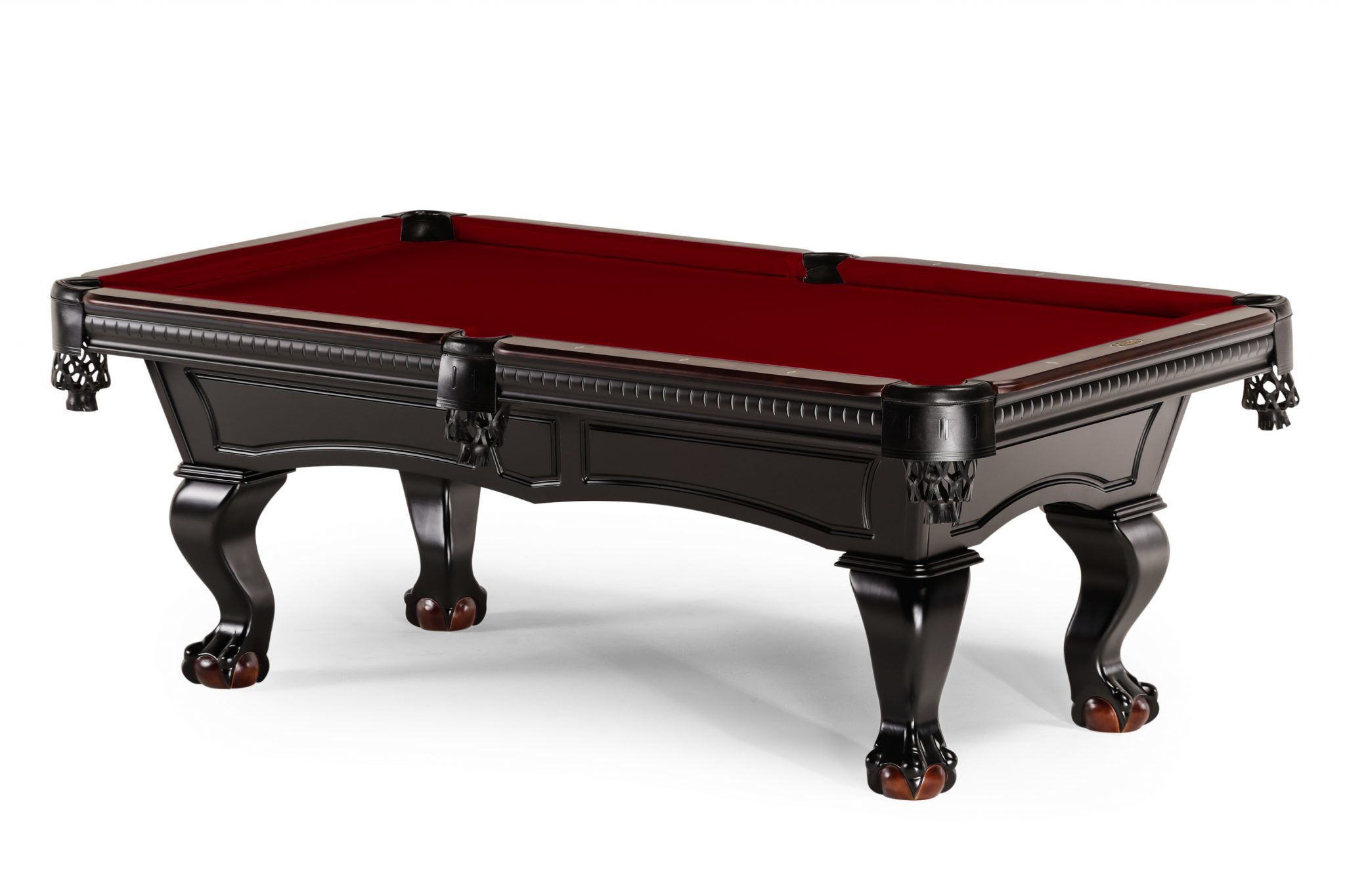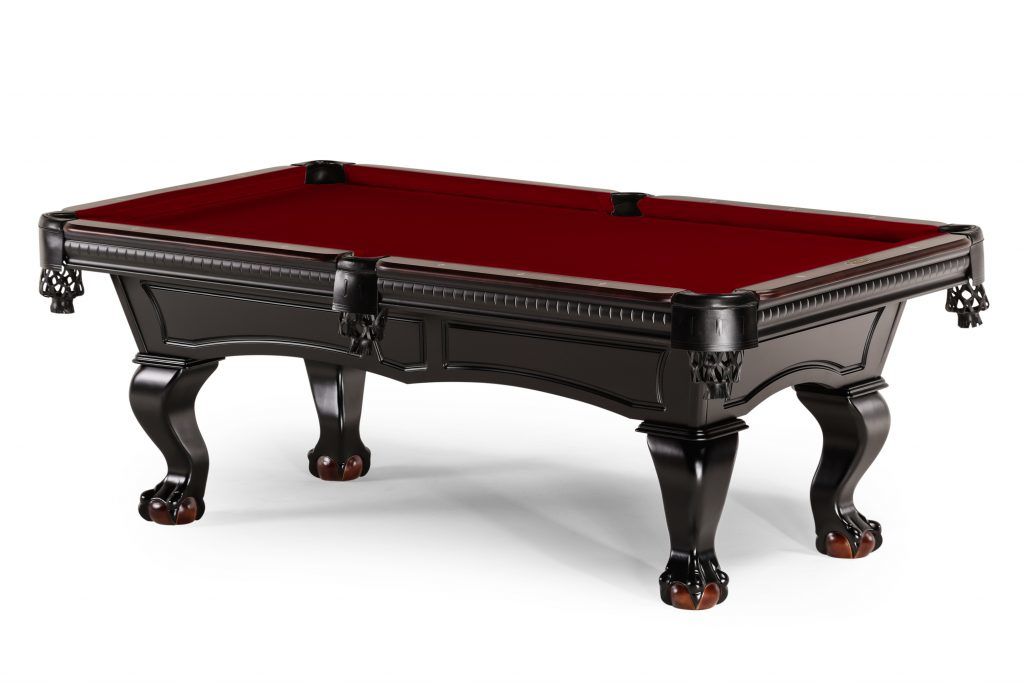 Description
If you, your family, or friends are intense billiard players, you'll need a durable pool table that can handle the high usage. The Spencer Marston Prato pool table can cope with your heavy playing schedule no matter how many people are involved.
Constructed out of tough Canadian hardwood and 3 layers of 1" slates [3], this is one strong standing table. It is made to last, right down to its genuine leather drop pockets, which resist dampening or sweating even if temperatures rise in the room where it is located.
The sleek, 2-toned pool table comes with dentil molded aprons and a detailed claw leg design, so you're not giving up style for durability with this model.
Once the table arrives at your home, an installation team will take no time to set it up. Just remember that due to its extremely heavy weight, you won't be moving it anytime soon, so choose your space wisely. If so, you need to learn carefully how to move it across the room. Open up your included Premier Accessory Kit, and set up your racks, triangle, and cues and get ready to invite your friends for the first game.
Pros:
Tough, long-lasting surface material resistant to tears
Sturdy, carved legs for accurate leveling
Slates provide balance and eliminate excessive noise when playing
Dark wine-red cherry stain keeps table looking new
Cons:
---
Best Pool Table for Smaller Homes: Spencer Marston 7-ft. Tuscany
Specifications
Outside dimensions: 52" x 92"
Playing surface dimensions: 10" x 80"
Assembled weight: 825 lbs.
3 pieces of 1" slates
Double diamond sites
Premier Accessory Kit included
---
Durability
Design
---
Description
Just because your home is smaller doesn't mean you can't add a stylish pool table. The smaller 7' Spencer Marston Tuscany pool table's design doesn't overwhelm a compact space by being too showy and bulky. Its black cherry finish creates a classic look that can blend in with most home decors, and its solid wood construction means it will outlast most other furniture in the house.
The table's 3 thick slate pieces efficiently cancel out noise and also contribute to better balance during your gameplay. The surface is covered with the top of the line Simonis 860 cloth in dark grey, or you can choose one of the other nine colors offered by Spencer Marston.
The 7' Tuscany comes with inlaid double-diamond sights combined with both a mother pearl and abalone shell to help you improve accuracy, including bank and trick shots.
This is a great table to practice on, teach your children, and enjoy a game with even your most competitive family and friends. In addition, it is durable enough to last you for years, including the genuine leather drop pockets that resist the effects of both moisture and heat.
Pros:
High-end Simonis 860 surface cloth
Durable genuine leather iron core drop pockets
Lifetime warranty covers shipping damages, part replacements, and installer fees
Cons:
Not a budget-friendly option
---
Conclusion
Spencer Marston knows recreation and, as a result, creates the highest-quality pool tables to meet and even exceed the expectations of those who play. The company not only focuses on the efficient utility of their tables but also on creating beautiful works of art. The table designs are stunning and provide yet another reason to add pool playing to your home activities.
They also offer top-rated customer service with their White Glove delivery system, installation team, and a lifetime warranty on all pool tables. Overall, the Spencer Marston 8' Stratford Pool Table combines all the best features and designs developed by Spencer Marston and is for anyone who passionately loves the game or is just getting started.
Our Overall Pick
Spencer Marston 8 ft. Stratford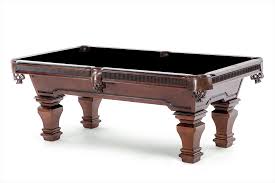 If you have picked your favorite table, its time to find some cues to go with it here.
Choosing the best pool tables is a must especially if you're an enthusiast. Check out our Olhausen review if you're looking for branded and quality pool tables.