Disclosure: We may receive a small commission when you shop by clicking on the links on our site. This is at absolutely no added cost to you. Learn more.
You'll find more similarities than differences when comparing the Stiga Advantage and the Joola Inside. Both units have ⅝" thick MDF-composite tabletop surfaces [1], although if you dig deeper, the Stiga is marginally thicker by 1 mm. Both tables have 8 heavy-duty lockable casters for extra portability and durability. Both have a 2-piece design that's easy to fold up and pack away whenever you want. Most importantly, both models are made by world-famous and highly-respected companies.
Joola has been making premium-grade tables since 1952, when the team constructed the first model in Landau, Germany. Since then, the company moved to the manufacturing factory in Siebeldingen, where all its tables are designed and produced to this day. In 2012, Joola began its long-running partnership with the USATT [2], becoming the official sponsor of US Nationals and the US Open in the process.
Stiga Table Tennis is a Swedish company that's been manufacturing products since 1944. Today, Stiga is one of the most respected brands in ping pong, with major partners in over 100 countries across the world. This company still produces its paddles and tables at the site of its head office in Eskilstuna, about an hour west of Stockholm.
Best Overall
Stiga Advantage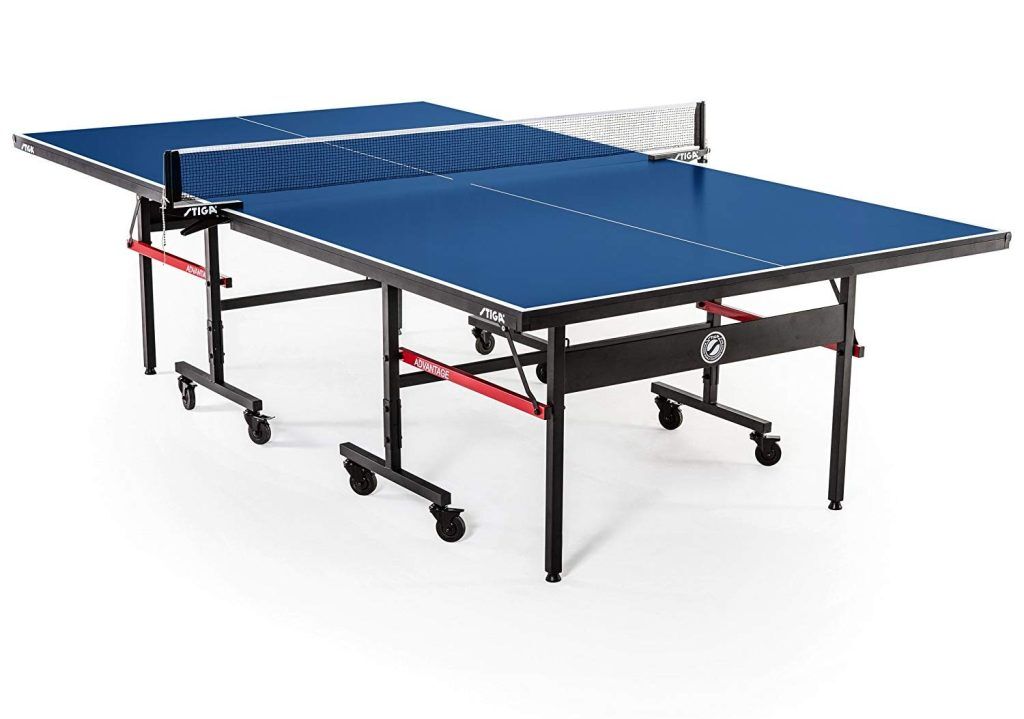 Runner Up
Joola Inside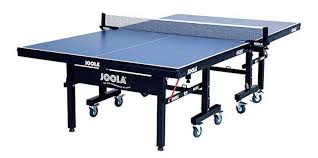 Both companies are well-trusted in the table tennis world, with each brand creating durable, ergonomic, and stylish designs that players come back to again and again. These designs have competition-grade nets and smooth, multi-layered playing surfaces.
However, despite all these similarities between the two companies, there are some key differences between the Stiga Advantage and Joola Inside products. It's essential that you consider what exactly you're looking for in a ping pong table before investing in either one of these units.
What we totally agree with ping pong experts about this table is the fact that assembly is particularly easy. It's well built and bounces like it should It's pretty sturdy as well and could last for years. When it comes to moving the table around, there won't be any hassle thanks to the wheels.
Joola on the other hand makes quality table tops. You will never worry about wasting your money. This table is specialized in the professional sports and is very easy to assemble compared to others. A table worth the price.
Nonetheless, in terms of value for money, you'll find that there's only one real winner in the Joola vs Stiga debate.
Comparison Table

| | Stiga Advantage | Joola Inside |
| --- | --- | --- |
| Why Consider? | Competition-grade table with 3" casters and durable, high-performance playing surface for decent bounce | Well-designed unit with excellent playback function and multi-layer tabletop |
| Dimensions | 108" x 60" x 30" | 108" x 60" x 30" |
| Ease of Assembly | 10-20 minute assembly time, lock the chassis | 10-20 minute assembly time, comes 95% preassembled in box |
| Durability / Make / Design | 1.5"-thick powder-coated steel legs, 3" casters, commercial-style net and clamps, clamp net design | 1.5"-thick powder-coated steel legs, 3" casters, clamp net |
| Bounce | Lower bounce than on 0.7" and 1"-thick tabletops | Lower bounce than on thicker, pro-grade playing surfaces |
| Indoor / Outdoor | Indoor | Indoor |
| Other Accessories | Professional-standard, heavy-duty net, adjustable levelers, zero gravity technology for easy installation | 2-piece design for easy storage, solo playback feature, spring-loaded locking system for extra safety |
| Cost | $400 | $350 |
| Table Top Thickness | 0.62" | 0.59" |
| Weight | 180 lbs. | 137 lbs. |
Product Differences
The Stiga Advantage and Joola Inside are both high-quality and durable tables with an affordable price tag. However, when you break down each of these products in more detail, you'll find that there are some key differences.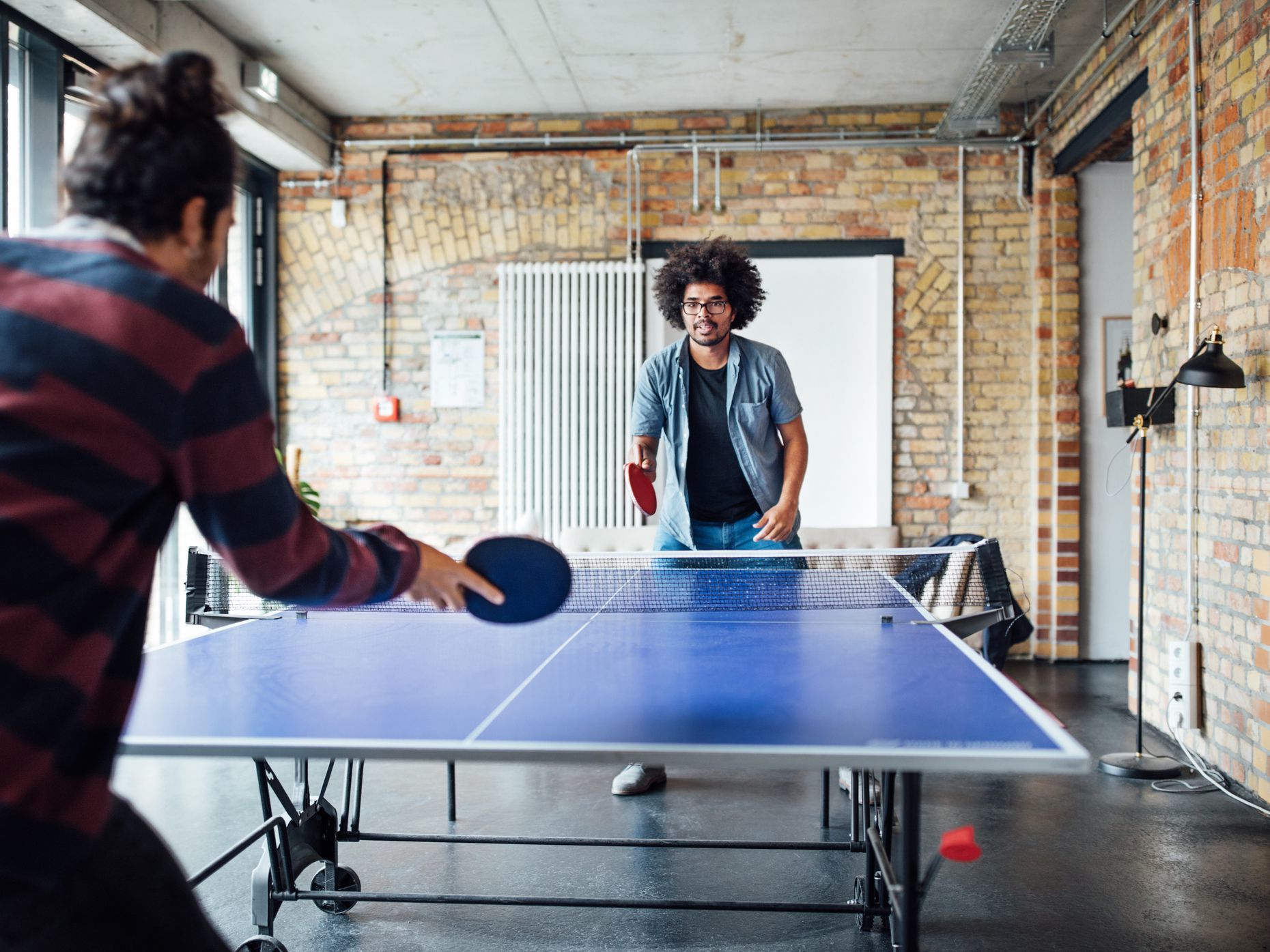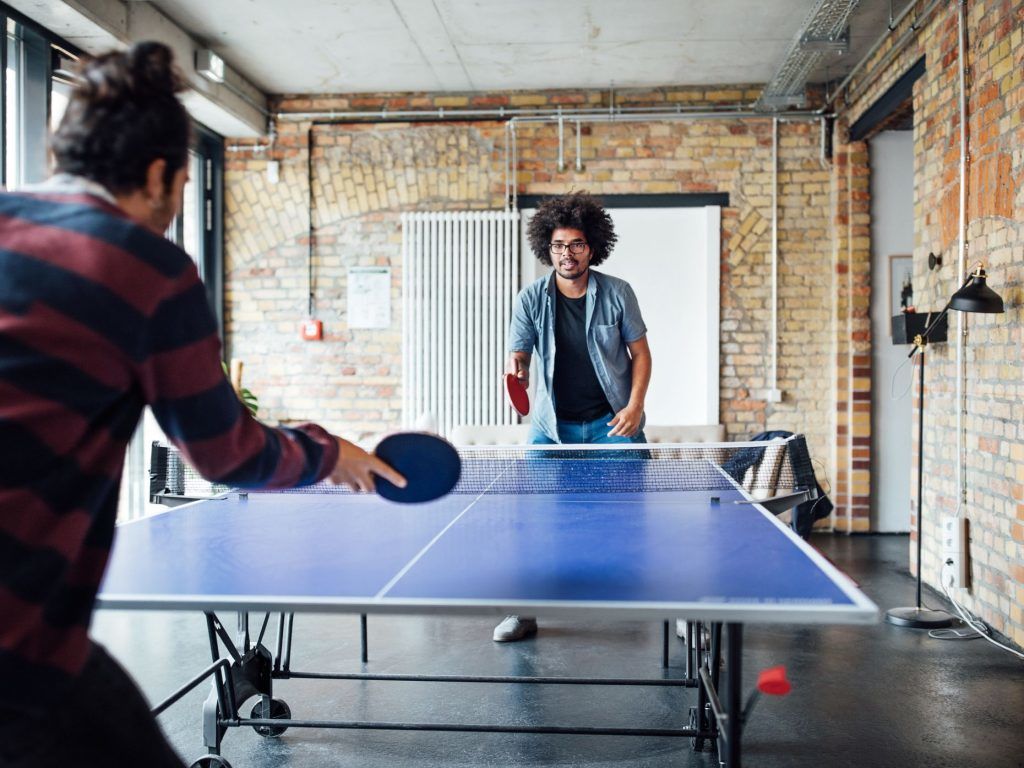 Tabletop Thickness and Bounce
When it comes to the thickness of the playing surface, tenths of inches matter. That's because a thicker table provides a more even and consistent bounce than thinner options. Flimsy, narrow table tops are more vulnerable to warping and marks: these blemishes create a textured and rough surface, negatively affecting the ball's bounce.
The Stiga Advantage has a marginally thicker tabletop than the Joola Inside, by 0.3". Although the Stiga offers a slightly smoother playing surface than the Joola Inside, neither table provides the same consistency or quality of bounce that a 0.75" to 1" thick model does. If you want a professional-standard bounce, you'll need to pay a premium price for it.
Durability
Both of these models are well-designed and durable. They each have powder-coated steel legs and 3" thick locking casters for extra robustness and stability. They also both have 2-piece designs that are connected together by the clamped net and the casters.
The Stiga Advantage comes with a heavy-duty, premium-grade net that endures hours of rigorous play, while the Joola Inside has a supportive iron apron with high tensile strength.
There's not much to separate these 2 models for durability, but the Stiga ping pong table is nearly 40 lbs. heavier. However, you won't have too much trouble moving either of these units around on their heavy-duty, integrated casters.
Integrated Features and Assembly
The Stiga has rubber foot levelers for uneven surfaces, while the Joola has adjustable legs so that you can stabilize the unit wherever it is. You'll find that you can assemble the Stiga very quickly. The zero-gravity balance technology means that all you have to do is lock the chassis together by clamping the premium-quality net onto the tabletop.
Joola Table Tennis also requires very little assembly. Simply bolt on the legs and clamp in the net, and you should be good to go. This model is also lighter than the Stiga, so it will be easier to lift the component pieces out of the box before fitting them together.
You should be able to set up both tables within 10-20 minutes of unpacking the boxes.
Price
The most explicit difference between these 2 models is the price disparity. While the Joola Inside costs just under $350, the Stiga Advantage model is $50 more expensive, costing $400.
Considering how similar these models are in every other way, it's difficult to justify this large discrepancy. Although the Stiga has a sleek, smooth playing surface and heavy-duty, durable casters, the Joola Inside comes with a supportive iron apron and a rust-resistant undercarriage. Both models take the same amount of time to assemble, and both have tournament-grade nets and MDF-composite tabletops.
This is where the battle of the Stiga Advantage and the Joola Inside is won and lost. You should opt for the model that's durable, portable, foldable, and $50 cheaper.
---
Conclusion
Both the Stiga Advantage and the Joola Inside tables are well-built units, with durable construction and an ergonomic, 2-piece design. However, the Joola has the edge over the Stiga when it comes to value for money, portability, and a robust supportive framework.
The Joola is 40 lbs. lighter than the Stiga and has 8 locking caster units that help you to move the table from room to room with ease. This model also has a useful playback function, which takes less than a minute to set up. You just lift up one half of the table and fold in the legs, then rest that half against a wall so you can play against yourself when no-one else is around.
There are certain times when you might prefer the Stiga to the Joola. If you're looking for an affordable unit with a professional-standard net and clamp set, you should give the Stiga Advantage a go. If you prefer a hefty table with a heavier construction, go for the Stiga rather than its Joola counterpart.
Generally, though, you can't go wrong with the Joola Inside. This table is well-designed, with a smooth playing surface and a robust and black iron apron for support. Most importantly, it's one of the best value products on the market.
Our Overall Pick
Stiga Advantage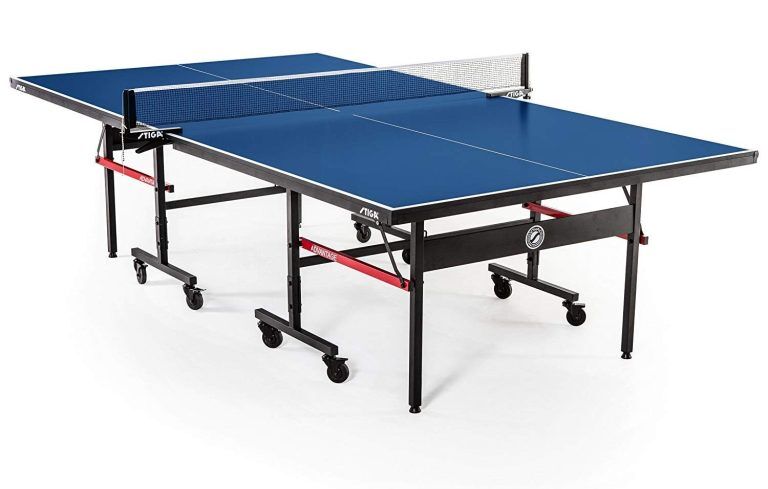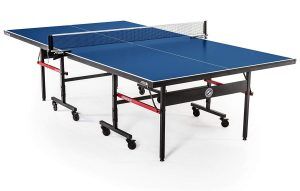 You might want to consider checking out our ping pong paddles reviews for your ping pong tables. If you're looking for table tennis robots, read our article here.
You can visit our home page for more game options.